Experience, experience, experience. Rockbund Art Museum's (RAM) solo exhibitions are never about a collection of representative works by a selected artist, but about choreographed experience. This is what the RAM team has always meant to do: invite viewers to experience an exhibition as a whole rather than look at works individually, while simultaneously highlighting the architecture of the building; the former Royal Asiatic Society. For his solo exhibition Synchronicity (8 July–17 September 2017), Philippe Parreno has reached new heights when it comes to enacting such a rationale. As the press release states: the artist 'choreographs the Rockbund Art Museum'. The result is something that feels more like a joint-solo between Parreno and the building itself.
Philippe Parreno, Anywhere Out of the World (2000). Exhibition view: Synchronicity, Rockbund Art Museum, Shanghai (8 July–17 September 2017). Courtesy Rockbund Art Museum. Photo: © Andrea Rossetti.
Curated by RAM's director Larys Frogier, four of the building's six floors plus its glass rooftop have come together as a kind of shadow puppet theatre, whose forms are created from light, sound, and even time. Window blinds are controlled using motors that plunge gallery spaces into alternating states of light and dark, while others are controlled by anonymous performers referred to by Parreno as 'dalang'—puppeteers from the Indonesian Wayang puppet theatre tradition, who traditionally control the white screen and lighting that together create the shadow puppets. These (paid) human controllers were recruited via an open call to operate the elements of the exhibition. Dressed ordinarily so that visitors do not instantly recognise who they are, they perform according to Parreno's instructions, though they have been given some freedom to deviate.
In addition to this choreography of lighting, the second floor presents a large-scale 3D animation film projected on a freestanding screen positioned at the centre of the gallery space. Titled Anywhere Out of the World (2000), the film is about a girl named AnnLee who seems lost—she does not know where to go or where she comes from. At the back of the projection, one dalang sits on the floor humming a repetitive melody next to a grid of 42 oversized light bulbs (Protomarquee, 2016) behind the screen. Like a theatre with no division of stage and seats, the humming and dramatic reconciliation of light and dark creates a sense of space within the space. Visitors appear like astronauts lightly passing one another, choreographed by sound, light, and one animated girl's testimony to finding her way.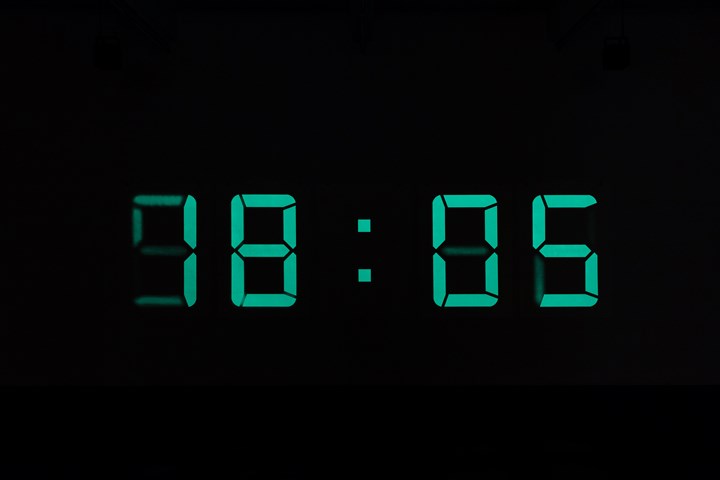 Philippe Parreno, Fade to Black (2017). Exhibition view: Synchronicity, Rockbund Art Museum, Shanghai (8 July–17 September 2017). Courtesy Rockbund Art Museum. Photo: © Andrea Rossetti.
On the third floor, an installation made up of five phosphorescent screen prints on paper (Fade to Black, 2017) announces the time once every few minutes in what appear to be digital numbers. Located at the very centre of the gallery space like a stage backdrop, as on the second floor, this is not a real clock. The time it tells depends on the dalangs that remove and replace these printed numbers at random (in response to a visitor walking in, for example, or a number of seconds counted), which are made more visible according to the blinds being operated by Parreno's controllers. At the entrance to the gallery, an awning made out of blown glass bulbs (Marquee (M1759), 2017) emits the sound of cracking glass from fitted amplifiers, creating the sense that things are breaking even if they remain untouched. By creating such frictions, time opens up into a physical plane, here symbolised by a tangible fluorescent image and a sound that travels beyond the room. A sense of floating returns to the experience—this time not in space, but in the space of time.
Exhibition view: Philippe Parreno, Synchronicity, Rockbund Art Museum, Shanghai (8 July–17 September 2017). Courtesy Rockbund Art Museum. Photo © Andrea Rossetti.
If the journey through this exhibition up until now has been a performance of group work—with dramaturgy by Asad Raza, music and sound design by Nicolas Becker, show control design by Johan Lescure Arrangement, and sound editing by Cengiz Hartlap Atelier—then the fourth floor is a choreographed accident between machine and nature. Fixed on the rooftop above, a heliostat plays hide and seek with a pair of mirrors, projecting light onto the gallery below. Those lucky to visit on a clear, sunny day might see an oval-shaped spotlight glide slowly across the floor. If it rains or is cloudy, those less fortunate will see nothing. (This seems meditative; looking at a slowly moving oval-shaped spotlight is ultimately not that much different to looking at nothing.) In the absence of a focus, visitors with expectations of looking at artworks look at other things instead—one another, the floor, the space itself. Some visit the fifth floor, which offers a bird's eye view of the unpredictable 'light show' below.
These choreographed experiences, dependent not on physical objects but on a certain interconnectivity between improvised and planned elements, bring everything into the artist's script: the building, the performers, the visitors, and the weather. This material complexity makes every experience of Synchronicity a different one. —[O]