Feature
The Art Show by ADAA and The Armory Show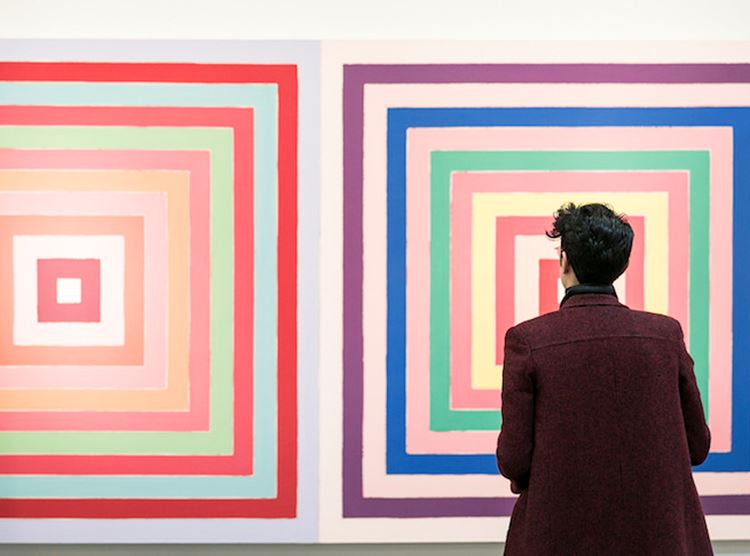 The Armory Show 2015 Photo: © Charles Roussel & Ocula
Stereotypes abound at New York's two main art fairs in March. In terms of people, of course, plus the contrasts between the fairs' identities, as well as the style in which they choose to host the art world.
Stereotypes abound at New York's two main art fairs this week. In terms of people, of course, plus the contrasts between the fairs' identities, as well as the style in which they choose to host the art world. The Art Show, organised by ADAA (the Art Dealers Association of America) greets you with towering wooden doors so heavy you can barely open them, followed by mood lighting and soft carpet. As one visitor was overheard commenting on entry, "Oh it's just so pleasant!" Perhaps she had come directly from The Armory Show across town. ADAA's smart setting on Park Avenue—confusingly in an old armory building, although not the same that gave The Armory Show its name, after an historic modern exhibition held there—throws high contrast onto the glaring functionality of The Armory Show's industrial setting across two Hudson piers. One represents the traditional bastion of the art dealership establishment, the other the eclecticism of a shifting global contemporary. This draws comparisons with the Frieze London/Frieze Masters dyad, and the difference in quality is similarly felt.
Curated by Omar Kholeif, this year's Contemporary Special Projects at the Armory Show are the liveliest aspect of his MENAM focus (the Middle East, North Africa, and the Mediterranean: three intersecting regions, absurdly reduced for ease of categorisation, still experiencing a honeymoon with the art world). Armory commissioned artist Lawrence Abu Hamdan, (showing soon at MoMA), has made A Convention of Tiny Movements, an installation piece centred around a sound booth that transmits a dispatch from 2017 about everyday objects having become recording devices. Sound waves that bounce off pot plants, chocolate wrappers and tissue boxes transmitted what people were saying; so too, supposedly, do those resounding off the silver bags of chips that the artist had produced for the fair—quite the highlight on opening night.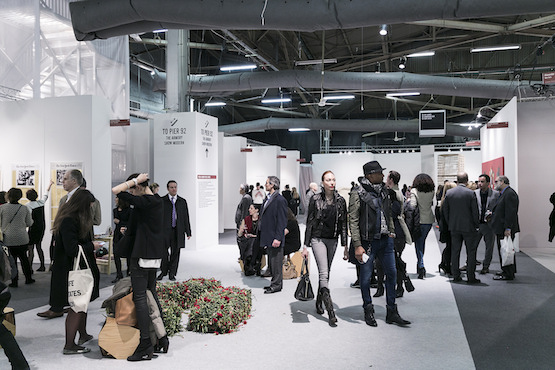 The Armory Show 2015. Photo: © Charles Roussel & Ocula
The Special Projects are full of what art seems bent on unpicking right now: surveillance, technologies, intercultural identities, and itinerancy. The original Armory Show that the fair is named after brought European artists to New York when they were the radicals of emerging modernisms in 1913. In a way, the MENAM focus echoes this heritage, although post globalisation and with digital multiculturalism, the shock factor must be reduced. Self-affirmingly however, most of these projects—some of which are interactive installations—from Middle East-related artists need to be experienced in person to be understood, reiterating the art fair's purpose post-internet and the validity of such commissions. The Culturunners tours on a remodelled-up RV from Edge of Arabia, MIT, and a band of diverse contributors, provided outreach in novel form as it toured Harlem and Little Syria; Edge of Arabia co-founder, Saudi artist Ahmed Mater also installed his Cowboy Code in the MENAM section, a piece bridging Arab and American cultures by riffing on the similarities between their codes of honour.
The two Modern Special Projects (Armory Contemporary takes up one pier, Armory Modern another) inevitably felt less relevant but still had impact. Lynn Gumpert and Michele Wong of Grey Art Gallery at New York University curated a series of Iranian Parviz Tanavoli's wonderful stylised prints and sculptures. Italian design expert Maria Cristina Didero curated Lebanese designer Carlo Massoud's Arab Dolls: Maya, Zeina, Racha, and Yara, a mildly feminist ceramic floor installation that has been showing with Carwan Gallery for the past year but makes its New York debut. It's a fun piece but seemed out of place among the Modern booths.
The gallery booths in general throughout both piers favour cheap hits. Bright colours and positivism are everywhere. The entrance to Contemporary promotes numerous candy-coloured light installations. Plenty feels derivative and there was considerable overlap between the sections. Bonalumi seems to be everywhere—in Modern, Contemporary and at ADAA. Sean Kelly Gallery had an ultra commercial array, with neons saying Everything is Connected by Peter Liversidge, a Sun Pilar light sculpture by Mariko Mori, a figurative Anthony Gormley, and Mapplethorpe's nudes and flowers. Lisson was appealing as usual with engaging Amish Kapoors and Ryan Gander's cool paintings that go off canvas onto the wall. David Zwirner was showing lush large format photography by Thomas Ruff and sculptures by Karla Black.
Karla Black sculptures at the David Zwirner booth, The Armory Show. Photo: © Charles Roussel & Ocula
There were some standouts: In Modern, Zucker Art Books' Dieter Roth booth was curated to reference the essay written on his blue and red flutter effect. They're also selling an original edition of seminal Swiss magazine Cahiers d'Art with its red and blue cover by Duchamp featuring a heart. In Contemporary, Michael Muller outstandingly recreated his Was nennt sich Kunst, was heisst uns wahrsein for Thomas Schulte Gallery and Aanant & Zoo. Ronald Feldman put on a powerful and unusual environmentally angled presentation by Brandon Ballengee that constructed an entire salon of extinct species called The Framework of Absence. Yeesookyung's giant translated vases were a sensation at Kukje / Tina Kim and showing several together brilliantly multiplied their impact. The interplay between Carol Jackson's sculptures on the failures of the American West and Ben Murray's paintings was striking—largely due to her off-beat sculptures—at Monique Meloche gallery from Chicago. Belgian gallery Axel Vervoordt, primarily a design dealership, is participating for the first time with a series of dark pieces that contrasted with the predominance of colour at the fair and which represents the Belgian aesthetic much adopted in New York's downtown style.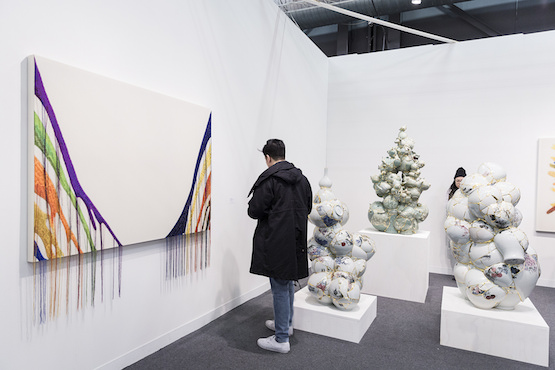 Tina Kim / Kukje Gallery at The Armory Show. Photo: © Charles Roussel & Ocula
Kholief's section of MENAM art succeeds in being a distinct exhibition form the rest of the fair and the region's important names are all there minus Sfeir-Semler, top among the Euro-Arab galleries and notably absent. While the art came from Turkey, Greece, the Gulf countries, Egypt, Lebanon and Syria, the galleries hailed from Europe and the US as well as those places, helping shift notions of national boundaries and prioritising the work. The Moving Museum, founded by Kholief's confidants Aya Mousawi and Simon Sakhai, had a small booth in the Contemporary section that promoted the idea of borderless fluidity more succinctly. Here they amiably explained their model for an online museum and hosted a signing with Famous New Media Artist Jeremy Bailey to celebrate his humorous online project, The You Museum.
Unlike this open mood, ADAA's fair, the oldest in the US, feels like an insider affair. 72 galleries (compared with the Armory's near-200), 33 of which are showing single artists and 39 exhibiting tightly themed presentations preventing the supermarket feeling of most fairs. Where the Armory's MENAM focus includes one or two big names among the emerging and mid-career contingents, ADAA has Lebanon's two grande dames of modernism, Etel Adnan at Galerie Lelong, and Saloua Raouda Choucair at CRG Gallery. One of Adnan's prized concertina notebooks in black and white makes for a cool, clean display as the monochrome ink scrawls sets off the bright blocky abstraction of her celebrated miniature paintings. Choucair's small sculptures and maquettes from her studio sit on a central plinth in front of her own colourful abstract paintings; the two displays are remarkably similar. Interesting to consider how the presence of these two elderly female Lebanese abstract artists constructs a tight narrative within ADAA of an emerging modern MENAM canon while the Armory's self-described "potted history" actively seeks to avoid such coherence.
More generally, sculpture took centre stage immediately from the entrance where Michelangelo Pistoletto's Mirror Paintings greeted you from Luhring Augustine's booth, delivering an instant hit of art-viewing reflexivity. Pistoletto's mirrors are in vogue but that doesn't stop them from being relevant and enduringly radical. Opposite Luhring Augustine, Sean Kelly's booth showed a set of Antony Gormleys. Plenty of outright money talk can be heard at ADAA, more perceptibly than at the Armory: Sean Kelly's Gormleys at both ADAA and the Armory were the hot topic.
Further inside the fair are two sculpture sensations. First at Sperone Westwater where Barry X Ball's newest work Perfect Forms is a rendition in black marble of Umberto Boccioni's renowned Futurist work Unique Forms of Continuity in Space from 1913. Ball has developed a digital modelling technique that allows him to produce the sculpture at the scale Boccioni intended it for the first time, and to finish it with the same mathematical accuracy "as one would use to make a car", according to the gallerist. The strident black figure is so macho and Italian that her comparison seems apt. The second sculpture buzz is around a bronze by Paul Manship that was stolen 32 years ago, showing with Hirschl & Adler after it was found in December. The classically influenced Central Figure of Day dates from 1916 and is a smaller version of the figure in his sundial Time and the Dancing Hours.
Tony Cragg sculptures at Marian Goodman Gallery, ADAA
Tony Cragg
's sculptures at Marian Goodman made an interesting exposition of how stylistic uniformity can be influenced by materials. Several of Ken Price's signature ceramic blobs were at both fairs. At ADAA one was at Brooke Alexander and took a lesser-seen form with a corner cut out to reveal a central void, which like a trick of the eye seems painted black. Nam June Paik has become so iconic in the past few years but it's unusual to see a collection of his works together as was shown here by Carl Solway gallery from Cincinnati, apart from somewhere like Tate Modern. The booth includes some instantly recognisable collage works that the gallerist said haven't been exhibited before. Pace/MacGill's night-themed display looked little more than fashionable but the photography from Richard Misrach, Viviane Sassen and Hiroshi Sugimoto was still beautiful and the palette of blacks synched with Pace's solo show of
Jim Dine
's illustrative grasses, Autumn Suite.
—[O]