Feature
The Art You Missed During Art Basel in Hong Kong
Dex Fernandez, 'Yo Mara Yo', at Rossi & Rossi
One local gallery manager described it as constipation: Hong Kong holds in its art activities all year before forcing everything out in the week that Art Basel comes to town. The fair alone is like a system of intestines: unraveled, the paths visitors have to walk to see all the works would stretch for kilometers. There is also a huge amount of activity away from the Hong Kong Convention Centre. This year there was much too much for any one person to have seen, but some of what we found was even more interesting than the main event.
Several satellite activities took place in a shallow orbit around Basel. In white tents on the Central Harbourfront, right under The Hong Kong Observation Wheel, Art Central presented 75 galleries from 21 countries. One highlight was 29 year old Ye Funa's Arty Bitches, presented by Chengdu's L-Gallery. Ye's Cindy Sherman-esque experiments with prosthetics and feminine signifiers were a tonic after recent news that four mainland Chinese feminists were still in jail more than a week after being locked up in anticipation of International Women's Day protests. Generally, Art Central was at its best when exposing young artists and upcoming galleries. A better annex event might offer something else entirely. Why not focus, for instance, on photography and prints?
There was no giant inflatable duck in Hong Kong this year, but the woman behind the inflatable barbecue pig, Cao Fei, gave us another impressive public art piece. The Guangzhou-born artist created visuals based on classic arcade games Pac-Man, Donkey Kong and Mario Bros and displayed them on the skin of Kowloon's International Commerce Centre, one of Hong Kong's twin tallest buildings. Also across the harbour, a bus dangled precariously from The Peninsula hotel's seventh floor Sun Terrace. British artist Richard Wilson was inspired to create the 6.5 ton sculpture, Hang on a Minute Lads… I've got a great idea, by a scene from heist movie The Italian Job.
Richard Wilson, Hang on a Minute Lads... I've got a great idea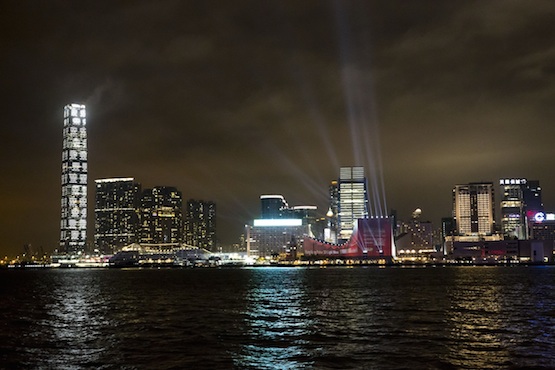 Cao Fei, Same Old, Brand New, © Art Basel
The most interesting art, though, required escaping Art Basel's gravity field, getting away from Central, Wan Chai and Tsim Sha Tsui, and heading to Chai Wan and Quarry Road in the East, and Wong Chuk Hang in the South. These are places where you access the art not by escalator but by clanging two-door service elevator, places where luxury cars are being serviced, not sold.
The CHAI WAN MEI Art & Design Festival 2015 involved over 30 spaces, including an art programme, Videos and words from a post-industrial city, curated by Inti Guerrero. The programme saw 10 video pieces and five neon-text based works strategically displayed around the main Chai wan venue, Industrial City, and featured both established and rising local and international artists, including Carlos Amorales, Cao Fei, Liu Change and Kacey Wong.
One of the stand-out works of Guerrero's programme was Cristina Lucas' video, Europleasure International - Touch and Go (2010). Lucas is known best for her work that examines cultural, social and political power structures and the mechanisms they produce to limit individual freedom, and this particular work featured a group of Liverpool unionists and their families gathered for a collective performance to vandalise the façade of the now-defunct iconic "Europleasure International" building where the participants or their relatives used to work. As Guerrero explained, many buildings like that featured in Lucas' work, stand empty in post-industrial cities as obsolete monuments to a past economic era.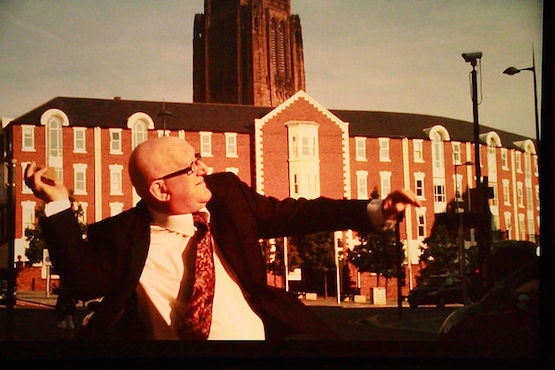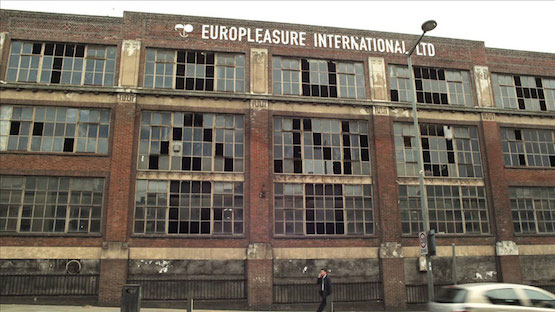 Cristina Lucas, Europleasure International - Touch and Go (2010)
Also investigating the topic of freedom, was Platform China's excellent duo show called
Dear, Why Freedom?
, which takes its names from the titles of its two constituent works. In
Dear
, Zhejiang-born artist Jin Shan recruited two volunteers to star in an S&M scenario, an oblique meditation on the ways we consent to conceding certain freedoms.
Jin Shan, installation still, Dear
In
Why Freedom
, Beijing-based pairing Sun Yuan and Peng Yu connected a high-pressure air hose to the underside of an armchair. Switched on, the hose flailed so wildly that it eventually tore away a section of the chair's fabric.
Why Freedom
was reminiscent of Siobhan Hapaska's
Intifada
installation in the
Encounters
sector at Basel whose shackled trees lost leaves as they were shaken by electric motors. But Hapaska's work, the name of which literally translates as "shaking off" is catatonic, pessimistic, with the vibrating tree holding out no hope of escape. In
Why Freedom
, the hose fought back so violently against its constraints that the piece had to be switched off.
Sun Yuan and Peng Yu, Exhibition view, Why Freedom
Also in Chai Wan, photographer Michael Wolf invited visitors up another service elevator and past stacked cardboard boxes of bread crumbs and dried scallops, and into his warehouse studio. Wolf is collecting what he calls "bastard chairs", which were displayed in his studio and are seats cobbled together from discarded objects, from old tins to discarded plastic seat backs. He's also continuing to catalogue collections of other objects found in the city's back alleys—coat hangers dangling from pipes, rubber gloves drying on fences, and so on.
Wolf delights in small innovations that grow like mushrooms in these dark, semi-private spaces of the city. He photographs, for instance, the ways people use string and sheets of plastic to ground drips to keep from being fined, as if water were as dangerous as electricity. He also described a chopping block he found placed next to a ventilation duct—the cook was using the air flow to blow onion fumes away from her eyes, stopping her from tearing up.
Artist Michael Wolf
With news that Hong Kong's back alleys may be converted into thoroughfares to help ease pedestrian gridlock, Wolf hopes to protect them by making them into UNESCO heritage sites. "This kind of vernacular can be an important cultural artifact," he told me. It's also a way of celebrating the city's working class residents, people who are too easily ignored or begrudged in a sometimes grotesquely divided city.
Like Wolf, artists at Basel often took objects made of cheap materials as their subjects, or used them in their processes, but the finished items were almost always rendered in expensive, durable substances. Ai Weiwei's three-legged stool was done in marble; Sterling Ruby's Black Stoves were modeled from cardboard, wood, and foam but cast in stainless steel; and Hong Kong-based artist Joao Vasco Paiva's polystyrene crates were remade with lacquer and stone resin. As Dolly Parton says, "it costs a lot of money to look this cheap."
Joao Vasco Paiva's work appeared in both the Encounters Sector and also in the Edouard Malingue booth at Art Basel, where there was also exhibited Eric Baudart's busted-ass blue armchair remade in fiberglass and resin, and the bed spring Multispire—a gorgeous readymade free of anxiety about its inherent value as a discovered form and this time not remade in titanium or gold. Coincidentally, Wolf also has a bed-spring on his studio wall, which has several small prints embedded in its coils. The use is echoed in one of his photographs, which shows empty takeaway cups stowed in the diamonds of a chain link fence.
João Vasco Paiva, Mausoleum (2015), acrylic on stone resin modules on galvanized mild steel structure, 341 x 341 x 559 cm. Image courtesy Edouard Malingue Gallery.
Hong Kong-based artist Lee Kit has long demonstrated courage in his embrace of found, cheap materials such as cardboard, which he paints in pastel colours more associated with domestic home wares than wealth and status. Kit is one of nine participants in the group show
Days Push Off Into Nights
, curated by Christina Li, at Spring Workshop, on the south side of the island, where subtle, and lyrical pieces prevailed.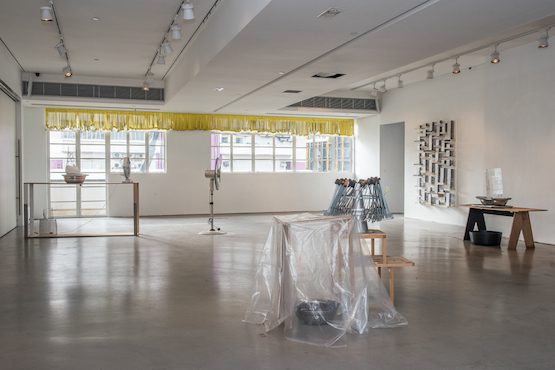 Exhibition view, Days Push Off Into Nights at Spring Workshop
The show delighted in slowness, an impossibility at Art Basel. Moyra Davey photographed people writing in notebooks on the New York Metro, immersed in contemplation, an inversion of the Basel mindset, while Jewyo Rhii's
Cooling System
measured time in the drips of a huge block of ice, the air around it circulated by fan as a means of air conditioning. Russian artist Olga Chernysheva exhibited fragments of video with small narratives. One described how, on a visit to her parents' place, she followed a muted whine to its source, a postcard from Putin sent to veterans, including her father, which they couldn't shut up. It was a beautiful, strange discovery, not only for the artist but for the viewer too.
Around the corner from Spring Workshop at Rossi & Rossi was the exhibition Fluidity and Encounters: Current Versions of the Philippine Contemporary, a vital, startlingly colourful show after the upturned cutlery drawer of hard, shiny surfaces seen at Basel. (Takashi Murakami was a rare exception to the prevailing chromatophobia—even compatriots Nara and Kusama's works were in bronze). Among these works are Dex Fernandez's psychedelic doodles on photoshopped portraits, Gaston Damag's digital photographs erupting in lava flows of trickled bleach, and carved and painted wooden busts by Riel Hilario.
Exhibition view, Fluidity and Encounters: Current Versions of the Philippine Contemporary at Rossi & Rossi
People complain that there's not enough time to digest all the art at Basel, but it's a marketplace, not a museum show. You don't digest all the food at a supermarket either. You choose something you like and you take it home. Nevertheless, it was a pleasure to see Hong Kong galleries and art spaces do the work and theme their shows, politically, tonally and geographically.
The best digestive aid of all—the extra strength Pepto Bismol of Hong Kong's art week—was to be found in Quarry Bay, where Para Site hosted the exhibition A Hundred Years of Shame—Songs of Resistance and Scenarios for Chinese Nations. Curated by Cosmin Costinas and Anthony Yung, the show takes its name from a Chinese phrase lamenting defeats and subjugation by the British and the Japanese during the 19th and 20th centuries. The exhibition examines new manifestations and dynamics of quasi-colonial power.
Exhibition view, A Hundred Years of Shame—Songs of Resistance and Scenarios for Chinese Nations, at Para Site. Curated by Cosmin Costinas and Anthony Yung
The show included not only contemporary works such as the Xi Kang
Records Recording Studio
— a sound booth devoted to a fictional label supposedly recording the "music of discontent" from across the Chinese speaking world—and James T. Hong's
Apologies
, which shows various military generals saying sorry for accidental deaths caused by their armies. It also brought together some marvelous historical materials that yielded invaluable cultural context.
Xi Kang, Records Recording Studio
Friedrich Wilhelm Keyl's
Looty
is a portrait of the Pekinese dog found during the pillage of the Old Summer Palace and gifted to Queen Victoria, a grotesquely cute trophy from the assault. An unknown Shunga artist's Japanese soldier buggering a Russian soldier, more Japanese troops in the distance charging with a Japanese flat, painted 1904-1905, is an overexcited testament to the first instance in modern history of a non-European nation's military victory over a Western power. Equally fascinating but much more recent is video of John Adams' opera
Nixon in China,
which includes "a play within a play"—a performance of the ballet
Red Detachment of Women
, wherein female Chinese soldiers evade the lewd aggressions of an actor resembling Henry Kissinger (and Groucho Marx).
John Adams' opera, Nixon in China
Works at Basel can be visually cacophonous, but the noise is only made at certain frequencies. Despite the incredible vibrancy and creative energy of the Umbrella Movement last year, Hong Kong's political debate was thoroughly muffled during art week. Para Site, Platform China, and AJC Gallery with a show of Kacey Wong's work, were three of the only art spaces to even allude to ongoing tensions between people and their politicians. Those returning to Hong Kong for next year's Art Basel with the time and inclination to digest instead of binge would be well advised to charge up an Octopus card and get out of downtown.
—[O]