Feature
The Best Exhibitions to See in Basel
Anicka Yi, Installation view 7,070,430K of Digital Spit, Kunsthalle Basel, 2015 Foto/Photo: Philipp Hänger 
Ocula correspondent Stephanie Bailey reports on top exhibitions around the city during Art Week
Kunsthalle Basel
Anicka Yi
7,070,430K of Digital Spit
12 June–16 August 2015
7,070,430K of Digital Spit is about forgetting as an aesthetic operation. Framed as a 'coda' to Yi's 'last few years of intense artistic production'—specifically, the last five years—this exhibition is as much about remembrance as it is about letting go. Yi has incorporated elements of past works in new works in what might be described as "a forensics of forgetting". One key element in the exhibition is a scent produced in collaboration with a French perfumer Barnabé Fillion titled Aliens and Alzheimer's, which has been used to scent the pages of a publication made especially for the show: a reprint of Yi's recently published (first) monograph. Buyers of the publication are asked to burn it after reading.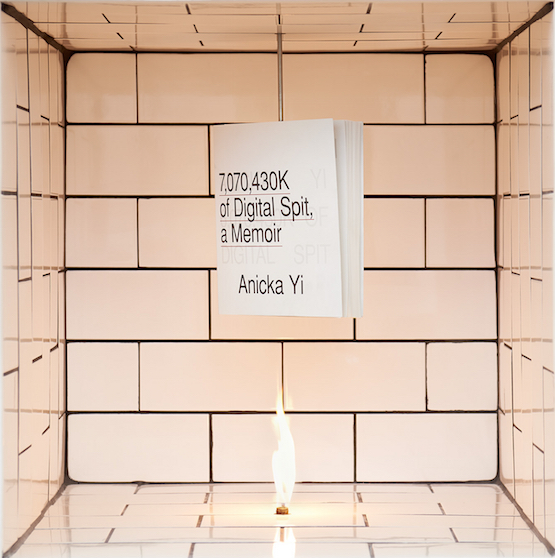 Anicka Yi, Odor in the Court (2015), in 7,070,430K of Digital Spit, Kunsthalle Basel, 2015. Foto/Photo: Philipp Hänger
Vincent Fecteau
You Have Did the Right Thing When You Put That Skylight In
18 June–23 August 2015
This is Fecteau's largest show to date, and the artist's first solo outing in Switzerland. It brings together works from 2000 to the present day, as well as a new body of work that employs images taken from magazines Fecteau collected in the 1990s. The exhibition takes its title from an Arthur Russell track: a song from the only album this avant-garde composer and musician managed to make in his short lifetime, which celebrates the way a skylight made the home of Ernie Brooks 'a nicer place to be'. The reference to the song connects to Fecteau's own interest in architectural and domestic spaces, and recalls something Fecteau said once about the way an artwork bears the "complicated psychology of a housewarming gift."
http://www.kunsthallebasel.ch/en
Vincent Fecteau, Untitled, 2015. Collage, acrylic paint, paper, 30 x 39.5 x 11.5 cm. Courtesy the artist; Galerie Buchholz, Berlin / Cologne; greengrassi, London; Gallery Matthew Marks. Photo: Ian Reeves
Fondation Beyeler
Paul Gauguin
8 February–28 June 2015
Form is on the cards for the Fondation Beyeler's 2015 offering to the Art Basel calendar, with a showing of some fifty masterpieces by modern master (and Polynesian fetishist?) Paul Gauguin. Bringing together pieces from international museums and private collections from all over the world, works include self-portraits, paintings Gauguin produced during his time in Brittany, sculptures, as well as—of course—those world-famous paintings created in Tahiti, with their focus on the sensual bodies of the exotic feminine presented in a somewhat prelapsarian idyll.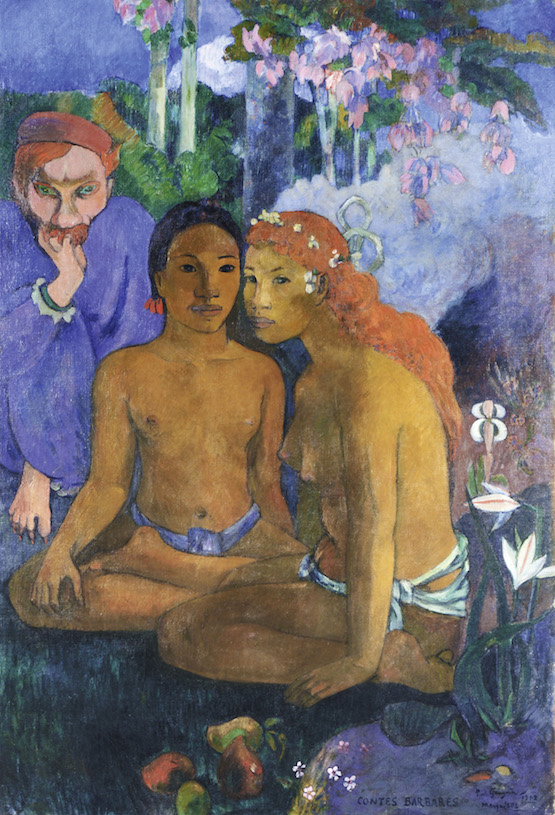 Paul Gauguin, Contes Barbares, 1902. Oil on canvas, 131.5 x 90.5 cm. Museum Folkwang, Essen. Photograph © Museum Folkwang, Essen. Image courtesy Fondation Beyeler
Marlene Dumas
The Image as Burden
31 May–6 September 2015
Gauguin's male gaze has been balanced out by the Fondation Beyeler's second exhibition: an extensive presentation of over a hundred paintings and drawings, rarely shown collages, and recent work by South African painter Marlene Dumas, whose career has been defined by a treatment of the human figure as a vessel of affect. Organised with Dumas and realised together with the Stedelijk Museum Amsterdam and the Tate Modern London, this chronological exhibition provides an in-depth look into Dumas's intense focus on the human form, out of which themes of love, death, identity and mourning emerge.
www.fondationbeyeler.ch/en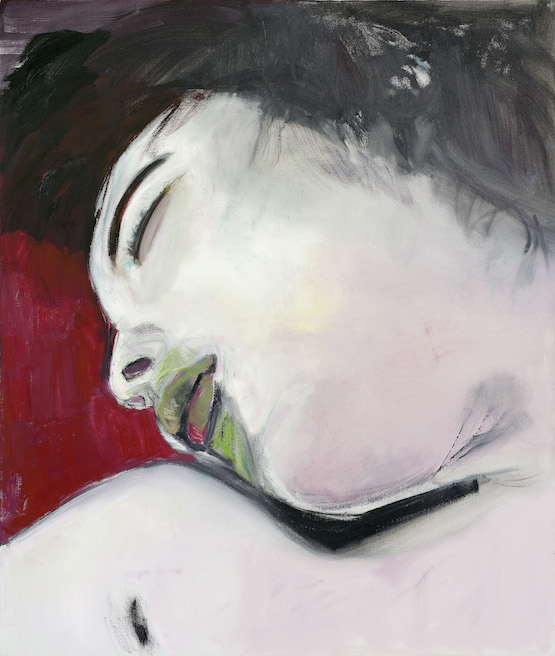 Marlene Dumas, Broken White, 2006. Oil on canvas, 130 x 110 cm. Courtesy Gallery Koyanagi. © Marlene Dumas. Photograph by Peter Cox, © 2015, ProLitteris, Zurich. Image courtesy Fondation Beyeler
Schaulager
Future Present: Works from the Emanuel Hoffmann Foundation
13 June 2015–31 January 2016
Drawing together paintings, sculptures, drawings, installations, photography and video that span a century of art, this exhibition presents work from the extensive Emanuel Hoffman Foundation collection. Established by collector Maja Stehlin in 1933 to honour what she started with her husband Emanuel, who died tragically young. This is the first time in over 30 years the Schaulager presents work from the Emanuel Hoffmann Foundation, despite having been the storage space for the collection since 2003 (works from the collection have traditionally been shown at the Kunstmuseum Basel or Museum für Gegenwartskunst). The exhibition, which presents artists from Max Ernst, Hans Arp, Joan Miró and Salvador Dalí, to Jeff Wall, Tacita Dean, David Claerbout, Thomas Demand, Elizabeth Peyton, and Peter Fischli & David Weiss, utilises every inch of the Schaulager space. It even spills out into public spaces throughout Basel.
http://www.schaulager.org/future-present/en/
Robert Delaunay, La Tour Eiffel, 1910-1911. Oil on canvas, 195.5 × 129 cm. Emanuel Hoffmann Foundation, on permanent loan to the Öffentliche Kunstsammlung Basel. Photo: Martin P. Bühler. Image courtesy Schaulager
Kunstmuseum Basel
Frank Stella
Paintings & Drawings
9 May–30 August, 2015****
Martin Boyce
25 April–16 August, 2015****
Cézanne to Richter
Masterpieces from the Kunstmuseum Basel
14 February–21 February, 2016****
Joseph Beuys
Installations, Actions & Vitrines
19 December 2014–31 January, 2016.****
Holbein. Cranach. Grünewald
Masterpieces from the Kunstmuseum Basel
11 April 2015–q28 February 2016
With the main building of the Kunstmuseum Basel closed for renovation work (set for completion in April 2016), the museum is staging its exhibitions in various locations. Of these is the Museum für Gegenwartskunst, which presents four exhibitions, three of which are solo presentations by artists who need no introduction (Stella, Beuys, Boyce) and a group exhibition featuring works from the Kunstmuseum Basel collection, which presents artists from Cezanne to Richter. History is stretched back further at the Museum der Kulturen Basel, where curator Bodo Brinkmann showcases Old Master paintings from the Öffentliche Kunstsammlung Basel, including works by Konrad Witz, Hans Holbein the Younger, Hans the Elder, Matthias Grünewald, Hans Baldung Grien and Lucas Cranach, as well as Swiss artists of the Renaissance, Niklaus Manuel and Tobias Stimmer.
http://www.kunstmuseumbasel.ch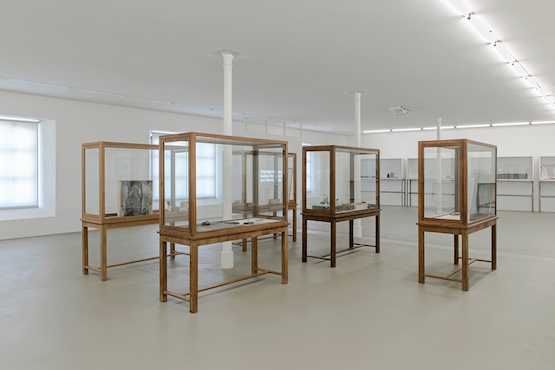 Exhibition view, Joseph Beuys, 11 Vitrinen, 1949/1984. Photo: Gina Folly, image courtesy Kunstmuseum Basel
Museum für Wohnkultur
Museum of Broken Relationships
16 April–30 August 2015
What becomes of the broken hearted? Look no further than The_Museum of Broken Relationships_, a nomadic exhibition that has taken up residence in Basel courtesy of It's the Real Thing - Basler Dokumentartage 15 art festival with the support of the Historisches Museum Basel. The exhibition features items donated by people who felt compelled to do so: objects that represent relational breakdowns. Each object comes with a story—some are heartbreaking, others hilarious, all of them experiences to relate with. Say what you want about Jeremy Clarkson, but he called this "the only museum I've visited where every single thing on display was utterly fabulous." So come all ye broken hearted, and bring something, if you want. As Clarkson wrote, doing so might bring closure. You can then say of the relic of your pain: "I've given the bloody thing to a museum." So there.
SALTS
Nicolas Party
PANORAMA
18 June–25 July, 2015
This is the first institutional show for Nicolas Party in Switzerland, the artist's home country, and as such, Party has gone a monumental route, turning the outdoor exhibition boxes at SALTS into a single large-scale cube that acts as a 360-degree panoramic painting. Curated by Samuel Leuenberger and Elise Lammer, the exhibition takes its cue from the history of the panorama, particularly in the 19th century Western imagination (and with reference to the Bourbaki Panorama in Lucerne, which was painted by Edouard Castres amongst others). But Party turns this 360-degree panoramic painting into an ironic gesture—only a partial view is ever possible from within the composition.
WLGTDWI
18 June–26 July 2015
This exhibition of performance begins with a performance evening on the 18th of June (6pm), which will take place at the same time of the Nicolas Party opening. The theme at hand is that other eternal question, "What's Love Got To Do With It?" Featured artists include Nino Baumgartner, Claudia Comte, Dawn Mok, Petrit Halilaj, Egon Elliut Paul Kneale, Karin Lehmann, Guillaume Pilet, Antoine Renard, Clémence de La Tour du Pin, Alvaro Urbano, and Megan Rooney & friends. The question will continue on Saturday 21 June at Art Basel Salon, when SALTS Associate Curator Elise Lammer will moderate a panel discussion considering the role of romance and collaboration in art practice. 

The Printed Room
Poems 1990–2001
18 June to 25 July, 2015
A project initiated by Quinn Latimer, The Printed Room presents Poems 1990–2001, an exploration of poetry formed through digital technologies like flash, hypertext and VRML (Virtual Reality Modeling Language). Curated by Harry Burke, the project features poetry by Eduardo Kac, Deena Larsen, Belén Gache, Ana Maria Uribe, Tiia Johannson, Erik Loyer, Hazel Smith, Jennifer Ley, Stephanie Strickland, Carolyn Guertin, Mendi and Keith Obadike, Young-Hae Chang Heavy Industries, Caterina Davinio, and others. Posters by Jesse Stecklow, Holly White, Hamishi Farah, and Bea Schlingelhoff commissioned to accompany the exhibition will also be featured. 

www.salts.ch