Feature | Autumn Lowdown
London Exhibitions to See During Frieze Week and Beyond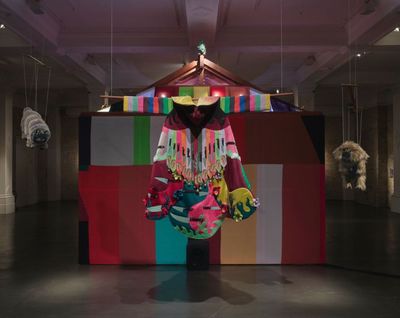 Exhibition view: Zadie Xa, House Gods, Animal Guides and Five Ways 2 Forgiveness, Whitechapel Gallery, London (20 September 2022–30 April 2023). Courtesy Whitechapel Gallery. Photo: Andy Keate.
With Frieze London returning to The Regent's Park this autumn (12–16 October 2022), Ocula Magazine shares the must-see exhibitions across the city's galleries, museums, and non-profit spaces.
Carolee Schneemann, Up to and Including Her Limits (1976). Performance, Studiogalerie, Berlin (10 June 1976). Carolee Schneemann Papers, Getty Research Institute, Los Angeles (950001). © Carolee Schneemann Foundation/Artists Rights Society (ARS), New York. Photo: Henrik Gaard.
Carolee Schneemann: Body Politics
Barbican Centre, Silk Street
8 September 2022–8 January 2023
Six decades of American artist Carolee Schneemann's radical expression are on view at the Barbican Centre, including paintings, sculptural assemblages, performances, films, and installations that spoke to the objectification of female bodies, animal cruelty, and war.
Among notable works is Schneemann's 1964 performance Meat Joy, first enacted at the Festival of Free Expression in Paris, which found four men and four women in fur-trimmed underwear wrestling onstage and rubbing themselves with raw chickens and dead fish.
Blood Work Diary from 1972, comprised bloats of the artist's menstrual blood on tissue paper. Some are dated to 'Thursday/ Morning'. At the Barbican Centre, further video works combine footage of the artist's vulva with newsreels of atrocities in Vietnam and her cat.
Performance view: Tschabalala Self, Sounding Board (2021). Performa, New York. Courtesy Pilar Corias. Photo: Sergio Gutierrez.
Tschabalala Self: Home Body
Pilar Corrias, 2 Savile Row and 54 Eastcastle Street
6 October–17 December 2022
Tschabalala Self's dynamic expressions of the Black female form are transplanted into a set of characters inhabiting domestic spaces staged across Pilar Corrias' dual London galleries as an inquiry into the inherent safety of the home space.
Home Body reflects the recent incorporation of functional objects into the artist's practice, mostly tables and chairs, which set the scene to explore the identities we perform in familial settings—archetypes the artist enacts in her 2021 performance Sounding Board.
A video of the latter, which premiered at the 2021 Performa Biennial in New York City, is included at Pilar Corrias, touching on issues of gender, domesticity, and race, while amplifying Self's painting-centric practice.
Tyler Mitchell, Treading (2022). Archival pigment print. 127 × 102 cm. Courtesy the artist and Gagosian.
Tyler Mitchell: Chrysalis
Gagosian, 17-19 Davies Street
6 October–12 November 2022
Tyler Mitchell's representations of Black beauty, desire, and belonging gain a critical conscience with Chrysalis. To his utopias, the artist has incorporated a hint of reality that addresses the physical, historical, and emotional spaces Black bodies inhabit.
In these new works, Black youths appear within real and staged landscapes that retain the aesthetic appeal of Mitchell's captures, while speaking to collective concerns of safety and belonging, and hinting at future possibility.
Photographs like Treading (2022) evoke the tension and quiet preceding metamorphosis, with a boy's head emerging from a still lake with bright balloons bunched beside him. In Flotation (2022), a Black body is caught in a pool of mud, unmoving but at the surface.
Nathaniel Mary Quinn, Sunshine (2022). Oil paint, black charcoal, oil pastel on linen canvas stretched over wood panel. 127 x 127 cm. © Nathaniel Mary Quinn. Courtesy the artist and Almine Rech. Photo: Nicolas Brasseur.
Nathaniel Mary Quinn: SCENES
Almine Rech, Broadbent House
11 October–12 November 2022
For his third solo exhibition with Almine Rech, Nathaniel Mary Quinn will be showing a new series of composite portraits of his signature collage-like style, characterised by disfigured sitters distorted by gestural strokes.
Quinn is known to paint of personal hardship and familial history. In these new portraits, he contends with the present relevance of memory, blending influences from memorable film scenes, social media discussions, and paintings from the Francis Bacon exhibition at The Royal Academy of Art in London earlier this year.
In Sunshine (2022), a seated woman with prominent charcoal-rendered features that seem to belong to another face leans forward, perhaps referencing the artist's wife, an aspiring actress and writer.
Kamala Ibrahim Ishag, Blues for the Martyrs (2022). Oil on canvas. 203 x 300cm. © Kamala Ibrahim Ishag. Courtesy the artist. Photo: Mohamed Noureldin Abdallah Ahmed.
Kamala Ibrahim Ishag
Serpentine South Gallery, Kensington Gardens
7 October 2022–29 January 2023
Kamala Ibrahim Ishag was among the first women to graduate from Khartoum's College of Fine and Applied Art in Sudan. She became a significant figure of the Khartoum School, known for shaping a new visual identity for the country that combined Arab and African traditions, before co-founding the Crystalist Group around 1973.
The artist's expansive practice draws from Sudan's landscapes, histories, and visual cultures throughout time, while incorporating its own motifs inspired by women, spiritualism, Zar ceremonies, plants, and familial histories. Oils on canvas like Blues for the Martyrs (2022) additionally expresses a political conscience.
Beyond paper and canvas, Ishag also painted on calabashes, screens, and leather drums. At Serpentine Galleries, this breadth is celebrated with works from the 1960s to today, including new paintings, graphic design, and materials from the artist's archive.
Lee Kai Chung, The Shadow Lands Yonder (2022) (still). Single-channel video, colour, stereo. 44 min, 25 sec. Japanese dialogue, with Chinese and English subtitles. Courtesy the artist and Tabula Rasa Gallery.
Lee Kai Chung: Late Port
Tabula Rasa Gallery, Unit One, 99 East Road
6 October–11 November 2022
Lee Kai Chung's research-based practice centres on recreating neglected archives with a focus on 20th century East-Asian colonial histories. At Tabula Rasa Gallery, projects from 2013 to the present are brought together to examine ongoing trends within Lee's work.
Among notable works on view is Lee's 2017 project Displacement, which investigates human and material circulation and their relationship to geopolitical relations within the Pan-Asian context. The first of its serial videos, for instance, inquired into the shifting significance of public statues in Hong Kong. More recently, the artist founded an online archive in collaboration with curator Shen Jun.
Marwan Bassiouni, New British Views #29 (2022). Pigment print on fine art paper mounted on Dibond. 76 x 57 cm. Courtesy WORKPLACE.
Marwan Bassiouni: New British Views
WORKPLACE, 50 Mortimer Street
11 October–19 November 2022
Swiss artist Marwan Bassiouni challenges existing representations of Arab culture and Islamic religion with a series of new photographs inspired by the history of immigration in Britain.
Bassiouni travelled across the U.K. to gain a new perspective on its architecture and landscape, notably through the lens of its Islamic population and religious sites. Resulting works show familiar sights framed by the intimate shapes of mosque windows and prayer rooms.
Photographs like New British View #29 (2022), a view into a noticeably English street, effectively reframe Britain's neighbourhoods from the perspective of those who can be othered for their faith by building empathy through connecting public and private spaces.
Ufuoma Essi, Is My Living In Vain (2022) (still). 16mm, super 8mm, and video H.D. Commissioned by Gasworks, London; Te Uru Waitākere, Auckland; and Le Magasin CNAC, Grenoble. Courtesy the artist.
Ufuoma Essi: Is My Living in Vain
Gasworks, 155 Vauxhall Street
6 October–18 December 2022
London-based filmmaker Ufuoma Essi's most recent work explores the Black church as a space of belonging, affirmation, and community organising, and its contribution to the Black history of resistance.
Is My Living in Vain traces the Black church's history across archival imagery, shot footage, and spoken histories, and connects church communities in West Philadelphia and South London from their shared political, spiritual, and existential concerns.
The film is staged as an immersive installation at Gasworks, alluding to the connections between the cinema and church as communal spaces to share experiences.
Nikita Gale, CCCIRCCCE (2022). Commissioned and produced by Chisenhale Gallery, London. Exhibition view: IN A DREAM YOU CLIMB THE STAIRS, Chisenhale Gallery, London (9 July–16 October 2022). Courtesy the artist. Photo: Andy Keate.
Nikita Gale: IN A DREAM YOU CLIMB THE STAIRS
Chisenhale Gallery, 64 Chisenhale Road
9 July–16 October 2022
Nikita Gale's new installation at Chisenhale Gallery materialises the landscapes we could inhabit when social infrastructures of visibility and performance, such as symbolic displays of wealth, turn to ruin.
The exhibition is conceptualised from Toni Morrison's 1977 novel, Song of Solomon, in which a character named Circe shares a grand house with a pack of dogs. Circe materialises the violence of the greed and excess of previous owners by turning the residence into a 'free domain'.
Gale manifests these internal and external states of decay with conical spotlights reaching from the ceiling to the floor, ten-metre-long pleated curtains, and concrete sculptures of dog leashes bunched in a curl, with commands invoking dogs playing in the gallery space.
Brittany Shepherd, The Path (2022). Oil on panel. 61 × 76 cm. Courtesy the artist and MAMOTH.
Brittany Shepherd: Deliverance
MAMOTH, 3 Endsleigh Street
24 September–29 November 2022
Brittany Shepherd's provocative tableaus are made for the fetishist's gaze. For Shepherd, such images manifest desire in a rather creative way by imbuing beauty within the otherwise mundane.
Oozing liquids on nude bodies, heads suffocated by plastic bags, sheer metallic dresses, and burning heels—Shepherd's paintings are notable for their textures, emotional poignancy, and nostalgic undertones, intentionally contrasting the sterility of digital mediums.
Gripping compositions like The Path (2022) show a woman's bare legs traversing a field at night, glistening with grey mud, which appears smeared from the ground up starting from her strapped kitten heels.
Chou Yu-Cheng, Origami #2 (2022). Acrylic on paper, paper inlaid on linen. 200 x 180 cm. Courtesy the artist and Kiang Malingue.
Chou Yu-Cheng
Kate MacGarry, 27 Old Nichol Street
16 September–22 October 2022
Known for rather imposing installations that inquire about art's role in society, Chou Yu-Cheng's recent 'Origami' paintings (2022) reflect a slight shift in the artist's practice, conceived as a eulogy to stillness.
Coiled forms like Origami #2 (2022) feature delicate paper curls assembled into three-dimensional forms with gradated tones taking after the shade of rivers, including their toxic variations. Pigments are dense and heavy at places modelling sediments at the bottom of riverbeds; in others they are light, taking after the flow of water.
Unknown Artist, Maria Bartuszová in her studio with sculptures, Košice, Slovakia (1987). Printed 2022. Reproduced from the archive of Maria Bartuszová, Košice. Courtesy Tate Modern.
Maria Bartuszová
Tate Modern, Bankside
20 September 2022–16 April 2023
Prague-born Slovak artist Maria Bartuszová's sculptural practice is defined by delicate white plaster forms modelled after organic shapes, conceived from a unique handcasting method that involves pouring plaster into rubber balloons.
The artist made over 500 forms over her lifetime, three decades of which are on view at Tate Modern. The latter are often shaped after raindrops, seeds, eggs, and the human body, and in later years, the artist let their round shapes burst to reveal open bodies.
An untitled sculpture from 1985, for instance, recreates a cluster of shattered eggs with cracks in their shells. The plaster appears so very thin that it is difficult to make out.
Exhibition view: Georgia Gardner Gray, NDE, Sadie Coles HQ, Kingly Street (8 September–22 October 2022). © Georgia Gardner Gray. Courtesy Sadie Coles HQ, London. Photo: Katie Morrison.
Georgia Gardner Gray: NDE
Sadie Coles HQ, 62 Kingly Street
8 September–22 October 2022
A wounded soldier's body spreads across the floor in Georgia Gardner Gray's first solo exhibition in the United Kingdom, which draws from the idea of a near-death experience.
Nearby, a row of segmented legs hangs from the gallery ceiling, shown alongside paintings and the artist's play NDE (2022), which opens with a soldier's death in a war of the future. He travels the memory of his life, reliving its 'micro-aggressions'.
Gardener Gray's paintings extend this portrayal of contemporary life, setting its figures within supernatural or apocalyptic scenes. In Self Portrait in Antiquity (2022), a woman in camouflage is seated inside a war zone beside a small marble nude lounging at the lower-right corner.
Dani and Sheilah ReStack, Blood and Water for FCB (2022) (still). Pots, pans, dishes, bags, fishing lures, fake blood. Courtesy the artists and Camden Art Centre.
Dani and Sheilah ReStack: Cuts in the Day
Camden Arts Centre, Arkwright Road
30 September 2022–15 January 2023
Dani and Sheilah ReStack's first institutional exhibition in the U.K. features a site-specific installation that explores queer desire, climate crisis, family, and collaboration.
Among works on view is a recorded performance of love letters by womxn first performed after the 2016 U.S. elections, and a trilogy of video works shot across deserts and glaciers, through which the artists enact an environmental fantasy that questions hegemonic values.
Another video projection, Blood and Water for FCB (2022), show the artists travelling across Ohio in search of water, drawing from American painter Forrest Bess' later life in Chinquapin, Texas. Bess' works are on view nearby at Camden Arts Centre.
Zadie Xa, House Gods, Animal Guides and Five Ways 2 Forgiveness (2022). Oil on canvas. Exhibition view: House Gods, Animal Guides and Five Ways 2 Forgiveness, Whitechapel Gallery, London (20 September 2022–30 April 2023). Courtesy Whitechapel Gallery. Photo: Andy Keate.
Zadie Xa: House Gods, Animal Guides and Five Ways 2 Forgiveness
Whitechapel Gallery, 77-82 Whitechapel High Street
20 September 2022–30 April 2023
Zadie Xa presents a significant body of work at Whitechapel Gallery, arranged into a kind of dreamscape speaking to diasporic identity, global histories, folklore, and spirituality.
Given the evocative title House Gods, Animal Guides and Five Ways 2 Forgiveness, the exhibition is staged around a large fabric installation taking the shape of a traditional Korean house.
Inside, panel paintings depict mystical scenes that combine traditional landscapes with animal motifs. Outside, sculptures of 'tricksters' and hung Korean garments stand guard to Xa's liminal world.
Sonia Boyce, Just One Minute More (2016) (still). 59 sec. Monitor dimensions variable. © Sonia Boyce. All Rights Reserved, DACS/Artimage 2022. Courtesy Simon Lee Gallery.
Sonia Boyce: Just for the Record
Simon Lee Gallery, 12 Berkeley Street
12 October–16 September 2022
Sonia Boyce has been gathering names and memorabilia of Black British women in music since 1999, compiled as the project Devotional. At Simon Lee Gallery, the latter is expanded with new works that draw from memorabilia to explore appropriation in art-making.
The Islington-born artist was a key figure of the Black Arts Movement in the 1980s, already addressing issues of gender and race. Boyce shifted to social practice the following decade, which the artist continues with collaborations across installation and film.
Works on view include found-image wallpapers from Boyce's mobile-phone archive, a silent film, and photographic prints of posters advertising the concerts and events of musicians from the Devotional project, which Boyce shot while travelling the U.K.
Leo Villareal, Corona (2018). OLED displays, electrical hardware, and custom software. 57-1_8 x 97-7_8 x 6- 12. © Leo Villareal. Courtesy the artist.
Leo Villareal
Stone Nest, 136 Shaftesbury Avenue
11 October 2022
Shortly before the opening of Frieze, Leo Villareal brings blockchain technology to life for a day with an immersive installation inside Stone Nest's historic chapel mid-Soho.
Code-based works combine colour and L.E.D. lights to create geometric forms accompanied by ambient music to produce a 'sensory experience'. The installation foreshadows a series of works Villareal will be releasing as NFTs later this year on the online platform Outland. —[O]