Feature
The Lowdown: shows to see during Gallery Weekend Beijing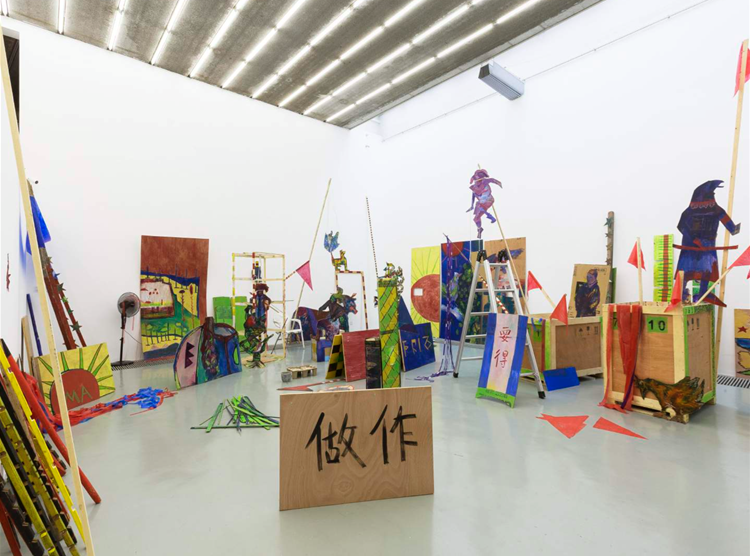 Ma Jianfeng, MA (2016). Installation view: MA, Ying Space, Beijing (9 July–4 September 2016). Painting installation, mixed media. Dimensions variable. Courtesy the artist and Institute for Provocation.
To coincide with the second edition of Gallery Weekend Beijing, taking place between 23 and 30 March 2018, various institutions have brought out the big guns, including a list of international artists from Sarah Morris to Paul McCarthy. Galleries are also gearing up for the weekend, from Liu Wei showing at Long March Space, to Richard Deacon at Beijing Commune—all of which are mentioned in this Ocula Lowdown of shows to see during Beijing's Gallery Weekend.
Sarah Morris: Odysseus Factor
24 March–17 June 2018
Xie Nanxing: Spices
17 March–27 May 2018
New Directions: Chang Yun-han
24 March–27 May 2018
Ullens Center for Contemporary Art
The powerhouse UCCA is opening three solo exhibitions this March: what the Center describes as 'the first complete presentation' of Sarah Morris's filmic output anywhere in the world'; a cycle of new oil paintings exploring European art history and iconography by Xie Nanxing, a celebrated mid-career painter; and Taiwanese Chang Yun-han, who will be showcased as part of UCCA's New Directions programme. This trio of exhibitions offers a strong statement that reaffirms UCCA's mission to support the development of Chinese contemporary art and showcase the best from the international scene. They are a welcome antidote to the shows the institution staged at the beginning of 2018, which were extreme in different ways—ex-sextape celebrity Edison Chan's all-over-the-place Music Is Art (12 January–11 February 2018), and Liu Wei's 180 Faces exhibition of 180 small paintings (25 February–11 March 2018).
Sarah Morris, Beijing (2008) (Still). Single-channel video. Courtesy Ullens Center for Contemporary Art.
Paul McCarthy: Innocence
M Woods
17 March–17 June 2018
Paul McCarthy's solo at M Woods is another installment of a series of sensational exhibitions staged at this non-profit museum—including Lu Yang's Encephalon Heaven (28 October 2017–11 February 2018)—which could easily become controversial with regards to Chinese cultural censorship policies. Co-founded by celebrity Wanwan Lei, who attracts a large amount of loyal followers to the space, the museum's age restrictions and ID checking policies for this upcoming McCarthy show have already garnered attention.
McCarthy's virtual reality art endeavour C.S.S.C. Coach Stage Stage Coach VR experiment Mary and Eve (2017), was on view as part of the Faurschou Foundation's recent group exhibition, Virtual Reality Art (27 August 2017–3 February 2018), which included artists such as Tony Oursler, Erik Parker and Yu Hong—so Beijing's audience has already had first-hand experience of McCarthy's unique aesthetics. One can be sure his forthcoming Innocent show is nothing like its title, and will probably replicate the sensation created by Matthew Barney's uncut River of Fundament (2014) screening at the China Central Academy of Fine Arts (CAFA) in 2016.
Paul McCarthy in collaboration with Damon McCarthy WS The Feature Armory Edit (2013). Courtesy the artist and Hauser & Wirth. © Paul McCarthy. Photo: Joshua White.
Amalia Ulman: Privilege
KWM Art Center
22 March–19 May 2018
The selfie-taking Instagram artist Amalia Ulman is having her first solo exhibition in Beijing at the non-profit KWM Art Center after visiting the country and being included in exhibitions in 2017, including Heart of the Tin Man at M Woods (30 June–8 October 2017) and RAM Highlight 2017: Displace (29 September–4 October 2017) at the Rockbund Art Museum in Shanghai. Ulman's upcoming KWM show includes a total of 15 photographs and 3 video works from the existing 'Privilege' and 'Excellences and Perfections' series, and the exhibition is predicted to be important in terms of conversations around Chinese museology and its relation to selfie culture. Instagrammable exhibitions are almost always guaranteed to be hits—TeamLab's massively successful Pace Beijing showcase last year being a case in point (Living Digital Forest and Future Park, 20 May–19 November 2017).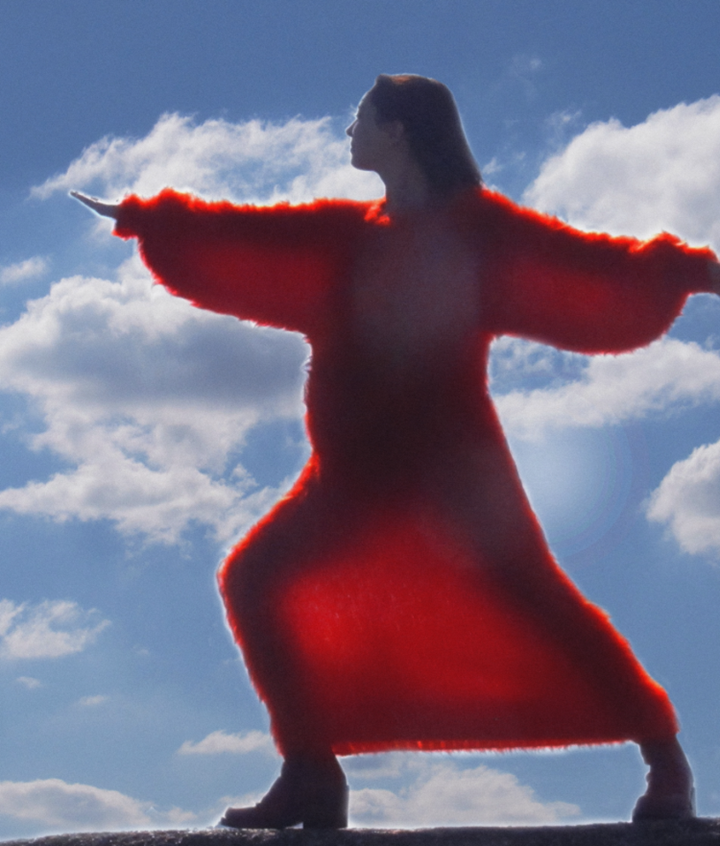 Amalia Ulman, Privilege 10/14/2016. Fuji Photo print on aluminum dibond under clear composite resin. 99.06 x 99.06 cm. Edition of 2 plus II AP. Courtesy of the artist and James Fuentes, New York.
Li Nu: Without Weavering
Tattoo Parlour
2 March–5 June 2018
The three non-profit spaces established by impresario Peng Xiaoyang—DRC No.12 in 2015, and The Bunker and Tattoo Parlour in 2017—have been frequently named the most active and interesting non-profit efforts in Beijing in recent years. DRC No. 12 has staged interesting projects by established artists, including those by Wang Luyan, Gu Dexin, Wang Youshen, Ni Haifeng, Zhu Jia, and most recently the internationally acclaimed documentary filmmaker Zhao Liang, whose contemporary art exhibition The Boundary opened in January 2018 (14 January–9 April 2018). Currently, The Bunker is staging Zhang Peili's playful-yet-solemn project No Network (4 November 2017–26 March 2018), which consists of a dark bunker space that locks visitors inside for a period of time without network coverage.
Tattoo Parlour is the youngest space out of the three, and will present young Chinese artist, and Royal College of Art graduate, Li Nu's solo project Without Weavering this March. As is normally the case with Tattoo Parlour's shows, the audience can only view works from the outside through the space's glass windows. On this occasion, Li Nu displays an oscillating clock hand that moves endlessly from left to right, bringing attention to the temporary building next door that is earmarked for demolition (in compliance with Beijing's urban renovation regulations) on one side, and a new, tall, fancy boutique hotel rebranded in 2016 by Tyler Brûlé on the other.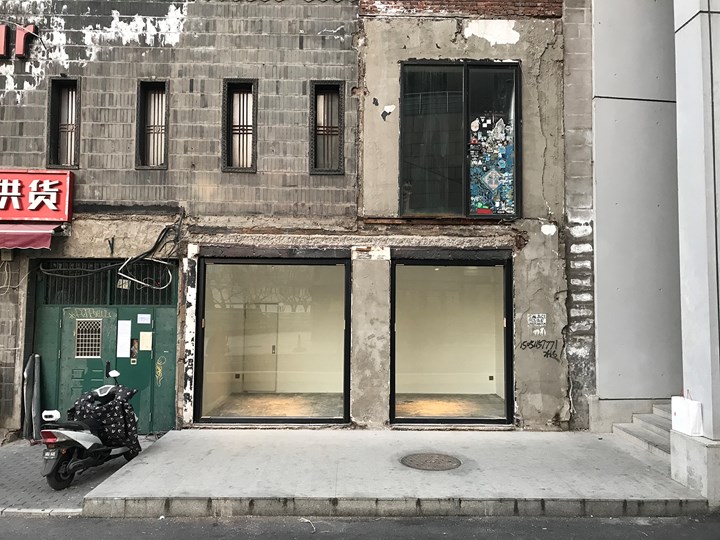 Exterior view of Tattoo Parlour, Beijing. Courtesy Tattoo Parlour.
Ma Jianfeng: The U-Cloister
Black Sesame Project Space, Institute for Provocation
16 March–31 March 2018
Founded in 2014, the non-profit project space/artist residency Institute for Provocation, in Beijing's hutong area, is one of the most active artist residencies in Beijing, but has so far only been recognised by a small local artist community. Historically, the Institute has received about five foreign, mostly European, artists-in-residence annually. But since 2017 it has started to increase its support for local artists and establish a firmer local presence, with curator Song Yi and artist Hu Wei now directly responsible for the space's operations.
Ma Jianfeng's site-specific exhibition The U-Cloister is the first exhibition of 2018 for the Institute's Black Sesame projects space, for which the artist will create an immersive painting installation within a beautifully disproportionate boiler room. Ma is prone to heatrical installations, as exemplified in UCCA's New Normal exhibition last year (19 March–9 July 2017), for which Ma created X (2016-2017): a massive jungle of paintings that literally broke the box-like space that each one of the 23 artists and groups included in this show were supposed to exhibit in. The two-week duration of The U-Cloister show is typical of the Institute, and is symptomatic of the tense atmosphere and temporal nature of independent spaces in Beijing's hutongs in general, given the city's long-term beautification (read: purging) of these areas.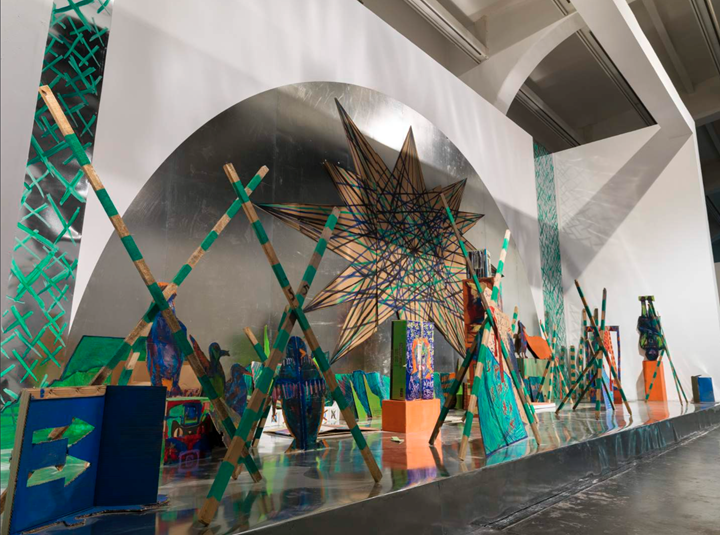 Ma Jianfeng, X (2016-2017). Painting installation, iron sheet, cardboard, plastic fabric, wood, acrylic, paint. Courtesy the artist and Institute for Provocation.
Genders Engender
Taikang Space
22 March–19 May 2018
As a collective response to the latest wave of global feminist movements started in 2017, Taikang Space's curator, Li Jia—recipient of last year's Hyundai Blue Prize award for Chinese young curators—presents Genders Engender, which includes works by ten artists and groups, including the writer collective Writing Mothers, led by artist Huang Jingyuan, and the United Motion activist group. Typical of the comprehensive programming that Taikang Space organises, which is still rather atypical in the Chinese context, is the series of workshops, forums and publications pertaining to issues of gender, equality and justice that will accompany this show.
Genders Engender stands in the landscape of the Beijing art world as a show organised by the side-lined—most participating artists do not have a representing gallery, and in recent times have been actively fighting sexual harassment in the Chinese art scene. While other spaces are preoccupied with celebrating the successful and the established, this exhibition speaks to the everyday reality of the local art world by presenting engaging artworks, archive materials and even conducting surveys among professionals, thus reflecting the underbelly of the scene (which one hopes will receive a hard kick).
Exhibition poster for Genders Engender, Taikang Space, Beijing (22 March–19 May 2018). Courtesy Taikang Space.
798 Art Zone and Caochangdi
In the 798 Art Zone and adjacent Caochangdi art district, numerous galleries participating in Gallery Weekend Beijing are presenting standout exhibitions that capitalise on the attention the event brings.
Liu Wei: Shadows
Long March Space
18 March–6 May 2018
Liu Wei, dubbed the most important Chinese artist of his generation, had a solo exhibition with Long March Space back in 2012, and has been exhibiting all over the world since, with this show marking a homecoming. Shadows will include the artist's series of the same name: new painted metal surfaces that merge painting with sculpture—two separate sides of Liu Wei's practice that up until now have been kept strictly independent from each other.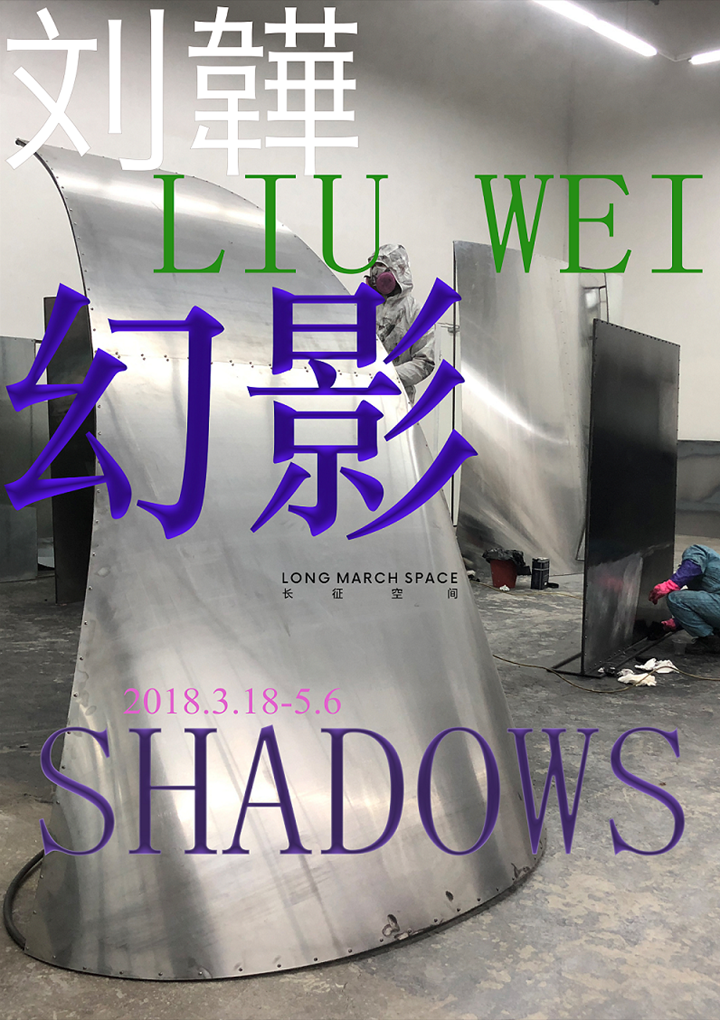 Exhibition poster for Shadows, Long March Space, Beijing (18 March–6 May 2018). Courtesy Long March Space.
Carsten Höller: Method
Galleria Continua
23 March–2 June 2018
This is Carsten Höller's first solo exhibition in China—and another show that has already received much attention. Announced so far is the inclusion of a new site-specific installation entitled Decimal Clock, and a number of works made in recent years. These include a version of the multi-channel video installation Twins (2005-2015), which works with numerous twins and speaks about sameness and the idea of unique identity (to be newly made for this show with local siblings). Also slated for view are works from the 'Divisions (Sphere and Carpet)' series from 2014, consisting of geometrical sculptural objects that speak directly to Höller's background in mathematics; and the sculptural, playful Giant Triple Mushroom (2017) installation.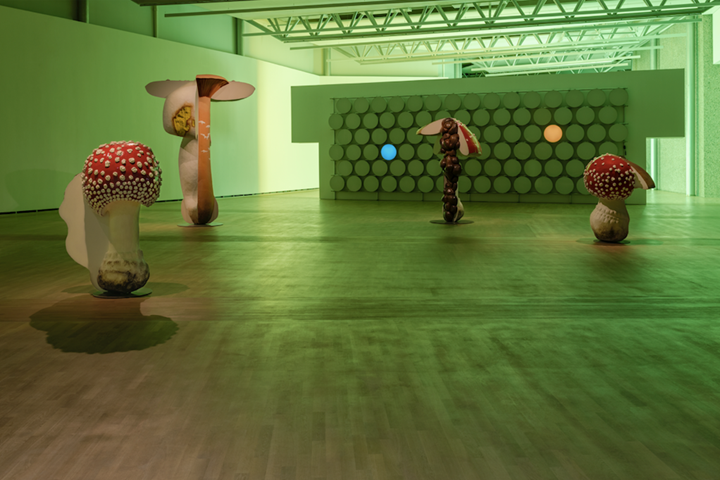 Carsten Höller, Giant Triple Mushroom (2017). Fly Agaric / Agaricus xanthodermus / Infundibulicybe geotropa polyester mushroom replica, polyester paint, synthetic resin, acrylic paint, wire, putty, polyurethane, rigid foam, stainless steel. Exhibition view: Henie Onstad Sanatorium, Henie Onstad Kunstsenter, Høvikodden (12 May–10 September 2017). Courtesy Henie Onstad Kunstsenter.
Shared Narrative(s)
ShanghART Beijing
23 March–22 May 2018
ShanghART Beijing presents a group show curated by young curator Miao Zijin, Shared Narrative(s) (23 March–22 May 2018), which brings three artists—Yunyu 'Ayo' Shih, Lin Aojie, and Richard Kuan—into conversation with one another. This is the first of the gallery's new initiative presenting curated projects. For this inaugural edition, Miao has devised a system whereby each artist will create new, site-specific works and interventions—such as cleaning the space or commenting upon the artists represented by the gallery—based on their considerations of the space and each other's practices. Resulting works will be shown in an overlapping sequence between the three, with works by only two artists on view in the gallery at any one time for the first six weeks.
ShanghART is also showing Liu Xiaohui's first solo exhibition with the gallery, Movements (4 March–8 April 2018), which showcases new paintings that subvert the tranquility and elegance seen in the artist's previous show in Shanghai at Antenna Space in 2015 (Liu Xiaohui: The Mystery of Sisyphus, 9 September–6 October 2015). With these two exhibitions in mind, plus Li Ran's solo staged this past February (Life of the Pilgrim, 3 December 2017–11 February 2018), the artist's first solo with the gallery, ShanghART continues to expand its programme.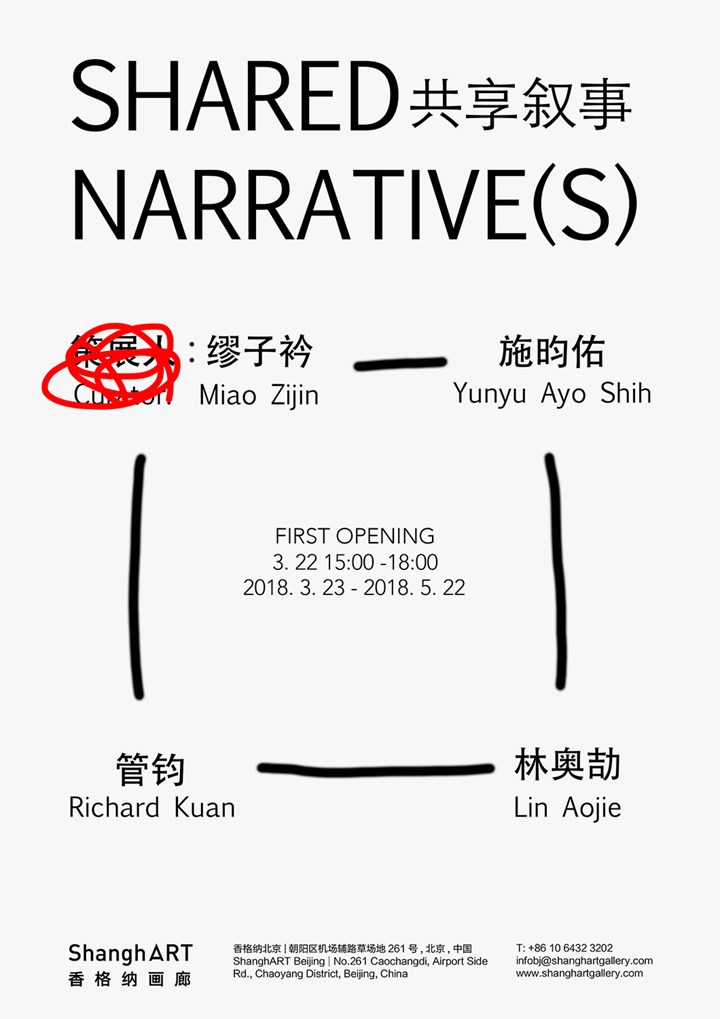 Exhibition poster for Shared Narrative(s), ShanghART Beijing (23 March–22 May 2018). Courtesy ShanghART Gallery.
Liang Wei: Before Itself
Magician Space
22 March–6 May 2018
Liang Wei's exhibition of new paintings represents the only solo show for a female Chinese artist that is opening around the time of Beijing's Gallery Weekend, with the exception of young artist Yu Feifei's solo presentation, Gaze, at the Hive Center for Contemporary Art (15 March–16 April 2018). Two years after Liang Wei's Vague Necessity exhibition with the same gallery, Before Itself demonstrates the artist's recent exploration into various materials, from oil and acrylic to water-based colours, which she used to create paintings with meticulously rendered surfaces that are quasi-figurative and movingly personal.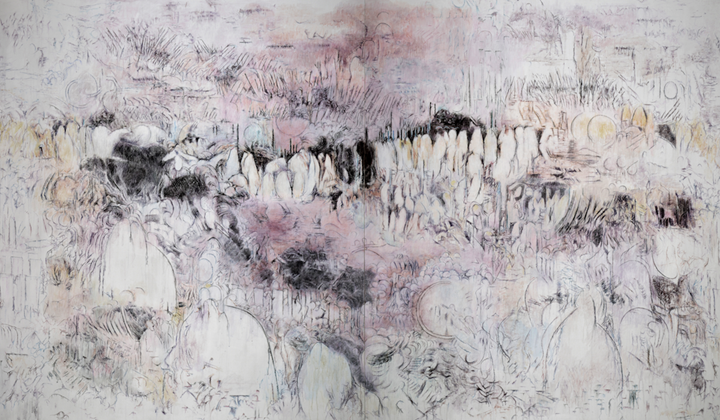 Liang Wei, The Day Before It (2017). Acrylic, water colour pencil, and ink on canvas. 200 cm x 340 cm. Courtesy the artist and Magician Space.
Richard Deacon: New Sculpture
Beijing Commune
17 March–12 May 2018
Pace's sister gallery will present Richard Deacon's first solo exhibition in China, which coincides with the recent announcement that Beijing Commune now represents Deacon. New Sculpture presents new works from the artist's 'Custom' and 'Alphabet' series, continuing his profound exploration of spatial, material and sculptural language. This Turner Prize recipient is one of two Turner Prize winners showing in China during Gallery Weekend, with Elizabeth Price staging her first solo show in the country at Wyoming Project (K, 21 March–28 May 2018). On this occasion, Deacon will stage two talks on 18 and 19 March at UCCA and the Central Academy of Fine Arts (CAFA). — [O]