Feature
The Lowdown: Sydney Art Week in 2017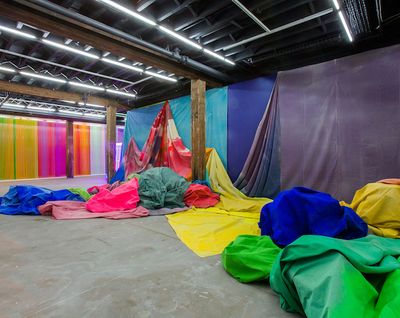 Lara Merrett, Time After Time (Compendium of Gestures) (2017). Acrylic on canvas. Dimensions variable. Installation view: Superposition of three types, Artspace, Sydney (10 February–17 April 2017). Courtesy the artist and Jan Murphy Gallery, Brisbane. Photo: Jessica Maurer.
This week is the biggest time in the year for Sydney's art scene, with the third edition of Sydney Contemporary (7–10 September 2017) returning to Carriageworks with 90 local and international galleries from across the Pacific Rim. The fair has also just announced it will now become an annual event, and to celebrate that, they are launching Talk Contemporary, a public programme covering a diverse range of themes. Also taking place in Sydney is SPRING 1883 (6–9 September 2017), hosted at Establishment Hotel, where visitors can chat to gallerists in a candid setting and see work in a domestic context. Alongside these two fairs, there are plenty of other events talks, parties and exhibitions over the course of the week. Follow our agenda below to make sure you don't miss out.
Wednesday 6 September 2017
The Power Institute—Sydney Asian Art Series: Saloni Mathur
Old Geology Lecture Theatre at the University of Sydney
6:00 pm–7:45 pm
As part of the annual three-year-long Sydney Asian Art talk series, Professor Saloni Mathur (Modern and Contemporary South Asian Art, University of California, LA) will consider potential models for radical art practice through the work of New-Delhi-based art world couple Geeta Kapur and Vivan Sundaram. Kapur is a well-respected theorist, critic, and curator: a pioneering voice in situating Indian modernist and contemporary art practices, internationally. Her partner, Sundaram, is an artist who has been practicing for more than 50 years.
http://sydney.edu.au/sydneyasianartseries_2107.shtml
SPRING 1883—VIP and Media Preview
Establishment Hotel
5:00pm–9:00pm
SPRING 1883 opens to the public at Establishment Hotel in central Sydney with free entry for visitors to walk through the hotel's rooms to view the work of artists represented by 24 local and international participating galleries. New Zealand-based artist Eve Armstrong will showcase her ongoing participatory project Trading Table, which will be located at the hotel's gym, where visitors are invited to trade with the artist for something on the table. The VIP and Media Preview is invite only, but SPRING 1883 continues daily from 12–7 pm, Thursday 7 September–9 September 2017.
Justene Williams, Cosmic Armature (2012). Production still. Courtesy the artist.
Night Cap with Ramesh Mario Nithiyendran: 'His Big Important Birthday'
The Old Clare Hotel
9:00pm–12:00am
Join Sydney-based artist Ramesh Mario Nithiyendran for a party at The Old Clare Hotel. 'His Big Important Birthday' includes cake, music, and drinks specially selected for the celebration as well as a large-scale portrait of the artist by Jason Phu. Nithiyendran's practice explores politics of sex, the monument, gender, and religion. He was awarded the 2014 NSW Visual Arts Fellowship for Emerging Artists, administered through Artspace, Sydney.
https://sydneycontemporary.com.au/program-2017/night-cap-ramesh-nithiyendran/
Thursday 7 September
Talk Contemporary | The Under Represented?
Sydney Contemporary
1:00pm–2:00pm
Sydney Contemporary has many talks this year and this panel is one of the highlights. It asks artists Abdul Abdullah, Blak Douglas, Ramesh Mario Nithiyendran and Penelope Benton to consider the question: can art be a voice for sectors of the community that don't always receive air-time? Mikala Tai, director of 4A Centre for Contemporary Asian Art, will moderate the conversation.
https://sydneycontemporary.com.au/program-2017/the-under-represented/
Talk Contemporary | Venice Biennale—National Pavilions: What, Why, How and For Whom?
Sydney Contemporary
4:00pm–5:00pm
Another Talk Contemporary highlight is this panel, which focuses on the concept of national pavilions by bringing together current and previous international pavilion curators and collaborators as they discuss the many layers of presenting a project at the Venice Biennale. Speakers include Susan Pfeffer (Curator, German Pavilion, Venice Biennale), Linda Michael (former Curator, Australian Pavilion, Venice Biennale), Michael Whitworth (former Deputy Commissioner, Australian Pavilion, Venice Biennale), Jo-Anne Birnie-Danzker (Executive Director, Biennale of Sydney), and Dr. Wendy Were (Executive Director Strategic Development and Advocacy at Australia Council for the Arts). The talk will be moderated by Alexie Glass-Kantor.
https://sydneycontemporary.com.au/program-2017/artspace-venice-biennale/
Alexander Spremberg, Test Objects (2016). Enamel on cardboard and metal. Dimensions variable. Courtesy the artist and Art Collective, Perth.
Sydney Contemporary—Official Opening Night
Carriageworks
5.00 pm–9.00 pm
The official opening night of Sydney Contemporary will turn the multi-arts venue Carriageworks into a multi-sensory experience, with contemporary art, performances, music, food, and drink. Watch and engage with new performances by artists including Rebecca Conroy, Garth Knight, Hayden Fowler, Justene Williams, Claudia Nicholson and more.
https://sydneycontemporary.com.au/program-2017/opening-night/
Friday 8 September
Lesley Kehoe Galleries Present a Butoh Dance Performance at Sydney Contemporary
Lesley Kehoe Galleries, Sydney Contemporary
4:00pm–6:00pm
This improvisational dance performance by Japanese performance artist Yumi Umiumare, creator of the hybrid dance form Butoh Cabaret, is inspired by Maio Motoko's Koku Koku Myaku Myaku (Moment By Moment Heartbeat By Heartbeat) (2005–2007/8): a traditional Japanese folding screen crafted from unorthodox materials, from crushed stone to sand and dirt, to create ripples of texture and hue. Umiumare's dance will take place around this installation, which will be located in the Installation sector of the fair at Carriageworks.
https://sydneycontemporary.com.au/program-2017/lesley-kehoe-buto/
The Artist's Party—Artspace
Artspace
6:00pm–9:00pm
Artspace and Sydney Contemporary are teaming up for a special party dedicated to artists. This event, which is free and open to all, includes music by Rosano Martinez and whiskey cocktails courtesy of Glenfiddich, along with open studios and a unique performance by artists Rabbya Naseer and Hurmat ul Ain, currently showing in Artspace's current exhibition THE PUBLIC BODY .02 (28 July–2 October 2017).
https://www.artspace.org.au/program/public-programs/2017/the-artists-party/
Exhibition view: THE PUBLIC BODY .02, Artspace, Sydney (28 July–2 October 2017). Courtesy Artspace. Photo: Zan Wimberley.
Night Cap With Hanan x 4A: VVVVVVVVVIP Party For Everyone
The Old Clare Hotel
9:00pm–12:00am
Following Artspace's party, head to the Old Clare Hotel for another gathering hosted by Indonesian artist Uji Handoko Eko Saputro (aka Hahan) in collaboration with 4A Centre for Contemporary Asian Art. We've been told that those who enter will be 'showered in gold, mix with the glitterati' and drink 'only the finest'. Secret password required.
https://sydneycontemporary.com.au/program-2017/night-cap-hahan/
Saturday 9 September
Talk Contemporary | Tony Albert presents Colour Theory
Sydney Contemporary
2:30pm–3:30pm
Join contemporary Indigenous artist, Tony Albert, for this live edition of the programme Colour Theory at Sydney Contemporary. If you haven't already heard of it, Colour Theory is a ground-breaking show produced by and for Indigenous Australian artists. In this edition, Albert will be speaking to special guest Sophia Marinos, producer at Namatjira Project, about 'the international battle to reclaim the artwork and heritage of one of Australia's most important Indigenous figures: Albert Namatjira.'
https://sydneycontemporary.com.au/program-2017/tony-albert-colour-theory/
Tour Installation Contemporary with MCA Chief Curator Rachel Ken__t
Sydney Contemporary
3:00pm–4:00pm
Installation Contemporary 2017 brings together 15 contemporary Australian and international artists working across a range of mediums from painting and sculpture, drawing and ceramics, through to installation and video. Tour this exhibition with curators Museum of Contemporary Art Australia Chief Curator, Rachel Kent, and Assistant Curator, Megan Robson.
https://sydneycontemporary.com.au/program-2017/tour-installation-contemporary-mca/
Exhibition view: Mikala Dwyer, T_he Letterbox Marys_, Roslyn Oxley9 Gallery, Sydney (26 November–18 December 2015). © Mikala Dwyer. Courtesy the artist and Roslyn Oxley9 Gallery. Photo: Jessica Maurer.
Balik Bayan | Official Opening
Blacktown Arts Centre
6:00pm–8:00pm
Balik Bayan is is described as 'a multi-art form and community celebration project' curated as a 'gathering space of intersecting contemporary art forms: video, installation, painting, performance, film, community activations and events'. Organised by six cultural institutions—the Art Gallery of NSW, Blacktown Arts Centre, Campbelltown Arts Centre, Mosman Art Gallery, Peacock Gallery (Auburn), and Museums & Galleries of NSW—the exhibition takes into account Blacktown's Filipino community by posing a question through its title (in Tagalog, balik means return and bayan means country): 'What does a "return to country" mean for one of the world's largest diaspora?' On view are works by local and international artists with Filipino ancestry, including Ala Paredes, Bhenji Ra & Justin Shoulder, Caroline Garcia, Marikit Santiago and more.
https://blacktownarts.com.au/balik-bayan/
Night Cap : Birmingham Street Studios
The Old Clare Hotel
9:00pm–12:00am
Birmingham Street Studios is the space of artistic play for leading Sydney-based artists including Abdul Abdullah, Sarah Contos, Adrian Hobbs, Alan Jones, Lara Merrett, Jonny Niesche, Adam Norton, Jason Phu, Gemma Smith and Grant Stevens, and many others. For Sydney Art Week, these artists have taken over The Old Clare Hotel and will host the last of the Night Cap series with a curated series of cocktails and playlists.
https://sydneycontemporary.com.au/program-2017/night-cap-birmingham-street-studios/
Major Sydney Exhibitions
Primavera 2017: Young Australian Artists—Museum of Contemporary Art Australia
Until 19 November 2017
Primavera 2017: Young Australian Artists brings together works by eight artists—Jacobus Capone, Adam John Cullen, Nicole Foreshew, Teelah George, Laura Hindmarsh, Elena Papanikolakis, Tom Polo and Kynan Tan—that examine archives both natural and man-made, digital and physical. Curated by Sophia Kouyoumdjian, Primavera is an annual exhibition held by MCA that presents works by Australian artists below the age of 35, and has been running since 1992 with this same incentive.
https://www.mca.com.au/exhibition/primavera-2017/
Kynan Tan, Data Erasure (2017). Still. Computer-generated video, sound. Image courtesy and © the artist.
I don't want to be there when it happens
4A Centre for Contemporary Asian Art
Until 8 October 2017
I don't want to be there when it happens presents recent works by Raj Kumar, Sonia Leber & David Chesworth and Adeela Suleman who seek to represent individual experiences of war in relation to Pakistan. Using video and installation, these artists present a picture of wartime reality that is open-ended rather than definitive, giving the viewer a sense of the depth and breadth of trauma caused by warfare. The exhibition is curated by Mikala Tai and Kate Warren.
http://www.4a.com.au/dont-want-happens/
Exhibition view: THE PUBLIC BODY .02, Artspace, Sydney (28 July–2 October 2017). Courtesy Artspace. Photo: Zan Wimberley.
THE PUBLIC BODY .02
Artspace
Until 2 October 2017
This exhibition brings together the work of over forty artists and collectives from the 1970s to the present to examine the body as an entity subject to physical constraints and limitations. This multifarious theme is handled by international artists for whom collective action, protest, risk and experimentation is part of their practices. These include Francis Alÿs, Brook Andrew, Regina José Galindo, Barbara Kruger, Patrick Staff, Martine Syms, Women's Domestic Needlework Group and Cao Yu, among others. Curated by Talia Linz and Alexie Glass-Kantor.
https://www.artspace.org.au/program/exhibitions/2017/the-public-body-02/
Mikala Dwyer: a shape of thought
Art Gallery of New South Wales
Until 4 February 2018
Australian artist Mikala Dwyer presents new and recent works in this exhibition, which reflects on themes such as shelter, childhood play, and modernist design. Dwyer reassembles materials and found objects to highlight an object's capacity to have its meaning changed in a different context, and how our relationship with it might change.
https://www.artgallery.nsw.gov.au/media-office/mikala-dwyer/
Grounded: Contemporary Australian Art
National Art School
Until 14 October 2017
Held across both floors of NAS, Grounded features work by contemporary Australian artists Mitch Cairns, Karla Dickens, Newell Harry, Jumaadi, James Nguyen, Addison Marshall, Joan Ross and Justine Varga who are alumni of the School. All the works included in this exhibition are either new or earlier revised pieces that provide insight into the different practices of each artist. Curated by Judith Blackall.