Feature
The Melbourne Art Week Lowdown: 11 August – 17 August 2014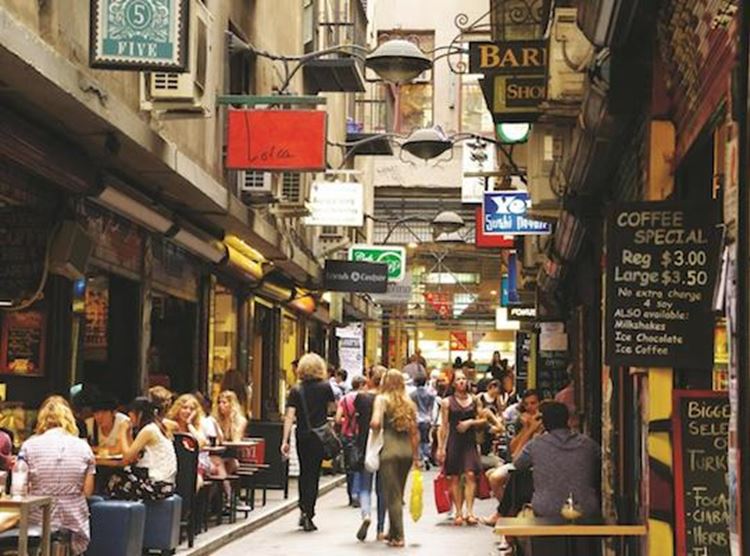 Melbourne Art Week is about to kick off, with the central events being the Melbourne Art Fair 2014 and the cool kid satellite fair, Spring 1883 (both of which open to the public on 14th August), but there is so much more to it. Zara Sigglekow, Ocula correspondent, gives you the lowdown on the Week, from the highlights of the MAF program and noteworthy exhibitions and events to the parties to be seen at.
Monday 11 August
Keynote Address with Pearl Lam6:30 – 8:30pm
The first official MAF event is an 'in conversation' between influential Asian art world figure Pearl Lam (Pearl Lam Galleries) and Professor Nikos Papastergiadis (University of Melbourne). Lam is a leading gallerist (with a huge personality and wild hair) while Papastergiadis' academic research includes issues around the convergence of public space, citizenship and art. It's going to be interesting!
National Gallery of Victoria, Clemenberg BBDO Auditorium, Ground Level, NGV International
Free to attend. Bookings essential.

Wednesday 13 August
Spring 1883 VIP Preview (VIP ticket essential)
12pm-4pm
A bespoke art fair coinciding with the main event, Spring 1883 will be situated in the historic Windsor Hotel opposite the equally historic parliament building. The fair will include twenty invited galleries from Australia, New Zealand, Europe and America hosted by gallery directors Geoff Newton (Neon Parc), Vikki McInnes (Sarah Scout Presents) and Vasili Kaliman (Station gallery). As opposed to the usual white cube setting galleries will be exhibiting in hotel suites across four floors. Australasian participating galleries include Sydney's Roslyn Oxley9, Melbourne's Utopian Slumps and Auckland's Michael Lett while from further afield New York's Foxy Production and Berlin's Arndt will present exclusive shows.
The Hotel Windsor, 111 Spring St, Melbourne VIC 3000.
VIP Preview by invitation: Wednesday 13 August, 12pm – 4pm.
General opening hours: Thursday 14 August - 17 August, 12pm -6pm, Friday 15 August 12pm -6pm, Saturday 16 August 12pm -6pm, Sunday 17 August 12pm -4pm. Free of Charge.
Melbourne Art Fair Opening Night Vernissage: A celebration of living artists
4pm First View (Collector's tickets essential)
6pm-10pm Vernissage (Vernissage tickets essential)
Held in one of the world's oldest exhibition pavilions, the Carlton Gardens' Royal Exhibition Building, Melbourne Art Fair is one of Australasia's most celebrated contemporary art events, showcasing work from 80 galleries. This year's Vernissage is in honour of the artists themselves, with over 300 in attendance. Watch out for Luke Roberts, who will be attending in his art persona guise Pope Alice.
The Royal Exhibition Building, Carlton. Tickets are $150 and limited. Bookings essential. A collector's pass is $250 and includes First View, Vernissage Opening Night, subsequent fair days, access to the collectors program and the collectors lounge.
General opening hours: Thursday 14 August 11am-6pm, Friday 15 August 11am-6pm, Saturday 16 August 10am-6pm, Sunday 17 August 10am -5pm. General entry is $28 in advance and $30 at the door (tickets only valid for the day of purchase). Concession is $22 in advance and at the door.

Thursday 14 August
Spring Artists' Party
8pm – midnight
And for another party that puts artists at its centre head down to Loop for Spring 1883's celebration. Confirming that contemporary artists are often a multidisciplinary bunch Lucreccia Quintanilla and Darren Sylvester will be DJing the event.
Artists' Party, Thursday 14th August, Loop - 23 Meyers Place, Melbourne. Free Entry.
Friday 15 August
Australian Centre for Contemporary Art
Opening night: Christian Capurro: SLAVE and Optical Mix
6-8pm
For a contemporary art museum experience coupled with everyone's favourite art viewing elixir, wine, head down to ACCA for their exhibition opening night. SLAVE by Australian artist Christian Capurro is a 'part-homage, part-theft' moving image piece consisting of phone video captures of Dan Flavin minimalist florescent light works. An international group show, Optical Mix includes artists such as Joseph Kosuth, Martin Creed and Ugo Rondinone who employ 'light, kinetics and visual oscillations', and an especially commissioned work by Melbourne artists Cake Industries (Jesse Stevens & Dean Petersen).
Australian Centre for Contemporary Art (ACCA), 11 Sturt St, Southbank VIC 3006. Opening night: 6pm-8pm. Exhibition runs from Saturday 16 August – 28 September.

MAF Lectures and Forums
Street art, private collections, and Asian perspectives on contemporary art are among the diverse topics addressed in the lectures and forums series, presented by the Melbourne Arts Foundation in association with Museum Victoria. My pick is the panel discussion 'Going Public – the Public Sphere and Contemporary Art' which explores the complexity of public space and the part artists can play 'imagining new forms of public life.' Also under the public art banner Going Public-Light Art considers issues around exhibiting art in the nocturnal city environment.
Going Public – The Public Sphere and Contemporary Art.
Nikos Papastergiadis in conversation with Weng-Shoy Lee (Singapore independent critic); Johan Lundh and Aileen Burns (Brisbane Directors IMA); Nathan Grey and Fiona Hall (artists).
Thursday 14 August , 2pm-4pm, Melbourne Museum Theatrette. Free of charge. To reserve a seat.
Going Public – Light Art. Scott McQuire in conversation with Ian de Gruchy, (Melbourne projection artist); Kym Ortenburg (Melbourne Gertrude Street Projection Festival); Peter Milne (Founder of The Electric Canvas); and Kate Richards (Sydney Sparke Media. Melbourne Museum Theatrette)
Friday 15 August 2pm -4pm Free of charge. Reserve a seat.

Other MAF Highlights
While opening night affords you a peak at the show, the days after are the best time to peruse your way through. Anna Schwartz is dedicating her booth to Erwin Wurm, whose sculpture, photography and video work humours viewers while posing social questions. Fehily Contemporary is presenting a site-specific work by Ken and Julia Yonetani which will take the form of a supermarket made of salt. Pearl Lam's selection of works from an diverse mix of Chinese, European and American artists is sure to warrant considered viewing.
Along with the general fair additional sections have been introduced which promote an experimental mix of projects.
These include the MAF Project Rooms showcasing an exciting new generation of unrepresented artists in association with public and independent contemporary art spaces from around Australia. The Centre for Contemporary Photography's exhibition sees artists responding to the work of Wolfgang Sievers, whose photographs focus on iconic urban architecture while C3 gallery will present a collaborative work by Sarah CrowEST and Benjamin Woods called 10 vague things and 10 particular things, containing various grouped objects that lean towards gold.
For an art book fix head to Perimeter Books MAF outpost. Titles cover all the bases (photography, painting, architecture) including a number of small but prominent independent publishing houses.
MAF Video brings together artists from participating galleries working in the moving image and new media medium. Curated by Simone Hine and Kyle Wiese of Screenspace, the works are split into thematic groupings. I'm holding out for Synthetic Landscapes where ubiquitous screen technology disrupts a classic art history genre. Artists include Peter Daverighton, Haysen Fowler, Joe Hamilton, Scott Morrison and Baden Pailthorpe.
MAF is further diversifying the strands of contemporary art on display with MAF Edge. Curated by Jacqueline Doughty, the Deputy Director/Senior Curator at Gertrude Contemporary Social Capital will consist of 'performative and socially engaged' practices. Participating artists include Anastasia Klose, Lara Thomas and Peter Burke.

Art After Hours
Talks and more art in its many guises will continue beyond the fairs opening hours.
Aesop's flagship Collins street store will be transformed into an exhibition titled Sketches of Rain curated by collector Theodore Wohng. The works are thematically bound by an exploration of tactical and sensory experience and includes an all lady artist line up of Madeline Kidd, Bridie Lunney and Heidi Holmes and Shelley Lasica.
Art will be infiltrating Melbourne's eating establishments with video work projected on the outside of Chin Chin and pop-up exhibitions in Cutler & Co and wine bar Cumulus Up. I suggest you catch a tram to theses venues on Thursday evening and you may stumble across a live art performance.
Aesop, 87 Collins St, Melbourne VIC 3000. Exhibition runs Monday 4 August – Sunday 17 August. Open late Thursday 14 August pm 6:30-8:30 pm
Chin Chin. 125 Flinders Ln, Melbourne VIC 3000. Open 11am – late 7 days. No bookings.
Cutler & Co. 55-57 Gertrude St. Fitzroy 3065. Dinner Tuesday to Sunday from 6pm. Lunch Friday and Sunday from 12pm. Reservations recommended.
Cumulus Up. 45 Flinders Lane. Melbourne 3000. Sunday –Thursday 5pm -12 midnight. Friday and Saturday 4pm -1am.

Walks, Talks and Tours
A conversation worth attending is
Room with a View: A Conversation between artist Peter Adsett, Architect Sam Kebbell and Art Historian Mary Alice Lee
. In artist Peter Adsett's collaboration with architect Sam Kebbell art and architecture are no longer mutually exclusive; the structural process of painting became embedded in the architecture itself resulting in the Humbug house, Adsett's studio and residence. This conversation will explore their process of creating a 'dialogue between painting and architecture.'
A private tour of the Humbug house itself is also on offer for Collector Ticket Holders, which will be accompanied by discussion between Adsett, Kebbell and Lee.
Room with a View: A Conversation between artist Peter Adsett, Architect Sam Kebbell and Art Historian Mary Alice Lee. Saturday 16 August 11am. Royal Exhibition Building, Stand E125. Free to Melbourne Art Fair ticket holders.
Artist Studio and Private Collection Tour: Paul Nache Presents Peter Adsett. Sunday 17 August 9:30am -12:30pm. Collector Pass Holders Only. To RSVP.

Major Melbourne Exhibitions

Gertrude ContemporaryOctopus 14: Nothing Beside Remains
Over to Gertrude Contemporary, where Tara McDowell, a recent Australian arrival and head of MADA's (Monash University Art, Design and Architecture) curatorial PhD program has curated Nothing Beside Remains, the fourteenth in Gertrude's Octopus series. This exhibition takes Gertrude Contemporary's building as its main subject with artworks peppered throughout the studio spaces and gallery. The sites functional history becomes a framing component of the exhibition in addition to informing the artworks themselves.
The front room of the gallery has been given over to independent publishers, artists and designers. Each day hosts a reading of a text picked out by invited individuals and groups, which is played on a recorded loop after the actual event. This would provide a meditative respite from art fair cacophony.
Gertrude Contemporary. 200 Gertrude Street, Fitzroy VIC 3065. Exhibition runs Friday 25 July 2014 – Saturday 23 August 2014. Opening hours: Tuesday – Friday 11am -5:30pm. Saturday 11am-4:30pm.
The National Gallery of Victoria
Italian Masterpieces from Spain's Royal Court
And if all this contemporary art leaves you craving something historical finish the week off with the NGV's current Winter Masterpieces blockbuster exhibition, featuring over 100 works produced between the sixteenth to eighteenth century from the Museo de Prado, Spain. With notable masters such as Raphael and Titian be prepared for a drama and pathos submersion.
NGV International, 180 St Kilda Road. Exhibition runs Friday 16 May – Sunday 31 August. Open daily, 10am -5pm. Adult $26. Concession $22.50. Late night Fridays 5:30pm – 9:30pm.
And further afield…..
The TarraWarra Biennial 2014
16th August – 16 November 2014
The TarraWarra Biennial began in 2006 with the aim of highlighting and exploring new areas of contemporary art practice. Whisper in My Mask, curated by Natalie King and Djon Mundine, is the fourth edition of this event. An exploration of 'masking, secrets and hidden narratives as psychological states' informs the works of display. Mediums are diverse ranging from sound, installation and performance, and the selected artists include cross-generational Aboriginal and non-Aboriginal.

As part of the biennial's public program TarraWarra is holding an afternoon packed with pop-up artists talks and performances on Saturday 16th August. This includes Weavings and Whispers: Miwi Wisdom a one Act play by Diane Bell performed by Ngarrindjeri weavers, and an artists talk by Soren Dahlgaard.
TarraWarra Museum of Art. 311 Healesville-Yarra Glen Road, Healesville VIC. Open Tuesday – Sunday, 11am-5pm. Adults $7.50. Seniors $5.00. Concessions free.