Feature
Three must-see shows in London this autumn
Image: Giuseppe Penone at Marian Goodman Gallery, 2016. © Giuseppe Penone. Courtesy the artist and Marian Goodman Gallery. Photo: Stephen White.
For all art professionals and art enthusiasts London is the place to be in October. The art fair Frieze London and its rich programme of events will showcase the crème de la crème of the contemporary art scene, and a plethora of other exhibitions will also open their doors and mark the beginning of a fascinating autumn season in the British capital. With a large variety of events to choose from, we picked three London shows encompassing an array of diverse narratives worth paying a visit to.
Marian Goodman Gallery, London
Giuseppe Penone: Fui, Sarò, Non Sono (I was, I will be, I am not)
Until 22 October
In the West End, Marian Goodman Gallery presents the solo show of Italian born artist Giuseppe Penone. A simultaneous exhibition with Penone's work is also taking place at Goodman's sister gallery in Paris.
At the London venue, the artist investigates the relationship between his body and its surrounding ecosystem and more specifically, in some works, the forestland of Garessio in Italy where he was born and which has been a great inspiration to him. An amalgamation of new, recent and older works span the gallery's entire space together accentuating a connection between the human element and the natural environment, exploring how the boundaries between both can be indistinguishable. Utilising an array of mediums such as bronze, marble and terracotta, Penone explores the interaction and interplay of his chosen subject matters and the affect this may have on our perception and comprehension of our world.


Image: Giuseppe Penone at Marian Goodman Gallery, 2016. © Giuseppe Penone. Courtesy the artist and Marian Goodman Gallery. Photo: Stephen White.
Trattenere 6, 8, 12 anni di crescita (Continuerà a crescere tranne che in quel punto) (2004-2016) represents the artist's survey of nature through an experiment he has conducted over a number of years. In 1968, he installed a bronze cast of his own hand on to a young tree, which he then cast in situ six years later and then again eight and twelve years from the start of his attempt. The three resulting sculptures installed in the gallery's lower ground floor manifest the gradual expansion of a living organism and the force of nature to adapt to, and claim anything which obstructs its progress. The protagonistic role of nature in the visual vocabulary of Penone can also be detected in other works occupying both gallery floors: in Terra su terra (2014-2016) a convoluted network of bronze branches are interlaced with terracotta elements; in Indistinti confini (2012-2013) a constellation of marble and bronze trees are presented. The result is a a surreal—nevertheless romantic and poetic—setting of hybrid realities.
Respirare l'ombra (2008) features cages of laurel leaves covering the surface of one of the lower gallery walls, permeating the entire area with its scent. This reflects another chapter of Penone's oeuvre which is also represented with Corteccia (1986), a series of terracotta portraits of his daughter, and reflects the artist's explorations within the realm of senses and, more particularly, the sense of touch. Human gestures in combination with somesthetic senses, generate the mapping of a corporeal topography where human presence and existence are co-mingled with the principle of time. With time as a critical component imbuing Penone's work, viewers are enticed to reach an awareness of their very own human hypostasis and the superiority of the surrounding natural environment.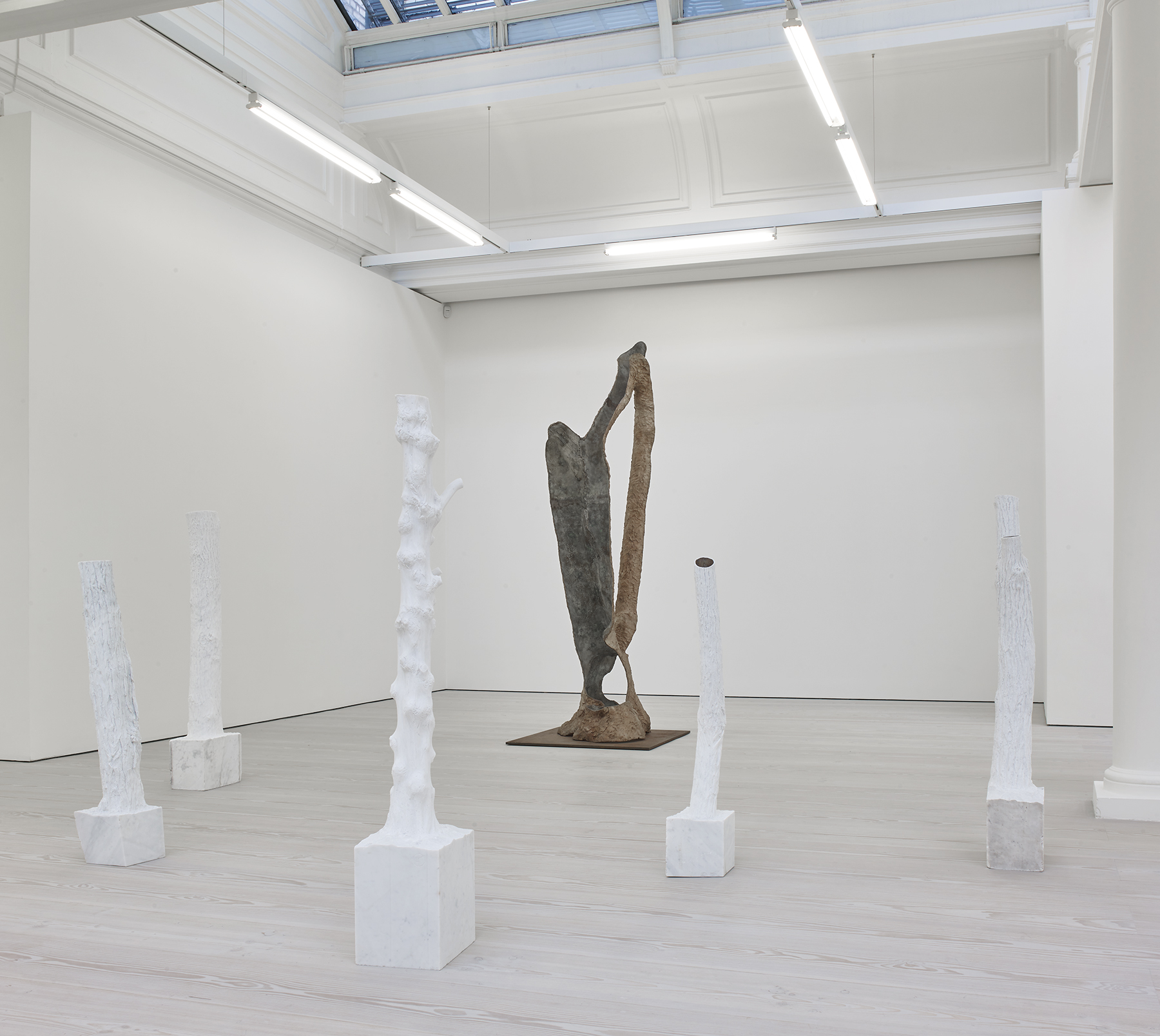 Image: Giuseppe Penone at Marian Goodman Gallery, 2016. © Giuseppe Penone. Courtesy the artist and Marian Goodman Gallery.
Calvert 22
Power and Architecture, Part 4: The afterlives of Modernity — shared values and routines
Until 9 October 2016
Power and Architecture, a season on utopian public space and the quest for new national identities across the post-Soviet world is Calvert 22 Foundation's second seasonal programme in 2016, dissecting aspects of the constructed habitat as a channel of influence on the landscape and humanscape across the new post-Soviet east region. Four consecutive chapters in total engage the work of artists from this area. The series of exhibitions and events started in June and concludes this autumn. The three previous parts (Utopia and Modernity, Dead space and ruins and Citizen activated space - Museum of Skateboarding) focused on the redundant architectural paradigms of socialist realities and the afterlife of modernist structures juxtaposed against the utopian vision of bygone political stereotypes. The final part (The afterlives of Modernity — shared values and routines) will survey notions of national identity and the formation of new socio-cultural actualities under the spectrum of a common socialist history spanning the geographical boundaries of the former Soviet Union. Engaging the work of four artists, this chapter renders a concealed nostalgia that pervades the collective memory and life of citizens.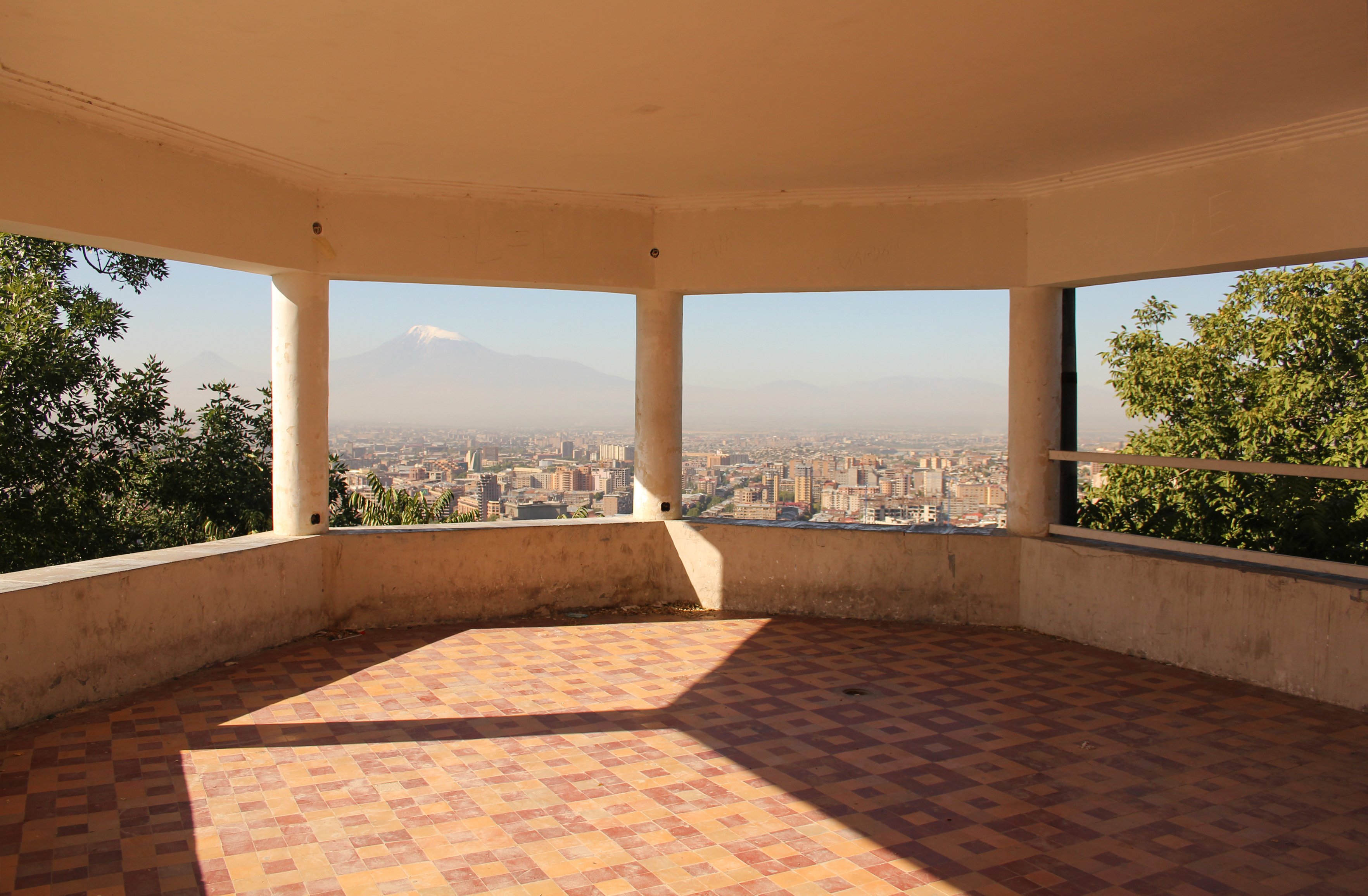 Image: Aikaterini Gegisian, still from My Pink City, 2014. Essay film, HD Video, 48 mins, col & b/w Courtesy of Kelfayan Galleries.
My Pink City is the film of Greek-Armenian artist Aikaterini Gegisian, her first feature length-piece, drawing attention to Armenian capital Yerevan through a long process of transition leading on to a post-Soviet terrain. Traversing across public and private spheres, the artist's lens transmits elements of socio-political change as well as gender divisions into a narrative masterfully filtered with autobiographical references and experiences. Ogino Knauss, a collective based in Berlin since 2007, examines the post-socialist landscapes of three cities, Belgrade, Berlin and Moscow—and how these have had an impact on their contemporary urban habitats and the life of their citizens. Re:centering Periphery: Post Socialist Triplicities, the title of the project, embraces the mapping of three parallel historical settings and their journey through modernity in the process of generating new narratives that inevitably led to a utopian orbit for all three places. The photographic series Monumental Propaganda by Canadian photographer Donald Weber reflects on the withdrawal of communist monumental relics from public spaces in Ukraine following the war in the eastern part of the country. His images portray a new cultural status quo where new narratives are being introduced and constructed by central government machines. Spatial constraints underline the emergence of new urban domains considered through political, cultural and emotional frameworks. The visual lexicon of Crimean artist Dmytrij Wulffius emphasises the post-Soviet architectural topography of his hometown, the city of Yalta, a resort city on the south coast of the Crimean Peninsula surrounded by the Black Sea. Taken between 2009 and 2013, his photographic series Traces on Concrete depicts the young generation growing up alongside the remnants of a departed era and accents the comparison between the fragility of today's youth and the aggressive character of brutalist architecture that is still a vital part of Yalta's scenery.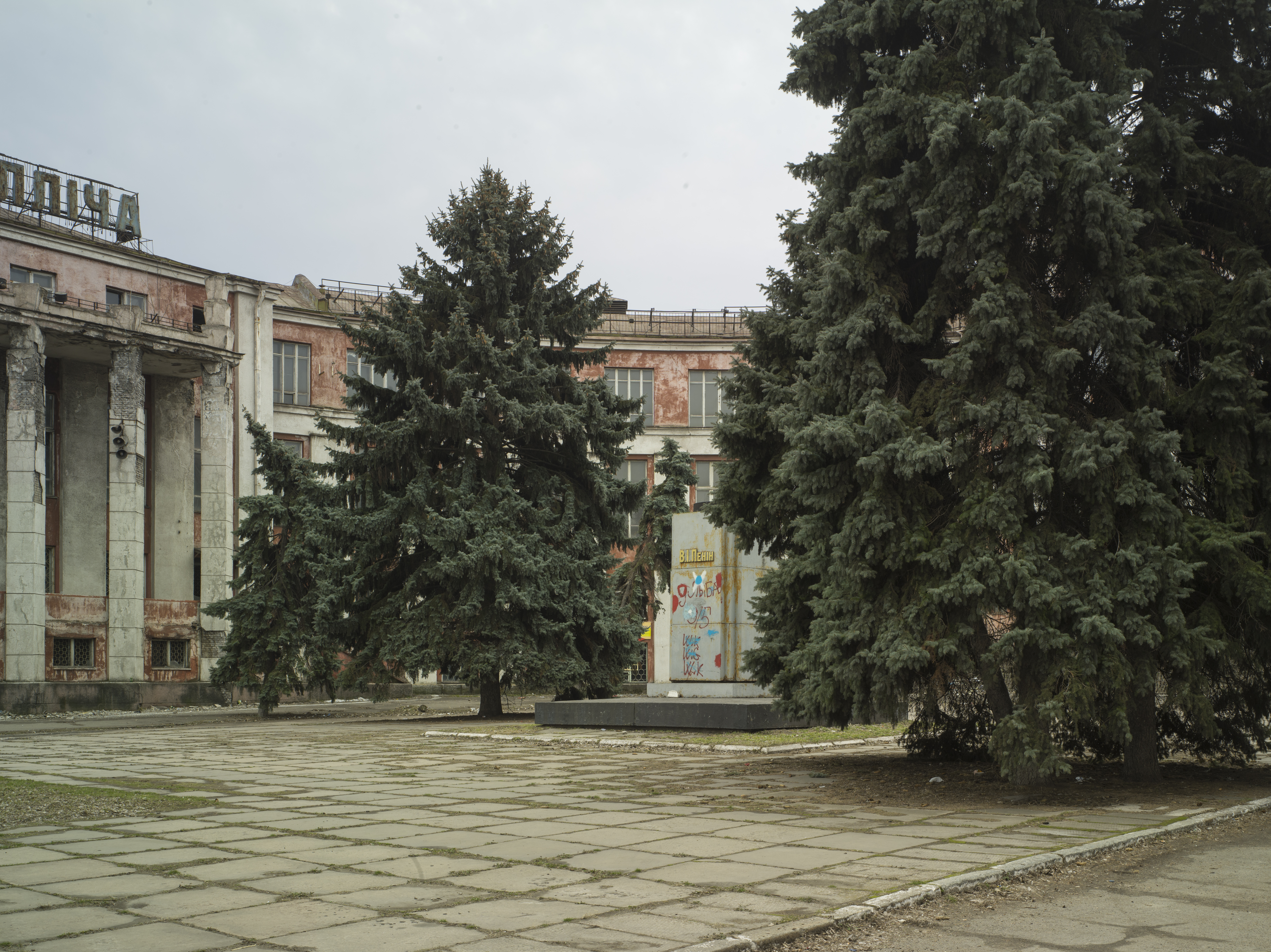 Image: Donald Weber, image from the Monumental Propaganda series (2016). Courtesy of the artist.
Frith Street Gallery
Tacita Dean, LA Exuberance
Until 4 November
British born visual artist and former Turner prize nominee Tacita Dean features in a solo show with a new body of work at Frith Street Gallery. The work was produced during Dean's recent stay in Los Angeles (2014-15) as artist in residence at the Getty Research Institute. A new set of lithographs titled LA Exuberance inspired by cloud phenomena and formations have been created utilising painting instead of photography. Another series involving drawings on original Victorian-era slates are in line with the cloud representations of LA Exuberance but this time employing an array of different and more unusual mediums for her such as white charcoal pencil, spray chalk and gouache. The ground floor also plays host to her film Event for a Stage (2015), a commissioned four-night theatrical performance in collaboration with actor Stephen Dillane held at Carriageworks as part of the 19th Biennale of Sydney in 2014. The resulting film conveys the intersection of Dean's and Dillane's practices and an emerging interrelation that evokes an almost surreal platform of parallel trajectories.
Being her first experience working with an actor, Dean manifests through a carefully edited film all those challenges she had to face and overcome during the live performance. She pronounces how her artistic utterance generates an impact on the actor's performance and how—in equal terms—the actor's theatrical mannerisms and skills collide with her practice. Event for a Stage is an interdisciplinary crash test, an experiment and assessment investigating to what extent different characters and personalities are able to cooperate and integrate, crisscrossing or even bypassing diverse barriers of expression and mutual understanding. Dean captures a 50-minute fragmented emotional journey which is also reflected to and absorbed by the participating live audience whose fluctuating reactions act as an equilibration to the inconspicuous contest between the artist and the actor. During her stay in Los Angeles, Dean also had the opportunity to meet and film artist David Hockney as she previously did with artists Cy Twombly, Mario Merz, Julie Mehretu, poet Michael Hamburger and others.


Image: Tacita Dean, Portraits (2016). 16 mm colour film, opIcal sound. 16 mins. Location photograph: Mathew Hale.
Portraits, a 16mm film on show at the downstairs room of the gallery, is an homage to the personality of the British artist in the environment of his own studio focusing on his addiction to smoking as the conduit towards a higher state of contemplation and concentration. Following him with her lens around his studio and constantly capturing his serene gaze at various moments interrupted occasionally by his laughter or his words choked by the cigarette smoke, Dean seizes an almost mystifying atmosphere. Reminiscent of some ancient oracle priest, Hockney often appears to have reached the ultimate esoteric tranquillity or a stage of meditation surrounded by his innumerable paintings. Human ageing and time is another fundamental element in this behavioural and phychographic video; it strikes us that Hockney's abstract gazing could be triggered by unsettling thoughts connected to existential and philosophical parameters. Watching Hockney as a ghost in his own tower viewers are inescapably confronted by the fear of loneliness and melancholy but are simultaneously filled with a natural inclination of tenderness and compassion. —[O]
Dr Kostas Prapoglou is an archaeologist-architect, contemporary art critic and curator based in London, UK and Athens, Greece.