Feature
Top 5 Booths at the 2016 ADAA Art Show
Image: ADAA The Art Show 2016. Photo: © Charles Roussel & Ocula.
The Art Show, run by the Art Dealers Association of America (ADAA), has always been a genteel affair, and this year was no different. Taking place from 2 March to 6 March and featuring 72 presentations, the Art Show had the feel of a collection of curated gallery exhibitions in a single venue rather than an art fair. This year it was, as it always has been, the antidote to the chaotic experience of The Armory Show.
Below, we round up our top 5 favorite booths from this year's ADAA Art Show.
Stefan Kürten at Alexander and Bonin
In a room full of works by great masters including Frank Stella, Ed Ruscha, Barett Newman, and Josef Albers, Stefan Kürten's paintings still stood out. Born in 1963, Kürten lives and works in Düsseldorf, and generally, he works on small scale paintings, his canvases roughly 11 x 8 inches. But at the Art Show, for the first time, he displayed much larger canvasses, thereby showing off his formidable technical skill.
In a sort of Slim Aarons meets Gustav Klimt way, Kurten uses a dense palette often infused with shimmering gold, layered patterns and lush foliage to depict mid century modern architectural and pastoral spaces. Forbidden Lake, 2015, shows the exterior of what appears to be a Richard Neutra home perfectly reflected in a body of water just beyond its terrace. In fact, a gallery attendant told me, none of the structures Kürten paints are real places, but rather, a mish mash of references cobbled together. This depiction of composites, rather than real places, combined with the lack of any human figure in his paintings perhaps explains why the works emit an uncanny, and slightly otherworldly vibe. Unfolding Shadow, 2015, presents what appears to be two Diamond chairs by Harry Bertoia looking out over an overgrown garden that more closely resembles a virgin rainforest than the type of lawn where one might sit on the coveted chairs. In the background, the sky is gilded a murky gold drenching the painting in an almost post apocalyptic glow.
Image: Exhibition view, Stefan Kürten at Alexander and Bonin, ADAA Art Show 2016. Courtesy Alexander and Bonin.
Gillian Wearing at Tanya Bonakdar Gallery
Tanya Bonakder Gallery presented a solo booth dedicated to the work by renowned London based artist Gillian Wearing. A former Turner Prize winner, Wearing is well known for her work, which over the last 25 years has explored topics ranging from the construction of personal identity to the dynamic of social relations, often delving into the roles we play, and the disguises we use.
The booth at The Art Show presented three distinctive bodies of work, all depicting self-portraits of the artist. Well known for her use of masks to explore notions of identity (for example in her 2003 series called Family Album she wore silicon masks intended to transform her into members of her family) on the left of the booth was a series of untitled polaroids from 2000 that depict Wearing sporting rubber masks to hide her real features. On the opposite side of the booth was My Polaroid Years, a new body of work by the artist, comprising a collection of over 150 polaroid selfies taken by Wearing from 1988 – 2005. Finally Me, Me (2016), which occupied the back wall of the booth, comprised a monumental inkjet print on canvas that showed the Wearing of today staring at herself in a mirror.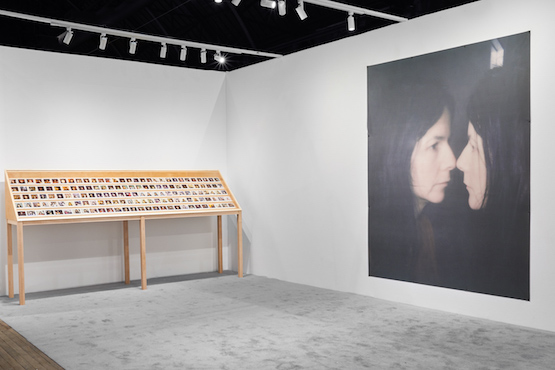 Image: Gillian Wearing: My Polaroid Years, Exhibition view at ADAA The Art Show, Park Avenue Armory, New York, 2016. Courtesy of the artist, Tanya Bonakdar Gallery, New York and Maureen Paley London.The 'selfie' gets a bad rap as the ultimate expression of narcissism, but Wearing's obsessive photographing of herself over the years ironically undermines the very notion of the 'selfie' as the representation or recording of a unique individual. Wearing presents the portrait as a parallel understanding of self, one that merges with and sometimes deviates from our personal memories. Equally, in her repetitive photographing of self, Wearing underscores how the individual is comprised of a collective assortment of mannerisms. She notes in the gallery's press release that 'I was looking at myself as if I was studying someone else. I rediscovered all these images and was trying to decipher who this person was. There is a similarity in my posing and the poses of a lot of young women you now find on Instagram and Twitter, etc. Whilst thinking we are, or wish to be 'unique' we find that the collective resemble one another in poses that are learned and/or copied from an early age'.
Image: Gillian Wearing, Untitled, 2000. Polaroid print, 11 3/8 x 9 1/4 inches; 28.9 x 23.5 cm (framed), 4 x 4 inches; 10 x 10 cm (unframed). © Gillian Wearing. Courtesy Tanya bonakdar Gallery, New York and Maureen Paley, London.
Jasmin Sian at Anthony Meier Fine Arts
Entitled
if I had a little zoo,
the series of 23 works by New York-based artist Jasmin Sian presented at Anthony Meier Fine Arts' booth comprised ink and graphite drawings and cut-outs using deli bag paper. The delicate works are small, some only 3 x 5inches, and they demanded close inspection. From a distance the works looked like doilies, but up close they revealed images of flora and fauna rendered in saturated detail combined with exquisite cut-outs that recalled the borders on medieval illuminated manuscripts.
Some of the titles of the works were vague, offering little information beyond the obvious. if I had a little zoo: sheep and wildflowers, late Summer (forest series), 2015, depicted a bucolic scene with plump sheep frolicking and grazing within a pattern of blossoming branches. The border, which appears gilded, is actually just the brown paper bag cut out delicately to unveil lush peonies, and interlacing branches. The skill is such that even the veins on the leaves are captured.
Image: Exhibition view, Jasmin Sian at Anthony Meier Fine Arts, ADAA Art Show, 2016. Photo: Josh Nefsky, New York.Other titles are more diaristic. if I had a little zoo: I miss Gus the mopey polar bear in the Central Park zoo, 2015, depicts a lonely polar bear in his own maze of blossoming flora; its title suggesting that the subjects in the work carry personal, and perhaps even emotional, weight to the artist.
The gallery itself did a good job of highlighting the slight cut outs, which would have been lost on a white wall, or in a booth showing a variety of artists. The walls of the booth were covered with deep red shantung silk, and the works themselves were contained in thick black frames. Stepping into the booth even for a short while, I got the sense that I was viewing pages from a precious book in someone's private home—or in a preserved Victorian library.
Image: Jasmin Sian, if i had a little zoo, 2013. Ink, graphite and cut-outs on deli bag paper. Diptych 5 1/4 x 3 5/8 inches each. Courtesy the artist and Anthony Meier Fine Arts, San Francisco.
Carolee Schneemann at P.P.O.W
In the age of the Kardashians, topics of the body, sexuality and gender are not particularly controversial topics. But when Carolee Schneemann first began using her body as a prop in her performances in the 1960s, it was revolutionary. The P.P.OW booth at the Art Show showcased rare photographs from these early performances, as well as from some of Schneemann's early painting-constructions, and archival notes. In total, the presentation served as a mini-retrospective of Schneemann's early career.
The booth included images from Meat Joy, a 1964 piece in which Schneemann gathered together eight nude performers at the Judson Memorial Church—among other venues—who then played with objects including wet paint, sausage, raw fish, scraps of paper, and raw chickens. Another performance, Interior Scroll, is also heavily represented in archival imagery. It involved Schneemann, in 1975, slowly extracting a scroll from her vagina, which she then read to the audience. In one work in the booth, the original text of the scroll is reproduced alongside black and white images of the event.
Lesser known works such as Up to and Including Her Limits (1976), in which Schneemann hung herself from the ceiling in a network of ropes, and scribbled with crayons on a canvas on the floor in a gesture that mimicked the brushstrokes of abstract expressionists, are present in photographs painted upon by the artist. They were souvenirs from live performances that in the context of the elegant Art Show, likely would not be replicated, no matter how comfortable we are as a society with gender and nudity.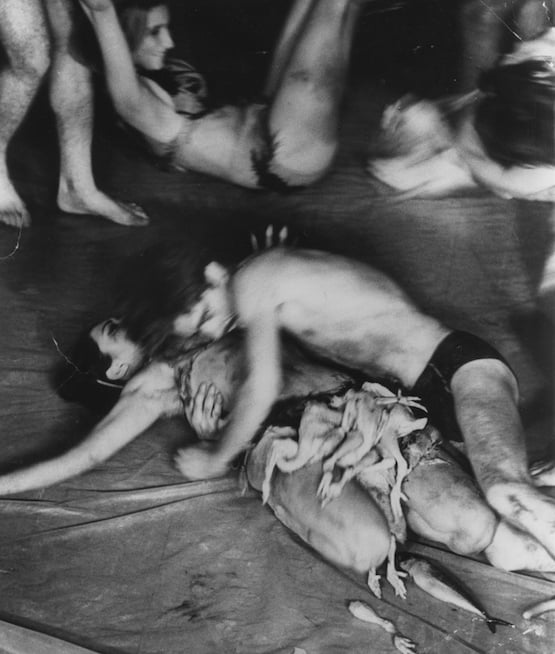 Image: Carolee Schneemann, Meat Joy, 1964. Silver print, 23 3/4 x 20 1/4 inches. Photo: Al Giese. Courtesy of the artist and P.P.O.W, New York.
Simone Leigh at Tilton Gallery
At the press preview, the largest crowds seemed to gather around Tilton Gallery's booth, which was displaying new work in progress by Simone Leigh. Best known for her ceramic sculptures, which explore the female African American identity, Leigh was born in Chicago in 1968 to Jamaican parents.
The series of work at The Art Show recall crafts by anonymous artisans that, in some unnamed culture, would be used in ceremonial displays, or a part of funeral outfits—or even for sale to tourists. Created from materials like terracotta, cobalt, glass beads, and epoxy resin, a central table displayed Anatomy of Architecture, a series of busts of black female heads, polished to a glossy finish, and topped by intricately woven headdresses. The headdresses themselves resembled the braided hairstyles captured by Nigerian photographer J.D. 'Okhai Ojeikere in the 1960s—only rather than being monochrome, Leigh's creations were deep blue, bright yellow, and pale pink.
By denying the viewer any historical references, Leigh calls into question our prejudices. What, exactly, are we looking at? And what words are appropriate to describe the handicrafts, and hair, of a black woman? —[O]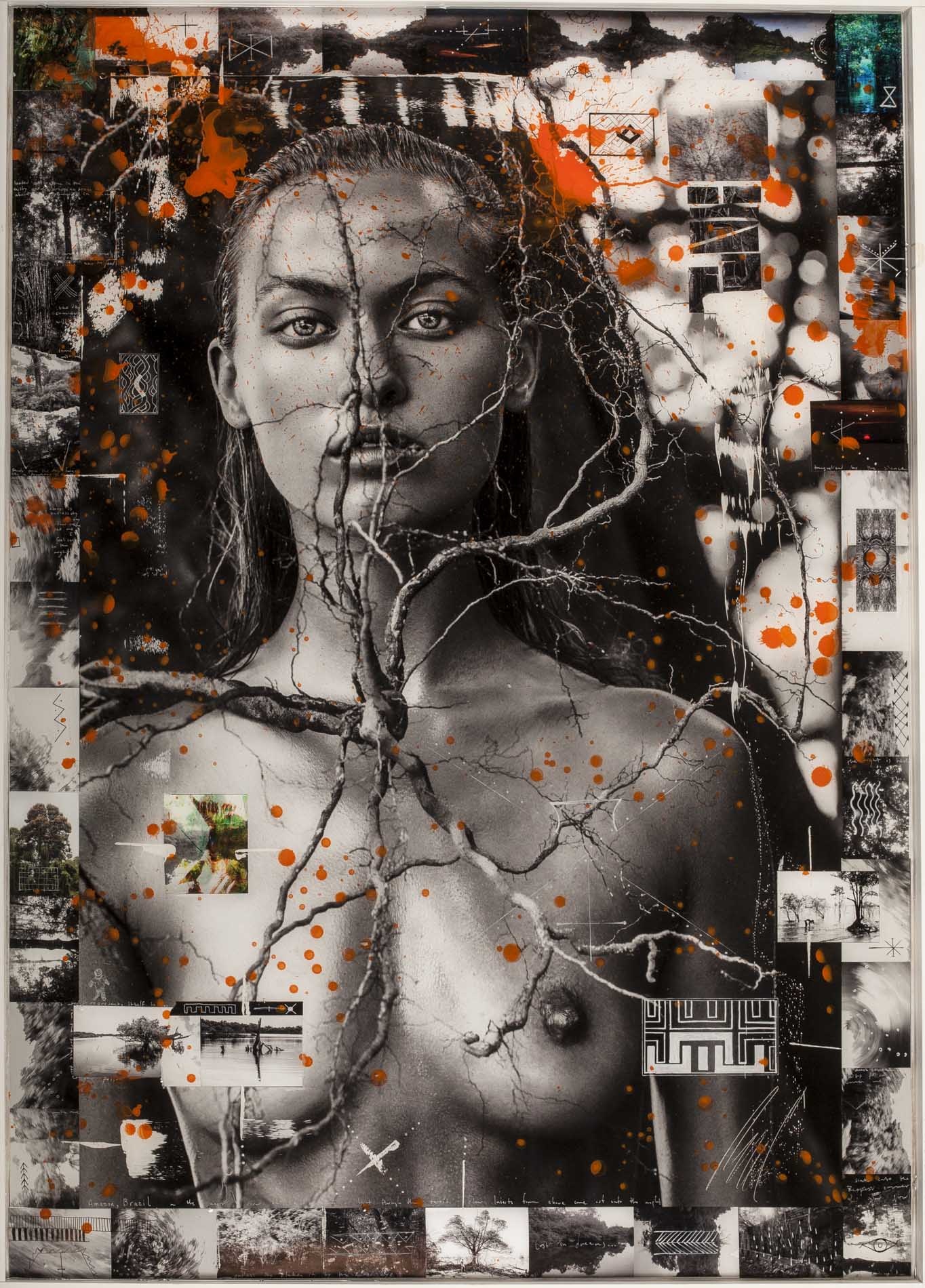 Image: Simone Leigh, New Work in Progress. Courtesy Tilton Gallery.