Feature
Welcome to Planet FOMO: the 46th International Film Festival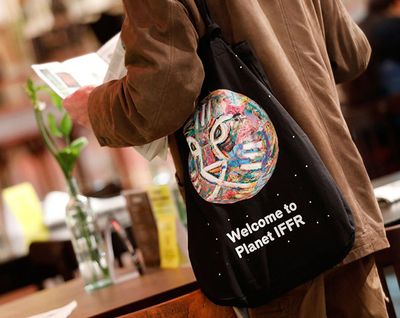 Festival visitor with tote bag, courtesy IFFR.
Film festivals are your ideal ersatz holidays. When the cold season drags on, they are a welcome way to put the world aside, lift off to another planet, and vanish from the face of the earth for a few days. The International Film Festival Rotterdam (IFFR) (25 January—5 February 2017) takes this sentiment quite literally: the website greets visitors with a warm 'Welcome to Planet IFFR'.
Going into its 46th edition, IFFR is one of Europe's most important film festivals, and the largest in the Netherlands. It's a fixed star in the experimental film universe, which embraces the event for its intimate atmosphere and affinity for contemporary art. In addition to over a dozen feature sections, the IFFR has one of the largest short film programmes in Europe, including the acclaimed Tiger Competition, which awards three films of less than 60 minutes. The festival regularly extends to art exhibitions with installations, film screenings and performances; and if this isn't enough, there is sound//vision, the extraordinary live performance programme that takes place during the opening weekend.
Like every serious journey, reaching Planet IFFR requires some legwork. First, you have to wade through the programme schedule with a mission at hand. This year, mine was to explore the festival's showcase of artists' moving image and experimental film, mainly in the short and mid-length categories. Poised for lift-off, I was ready to leap from one universe to another within minutes and rethink cross-genres about two dozen times per day. However, this was also Donald Trump's first week in office, and if the festival schedule already invoked a fear of missing out, the constant presidential noise on social media didn't help. How does one sink into the seat and get lost in abstract worlds while hyper-nervous newsfeeds wind up in alternative realities? At times, the flickering screen seemed less otherworldly than the world out there. I needed at least one feature film per day to ground myself.
Sadly, festival opener Lemon (USA, 2017, colour, DCP, 87 min.), in the Voices Big Screen Competition, was not good turf to begin with. Janicza Bravo's feature debut—about the life of a socially inept struggling actor—is a variety of tragicomedy that tries to score with klutzy-nerd jokes, but keeps shooting off target until it hurts. Some of the film's script struck derisive and racist notes, which felt explicitly off after the opening speech by festival director Bero Beyer, who appealed for visionary openness, respect and dignity in times that threaten such values. As if trying to prove him wrong, the film racked the audience with 90 minutes of second-hand shame.
Ulrich Seidl, Safari (Austria, 2016, colour, DCP, 90 min).
But collectively felt vicarious embarrassment can be a powerful force in cinema, too. Austrian director Ulrich Seidl proves this in Safari (Austria, 2016, colour, DCP, 90 min.), a documentary about tourists on the hunt in Africa's national parks, presented as part of Deep Focus. Like his other films, notably the Paradise trilogy (2012-2013), Seidl floods the screen with scenes and worldviews ripe with unease. In uncanny tableaux vivants and dismaying hunting scenes, we look straight into the abyss of a neocolonial tourist industry. Whether the wealthy German and Austrians are hunting giraffe or waterbuck, the camera follows them up close—from sweaty stalk to bloody rubber boots. However, the hunters remain aloof to the larger implications of their presence with their supremacist, whitewashing language. The film dwells on this eerie rift as it grows, without ever claiming higher moral ground.
French director Bertrand Bonello's glitzy teenage-terror thriller Nocturama (France/Germany/Belgium, 2016, colour, DCP, 130 min.) also wants to provoke by voiding itself of moral exegesis. The film forms part of a themed programme dedicated to the so-called 'anti-establishment' and 'punk DNA', as encapsulated in the catchy title 'A Band Apart' (sorry, Godard). Masterly scripted and staged, the first half trails a group of Parisian youngsters as they shake up the country with an elaborate series of explosions, and subsequently barricade themselves into a department store. From here, everything seems possible, but the film's second half is used to unpack the inner void of Bonello's characters instead, until his artful composition eventually collapses into the same crevasse as the criminal drive of his young protagonists. By then, the film's expected grand provocation thins down to a bland aftertaste.
Fien Troch, Home (Belgium, 2016, colour, DCP, 103 min).
A more convincing youth drama is Fien Troch's fourth film, Home (Belgium, 2016, colour, DCP, 103 min.), presented in IFFR Live, 'the biggest film festival screening in the world' with simulataneous screenings staged with cinemas from Basel to Singapore, and live-streamed question and answer sessions. Shot in Academy ratio and interspersed with mobile phone footage, Home chronicles the life of a suburban middle-class youth that spends more time in parking lots and on Facebook than at school. Freshly released from youth detention, 17-year-old Kevin moves in with his aunt and befriends his cousin's clique. When a horrifying incident occurs, Kevin and his new friends react in a way that is as hard-boiled as callous. Troch's sober vérité style lends the film an unvarnished strength that seems to radiate from its protagonists, never feeling fabricated or pretentious.
Pierre Bismuth, Where is Rocky II? (France/Germany/Belgium/Italy, 2016, colour, DCP, 93 min).
Artist and filmmaker Pierre Bismuth, on the other hand, likes to glory in the convoluted fabrication of his plots. His second feature, Where is Rocky II? (France/Germany/Belgium/Italy, 2016, colour, DCP, 93 min.), presented in the Bright Future Main Programme, is a so-called 'fake fiction' based on an urban legend. In 1979, the renowned artist Ed Ruscha placed a deceptively real-looking fake rock somewhere in the Mojave Desert in California, calling it Rocky II. Unfortunately, there are no official records and the piece is not mentioned in catalogues, either. The only proof of its existence is a 1980 BBC documentary on a VHS tape. So what makes an artwork an artwork if it practically doesn't exist? The story is almost too perfect for Bismuth, who unfolds a firework display of filmic tropes around it. When he hires a private detective to find the rock, Ruscha's alleged artwork becomes the key to a horseload of wildly imaginative twists and turns, including various real people from the art and film world. The same year Rocky II was allegedly placed in the desert, Ruscha supposedly said: 'Hollywood is not just a place, Hollywood is a verb. You can Hollywood something. You can Hollywood anything.' With wit and charm, Bismuth takes the artist at his word.
Young filmmakers are often told to hone their skills in short formats before having a go at their first feature. This is a misconception insofar as it suggests that developing shorter narrative fiction is easier, while it is not. It reduces even seasoned filmmakers to despair, sporadically ending in formal trifles and meandering narratives; one reason why short film programmes can be so taxing on the viewer. Thankfully, IFFR's Tiger Competition for Short Films compensates this with a strong presence of artist films. Among the 23 entries, quite a few from the contemporary art world premiere new films here every year. This year's roster included Rosa Barba, Cécile B. Evans, Omer Fast, Simon Fujiwara, Basim Magdy, Metahaven and Sebastián Diaz Moralez, who competed with other filmmakers for one of three 'short Tigers' Awards, each coming with a EUR 3,000 purse.
Lawrence Abu Hamdan, Rubber Coated Steel (Lebanon/Germany, 2017, colour, video, 21 min).
The Tiger Competition for Short Films is a special and rare occasion to see artistic works in a cinema, as many will continue their life exclusively in the exhibition settings of biennials and museums. Prize-winner Rubber Coated Steel (Lebanon/Germany, 2017, colour, video, 21 min.), by Beirut-based artist Lawrence Abu Hamdan, is one of these works. Originally produced for his recent solo exhibition at Portikus in Frankfurt, the film engages with the killing of two young Palestinians by Israeli soldiers in the occupied West Bank in May 2014. Abu Hamdan, who largely dedicates his work to the forensic analysis of acoustic phenomena, based it on a report published by the human rights organisation Defence for Children International, who asked the artist, along with Goldsmiths College-based architectural and media research agency Forensic Architecture, for a detailed audio analysis of the deadly gunshots fired by Israeli soldiers. With this analysis at hand, the film stages a fictitious tribunal in absentia that puts the killers on trial. Set in an indoor shooting range, the court session successively unfolds in subtitles while corresponding visual evidence is brought in front of the camera by the automated target-pull system, piece by piece. The highly reduced scenography and conceptual framing of the film makes it one of Abu Hamdan's most chilling and striking works.
The other two Tiger Award recipients in the Short Film category were young filmmakers Prantik Basu from India and Jorge Cadena from Colombia. Basu's beautifully shot Sakhisona (India, 2017, b&w, DCP, 26 min.) is inspired by a literary rendition of Bengali folk tales around Shakhisona mountain, re-narrated in folkloric songs performed by local musicians and dancers. Cadena's graduation film El Cuento de Antonia (Colombia/Switzerland, 2016, colour, DCP, 30 min.) was among the few short films with an entirely diegetic plot. Its story is full of vim and vigour: both portrait of a young girl and visionary tale of Colombia's rural population. For the young filmmaker that he is, Cadena did an impressive job at framing the energy of his actors while giving them air to transcend the boundaries of the plot. The result is a raw gem of storytelling talent.
Jorge Cadena, El Cuento de Antonia (Colombia/Switzerland, 2016, colour, DCP, 30 min).
More of this raw energy could be found in the non-competitive Bright Future Short section. With over 75 films in 13 themed compilation screenings, it is one of the largest of its kind in Europe and gathers an extensive range of filmic forms, including rare and one-of-a-kind 16 mm and 35 mm projections. This year's edition featured an arresting list of established visual artists like Phil Collins, Naeem Mohaiemen, Laure Prouvost, Clemens von Wedemayer and Katarina Zdjelar, among others. Here, I encountered Emilio Moreno's thoughtful The I Mine (Spain/Netherlands, 2017, colour, DCP, 27 min.) during the Living Archive screening, and the shrewdly political and minimalist Foyer (France/Tunisia, 2016, colour, DCP, 32 min.) by Ismaïl Bahri, who shared the 'Behind the Façade' lineup with Rosa Barba and her music-driven highway portrait Disseminate and Hold (Brazil/Germany, 2016, colour, video, 21 min.). There was so much more to discover here but only so much time.
Emilio Moreno, The I Mine (Spain, Netherlands, 2017, colour, DCP, 27 min).
If I could have split myself in two, my alter ego would have gone for more in the 'Picture Palestine' and 'Black Rebels programmes. Picture Palestine presented a range of Palestinian cinema, from militant 1970s films to contemporary experimental short films. Its promising selection included filmmakers and artists Kamal Aljafari, Annemarie Jacir, Jumana Manna, as well as Ramallah-based researcher, curator and writer Reem Shilleh screening a one-hour 'crash course in Palestine's cinematic representation over the past forty years'. The Black Rebels selection navigated a wide range of films, from humorous and playful to radical and political. Alongside the iconic Killer of Sheep (USA, 1978, b&w, 35 mm, 83 min.) by L.A. Rebellion filmmaker Charles Burnett, it featured many films by American director Barry Jenkins, including his Oscar-nominated Moonlight (USA, 2016, colour, DCP, 111 min.), and Frances Bodomo's visionary moon-landing film Afronauts (USA, 2014, b&w, video, 14 min.), among many others. Young newcomer Yasmin Thayná celebrated her debut, KBELA (Brazil, 2015, colour, DCP, 22 min.): a fabulous visual essay and ode to the power and diversity of black women in Brazil.
Simon Liu, Highview (USA/Hong Kong/ UK, 2016, colour, 16 mm, 20 min).
One memorable evening, I slipped out of a screening and into another. Brooklyn-based filmmaker Simon Liu and two assistants had just started to prepare four overlapping 16 mm projectors for his live-performed Highview (USA/Hong Kong/ UK, 2016, colour, 16 mm, 20 min.) to mark the grand finale of the analogue feast Panta Rhei, which featured films made with and projected from 16 mm, 35 mm and multiple 16 mm. Liu's images flew out of these wonderful machines to hit the screen like scintillating particles of a dream. Before I woke up, I found myself in front of five 16 mm projectors at the sound//vision programme at club WORM, where South Korean filmmaker and performer Lee Hangjun presented a version of Phantom Schoolgirl Army—a performance consisting of five 16 mm projectors featuring military photographs of North Korean spies—with live support from Rotterdam drummer Phillipp Ernsting. Drum kit and projector fleet formed one rhythmic unit that sniped at three screens with flashes of strobe lighting, like machine guns shooting on targets. Perhaps the magic of analogue film finally helped me forget Trump and time in general right there. In my memory, this was the moment I really set foot on Planet IFFR. —[O]