Insight
'Annals of Floating Island' at Hanart TZ Gallery, Hong Kong
Imagine a floating island, with no roots at the bottom of the sea: an unanchored site that drifts slowly across the water. This idea of a transient, fictionalised space is at the centre of Annals of Floating Island (22 July - 27 August 2016), a group exhibition curated by Song Zhenxi and Zhang Cheng at Hanart TZ Gallery in Hong Kong. Comprising of works by eight Chinese artists, the exhibition focuses on shifting constructs of truth and fiction, illusion and ideology. Each of the participating artists (Guo Xi, Zhang Jianling, Gong Xu, Zhu Xi, Feng Chen, Hong Dan, Shao Wenhuan and Tong Yixin) and the two curators are graduates of the China Academy of Art in Hangzhou, a progressive institution with interdisciplinary programming and curriculum which spans traditional Chinese painting to new media and digital art. Works in the show include abstract painting such as Hong Dan's Black Memory (2016), mixed-media sculpture like Zhu Xi's Laboratory for Metamorphosis, (2014) and video works such as Feng Chen's Pirate (2014) in which a modern day one-eyed pirate lays bare his ocular insecurities. The works were selected by Song and Zhang for their explorations of authenticity and creativity, each blurring the line between truth and construct.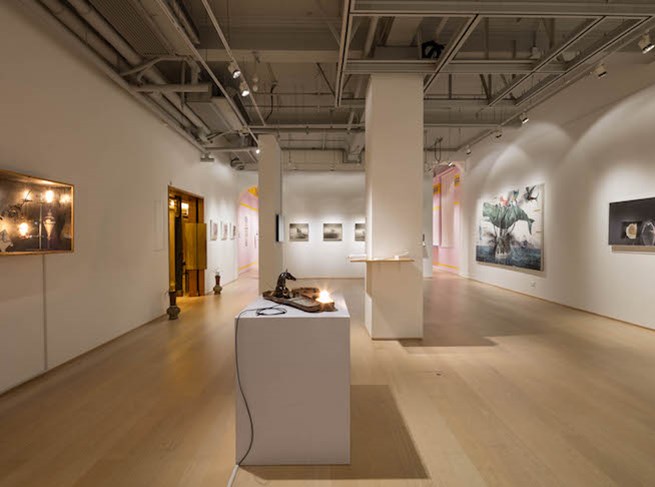 Image: Installation view, Annals of Floating Island, 2016. Courtesy Hanart TZ Gallery. Photo: Kitmin Lee.
Image: Feng Chen, Pirate, 2014. Single-channel video with sound, HD 6'41". Edition of 5. Courtesy the artist and Hanart TZ Gallery.
Encompassing an entire room of the exhibition space is Guo Xi and Zhang Jianling's work The Grand Voyage: π Day (2016), part of a long-term collaboration between the artists called 'The Blue Triology'. The pink-painted room holds a collection of objects and documents based off of a lengthy boat excursion taken in 2014. Two years ago, before embarking on an 86-day-long cruise around the world together, the artists drafted 12 prophecies of events and characters they would encounter aboard the ship. In a nod to sea-bound artistic predecessors such as Bas Jan Ader and Arthur Cravan, the romantic and fantastical predictions were partial to lost souls and vanished figures. One prophecy imagines an encounter with a lone traveler wearing a moustache and a pair of John Lennon's glasses; another depicts an amateur soprano with 'a scar, as secretly as possible, crawling from her chin to ear root like a sewn-up gill'. Another: a conversation shared with a mathematician who felt 'one moment of happiness every day gazing at the crystallised structure of 11:11 for 30 seconds'. Indeed, math and time are recurring themes: the artists' journey at sea coincided with the 14th day of March or 'Pi Day', the only day of the year when the calendar date aligns with the circumference of a perfect circle divided by its diameter.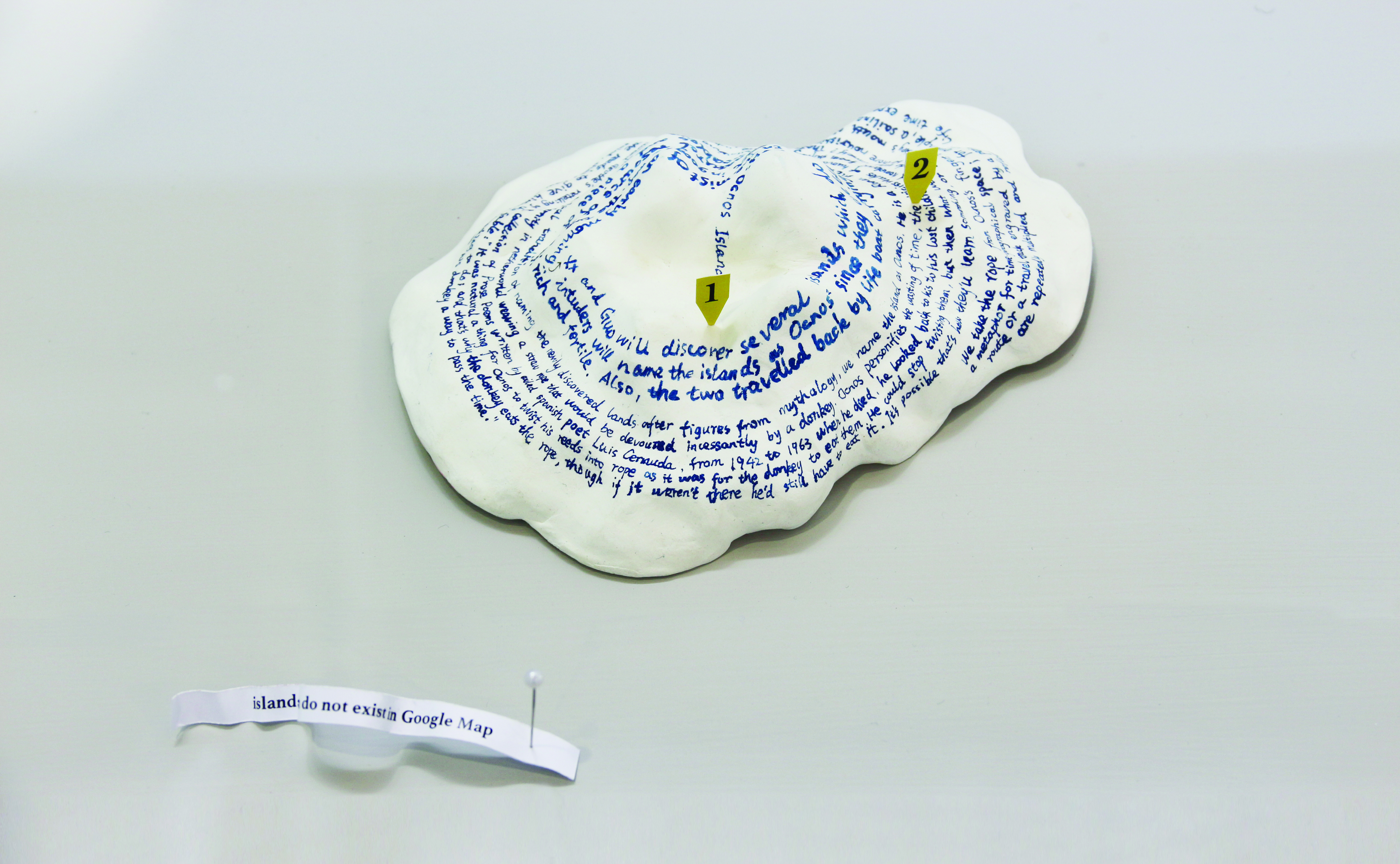 Image: Guo Xi and Zhang Jianling, The Grand Voyage (detail), 2014 to present. Installation: video, photography, objects, texts, prints, sound. Dimensions variable. Courtesy the artists and Hanart TZ Gallery.
Setting off with the mission to 'discover miracles', the artists acted as witnesses and record-keepers during their voyage, collecting 'visual testimonies' which are presented in the gallery next to textual descriptions. A video of a young man describing how he acquired his favourite Beatles' spectacles is placed next to a 'real human hair moustache' with a costume shop's address on its label. Irregular chips of paint scraped off a wall by a reclusive mural-restorer are collected in a bag. An Oreo cookie that mysteriously turned blue upon first bite is secured to a wall. Separate from the other artists' works in the gallery, the room that The Grand Voyage: π Day is housed in is painted pink with the words 'Today' repeated in large lettering on the walls. The aesthetic closely emulates the ship's daily newspaper by the same name which included a schedule of the happenings onboard. Collected and presented together on one wall, these newspapers may be the only examples of truthfulness in the show.


Image: Exhibition view, Annals of Floating Island, 2016. Courtesy Hanart TZ Gallery. Photo: Kitmin Lee.
Objects throughout the room (paintings of sunrises, videos of rushing water, a newspaper from Honolulu) refrain from revealing entire stories or their alignment with actual events, but rather create indexical narratives which viewers must suspend their disbelief to navigate. In fact, the work is best appreciated when one slips into the dream. Like a Jorge Luis Borges or Italo Calvino novel, the boundaries between so-called 'absolute reality' and 'absolute fiction' are obscured at the service of tangled, beguiling fantasy. Indeed, visitors to the exhibition experience a similar type of pleasure to that of reading: wild imaginations and wandering minds are more than welcome. —[O]