Insight | Exhibition
Art Basel Hong Kong Artist Highlights: Contemporary Focus
Ocula Magazine was on-site to highlight some of the emerging and mid-career artists to watch at Art Basel Hong Kong 2022.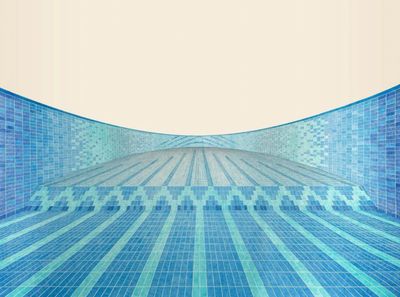 Chan Wai Lap, Dreaming of Swimming Pools 1 (2022). Courtesy Gallery EXIT.
Chan Wai Lap at Gallery EXIT
Dreaming of Swimming Pools 1 (2022) is a new addition to Chan Wai Lap's series of colour pencil on paper works that treat empty swimming pools as readymade grids.
Rendered from the perspective of someone looking straight ahead from one end of an empty swimming pool, other works give different viewpoints. You come to me on a summer breeze: Istanbul 2 (2021), for example, is a bird's-eye view of a pool that renders every single blue tile in dizzying detail.
Perhaps it's the familiarity of the image that's so striking; an invocation for a time when emptied swimming pools were secret hide-outs for teenagers being teenagers and skaters being skaters.
Born in 1988, Chan's background in visual communications—he completed his BA on the subject at Birmingham City University in 2011—shows in a practice defined by a coy sense of play. Take Eat me! Eat me! (Strawberry, vanilla, chocolate, matcha, taro, mint, bozi soda, mango) (2021), a kinetic sculpture of ice-cream cones 3D-printed to look as if they've fallen to the ground, scoop first, twisting cone up.
Tap Chan, Complex (2022). Beeswax. 60 x 60 x 11 cm. Courtesy Mine Project.
This is Mine Project's first showing at Art Basel Hong Kong as part of Discoveries, and with a suite of sculptural works by Hong Kong artist Tap Chan, the gallery does not disappoint.
Working with malleable materials, Chan, who holds a BFA (2011) from the Royal Melbourne Institute of Technology and an MA (2014) from Hong Kong Baptist University, extracts elements from the built environment and turns them into sculptures that toe the line between reality and surreality.
The results are objects that generate what the gallery describes as 'an internal architecture of the mind' and 'a landscape that resembles the strangeness of dreams.' Sanitise Insanity (2022) is a clothing rack made from thermoplastic, a non-toxic, eco-friendly material used in 3D printing, with each of the arms holding charcoal and Himalayan sea salt-infused soap balls.
The properties of thermoplastic, which can be melted and re-used, are echoed in Chan's use of beeswax for other sculptures, with Complex (2022) forming a grid of yellow beeswax cells hung on a wall.
Exhibition view: Fan Xi, CLC Gallery Venture, Art Basel Hong Kong (27–29 May 2022). Photo: the author.
Fan Xi at CLC Gallery Venture
The works on view in CLC Gallery Venture's Discoveries booth come from the 'Temptation' series (2021), whose first iteration was shown as part of the artist's exhibition When To Sail? at the Guangdong Museum of Art in 2020.
Deriving from images the artist took while on residency on Dinawan Island, Malaysia, Fan's sculptural photomontages are created using steel, varnish, and film. Leaves and tendril curls protrude from the wall, casting entangled shadows, or stand freely in space, like land-octopi.
As part of the artist's Art Basel Hong Kong installation, Fan Xi intended to animate the scene by isolating the sound of crawls and trots that feature in the video work 17'17'' (2020), but instead, noises from Lê Giang's installation with Vin Contemporary, exploring the representations of Vietnamese culture in French universal expositions from 1906 to 1931, seep through from across the fair corridor.
Curator Feng Boyi describes Fan Xi's work as 'displaced figuration'. Writing about the 'Tree' series (2014–2017), in which scores of photographs of trees are collaged with computer software, he describes an intentional disruption of 'original structures' that still maintains 'its completeness'.
Jonny Negron, Losing My Taste for the Night Life (2022). Courtesy Château Shatto.
Jonny Negron at Château Shatto
Jonny Negron's paintings distinguish themselves from other figurative works that similarly evoke the acid-toned lens of a hipster's eye, through little moments like those seen in the acrylic on linen Losing My Taste for the Night Life (2022).
Rendered purely in tones of midnight violet and lavender against a gradated burnt orange background, a figure holding a shot glass sits at a table strewn with mini Ketel One bottles and tumblers. At points, Negron deftly applies light strokes of thin white paint to accent moments of sparkle; like the ball of an eyebrow piercing, or the edge of a glass.
Then there are the water spills on the table, which bring to mind the iconic waterdrops that define the paintings of Korean master Kim Tschang-Yeul, showing with Almine Rech at the fair.
Negron manages to tap into the histories of Renaissance iconography just enough to keep the eye locked in; Mama (2022) is a 21st-century iteration of Raphael's Madonna of the Pinks (1507), but this time with a mother and child adorned in Fendi x Skims bodysuits, and smiles that run circles around its historical reference. (Raphael could never.)
Tsherin Sherpa, UFO (Unidentified Fettering Organization) No. 2 (2016). Acrylic, ink, and gold pen on cotton. 108 x 140 cm. Courtesy Rossi & Rossi.
With the first Nepal Pavilion at the Venice Biennale currently showcasing the work of Tsherin Sherpa, Rossi & Rossi's booth celebrates the practice of an artist who is bringing thangka painting into the 21st century with thrilling results.
Sherpa was born in Kathmandu in 1968; he is the son of Master Urgen Dorje Sherpa, a renowned thangka artist from Ngyalam, Tibet, whom he trained under from the age of 12. What followed was a more eclectic path. Sherpa studied computer science and Mandarin in Taiwan for a year, before returning to Nepal to focus on Buddhist philosophy while collaborating on paintings with his father.
Then, in 1998, Sherpa moved to California, where his spectrum of influences widened, infusing thangka-inspired works with a kind of sharp, pop aesthetic that re-animates tradition not only for new generations, but new worlds.
Among the works in Hong Kong are two from 2016, in which the rich and detailed landscapes of thangka have been maximalised and compressed at the same time, as if a whole universe has been squeezed and contained by the red and blue cords that bind them.
Ed Fornieles, Wrestlemania XXX (2022). Photographs. Large-format inkjet print on semi-gloss photographic paper, mount board with multi-aperture windows. 107.5 x 107.5 x 5 cm. Courtesy Carlos/Ishikawa.
Ed Fornieles at Carlos/Ishikawa
The 'Associations' series by Ed Fornieles turns strings of formal associations into conceptual abstractions with square images creating angular connective chains that move across a white plane.
Each work is rendered in large-format inkjet print on semi-gloss photographic paper, with mount board featuring multi-aperture windows creating a sense of weight in each composition. In Hong Kong, a trio of new additions to the series (all 2022) include Wrestlemania XXX, wtFOCK, and Our Flag Means Death.
Wrestlemania XXX begins at the bottom left corner with images from ancient Greece—an illustration of an athlete holding a black-figure amphora, and above that a close-up of one such amphora with the depiction of two men wrestling.
Here, the line splits, with images moving up one column showing men fighting, while to the right, images of plain red amphorae extend to the photo of an orange balloon; then, a microscope, a claw, a hand, and an ear sequence, bringing to mind Mike Tyson's notorious mouth rip.
Trevor Yeung, Night Mushroom Colon (Twelve) (2022). Night lamp, plug adaptors. 54 x 55 x 45 cm. Courtesy Blindspot Gallery.
Trevor Yeung's 2022 work Night Mushroom Colon (Twelve) makes masterful use of multi-socket adaptors and mushroom nightlights in a formal embrace of the uncanny that doesn't feel alien so much as oddly intimate.
The sculpture is installed in the corner of Blindspot Gallery's booth, setting off the navy-blue wall that hosts a series of distinctive acrylic and charcoal wood panel paintings by Hong Kong artist Lam Tung Pang, lined up in rows and resting on handsome wooden bases.
Lam's 'Potted City' series (2022) condenses aspects of Hong Kong's cityscape into the frame of domestic potted bonsai, like a snow globe or bell jar; each one a different configuration of buildings and foliage.
'Potted City' was apparently Lam's last body of work produced in Hong Kong before his emigration from the city, making these works tokens of remembrance for a home that resides in memory.
Cisco Jiménez, Turntable with a (Muestreario) of Organic Forms (2020). Courtesy MAIA Contemporary.
Cisco Jiménez at MAIA Contemporary
At MAIA Contemporary, works by Mexican artist Cisco Jiménez take in the vast, complex, and contrasting temporalities that define Latin American culture, from its pre-Hispanic era to its present.
Presented under the title 'Totems of a Lost Generation', acrylic-on-canvas works evoke the maps, notes, and records of 19th-century archaeological digs. Turntable with a (Muestreario) of Organic Forms (2020) is a landscape of sorts, with brightly coloured organic forms floating over a phonograph player depicted in the shape of a Mayan pyramid.
While Jiménez attended art school, he majored in industrial design, which explains the diagrammatic quality of his compositions. The phonograph appears again in One day into Geology (2022): its image intersects with cross-sections of erupting volcanoes launching stone missiles over and underground.
Nearby, clay sculptures like Radiograbadora de barro con palomas (2022) render radios in naive style; a nod to a time when Sony Walkmans or other such devices were only available on the black market in Mexico.
Douglas Rieger, Witch Finger II (2021). Wood, upholstery foam, vinyl, black shoe laces, paint. 49.6 x 47 x 15.2 cm. Courtesy Capsule Shanghai.
Liao Wen's Seeds of the Night Sky (2022) at Capsule Shanghai is a limewood and silicone sculpture in which curved branches are arranged to create the shape of an open eye.
The sculpture is inspired by cyphi, a compound incense whose ingredients, Greek philosopher and historian Plutarch said, 'delight more in the night...in cold winds and shadows and dews and dampness'.
One of the ingredients in cyphi is Acorus calamus, whose name connects with Greek coreon or pupil; in the sculpture, the plant appears in the centre like an iris in raised and pigmented silicone, like a relief sculpture lit by the soft light of a midnight moon.
Positioned next to this, in a particularly striking encounter, are sculptures by Douglas Rieger, in which shiny red vinyl cushion surfaces boxed in by wooden frames host the suggestion of fingers pushing through, as in Witch Finger II (2021).
Yee I-Lann, THE TUKAD KAD SEQUENCE #03 with weaving by Julitah Kulinting, S. Narty Raitom, Julia Ginasius, Zaitun Raitom (2022). Split bamboo pus, kayu obol black natural dye, matt sealant. 210.82 x 307.34 cm. Courtesy Silverlens.
In Hong Kong, where Yee I-Lann recently staged the solo exhibition Until We Hug Again at CHAT MILL6 in 2021, Silverlens presents a new work in the artist's ongoing 'Tinukad' series of bamboo woven mats.
The artist creates these works in collaboration with weavers from the sea-based communities Bajau and Sama DiLaut, on the Sulu-Celebes Sea of Semporna, as well as Dusun and Murut weavers from the inland district of Keningau. 'I see the woven mat as architectural, calling people to commune together, to share a platform,' Yee has said.
Mats like these were also shown in the artist's 2021 exhibition Borneo Heart at Sabah International Convention Centre, where video works like the single-channel video PANGKIS (2021), showing seven male dancers carrying interconnected woven tubular cords, extend the mat as metaphor for communion.
Most recently, Yee took part in the 10th Asia Pacific Triennial, and is set to participate in the Istanbul Biennial opening this September, which will follow her showcase in the Feature & Unlimited sections of Art Basel in Basel this June.
Kitti Narod, Spaghetti (2022). Acrylic on canvas. 150 x 120 cm. Courtesy Tang Contemporary Art.
'My art is about people,' says Kitti Narod. 'When I see human beings, I sympathize; we all share the same happiness and sadness. It's also about equality and space.'
This comes through in one of the artist's paintings at Art Basel Hong Kong: the acrylic on canvas Ice Skating (2021), in which an off-white ground hosts an entanglement of bodies moving, dancing, swaying, gliding, and, at times, slipping.
Trained at Wittayalai Poh Chang Art College in Bangkok, Narod later graduated with a Bachelor of Arts degree from the Rajamonkong Institute of Technology in 2000, developing an approach to figuration that is at once flat and three-dimensional.
Figures are rendered in a chrome-like mauve brown, with seemingly boneless arms and legs that stretch and curve; bright clothes act like colour and pattern blocks, like the red-striped shirt adorning a figure eating spaghetti in a 2022 painting showing at ABHK.

Zhang Ruyi, Decoration (Rubber)-2 (2021). Courtesy Don Gallery.
Currently showing at Tai Kwun in the group show Breaching Sanctum—alongside Leelee Chan, Tap Chan, Joyce Wang Studio, and Ko Sin Tung—and with an ongoing solo show at UCCABeijing, Zhang Ruyi appears in two booths at ABHK this year, with a slender, concrete cactus holding court at Blindspot.
At Don Gallery, the artist takes over one corner of the space with a triangulation of works offering an extended introduction to the artist's distinctive concrete sculptures of cacti, often placed on tile bases, as is the case with the green pigmented concrete cactus on a white-tile shelf, Individual Plant-FG (2021).
On the show floor, a taller, grey cactus rises up from a chunk of re-created tile floor reminiscent of those found in old tong lau tenement buildings, complete with a floor drain. On the wall nearby are two collages in which an image of a cactus is augmented by various filters and overlays, from orange and green transparencies to netting.
The cactus is a recurring form in Zhang's work; apparently, it expresses the prickly exterior the artist had to cultivate as a young and struggling female artist.
Ellie Okamoto, Prabu Celeng Srenggi (2021). Pencil on paper. 91.3 x 69 cm (framed). Courtesy Mizuma Art Gallery.
Ellie Okamoto at Mizuma Art Gallery
At first, Ellie Okamoto's pencil on paper Prabu Celeng Srenggi (2021) looks like a masterful capture of a planet in the throes of its own resurrection.
Look closer and details emerge: like a foot entangled with an indistinct beast's hoof, its other hoof transforming into the fearsome beak of a bird of prey. This is a bodily metamorphosis, and its momentum is lavishly articulated through a masterful hand that turns pencil marks into hairs and vapours.
Nearby, three photographs taken during the artist's residency in Yogyakarta, Indonesia, host figures the artist rendered in luscious oil paint. In the case of The Chicken on the Bowl (2022), a giant rooster holds a rice bowl on which its likeness is depicted, waiting to be served at a food truck.
There are echoes of Tatsuo Ikeda's paintings showing in the central exhibition at the 59th Venice Biennale here, and those by Tetsuya Ishida, one of which which adorns the outer wall of Gagosian's booth at ABHK; each expressing a sci-fi-mythological bent echoed in Okamoto's interest in exploring the influence of Javanese legends on Japanese mythology.
James T. Hong, Three Arguments about the Opium War (2015) (still). Courtesy the artist and Empty Gallery, Hong Kong.
James T. Hong at Empty Gallery
Sometimes, it's important to remember where we are—something that Empty Gallery highlights at Art Basel Hong Kong with a challenging, two-screen video by James T. Hong, Three Arguments about the Opium War (2015).
Images of Hong Kong are juxtaposed with shots of monuments, military sites, and bunkers in China, while subtitles draw from historic texts by Chinese and British individuals who witnessed the British intervention in China, which inevitably led to the secession of Hong Kong.
The work pull no punches; there are those Chinese who blame the weakness of their own ministers, and others who ask how much British banks and businesses have profited from the enslavement of the Chinese. The British views, in turn, are abhorrent: 'The whole civilised world ought to work together and teach these Chinese wretches the common principles of humanity,' reads one statement.
Hong's work forms an alliance with one piece showing in Lucie Chang Fine Art's solo presentation of writings by the late, enigmatic outsider artist, King of Kowloon, whose scrawls usually fill the image plane with a squash of characters. On a small piece of paper, the King wrote just one thing, '1841', the year the colonial period commenced in Hong Kong. Lest we forget.—[O]
---