Insight | Art Fair
Art Basel Hong Kong Artist Highlights: Historical Positions
Ocula Magazine was on the ground to highlight some of the historical artists being illuminated at Art Basel Hong Kong in 2022.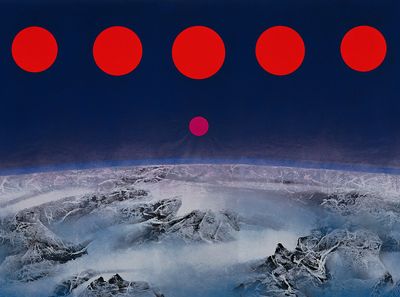 Liu Kuo-Sung, The Real Realm (1999). Ink and colour on paper. 164 x 405 cm. Courtesy Hanart TZ Gallery.
Liu Kuo-Sung at Hanart TZ Gallery
Liu Kuo-Sung's ink paintings are out of this world—so unique, that after seeing a painting by him, you will know when you encounter one again. (And yet, the experience is never identical.)
Born in 1932, Liu started training in traditional Chinese painting from the age of 14 in China before moving to Taiwan in 1949. He graduated from the Department of Fine Arts at National Taiwan Normal University in 1956, after which he co-founded the Fifth Moon Group with painters seeking to blend Chinese and Western influences in their work.
Within years, though, Liu's focus shifted to the modernisation of ink painting. ('Imitating the new cannot replace imitating the old; copying Western art cannot replace copying Chinese art,' he said.)
Liu's iconic 'Moon' series, started in 1969, was inspired by the Earthrise photograph taken from Apollo 8 in December 1968. Characterised by views of the earth as a vast, supra-landscape over which bold orbs or pock-marked moons hover, a particularly monumental five-panelled canvas is on view in Hong Kong: The Real Realm (1999).
Exhibition view: Ink paintings by Yuan Jai, Vitamin Creative Space, Art Basel Hong Kong (27–29 May 2022). Photo: the author.
Yuan Jai at Vitamin Creative Space
Born in 1941 in Chongqing, Sichuan province, Yuan Jai entered the Department of Art at the National Taiwan Normal University in 1958, a few years after Liu Kuo-Sung graduated.
It's an interesting crossover, given how much the two have in common when it comes to developing a singular ink aesthetic, with Yuan Jai's silk paintings on view at Art Basel Hong Kong defined by light tones, fluorescent accents, and eccentric arrangements.
After graduating in 1962, the artist pursued an MA in the Department of Archaeology and Fine Art History at the Université catholique de Louvain, and following that completed her doctoral studies on preservation and conservation at Brussel's Institut royal du Patrimoine artistique.
Upon her return to Taiwan in 1969, Yuan pioneered museum conservation practices, establishing the Office of Technology at the National Palace Museum in Taipei. This background seems to feed into her paintings, with objects—and at times, scribbles that appear like geological formations—often arranged in irregular taxonomical grids.
Anna Zemánková, Untitled (1960s). Pastel on paper. 62 x 88 cm. Courtesy David Kordansky Gallery. Photo: Jeff McLane.
Anna Zemánková at David Kordansky Gallery
In this inspired pairing, biomorphic botanical drawings by the Czech self-taught artist Anna Zemánková converse with new vividly coloured abstract works on canvas by the American painter Lesley Vance.
Rendered in pastels, pencil, and ink, Zemánková's images recall the intuitive and searching lines of Hilma af Klint, speaking to a form of psychological and spiritual abstraction, in which marks on a surface constitute a conversation with earth, and all of its energies.
Zemánková, who trained as a dentist and began making art in her 50s as a form of therapy, is associated with Art Brut and outsider art. The artist drew international attention in particular in her posthumous appearance in Massimiliano Gioni's central show for the 2013 Venice Biennale, Il palazzo enciclopedico.
In 2011, a two-person show by Czech artist Luboš Plný and Zemánková titled Anatomia Metamorphosis travelled from Museum Montanelli, Prague, to Saarländische Galerie, Berlin; and Hyogo Prefectural Museum of Art, and Hiroshima City Museum of Contemporary Art, Japan. A retrospective of Zemánková's drawings followed in 2017 at the Collection de l'Art Brut, Switzerland.
Hsiao Chin, Four Yuan-2 (1963). Acrylic on canvas. 160 x 130 cm. Courtesy Liang Gallery.
Four Yuan-2 (1963) is an amazing painting. Measuring at 1.6 by 1.3 metres, four pink circles are painted vertically in twos over lilac-blue columns that create a middle gap in green, creating a vertical strip that meets horizontal bars top and bottom to form an 'I' on the canvas.
What makes the painting so striking are its pink and green surfaces dotted with splashes that emulate smooth terrazzo surfaces, recalling the aesthetics of Ettore Sottsass—think Bacterio—and the Memphis Group.
Hsiao, whose father co-founded the Shanghai Conservatory of Music, is considered a modern master, whose blend of Western techniques and Eastern principles invokes a neo-Taoist approach. 'The four circles in the picture are the four directions of the earth, east, west, south, and north,' says the artist. 'Blue is the sky, and green is the essential element for the growth of all things.'
Born in 1935 in Shanghai, he relocated to Taiwan in 1949, where he studied sketching under Chu Teh-Chun and joined the studio of Lee Chun-Shan, before co-founding the Ton Fan Group of abstract painters in 1956. That year, Hsiao was awarded a scholarship from the Spanish government to study in Madrid, but found such extreme conservatism in Spain's academies that he gave it up.
Harumi Yamaguchi, Celery (1976). Acrylic on board. 43.2 x 57 cm. © Harumi Yamaguchi. Courtesy NANZUKA.
The airbrushed pin-ups that Harumi Yamaguchi created in the 1970s and 80s are a whole vibe, with works like Celery (1976), depicting a woman chomping down on its namesake like an invitation and a threat.
Known as the 'Harumi Gals', Yamaguchi's women—liberated, sexual, powerful, playful—defined a period's aesthetic. They were made while the artist worked in an all-female advertising division of the Japanese department store chain, PARCO, which she joined in 1972. (In 1978, PARCO published a book titled Harumi Gals, celebrating Yamaguchi's artistry.)
Yamaguchi studied at the Tokyo University of the Arts among the likes of Jiro Takamatsu, an artist associated with the postwar Mono-ha movement and a co-founder of the collective Hi-Red Center. Finding academia stifling, she abandoned oil paint and 'fine art' after seeing an exhibition organised in 1958 by the Japan Advertising Artists Club.
The 'noyōni' (similar to) poster series, begun in 1988, saw Yamaguchi shift focus from hot young things to women of history; elders worth celebrating from Simone de Beauvoir, Billie Holiday, and Josephine Baker to Japanese suffragist, Fusae Ichikawa.
Yuki Katsura, Fallen Leaves (1938). Oil on canvas. 53 x 65.5 cm. Courtesy Nukaga Gallery.
Yuki Katsura at Nukaga Gallery
Yuki Kastura's hypnotic 1938 oil-on-canvas study of Fallen Leaves (1938) depicts a rush of autumn foliage set off by a white, lacquer-like ground.
The work hangs next to the abstract 1961 oil and paper on canvas Work (1961) in Nukaga Gallery's Insights booth: a large, irregular black cuboid form that acts like a shadow on a tea-stained ground. Completing a line of three is Afternoon from 1934 to 1940: a vibrant still-life composition that precedes the move towards abstraction that Fallen Leaves signalled.
In fact, Fallen Leaves, considered an important example of pre-war painting in Japan, demonstrates exactly what set Katsura apart from her peers, with the artist employing novel or unusual angles and perspectives in her still-life studies.
Katsura was trained in Japanese-style painting known as Nihonga, before transitioning to oil painting, then a male-dominated medium, in search of a looser conduit for expression. She painted Fallen Leaves around the time she became a founding member of the Kyushitsukai (Ninth Room Association).
Norio Imai, Work Circle F (1964). Acrylic paint, cotton, plastic mould on canvas. 160 cm diameter. Courtesy Axel Vervoordt Gallery.
Norio Imai at Axel Vervoordt Gallery
The youngest member of the Gutai Art Association, joining in 1965 at age 17 and remaining with the group until it disbanded in 1972, this showcase of works by Norio Imai spans the 1960s to the present day, encompassing installation to photography.
Imai is best known for white monochrome canvases defined by bulbous reliefs created with embedded bottles or other objects.
Among early examples on view is Work Circle F (1964), a round canvas with a cross of protrusions that was included in Imai's debut solo exhibition at the Gutai Pinacotheca in 1966, here complemented by the 1967 film En (Circle): hole-punched filmstrips flashing a white circle at 24 frames per second.
A particular highlight is the 'Daily Portraits' (1979) series, for which the artist has stacked dated Polaroid portraits of himself taken daily from 1979 to today.
Exhibition view: Shinro Ohtake, Jiro Yoshihara, and Andro Wekua, Take Ninagawa, Art Basel Hong Kong (27–29 May 2022). Courtesy Take Ninagawa.
Jiro Yoshihara, with Shinro Ohtake and Andro Wekua at Take Ninagawa
In this stunning grouping, a small painting by the leader and co-founder of the Gutai Art Association, Jiro Yoshihara, is paired with a recent painting by Andro Wekua, and older pieces by Shinro Ohtake, who is holding a retrospective at Tokyo's National Museum of Modern Art in 2022.
Measuring in at 52-by-45 centimetres, Yoshihara's untitled canvas from 1951 is a dark and enigmatic blend of surrealism with abstraction that defined the artist's practice before a move to circles in the 1960s: two birds appear like spectres through a black ground, one with an eye for a head, as two branches lie vertically at the bottom of the frame.
Cypress Eye (2020), a larger canvas by Andro Wekua, harmonises with Yoshihara's, enacting that same sense of emergence, as sharp strokes of bright colour—greens, blues, purples, and pinks—gravitate around an eye that peers through the dark.
Completing the grouping is a suite of collages and prints by Shinro Ohtake, including the Duchampian Boîte-en-valise, Retina Map #58 (1991), and collages made in Hong Kong in 1980, including Map, Central: a subjective cartography of scrap paper, cut up Chinese characters, and pencil doodles.
IGAK Murniasih, Untitled (2004). Acrylic on canvas. 60 x 100 cm. Courtesy Gajah Gallery.
IGAK Murniasih at Gajah Gallery, OVR Exclusive
There's an arresting painting by the Balinese artist I Gusti Ayu Kadek Murniasih on view exclusively in Art Basel Hong Kong's OVR.
The 2004 acrylic on canvas shows a full frontal view of a figure painted in block colour—red face and hands, yellow body—with legs spread open and an erect penis in its mouth. It's unclear if this is one person or two; but it doesn't really matter. The image's iconography is so direct that it evades vulgarity for a paradoxically iconic allure. Far from offensive, you're being challenged to look.
Born in 1966 in Tabanan Regency, Bali, this self-taught artist, whose untimely passing in 2006 cut short a remarkable career, was ahead of her time. Otherwise known as 'Murni', she created figurative works that challenged female objectification, with smooth lines scoring out bodies painted in soft block colours to temper the unwavering content impressed upon them.
Take the acrylic on canvas Story of Bangkok (2003), in which a person's backside rises up on the left side of a pastel-green ground as a string of razor blades seemingly floats out from between their cheeks; or Nyut, Nyut (2001), featuring a blue figure with red hair that pierces its torso with its own stretched arm.
Takeo Yamaguchi, Composition (1952). Oil on board. 179.5 x 272 cm. Courtesy Shibunkaku.
Takeo Yamaguchi at Shibunkaku
Takeo Yamaguchi's work practically sings in its booth, manned by members of Shibunkaku's team who braved the seven-day quarantine to be in Hong Kong.
The focal piece of this beautiful capsule of abstract paintings from the 1940s to the early 1980s is the monumental oil on board Composition (1952), presented on the back wall, in which the form of a goalkeeper mid-save seems reduced to two irregular yellow curls and two circles—one bright orange.
Yamaguchi's surfaces are thick and flat: oil did not seem to have dried on board so much as caked it. All of which gives a sense of volume and weight to shapes that appear inlaid. Amplifying this effect are small works lining the booth's side walls; in Go (1966), a brown surface is broken up by a solid black line moving from top left to centre, before snaking down the frame.
Born in 1902 in Seoul, Yamaguchi studied Western painting at Tokyo Art School before moving to Paris after graduating in 1927. Returning to Tokyo in 1931, he became associated with the Nika-kai (Second-Section Society), which opposed Japanese art's official division into Japanese-style and Western-style painting and sculpture, claiming a dedication to experimentation and abstraction instead. —[O]
---