Insight
Darren Almond at SCAI The Bathhouse, Tokyo
Using both traditional and new media, Darren Almond explores personal and collective visions of time. He questions how such a concept may be understood within the limits of human perception, using research conducted at specific sites to inform his perspectives. For this purpose he often travels to vast, meditative landscapes such as that of the Arctic Circle.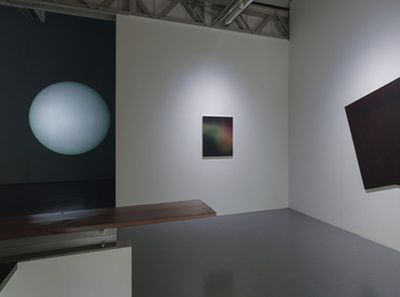 Installation view of Darren Almond, Within The Shadow of the Sun, 2016, SCAI The Bathhouse, Tokyo. Courtesy SCAI The Bathhouse.
In his latest exhibition, Within The Shadow of The Sun, at SCAI The Bathhouse, Almond interrogates time within the momentary and the infinite. Hand-Held Sun forms the nucleus of the exhibition; an iPhone video of the sun as seen through a telescope is projected to fill the entirety of one wall of the space. On the floor is a small monitor showing the moon, scaled to the sun in an approximation of their real-life proportions. On the walls of the space is Almond's 'In Reflection' painting series—mirrored surfaces, illuminated solely by the projection and monitor.
An excerpt from the exhibition press release:
The exhibition, Within The Shadow of The Sun, links together a constellation of [Almond's] newest works made as a result of such explorations with a focus on celestial environments. Explicit in these works are the tools and language that have facilitated our greater understanding and comprehension of our being in relation to the infinite void of space and time.
In this interview with Angela Reynolds, Almond discusses his inspirations for the exhibition, his practice and process, and his fascination with time, the digital world and nature.