Insight | Online presentation
Editorial Selections at Art Basel OVR: Pioneers
Ocula's editors select their picks from OVR: Pioneers (24–27 March 2021), Art Basel's online platform featuring 100 galleries presenting works by artists who have forged new trajectories in art.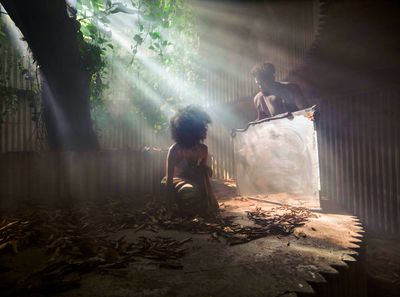 Isaac Julien, Beautiful Souls, Less Beautiful Souls (Lina Bo Bardi – A Marvellous Entanglement) (2019). Endura Ultra photograph. Edition of 6 + AP. 180 x 240 x 7,5 cm. Courtesy Galeria Nara Roesler.
Isaac Julien at Galeria Nara Roesler
Since his beginnings in the Sankofa Film Collective—founded in London in 1983 alongside Martina Attille, Maureen Blackwood, Nadine Marsh-Edwards, and Robert Crusz—Isaac Julien has established himself as a pioneer of multi-screen film installation, disrupting linear narratives with new time and spatial configurations.
Julien works from photography to develop his films, which are interlinked by common themes including migration, class, sexuality, and Black identity.
For OVR: Pioneers, Galeria Nara Roesler presents a selection of photographs that trace the artist's career. Among these are photographic prints from Lina Bo Bardi – A Marvellous Entanglement (2019)—an homage to modernist architect Lina Bo Bardi set among her iconic buildings, including the Museu de Arte de São Paulo, the Museu de Arte Moderna da Bahia, and the SESC Pompéia.
Engaging renowned actress Fernanda Montenegro, who plays an older Bo Bardi, while Montenegro's daughter Fernanda Torres plays her younger self, the film is a 'a rich saturation of audio-visual echoes and projections: a multi-layered expression of a creator's essence infused with the textures of their time and resonances in the present', as Stephanie Bailey recently wrote in Ocula Magazine. TM
Robert Colescott, Dr. Ehrlich's Magic Bullet (1968). Acrylic on canvas. 200 x 149.9 cm. © The Robert H. Colescott Separate Property Trust / Artists Rights Society (ARS), New York. Courtesy The Trust and Blum & Poe, Los Angeles/New York/Tokyo.
Robert Colescott at Blum & Poe
Satirical, transgressive, and controversial, Oakland-born painter Robert Colescott (1925–2009) was a pioneer in the revival of figuration in American painting in the 1970s and appropriation in the 1980s.
First impacting the art scene in Portland in the 1970s, his reinventions of art historical masterpieces replaced white figures with blackface and stereotyped characters. Van Gogh's Potato Eaters (1885), for instance, is turned into a racist caricature in Eat Dem Taters (1975). Colescott bluntly and unapologetically ripped open unspoken issues of race, sex, gender, and history in America, with a colourful, crude, and gestural figurative style.
Rarely seen, Robert Colescott's paintings from his years spent in Cairo and Paris between 1964 and 1969 were pivotal in the development of this signature style. For an artist determined to interject painting with the true Black experience, exposure to the non-white art history spanning 3,000 years in Egypt and greater Africa offered inspiration and opportunity.
Dr Ehrlich's Magic Bullet (1968)—painted after Colescott left Egypt for Paris on the onset of the Six-Day War—bears the influence of Fernand Léger, who taught Colescott in Paris two decades prior, and the eroded reliefs of Egypt's Valley of the Queens. Cartoonish, elongated figures intersect with a landscape of bright gestural fields of pure colour; a crowded and colourful composition evocative of his later seminal figurative style. MI
Paul Nazareth, MC - Bestiary of Capital (2019). Origami made from the Artist's collection of international currencies. Variable dimensions. Courtesy Mendes Wood DM.
Paulo Nazareth at Mendes Wood DM
For the past two decades, Paulo Nazareth has melded art, life, and activism to address the ramifications of globalisation and colonial history through light-hearted and unorthodox works of art.
In 2011, for example, he famously began a journey from Minas Gerais, Brazil, traversing over 15 countries in the Americas on foot—and occasionally the bus—to finish in New York, before walking back to where he started. Documented in the 'Notícias de América' series as performances, sculptures, video footage, and film, Nazareth's travels call attention to the myriad ways of being.
For OVR: Pioneers, which coincides with Várzea, Nazareth's online presentation at Mendes Wood DM that runs through 26 March, 'a less-considered platform' of Nazareth's far-reaching practice foregrounds the rampant commodification and exploitation of nature.
The tiny origami animals in 'Bestiary of Capitals' (2019) originate from the artist's collection of international currencies, with the original, unfolded paper bill standing behind them. There are armadillos from 5 Venezuelan Bolívares, for example, and eagles from the former Ecuadorian Sucre bill.
The contemporary world's equation between nature and commodity and, by extension, life and capital, also becomes apparent in 'Bestiário do Capital' (2017), a series of drawings featuring well-known and beloved but caricatured animals that adorn corporate logos. SP
Sunil Gupta, Untitled #7 (1982/2021). Archival inkjet print. 101.6 x 152.4 cm. Edition of 3+1 AP. Courtesy Vadehra Art Gallery.
Sunil Gupta at Vadehra Art Gallery
When Sunil Gupta left Canada for New York to earn an MBA in 1976, his attention was quickly diverted. The possibilities of photography revealed themselves on Christopher Street in the years following Stonewall, where 'the whole political underpinning of gay liberation' became the subject of his lens.
'We were going to destroy the family-based capitalism through promiscuity', the artist explained to James Drury for the Barbican's June Guide, describing the general atmosphere of the time. 'It was very joyful.'
'Christopher Street, 1976', is candid and carefree, and it was through this series—recently exhibited at Hales Gallery in London in 2019—that the artist's 'obsession' with photography began.
Dropping out of his MBA, he began taking photography classes, before relocating to the U.K. in the 1980s, where he continued his studies at the West Surrey College of Art & Design in Farnham, Surrey, followed by the Royal College of Art in London. Migration has come to define Gupta's practice, along with themes of race and queer identity, and he describes his movements not so much as a 'departure as an arrival.'
In 1982, Gupta returned to India for the first time since his teens. In a series of never-before-seen photographs showing with Vadehra Art Gallery for OVR: Pioneers, Gupta captures empty public spaces that recall his liminal sexuality, providing 'a vivacious remembering of the nameless experimentations he encountered as a plucky, pubescent boy discovering his queerness through a sexual awakening.' TM
Nancy Spero, Bomb, Dove and Victims (1967). Signed and dated recto. Gouache and ink on paper. 61 x 91.4 cm; Framed: 70.8 x 100.6 x 3.8 cm. Courtesy Galerie Lelong & Co.
Ana Mendieta, Carolee Schneemann, Nancy Spero & Mildred Thompson at Galerie Lelong & Co.
Spanning photography, mixed media collage, gouache and ink on paper, assemblage, and silkscreen print, Galerie Lelong & Co. provides a glimpse into the enduring practices of four female figures active in New York from the 1960s onwards.
This gouache and ink on paper by Nancy Spero belongs to the artist's 'War' series (1966–1970), marking a shift from canvas to paper, which responded to the Vietnam War. As the artist once said, 'Big canvases carried the male look! The "establishment"!' In violent, streaking colours, the artist—who had established herself as a figurative painter in the 1950s and 60s in Paris, before settling in New York in 1964—opted for cheap paper instead of canvas, creating sexualised bombs exploding in watercolour.
Spero's concern with the body and its representation was shared by Ana Mendieta, whose 'Silueta' series (1974) are featured here in photographic documentation. The artists were friends, and in the 1990s, Spero staged a series of homages to Mendieta, tracing an action created by the artist in 1982, three years before her death in 1985.
Titled Blood Sign/Body Tracks (1982), Mendieta coated her arms in animal blood before dragging them across sheets of paper, leaving the room and the audience to observe the traces—which recall the violent streaks of Spero's 'War' series—in absence of her body. TM
Ha Chong-Hyun, Conjunction 74-17 (1974). Oil on hemp cloth. 80 x 100 cm. Courtesy Kukje Gallery.
Ha Chong-Hyun at Kukje Gallery
Seven historical works from Ha Chong-Hyun's 'Conjunction' series compose this focused homage to one of Korea's great modern and contemporary masters. Ha was both a leading figure of Dansaekhwa, a movement of abstract painters in Korea that includes Lee Ufan, Park Seo-Bo, and Yun Hyong-keun, and a co-founder of Avant-Garde (A.G.), a group of artists and critics whose experimental output, writes Alfred Pacquement, 'coincides with Japanese Mono-ha.'1
Initiated in 1974, the 'Conjunction' works involved canvases made from coarse hemp and burlap—what Ha described as 'a revolution against traditional canvas'—with Ha pushing oil paint through their weaves from the back using a palette knife. The method, which Ha pioneered, came to be known as bae-ap-bub, and symbolised a 'break away from Western painting methods.'
The paint that emerges through each woven grid forms mosaics of pigmented beads that amass into geometric shapes. Whether the faint, ochre square that emerges from the centre of a raw, brown surface in Conjunction 84-13 (1984), or the monochromatic white Conjunction 85-101 (1985), in which the artist's hand is visible in the gestural currents tracked by reliefs of white paint on the image plane.
'The paint bead is the first opportunity for oil paint to take shape on its own', Ha once said. 'The oil shaped itself that way and I leave it as it is.'2 In an interview with Ocula Magazine, Ha described the word 'conjunction' as 'the essence' of his work: 'the conjunction between the materials—oil paint and hemp cloth—and my spirit and performance.' SB
Miao Ying, Pilgrimage into Walden XII—the Honor of Shepherds (2019–2021). Game engine live simulation. © Miao Ying. Courtesy Galerie nächst St. Stephan Rosemarie Schwarzwälder, Vienna.
Miao Ying at Galerie nächst St. Stephan Rosemarie Schwarzwälder
Shanghai-born digital artist Miao Ying previously said she resides on the internet, the Chinese internet, and her smartphone.
In Pilgrimage into Walden XII—the Honor of Shepherds (2019–2021), though, she's not the occupant but the creator of a virtual world. Walden XII is a game engine spin on behavioural psychologist B. F. Skinner's Walden Two (1948), a novel about a civilisation where perfect behaviour is achieved through positive conditioning. Ying likens such conditioning to the use of adversarial neural networks to train computers.
In Walden XII, six 'Social Shepherds'—cartoonish 3D characters with names like 'The Fluorescent Anomaly', 'Brain Urban Migrant W0rk3R', and 'The Sophisticated King of the Night, Brain L1t3rat1'—are scored on their ability to move in ways that mimic human movements. Those who fail to meet the program's expectations are given negative scores and are ultimately replaced.
The work's visuals may resemble video games like League of Legends or Dota 2, and its methods are pioneering, but conceptually it shares some common ground with generative art stretching back to the 1960s, when Sol LeWitt and Ed Ruscha created their own rules-based works. SG —[O]
---
1 Alfred Pacquement, 'The serenety of Ha Chong-Hyun's gestural abstraction', excerpt of essay published on the occasion of Ha Chong-Hyuns's exhibitions at Almine Rech in Paris (22 April–1 June 2017) and London (1 June–23 September 2017), Accessed 22 March 2021, ttps://www.alminerech.com/press-release/en/4019-ha-chong-hyun#_ftnref2.
2 Kwon Mee-yoo, 'Ha Chong-hyun finds conjunction between spirit and performance', The Korea Times, 27 June 2019, https://www.koreatimes.co.kr/www/art/2019/06/691_271332.html.