Insight | Artist, Australia
Lionel Bawden at Karen Woodbury Gallery, Melbourne
Lionel Bawden is an Australian artist working in sculpture performance, installation and painting. Unusually, one of the core materials Bawden exploits is the hexagonal coloured pencil. Following a process first of gluing and sanding the pencils, he then carves the resulting form into amorphous shapes, mining the material's rich qualities of colour, geometry and metaphor. He describes the resulting works as having a 'a very intergenerational lineage, where the forms are distant relatives of one another, slowly evolving and revisiting formal aspects over time'. In his current solo exhibition at Karen Woodbury gallery in Melbourne, Dawn Chorus
, the forms he presents convey a kind of pulsing energy, which he relates to an idea of landscape.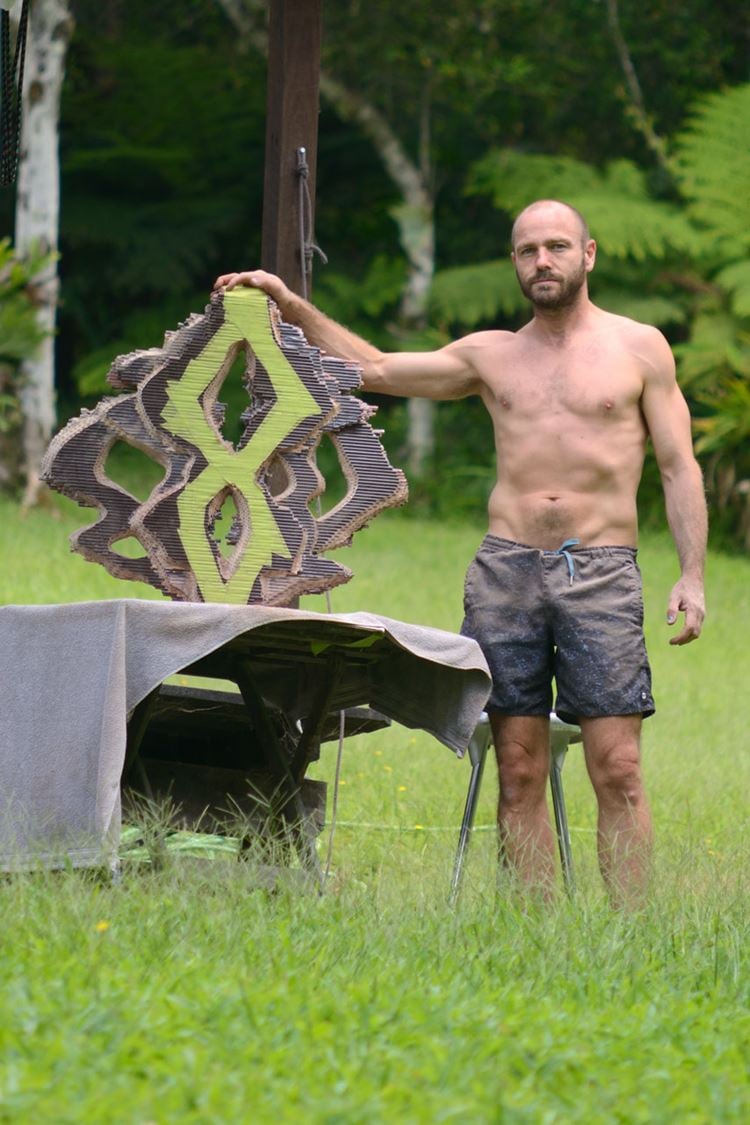 Image: Lionel Bawden. Courtesy Karen Woodbury Gallery, Melbourne.
Bowden was both in Auburn, New South Wales in 1974, but between the age of 7 and 17, he grew up living in the country of the Darug People on the edge of Sydney, and this early experience seems to have informed his practice. Today he lives and works in a relatively remote area of New South Wales, in Bundjalung country. Bawden has a Masters of Fine Arts, Sydney College of the Arts, Sydney University (2015) and a Bachelor of Visual Arts with Honours (painting) from the Australian National University Institute of the Arts, Canberra School of Art, Canberra (1997). He has exhibited widely both within Australia and internationally. His work is held in major public and private collections including the Queensland Art Gallery, Brisbane, National Gallery of Victoria, Melbourne, Newcastle Region Gallery, Newcastle, Artbank, and Macquarie Bank collection.
Tell us about your background—how did you first become interested in art?
I grew up working as a gardener alongside my father during school holidays. One of his client's, Anna Dusseldorp, an amazing woman, great art collector and close friend to our family through that long working relationship, had the most spellbinding collection of artworks in her home. She owned works by Rupert Bunny, Brett Whiteley, William Dobell and the most mesmerising to me was a spectacular Ian Fairweather. I would occasionally ask if I could tour the house to look at the pictures. The Russell Drysdale that I grew up looking at in her home,
Group of Aborigines
now hangs in the Art Gallery of New South Wales, so I revisit it often. These museum pieces were a backdrop to my childhood, they introduced me to a wonderland of art that seemed very available to me, something I was connected to already. A world of paintings inside the house and spider-webs, ant colonies and all nature's bounty in the garden, so art and nature have always been interwoven for me. I was always a creative person and was encouraged by my family to follow that path to art school.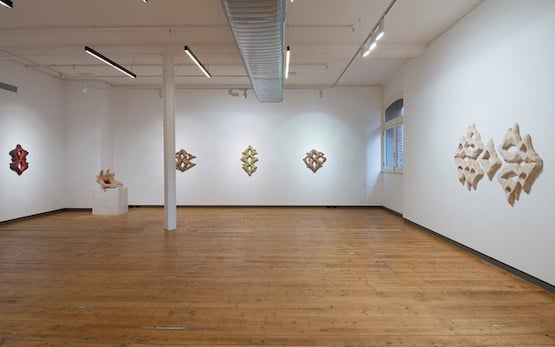 Image: Exhibition view, Lionel Bawden, Dawn Chorus, 2016. Courtesy Karen Woodbury Gallery, Melbourne.
I understand you create your sculptures by hand gluing coloured pencils together. Can you please explain your process?
The process of making my sculptures from a honeycomb of thousands of hexagonal Staedtler pencils is additive and subtractive. I first glue the pencils together in stratas building up a form and then sand it away. I always know the vague form of the work, but it shifts and transforms a little during the making process. It is very physical work, very visceral and feels like a good work out. I am a slow thinker, so have been known to make a work and then discover a sketch I did of it 3 years earlier. The pencil sculptures are a very intergenerational lineage, where the forms are distant relatives of one another, slowly evolving and revisiting formal aspects over time.
Is there an underlying message you are trying to convey in your work?
I am interested in conveying a kind of energy or a pulse of the landscape in these current works, but I am rarely concerned with creating a closed or specific meaning or idea. I sink my thoughts, feelings and physical responses into an artwork and create an object that hopefully resonates in myriad ways to different people. With this current series I have been really keen to create forms, which will satisfy the gaze for many years and transmitting a kind of pulse or vibration. Formally, the geometry of the material, when carved and curved creates a series of optical vibrations, which are sympathetic to this energy. There is a work in this exhibition of which the title could have formed an alternate title to this show—'something that resonates.' That is what I try and create in my sculpture, an open ended thing, rich in personal and physical references, where meaning remains in flux.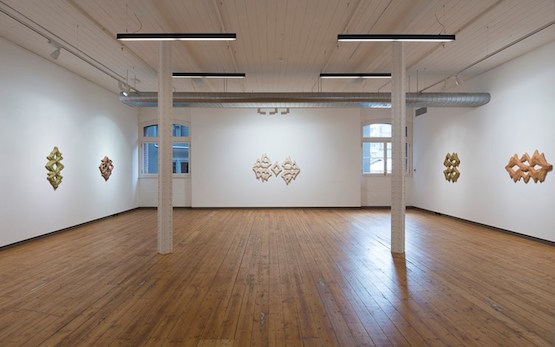 Image: Exhibition view, Lionel Bawden, Dawn Chorus, 2016. Courtesy Karen Woodbury Gallery, Melbourne.
Can you please tell us about your new works? And what will you be showing at Karen Woodbury?
Dawn Chorus
, my solo exhibition at Karen Woodbury Gallery is a very direct and clear show for me—a homage to landscape. I have worked with landscape as my core motif for my entire career, sometimes in and out of focus for myself about what it stands for. I have used landscape as a stand in for the body and for the self or of transformation over time, or disappearance. I think that a connection to landscape is one of the deepest experiences as a human (or perhaps an animal). A sense of belonging and being part of the landscape involves a deep reverence. Experiencing awe in the landscape can make you feel small, puts things in perspective, but simultaneously connective, makes you feel like a cell in one enormous body. From seven to seventeen, I grew up living in the country of the Darug People on the edge of Sydney, a very diverse and rich Australian dry bush, full of caves, creeks and rock escarpment that I would climb all day, bushwalking with my dog, until the sun went down. After a long period living in cities I have returned to living out in the landscape, now in the Northern Rivers of New South Wales, in Bundjalung country: a real paradise of waterholes, waterfalls and wet, dark green forest. The landscape nourishes me directly and I wanted to simply (ambitiously) transmit some of that energy. The title
Dawn Chorus
comes from the morning bird song that greets the day. It is a sonic title, which I chose to amplify the kind of pulse or soundwave forms of the works. The forms each feature a void or series of voids, and are in a sense a revisitation of my series
A Void/ La Disparition
, which was inspired by the final chapter of Joan Lindsay's
Picnic at Hanging Rock.
The missing girls and Miss McCraw literally crawl into a hole in the ground and are swallowed up by the landscape, entering the earth. So these works for me are both a pulse to transmit energy and a void to swallow up the body. I have been interested in a play between simplicity and complexity and very much focused on refining form.
What else are you working on in 2016?
Up next is painting in the studio. That could take me in any direction, so we will wait and see—for me my paintings are a playful way to explore darker aspects of my psyche. Parallel to making a few more works to explore different direction arising from this Dawn Chorus series. Each series or exhibition, really becomes the parent to the next generation, so after completing a show I enjoy playfully extending the formal direction of the work. —[O]