Insight | Fair Director, Art Central, Hong Kong
Maree Di Pasquale
Art Central returns to Hong Kong March 23-26 with a spectacular program of large-scale installations, talks, performance and tours. With more than 100 galleries from 20 countries with 75% from the greater Asia region, Art Central brings together the best emerging talent with a distinctly Asian edge.

Building on the success of the inaugural edition which saw more than 30,000 visitors, Art Central 2016 edition will showcase a dynamic selection of galleries and many new innovations for public programming.

We spoke to fair Director, Maree Di Pasquale as final preperations are made.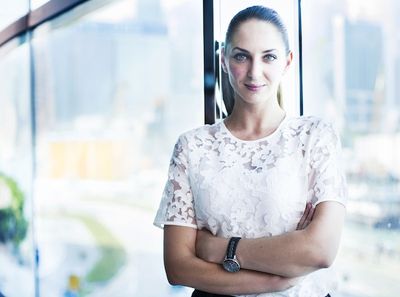 Maree Di Pasquale, Fair Director, Art Central, Hong Kong. Image courtesy Art Central.
Now in its second year, Art Central is forging a unique identity within the annual Hong Kong art week. Describe the niche you have created for the fair?
What we have created is a parallel fair unlike any other. Polished and presented as a world-class show, with the brand values that one would associate with a main fair. From the outset we have strived to showcase the next generation of talent alongside the most established galleries from across Asia and the globe. Many of these are exhibiting artists that are well known in their home cities, but are still emerging on a global platform. One of Art Central's undeniable strengths is this opportunity for discovery.
With 75% of our 105 galleries hailing from greater Asia, the fair also has a distinctly Asian edge. This has meant that we are perfectly positioned to present the very best of what is happening in the region, a sort of microcosm of Asia's contemporary art scene.
The size is important, as is the fact that we are all on one level. Art Central is manageable, creating an intimacy that is sometimes harder to achieve in a larger fair. And being staged in a bespoke temporary structure right in the heart of Central Hong Kong, the largest the city has ever seen, certainly adds to the unique experience. Creating our own structure has also meant that we have the flexibility to work with a range of different brands and suppliers. This has enabled us to collaborate with some of the city's hottest eateries and showcase the Hong Kong foodie culture.
Fairgoers can enjoy a beer and burger harbourside in the outdoor Street Food area, or they can book in for a meal at the neo-Parisian bistro pop-up, Belon, helmed by world-class chef James Henry. Art Central is very much defined by its host city, and that means incorporating every aspect of it; art in all its forms, even food.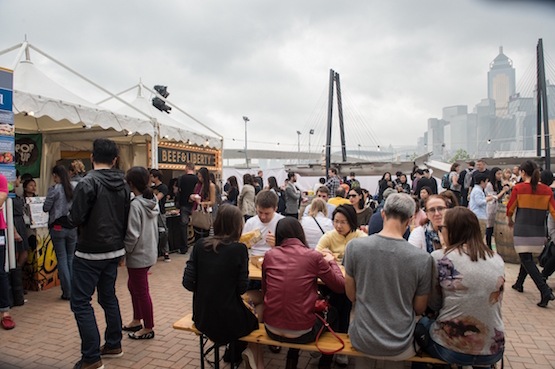 Image: Art Central 2015 - Street Food. Courtesy Art Central, Hong Kong.
What do you feel were the greatest successes of 2015 and what lessons have you taken forward to the 2016 edition?
We were very pleased with the success of the inaugural fair last March. It far exceeded expectations on all fronts, attracting 30,000 collectors, buyers and art-loving public from Hong Kong, the region and the world. This is more than double our initial projection. Sales too were strong, however we are always looking for new ways to connect our galleries with an art interested audience, and likewise introducing our collectors to new and interesting work. It is important for a fair to constantly evolve and improve its offering.
To keep the audience interested, this year we are set to raise the bar with an ambitious program of large-scale installations, gallery exhibitions, performance, experiential film and a very strong talks program. We have also worked hard to create even stronger links with partners for programming and commissions. In particular, I would encourage you to look out for ROUNDTABLE X 4A, a collaboration with 4A Centre for Contemporary Asian Art, and MEDIA X MUMM, a new media and performance sector supported by the fair's official Champagne partner, G.H.Mumm. We are also very excited to share that the Absolut Art Bar will be at Art Central this year.
We thought that an evening preview was probably a missed opportunity for galleries and collectors in the first year, so we have rectified that by introducing First Night in 2016. Kicking off Art Week on Monday 21 March, 5pm-9pm, the official opening night of Art Central gives collectors an opportunity to have a first view of the works on offer.
Image: Art Central 2015. Courtesy Art Central, Hong Kong.
Up from 77 galleries in 2015 to more than 100 galleries in 2016 with an ever-larger component (75%) coming from greater Asia. What are some of the highlights, in terms of galleries and artists, visitors can look forward to?
It's tough to pick just a few highlights but a standout from the host city include Sin Sin Fine Art's two-person show with S. Teddy Darmawan and Bob 'Sick' Yudhita. The two create a powerful yet very personal exhibition that represents, I think, some of the best talent to come out of Southeast Asia. Their presentation is complemented by an aw-inspiring mixed media mural by Indonesian born Dwi Sentianto, that is over 12 meters in length.
Regionally, GALLERY HYUNDAI from Seoul is one to see, with a stellar selection of Dansaekhwa Korean monochromatic paintings that include works by masters, Park Seo Bo and Lee Ufan. While Hive Center for Contemporary Art (Beijing) highlight generations of contemporary Chinese art with names such as Shang Yang, Liang Quan, and Wei Dong, both not to be missed.
Michael Goedhuis (London) is sure to attract interest with his specially curated show, From Historicism to the Avant-Garde, 1980-2015, with famed ink artists such as Liu Dan and Qin Feng. As is Galerie Forsblom (Helsinki), a new addition to the exhibitor list, with a group show featuring Manolo Valdés, one of the most established contemporary artists of Spain. Valdés is included in such prestigious collections as the Metropolitan Museum of Art and the Museum of Modern Art in New York, Centre Georges Pompidou in Paris, Kunstmuseum in Berlin and Museo Nacional Centro de Arte Reina Sofia in Madrid.
Locust Jones from DOMNIK MERSCH GALLERY (Sydney) returns to Hong Kong after a solo show at ART HK in 2011, and this time to create a site-specific installation as part of the fair's PROJECTS sector titled Back to the Dark Ages. The work investigates issues of contemporary politics through large-scale panoramic sheets of paper over 10 meters in length, using text-based imagery and expressive, scrawled drawings.
Image: Lee Ufan, From Line, 1979, Mineral pigment and oil. Courtesy Gallery Hyundai, Seoul.
'Emerging', 'edgy', and 'distinctly Asian' were all terms used to describe Art Central 2015. Do you have an idea of the type of collectors who attended the fair?
In 2015, galleries reported strong sales to both new buyers and experienced collectors, many of whom they had heard of but were meeting for the first time. The collector geographic breakdown is 55% Hong Kong, 30% Regional, 15% International. What this shows us is that Art Central appeals to a range of markets and backgrounds, with a very clear local and regional influence. This is the reason why galleries choose Art Central. The fair hosts collectors not just from Hong Kong, but China, Taiwan, South Korea, Japan, Indonesia, Singapore, Malaysia, Thailand, The Philippines, Australia, New Zealand, and beyond.
The Art central offering appeals to buyers and collectors of all ages and stages too, with there truly being something for everyone. We have work ranging from US$1,000 to US$2million+, offering at the lower end an entry point for new buyers and a chance of discovery for the more experienced collector. And at the higher range, providing museum quality work for the investor and connoisseur collector alike.
You have taken some big leaps with the public programming in 2016, including a partnership with the 4A Centre for Contemporary Asian Art, Sydney to introduce a roundtable program of discussions, interviews, presentations and performances. Tell us about this?
We believe that an art fair has a responsibility to educate new audiences for contemporary art, and so have worked with some of the region's most exciting art spaces, publications and curators, to develop programming that engages the fairgoer in fun and sometimes challenging ways. Partnering with organizations such as 4A, Asia Society and Experimenta, allows us to connect with the visitors in a more authentic and creative way, whilst also shining a light on their respective programs.
4A in particular is a collaboration that really excites me. Their program will focus on artistic and curatorial practices from across Asia and the Pacific, and highlights the work of NPOs in supporting and developing new discourses and conversations. The interactive program also features new performances by artists Frances Barrett, Abdullah M.I. Syed and Latai Taumoepea, each of which reflect on the context of the contemporary art fair in Asia.
Image: Thomas Canto, Suspended Landscape, 2016. Courtesy Art Central, Hong Kong.
2016 will also see the launch of MEDIA X MUMM, the fair's first exhibition of new media and performance art, supported by G.H. Mumm Champagne and SCREEN X EXPERIMENTA, a curated platform for experimental and narrative motion picture filmmakers. What can visitors expect?
Art Central's additional programming is designed to complement the main gallery sectors; to put a spotlight on new media and performance art through both SCREEN X EXPERIMENTA and MEDIA X MUMM, and to challenge our audience to think more deeply about contemporary art practice. Both platforms discover new talent; artists and creators that might be well known it their own cities, yet relatively unknown in a global context. This sense of discovery is important to us.
How important is the public programming in establishing the identity and success of the fair?
All elements of a fair's program are integral to its success and to the development of a unique fair identity. A number of special projects and programs take place in addition to the main fair, fostering young talent and providing a showcase for certain disciplines. All of these are activities are in support of the fair's gallery core and aim to drive sales or educate future audiences of contemporary art.
An art fair is of course a commercial platform, however it is also an arena in which to foster the development of new buyers and an arts interested public. We take this responsibility very seriously.
Image: Nonotak, Daydream V.3, 2014. Courtesy Art Central, Hong Kong.
Can you tell us about how galleries were chosen to take part in the fair. What considerations did the selection committee bear in mind when selecting galleries?
Applications to Art Central 2016 were open to galleries or dealers with true artist representation that hold regular exhibitions on their own business premises, within external project spaces, or in the virtual space. Our galleries have been chosen by the fair's Selection Committee, which is an international gallery collective reviewed annually.
Criteria such as quality of the artwork and projects undertaken by the gallery both locally and overseas were central to the selection committee's decision. Our aim was to build a fair that would showcase a range of talent—from emerging artists through established names—without a quota for galleries from the region. It just so happened that galleries from the region were among the strongest proposals we received.
Aside from Art Central what are your top picks for Hong Kong Art Week?
Personally, I am a big fan of what is happening on the Southside in Hong Kong, so I am really looking forward to the South Island Art Brunch on Thursday 24 March. 24 galleries, artist studios and non-commercial art spaces within the South Island Cultural District will open their doors and host exhibition openings, artist talks and performances over brunch. Another annual favourite is the Intelligence Squared Cultural Debate on the same day, and this year it is followed by an evening event at Sin Sin Fine Art in Central Hong Kong. Art, music, performance and wine with the backdrop screening of old Hong Kong movies—what's not to love!?
I would also recommend getting over to see fair partner, Asia Society Hong Kong's site-specific installation of paintings and performances by renowned Chinese artist and dancer, Shen Wei. Performances Untitled No. 32 (Bodies and Rooftop) by Shen Wei Dance Arts will take place 25 and 26 March at Asia Society Hong Kong Center, but don't forget to RSVP.
For these and other Art Week highlights, visit: http://artcentralhongkong.com/program