Insight | Artworks
Melbourne Art Fair Viewing Rooms: Seven Artwork Highlights

In Partnership with Melbourne Art Fair
Ocula Magazine's editors present their picks from Melbourne Art Fair's Viewing Rooms, running between 1 and 7 June 2020.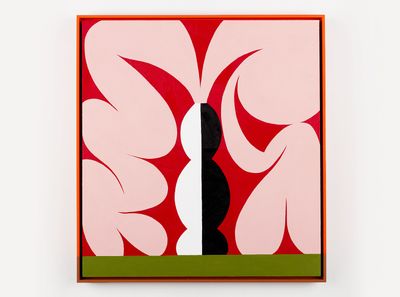 Evi O, Voluptuous Arrangement for a Feast by the Garden (2019). Acrylic and medium on timber panel and frames. 75 x 70 x 3 cm. Courtesy Saint Cloche. Photo: Daniel Shipp.
Evi O, Voluptuous Arrangement for a Feast by the Garden (2019) at Saint Cloche
It's not surprising that this self-taught artist is a visual communications-trained designer who made a name at Penguin Books Australia's illustrated imprint Lantern. O (full surname Oetomo) worked on Megan Morton's Things I Love, awarded Best Designed Book and Best Designed General Illustrated Book at the 2013 Australian Book Design Awards, which named O Young Designer of the Year. A few years later, she started showing her paintings: Instagram-friendly geometric abstractions with bold colours and shapes echoing Matisse as much as graphic design. Titles offer frames to read a playful, visual lexicon, such as a strong squiggle identified in various pieces as a viper, or the curvaceous forms named here. SB
Ken Sisters Collaborative, Seven Sisters 2-20 (2020). Acrylic on linen. 196 x 298 cm. Courtesy Jan Murphy Gallery. Photo: Jon Linkins.
Ken Sisters Collaborative, Seven Sisters 2-20 (2020) at Jan Murphy Gallery
The zoom function lends itself to studying the dots composing the 'Seven Sisters' paintings, each a call and response between those that marked them, and a code for the initiated. Based on a Tjukurpa (creation) story for the Pleiades and Orion constellations, formed from an epic pursuit of sisters across land and sky by a malicious male shapeshifter, a cyclical movement activates this 2-20 composition. Orbs symbolising protagonists and the landmasses marking their journey revolve around a darker space—perhaps the cave and/or watering hole central to the narrative, or a gesture to the coming night when the sisters rise into the sky trailed by their pursuer, the surrounding colours invoking a flush, red earth sunset. The Ken Sisters Collaborative, 2016 Wynne Prize winners from Anangu Pitjantjatjara Yankunytjatjara Lands, interpret this tale as a testament to sisterhood. In 2018, a 'Seven Sisters' painting by the collective received the People's Choice Award for the 35th Telstra National Aboriginal & Torres Strait Islander Art Awards. SB
Caroline Rothwell, Umbel (2019). Canvas, steel, hydrostone, epoxy resin, acrylic paint, brass, copper. 74 x 49 x 20 cm. Courtesy the artist and Yavuz Gallery.
Caroline Rothwell, Umbel (2019) at Yavuz Gallery
Umbel is part of a striking sculpture series that draws on Rothwell's research into botanical history, resulting in hybrid forms channeling complex histories. Ancient medicinal plant manuscripts inform this group, with images transmitted in the medieval world by copies far removed from their source, their stylised likeness often taking on anthropomorphic characteristics gesturing towards properties and uses. In the case of Umbel, named (and composed) after flower clusters whose stalks connect to the same stem, an arm reaches up from the base as an intestine-like swirl snakes down from the other side. Created by pouring hydrostone into stitched, epoxy-laminated canvas, there is a connection with the 'Biomorph' series, which grew out of Rothwell's 2015 residency at the University of Cambridge's Museum of Archaeology and Anthropology, and appeared in 2018 London solo Ex Situ at Verghis Art, curated by TarraWarra Biennial 2020 curator Nina Miall. SB
Nick Santoro, Slacky Flat (2020). Acrylic on board with handpainted timber frame. 52 x 52 x 4.5 cm. Courtesy The Egg & Dart. Photo: Josh Cuneo.
Nick Santoro, Slacky Flat (2020) at The Egg & Dart
The volume of buildings in Nick Santoro's acrylic on board paintings is slippery, both 2D and 3D, like illustrations in a pop-up book. It's a technique that lends itself to the awkward, seemingly ad hoc architecture in Slacky Flat, a work whose title refers to a part of Sydney that came into being as a makeshift village for the unemployed during the Great Depression. Born in Wollongong, New South Wales, in 1994, Santoro's paintings of urban and suburban scenes capture the precariousness of being a young artist. His painting Hewitts Avenue Montage (2019), for example, a finalist for the Sir John Sulman Prize, is deliberately disorganised, the incongruent perspectives of people and buildings expressing the instability of constantly moving houses and studios. SG
Dr. Christian Thompson AO, Primeval Sea (2018). C-type print on Fuji Pearl Metallic Paper. 120 x 120 cm. Courtesy Michael Reid.
Dr. Christian Thompson AO, Primeval Sea (2018) at Michael Reid
Primeval Sea is laden with the qualities of an unfamiliar ritual, beautiful and unsettling. Its elements reflect the eclectic education of the artist, Dr. Christian Thompson AO, who trained as a sculptor at RMIT University, Melbourne, and completed a Master of Theatre at DasArts, part of the Amsterdam School of the Arts. Botanical sculptures and self portraits in character have been part of his practice since the mid-2000s. Primeval Sea appeared in the 2018 exhibition Equinox at Michael Reid's Berlin gallery, in which Thompson referenced his Bidjara ancestry and prominent figures in the colonisation of Australia, and incorporated elements that transcend both. Proteas, for instance, are a plant native to the prehistoric continent Gondwana, indicative of the artist's interest in fluid identities and cultural hybridity. SG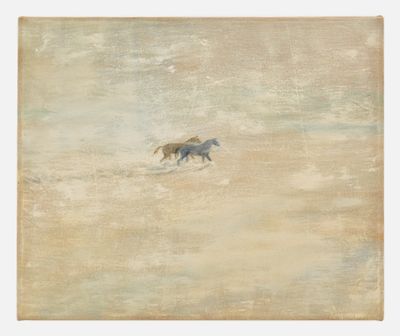 Katelyn Eichwald,
Two Horses
(2020). Oil on linen. 38.1 x 45.7 cm. Courtesy the artist and Fortnight Institute.
Katelyn Eichwald, Two Horses (2020) at ReadingRoom
Katelyn Eichwald's delicate paintings are generated from careful strokes attentive to the 'cadence and rhythm' of paint. Hazy landscapes, as in the case of Two Horses (2020), are punctuated with animals and figures that appear to be suspended in time. Born in 1987, the Chicago-based artist held her first solo exhibition in 2018 at Fortnight Institute in New York with a series of mostly domestic scenes, where 'men, women, and jackal-like dogs wander queasy hallways, offer each other suspicious drinks, and watch each other sleep.' Created through the slightest of gestures, Eichwald's paintings are full of secrets, appearing at once serene and sinister through visual narratives that are never fully revealed to the viewer. Australian audiences can encounter her enigmatic paintings at ReadingRoom in Melbourne later this year, where the artist's second solo exhibition will take place. TM
Ali McCann, Young and Insurgent (After Benedetta) (2019). Chromogenic print, Edition of 3 + 2AP. 54 x 43 x 3.5 cm. Courtesy kleinerfelt.
Ali McCann, Young and Insurgent (After Benedetta) (2019) at kleinerfelt
Glossy, geometric surfaces and bright colours make up the chromogenic prints of Melbourne-based artist Ali McCann. McCann received a Graduate Diploma of Education from the University of Melbourne prior to her BFA in Photography and MA of Contemporary Art from the same university, and has since continued to focus on the aesthetics of pedagogy. This was catalysed by a collection of art history textbooks the artist received from her mother, who began working as a high school art and ceramics teacher during the inception of progressive educational reforms in Australia in the 1970s. Once lost and forgotten, the discarded educational objects in McCann's works—sourced from storerooms, cupboards, and waste bins of the different educational institutions where she has taught photography—are reassembled in a new light, their contextual significance revised in superb visual collages that stretch photography's limits as a medium. TM —[O]