Insight
Perrotin Shanghai Opening: Emmanuel Perrotin & Wim Delvoye
Since starting a gallery in his apartment at the age of 21, French gallerist Emmanuel Perrotin has become well known for his embracing of pop culture and high art. Perrotin is credited with contributing to the rise of Takashi Murakami's global fame, having been the first to show his work outside of Japan in 1993, and was also an early supporter of Damien Hirst and Sophie Calle. Today, he represents over 50 artists such as KAWS, Izumi Kato, JR, Maurizio Cattelan, Park Seo-bo and Hernan Bas. His galleries are known for their celebrity-studded openings, parties and collaborations with designers and musicians such as Pharrell and Massive Attack.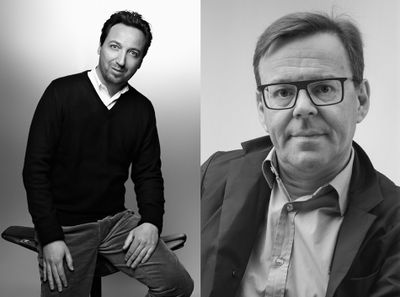 Emmanuel Perrotin and Wim Delvoye. Courtesy Perrotin. Photo (Emmanuel Perrotin): Karl Lagerfeld.
Continually increasing his footprint on the international art world, Perrotin has opened 18 gallery spaces in the last 28 years. In addition to spaces in New York, and Paris, Galerie Perrotin opened in Hong Kong in 2012, Seoul in 2016, and Tokyo in 2017. Earlier this year, the gallerist made the move to mainland China and opened Perrotin Shanghai in the 1200 square metre top floor of a third-story building on Huqiu Road in the city's Bund quarter. The former warehouse was renovated by architect André Fu, who previously designed Perrotin's Hong Kong space, and contains a mezzanine and several exhibition rooms which preserve structural elements of the original 1930s structure. The gallery is co-directed by Uli Zhiheng Huang, and Joye Zhu.
Wim Delvoye, Coccyx Double (2012). Polished bronze. 54 x 140 x 107 cm. Courtesy Perrotin. © Studio Wim Delvoye, Belgium / ADAGP, Paris & SACK, Seoul 2018.
Perrotin Shanghai was inaugurated this fall with a solo exhibition by Wim Delvoye (20 September-17 October 2018), the Belgian artist who is perhaps best known for his Cloaca machines: largescale apparatus which mimic the digestive process by turning food into feces. Since the 1990s, Delvoye has also been tattooing live pigs and pig skins with a myriad of designs including brand logos and gothic ornamentation, considering the animals 'living art'. From 2003 and 2010, the artist kept farm on the outskirts of Beijing where pigs were raised. When the pigs died, their skin was stretched like paintings, blurring lines between 'dirtiness, richness and opulence'.
The exhibition at Perrotin Shanghai contained 30 works from the past 15 years including Suppo, a large-scale, laser-cut iron sculpture which alludes to the gothic architecture in Delvoye's native Flanders, Belgium. The sculpture is a smaller version of the 11-metre-high work presented in 2012 under the pyramid of the Louvre, in association with the artist's exhibition at the museum. Ocula met with both Perrotin and Delvoye on the occasion of the artist's exhibition opening in Shanghai.
Emmanuel, your ambition to open a gallery in Shanghai has been very determined. The gallery space is one of the largest among all of your spaces in Asia. What is your expectation of Shanghai?
EP: First of all, the new gallery is not a white cube or an industrial space. It looks homey and gives people a nice feeling. We really tried to build a place you want to spend time in. One big difference between this and spending five days in an art fair—where people are running from one booth to another—is that you truly spend time here. People are always running at fairs. They get a rough perception from one work and neglect the difference from one work to another. When they come here, however, we try to express another way to view art.
Perrotin gallery, Shanghai. Courtesy Perrotin. Photo: Ringo Cheung.
Please can you discuss your collaboration with the architect Andé Fu?
EP: Good architects always work in collaboration with a client. André is a very good architect and also an art connoisseur, and it was a collaboration in working with him on this project. He brings his style, but he also listens to his clients and their requests, bringing in their ideas. We worked with him before in relation to our Hong Kong gallery space and we gained a lot of experience from that project. When we then worked with him in Tokyo and Shanghai, it was much easier because he knew our demands.
Perrotin gallery, Shanghai. Courtesy Perrotin. Photo: Ringo Cheung.
You mentioned that you wanted to do something different. What are your ambitions for the gallery in Shanghai?
EP: Let's first speak about my team rather than me, because you referenced 'my' ambition.
Wim Delvoye: He has an ambitious team.
EP: I have an ambitious team and I encourage them to express their ambition even if it means taking a risk. If you ask me if I'm sure about something, I will tell you that I have no idea. Instead, we test out our ideas. On the day before an opening, we have no idea what to expect but if we want it to be big, it will be too late to try and do that after the opening, so we work very hard before the opening to do what we can to make sure it is big.
It's so fashionable to open a gallery in Berlin, London, or Los Angeles. However, so many galleries go there, and we wanted to go somewhere else important, like Shanghai.
WD: Emmanuel has the first mover advantage.
EP: We are not completely first, let's not forget other peers here. Some of my friends told me: Emmanuel, we are looking closely at what you're doing. I'm happy to see that my steps are being followed by others. It's a good sign. We have a lot of dreams, it's not only about testing the market.
WD: Emmanuel already tested the market out during the art fairs. He already has Chinese collectors living in China but also abroad, like in Indonesia.
EP: We opened the gallery to reflect the territory of our team. One of the overseers of my Asia galleries, Etsuko Nakajima, has worked for me for 17 years. We decided to open the gallery in Hong Kong together; she met Alice Lung from Taiwan, who has a Korean background, and together they established a strong gallery in Hong Kong in 2012. They hire good people, and among them is an employee who has already worked for us for two years in Shanghai.
Exhibition view: Wim Delvoye, Perrotin, Shanghai (20 September–17 October 2018). Courtesy © Studio Wim Delvoye / ADAGP, Paris & SACK, Seoul 2018. Photo: Ringo Cheung.
We passed the phase when we asked ourselves if we were naïve about the circumstances in Shanghai, and step by step, we eventually arrived here. One must also choose to maintain relationships with one's team or lose them. It sounds simple.
WD: We never did anything else but what we are doing now. Emmanuel's been a gallerist for his whole life. I've never been teaching, nor have I had a restaurant job in my life. I have never been anything else than an artist.
EP: I had a job at the beginning to be able to finance my gallery. I was doing renovation; I was also working in software; I was filming dancers and singers. I was doing many things but for a very short time. After I opened my gallery, at the beginning I continued to do different jobs to be able to survive.
Wim, you use a lot of elements referencing consumerism in your works. You use a lot of labels, a lot of symbols, and you try to change, borrow them, or reassemble them. How do you think consumerism or globalisation has influenced your work?
WD: We are all a part of consumerism, but you can either be part of it in a dumb way, or you can be part of it in a fairly independent way. I'd like to make people insecure. People buy art because they're insecure. They don't think that they look good, but they want to look good, so they buy art and spend a lot of money on it. So, insecurity is an interesting feeling to create with your art.
You also commented on culture and branding. I know it's a problem now, but when I was starting this, it was funny. I remember when I first came to China, I printed my name on my card in Disney letters (we share the same initials). When I gave my card to two men, they said, 'Oh, you must be famous!' I said, 'Why? Why do you think I am?' 'Well I know your name', they said. But they just recognised the Disney font. They didn't really know who it was.
Wim Delvoye, Twisted Dump Truck (Clockwise) – scale model 1/4 (2013). Laser-cut stainless steel. 94 x 176 x 76cm. Courtesy Perrotin. © Studio Wim Delvoye, Belgium / ADAGP, Paris & SACK, Seoul 2018.
WD: We don't only want to fit into an old generation. Emmanuel has one leg in the 20th century maybe, but he's also very tuned into the present. I learn from his open-mindedness to the popular culture. He's also very interested in social media. You know, most people at his age are not. They underestimate all these new things.
In many people's minds, Perrotin is creating some kind of popular culture.
EP: Sometimes it's totally exaggerated, but it's true that I had a mission when I started my gallery in Paris. It was to make more people in my country interested in contemporary art. In Paris, it was complicated, I had to find a link with another discipline to create an interest. Fashion was a natural pairing as I was very already connected with it. I have many friends who are fashion designers, and I instigated some collaborations. After I did this with music collaborations. I really like music, I feel music is so important in our lives.
Wim, you've had a relationship with China for the past 13 years. Can you talk about that?
WD: I did my first solo show in China in 2005 at a gallery called Xin Beijing. At that time, Xin Beijing was not in 798. The gallery director said to me, 'Bring in the shit machine (Cloaca). Bring in all these pigs. We don't care about selling. We want to show face', which is a Chinese expression. Well, they just wanted to do the show, a good show. They showed four live pigs and a Cloaca. It was amazing. But in those days, nobody bought that. So, I strategically waited 15 years to do this current show.
Exhibition view: Wim Delvoye, Perrotin, Shanghai (20 September–17 October 2018). Courtesy Perrotin. © Studio Wim Delvoye, Belgium / ADAGP, Paris & SACK, Seoul 2018. Photo: Ringo Cheung.
EP: Strategically?
WD: Yes. I was in Beijing. All of the other galleries were also asking me to do a show with them. I did not want to do a show for all these people. Back then, I did the show for the young people who were not born yet at that time. I was aware that my audiences would exist in the future.
I also did a show with Lu Jie in 2002 at Long March, then with Feng Boyi with nine pigs in 798 where UCCA is now. After one week, the pigs had to leave. And all the press was in there and everybody knew about my pigs. All the Chinese press was talking about it. China is interesting to me, and I appreciate the long-term relationship with it.–[O]