Insight | Artist, New Zealand | By Angela Suh
Reuben Paterson at Gow Langsford, Auckland
Reuben Paterson is a dynamic young artist known for his creations in glitter and diamond dust. Drawing from both his Māori and Scottish ancestry, Paterson combines traditional pattern and design with non-traditional media, reinvigorating and extending Māori expression.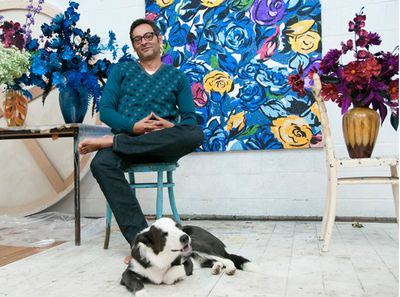 Reuben Paterson. Photo credit: Gil Hanly.
You were recently in South Korea as the recipient of the Asia New Zealand Foundation artist residency at Goyang Art Studio. Tell us a bit about your experience in South Korea and how it has influenced your practice.
The MMCA residency in South Korea came shortly after my residency in New Plymouth with the Govett Brewster Art Gallery. For me South Korea was about the spirit of adventure, to step away from deadlines and embrace an energised city scape, and to play. I created works from Swarovski t-shirt transfers, ironing them onto large black paper sheets. The adventure of this residency was what revealed itself experiencing the day to day of discovery, of being both the hunter and city's prey.
The title of your current exhibition Aroma of Black (Pt III) at Gow Langsford Gallery entertains the idea of a cross-sensory relationship with colour and smell. Is this kind of synaesthesic contemplation of colour something that you were consciously trying to evoke in the series?
The title was a way to define the introduction of black that replaces my predominant use of white as a background, and the deeper space that black brings with it. The title comes from the flowers I smell in the dark, I have a night blooming Cereus Epiphyllum that was gifted to me many years ago that only blooms at night - it is in this moment, without a physical reference that scent creates a sense of space within darkness.
The title of one of the works in the series particularly stands out - Are you My Dad's Boyfriend? Where did the inspiration for the title of this work come from?
The residency with the Govett Brewster Gallery has changed my life. Something very special happened with The Golden Bearing, a work that came out of a 3 month residency with the gallery. This work became the spring board for meeting neighbours at the residency cottage who glitter bombed me two days in. The staff of the Govett Brewster Gallery, working with Parks and visiting 18 of the most spectacular public gardens as well as several nationally renowned garden festivals - I was falling in love with this place. The Golden Bearing has been exhibited twice in New Plymouth. It's estimated that 200,000 people have seen this work and 900 education visitors participated in 31 classes, which is 742 learning experiences outside the classroom. For me, the whole chain of events that have led me to New Plymouth came through the invitation to create a work in New Plymouth, and for me to meet my partner Mike and become a part of his family. The Golden Bearing gave me my first meeting with his children as they would come and visit us during the creation of this work… and it was one of these treasures that posed the question that is the title of this work. He is all of 7, and my answer to him, was yes.
Floral patterns are a recurring motif in your work. What initially drew you to the form and what invites you to continue to experiment?
My father was a landscape gardner and when he passed I drew my Māori descent through him via the abstract patterning and story telling contained within kowhaiwhai patterns. The majority of these patterns have been abstracted from nature and contain a genealogy that links this flora and fauna to its God, whether it be sea or land. When I began painting fabrics they were explorations into familial histories as much as technical explorations of how to construct paintings from glitter and diamond dust. The three parts that make up The Aroma of Black are a study through intensely detailed botanicals from my new natural world beginning as Part I in Auckland City and I guess also the beginning of Part III from my native bush setting of New Plymouth.
The use of glitter and diamond dust has been an integral part of your artistic practice to date, and is considered by many as an identifying characteristic of your work. Do you ever work outside this medium?
It has been 13 years working with glitter and diamond dust now, and after all these years it's just like paint, though painters don't often get asked the same question. As long as I consider being able to showcase the materials in ways that aren't expected, I'll be very happy to keep using them. Against the formalism of the paintings, and sculptures, I do have a love of drawing in oil and charcoal as a way to examine a scene in front of me and this part of the expeditions I'm making as I explore the beauty of Taranaki.
The past two years have been extremely prolific, culminating in several solo exhibitions, public commissions as well as a residency in South Korea. What's next for 2016?
It's an exciting time - the Christchurch Gallery reopened on December 18 following its closure after the Christchurch earthquakes in 2011. It's heartening to have the animation Te Pūtahitanga ō Rehua included as part of this important event. It will be projected onto a giant glitter screen for the exhibition Op + Pop from 2 February. The Golden Bearing will be exhibited over summer in New Plymouth, and alongside group shows in New Zealand, I will be unveiling the day component of a new public art work in Auckland called Walking in Rainbows - Lonnie Hutchinson's night component of this work was unveiled in August 2015. Lonnie and I have a joint show at The Vivian before my second solo show with Martin Browne Contemporary in Sydney that opens August 4th.—[O]