Insight
Samuel Levi Jones at Galerie Lelong, New York
At first glance, Burning all illusion, an exhibition of works by Chicago-based artist Samuel Levi Jones, looks like it contains fairly straightforward canvases in the vein of colour field abstract expressionism. The twelve works are hung in two rooms. In the main gallery, each piece features a dominant colour scheme—blue, orange, green, taupe, red or green. In the smaller room, each canvas is a patchwork of colour, more closely resembling a quilt.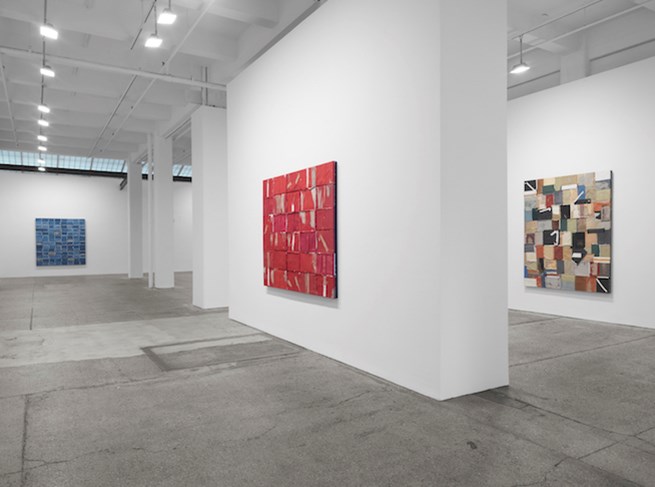 Installation view, Samuel Levi Jones, Burning all illusion, Galerie Lelong, New York, December 8, 2016 – January 28, 2017. Courtesy Galerie Lelong, New York.
Closer inspection reveals that these colour fields have not been created by paint, but by book covers. Stripped of the paper that such covers once bound, as well as most of their titles and distinguishing characteristics, the covers most resemble hides of old leather, or scraps of posters torn from a wall. Material has been scraped from the surface of each—strings and paper from their binding remain, creating texture on the flat surface of the canvas. Wall texts reveal that the covers come from books on black history, law, and higher education. The largest work in the room, Talk to Me (2015), a group of 33 dull taupe panels that covers an entire wall, contains the covers of African American reference books from UC Berkeley's Department of African American Studies.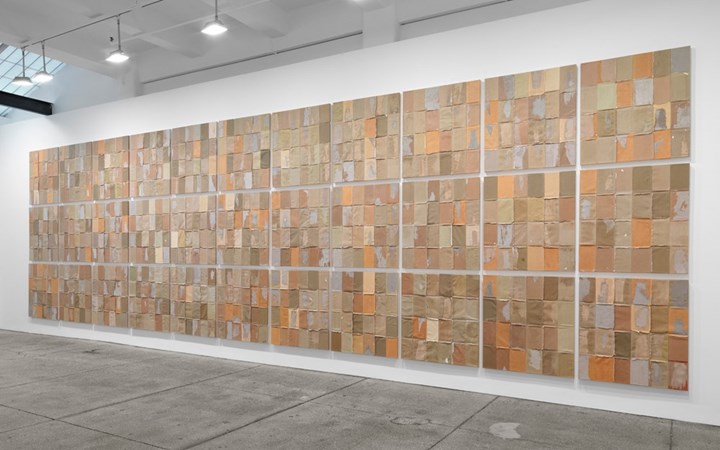 Samuel Levi Jones, Talk to me, 2016. Exhibition view, Galerie Lelong, New York. Courtesy Galerie Lelong, New York.
Together, these canvases offer a biting commentary on the state of American society. While law and history books are meant to be living documents containing information that can be applied for righteous purposes, in the United States, they often fail the very populations they aim to serve. Rather than activating the texts within, Jones instead highlights their opaqueness. Just as an unarmed black man shot down by a police officer has no access to justice, or a prisoner without adequate representation is trapped in a jail with no knowledge of the full privileges of the law, the viewer has no access to the texts Jones culled his covers from. They originated from 48 Portraits, Underexposed, a 2011 project Jones worked on as a graduate student at Mills College in Oakland, California, inspired by Gerhard Richter's 48 Portraits, which feature portraits of prominent white male figures from Europe created from a set of encyclopaedias that was first shown at the 1972 Venice Biennale. In response, Jones's work consists of portraits of 24 black men and 24 black women who he thought should have been included, but were not. The portraits themselves are printed on pages recycled from a set of encyclopaedias first printed in 1972. It was the project that led Jones to frequently use books as materials in his work.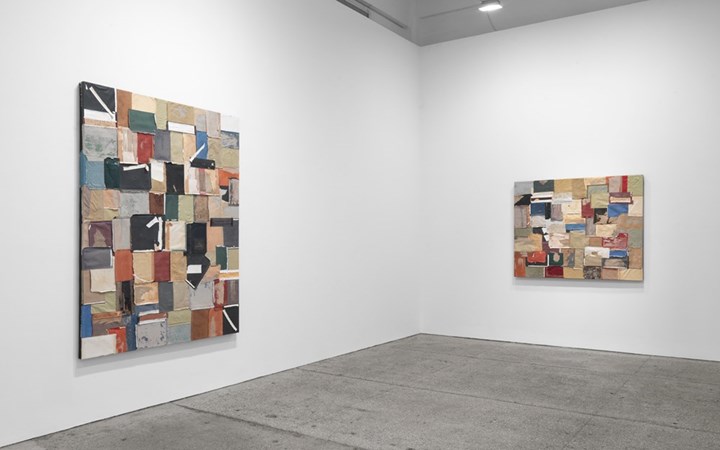 Samuel Levi Jones, Burning all illusion, 2016, Exhibition view. Courtesy Galerie Lelong, New York.
At Galerie Lelong, for viewers not familiar with Jones's practice, meaning is implied in the titles. Justice for Few (2016) is a flesh-coloured collage of deconstructed law books. Brown Paper Bag (2016) also contains deconstructed law books in a spectrum of colours that evoke the desert; the title pointing to the brown paper bag tests used in the 20th Century to determine whether a person's skin colour was light enough to warrant certain privileges. Blue Skies Matter (2016), a blue canvas of Ohio law books, riffs on the Black Lives Matter movement; the blue skies can refer to the utopia which white supremacists idealise, or the view that people have as they lie on the pavement after they have been shot down by police officers. Joshua (2016), a burgundy canvas of Illinois law books, offers a reading on the canvas itself. The gold leaf of most of the titles has been scraped off, rendering them illegible; but some words have been left. Strung together, they form such phrases as, 'Assault and homicide', and 'Criminal officers and public employees'.
Samuel Levi Jones, Burning all illusion, 2016, Exhibition view. Courtesy Galerie Lelong, New York.
In a talk at the gallery the Saturday after his exhibition opened, Jones noted that familiarity with books is universal; anyone walking into the exhibition would recognize that the covers once enclosed words rich with ideas and action. What he does so effectively in his canvases is capture how the texts must appear to the disenfranchised—the illiterate, the unrepresented, the dead—as useless flat walls of colour on a shelf.—[O]