Insight | Artist, Taiwan
Ting-Tong Chang at Art Central Hong Kong
At this year's edition of Art Central Hong Kong, the fair has teamed up with G.H.Mumm to present MEDIA X MUMM, its first exhibition of avant-garde digital, new media and performance art. In line with the fair's hope to bring together museum quality art and emerging talents, the section will showcase five quite different artworks. Within this eclectic group Taiwanese artist Ting-Tong Chang, who recently had a solo-show at the Centre for Contemporary Chinese Art in Manchester and received the RBS Bursary Award for 2015, will showcase a new installation and performance.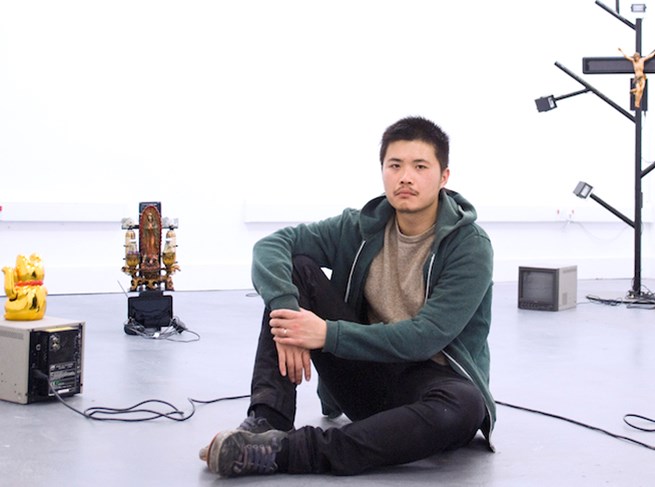 Image: Ting-Tong Chang. Courtesy of the artist.
Since beginning his artistic career, Chang has produced numerous large-scale installations, which enable him to engage with the notion of the 'machine'. According to the artist, his work is inspired by a desire to explore the relationship between science, technology and society; a focus that has been motivated by his early life in Chinese society, driven by manufacturing, exportation and materialism. Since 2009, when Chang moved to London to complete his MFA in Fine Art at Goldsmiths, the artist has broadened his socio-political focus, also exploring the social 'machine' in the West through his practice. Throughout his large-scale projects of 2015 this creative interest was self-evident. For a group show at the Taipei Fine Arts Museum, Chang was commissioned to produce Spodoptera Litura, a live installation in which the artist lived within a sealed greenhouse for three days. Chang spent his time nurturing plants and sustaining himself on the caterpillars that lived in the space, creating a micro-ecosystem structured by consumption and production.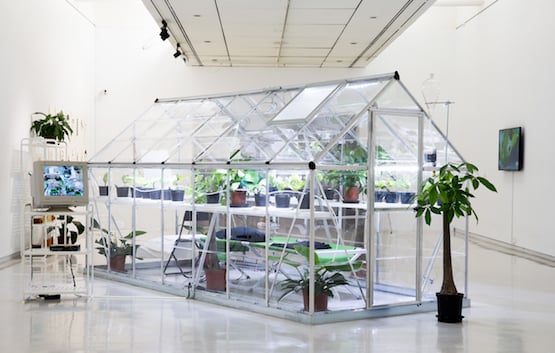 Image: Ting-Tong Chang, Spodoptera Litura, 2015. Installation, Taipei Fine Arts Museum. Courtesy Christine Park Gallery, London.
Yet, Chang's latest work, which will be on display at Art Central, takes an altogether different turn. Moving away from a socio-critical theme and looking inwards at his own practice, Chang's work appears to be a critique of art and the institution of the art world. The Colosseum, a live performance and installation, will last for six days and take place in the midst of a key art world event.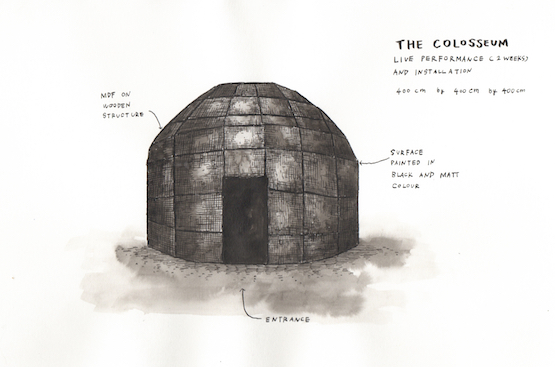 Image: Ting-Tong Chang, Colesseum Drawing I, 2016. Courtesy Christine Park Gallery, London.
The performance will evolve throughout the fair; beginning with the drawings of a local artist, who will be free to move around Art Central, fully immersed in the spectacle of the event. He/she will use their observation skills to capture the scenery of the space and details of each individual booth, gallery, visitor, artist and artwork through a series of sketches. Located elsewhere in the art fair will be Chang's reproduction of the Colosseum, constructed out of timber and wood. Each day, the drawings produced by the local artist will be passed on to Chang, who will be confined his work, The Colosseum. Chang will be isolated from the fair and unaware of the space outside of his construction, having been blindfolded when leaving or entering the installation; Chang will produce a panoramic painting of the art fair based solely on the sketches provided by the other artist.
A game of 'visual' Chinese-whispers will play out over the course of the fair, with Chang attempting to gauge and interpret the space surrounding his daytime prison. Taking place over a prolonged period of time within the fast-paced environment of Art Central HK, the work will offer an interesting juxtaposition and pose a number of poignant questions. How much will Chang's previous exposure to other art fairs influence his own panorama painting of the outside world? The project will publically interrogate the veracity of art's representational ability: can an artist truthfully portray reality or does imagination govern their creative process? Such fundamental questions are remarkably pertinent, especially when posed from within the institution, by an artist at an art fair.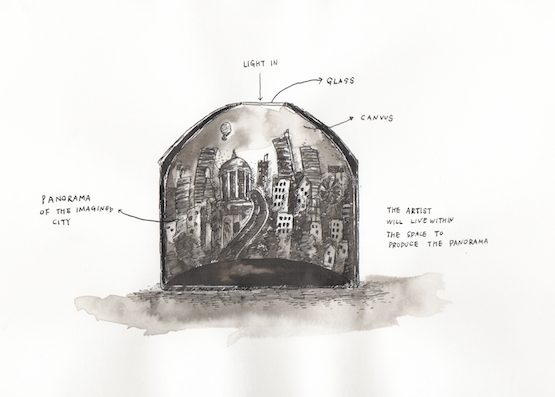 Image: Ting-Tong Chang, Colesseum Drawing II, 2016. Courtesy Christine Park Gallery, London.
However, these questions are not new, rather the work purposefully references Thomas Hornor; a gentleman who produced a panoramic drawing of London from the top of St. Paul's Cathedral in 1829. Initially opening to great popularity, the panorama soon faced criticism for not being precise. It was actually painted by E.T. Parris, who worked based on Hornor's drawings and his own imagination. Echoing this event, Chang grounds his exploration of truth in art in the long historical trajectory his questions pose. Moreover, by pulling such questions into the contemporary, it will be intriguing to see how viewers respond today. In a society often thought to be governed by spectacle, will the marvel of the vast panorama shroud the veracity of the painting?
At this stage it is impossible to predict the outcome of Chang's performance, it will be unpredictable and uncontrollable; characteristics which many hope to avoid when it comes to the event of an art fair. —[O]