Insight | Exhibition
Wei Ligang's Calligraphic Abstraction
In a practice spanning over three decades, Wei Ligang has learned, worked, and reworked calligraphic scripts, bringing Chinese characters into the realm of abstraction while contributing to an intellectual tradition that goes back some 3,500 years.
Wei Ligang, Mid-Summer Pavilion (2019). Chinese ink and acrylic on rice paper. 119 x 122 cm. Courtesy Alisan Fine Arts.
Wei's stylistic breadth will be on display in Silent Mountains, Meandering Rivers at Alisan Fine Arts in Hong Kong between 3 October 2020 and 2 January 2021, which showcases 15 works created over the last year that demonstrate the artist's various approaches to abstraction, all anchored in his unique calligraphic script.
Shapeshifting between forms such as flowers and birds, and a more explicit cursive script in gold, Wei's characters—drawn from poems—also morph into round, stone-like forms in paintings such as Jade Island and Overlapping (both 2020). Reduced to organic, somewhat circular forms that hint towards the artist's interest in the theory of 'Universalism', these characters demonstrate Wei's ability to go beyond geographic boundaries, opening calligraphic tradition and its aesthetics to the wider world.
Wei Ligang, Jade Island (2020). Chinese ink and acrylic on rice paper. 97.7 x 181 cm. Courtesy Alisan Fine Arts.
Awarded a fellowship grant from the Rockefeller Foundation's Asian Cultural Council to study in the United States in 2005, Wei took the opportunity to absorb elements of Western abstraction, attending museums and acquainting artists such as Brice Marden, with whom he shares an interest in the work of Shi Tao. More recently, in the summer of 2017, a residency in Yogyakarta at the Yogya Art Lab led Wei to experiment with paper made from materials from midrib and bamboo, creating works that incorporate influences ranging from batik print to bronze artifacts at the Jogja National Museum.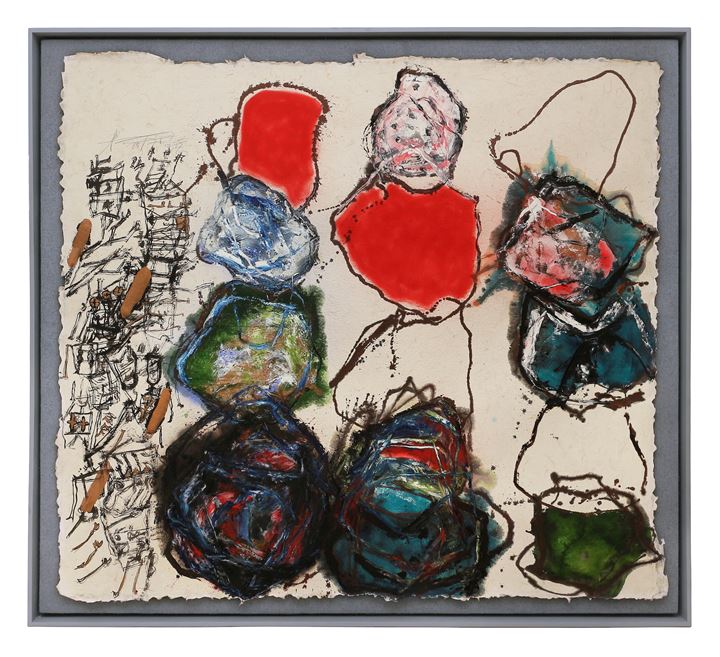 Wei Ligang, Peacock·Yogya 孔雀·日惹 (2017). Oil, acrylic spray, chinese ink on paper. 180 x 208 cm. Courtesy Gajah Gallery.
Wei's interest in calligraphy began during his childhood, spent in Datong in Shanxi province—a historical cultural city within China's coal-mining belt area that is home to ancient Buddhist temple grottoes and monasteries. The province is birthplace to 17th-century calligrapher, painter, and seal carver Fu Shan, who has had lasting influence on Wei's practice, along with his father, a railway worker and craftsman, who introduced the artist to the practice of calligraphy; also instilling in him an interest in industrial civilisation.
It was his analytical mind that led him, at just 17 years old, to begin studies in mathematics at Nankai University in Tianjin, a major port city in the northeastern Hebei province. Even still, calligraphy occupied the artist's 'every waking moment',1 and he quickly became the president of the university's calligraphy society—a position that enabled him to study under Tianjin ink masters, Wang Xuezhong, Li Henian, and Sun Boxiang.
Wei Ligang, Deer Carts with Piles of Birds (2020). Chinese ink and acrylic on rice paper. 180.4 x 97 x 2 cm. Courtesy Alisan Fine Arts.
Upon graduating in 1981, Wei taught mathematics at the Teacher's Training School in Taiyuan, the capital of Shanxi province, managing to convince the school to allow him to teach calligraphy instead. Here, the artist continued to research Fu Shan, inspired by his development of cursive calligraphy, leading to his experimentations with the medium.
Wei sets his characters free to 'fly in the sky like free birds'—a soaring quality that is amplified by the Fu Shan-inspired cursive script
In 1992, the artist began developing his signature 'Wei' characters. Also known as 'magic squares', these are based on the same squares that are inscribed on paper when learning calligraphy. Applying this basic structure, Wei sets his characters free to 'fly in the sky like free birds'2—a soaring quality that is amplified by the Fu Shan-inspired cursive script, and applied to styles of writing from antiquity that include the seal, clerical, and oracle bone scripts, to combine pictographic elements.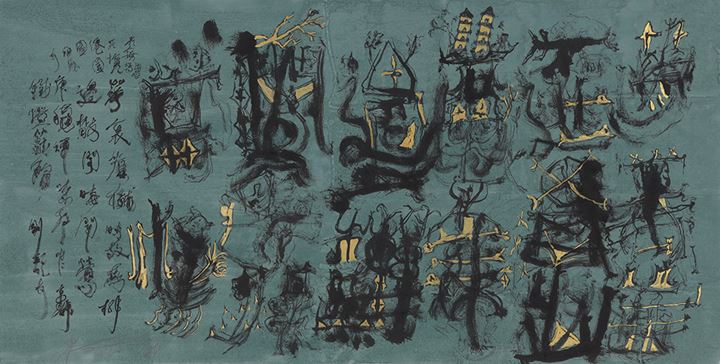 Wei Ligang, Wei Squares (2020). Chinese ink and acrylic on rice paper. 68 x 136 cm. Courtesy Alisan Fine Arts.
With mathematics having overshadowed his early practice in calligraphy, the artist finally relocated to Beijing in 1995, where he set up a studio in an art community on the grounds of the Old Summer Palace in Beijing. In this new location, Wei had increasing exposure to abstraction and global contemporary art discourse, inserting himself further into the development of modern calligraphy.
Recognising the shifts in the medium that had occurred since the mid-1980s, Wei curated the monumental exhibition Bashu Parade, Retrospective of Chinese Modern Calligraphy at the End of the 20th Century in 1999, alongside fellow calligrapher Pu Lieping. Staged at the Chengdu International Conference and Exhibition Center, the exhibition preceded a wave of interest in the medium—and contemporary Chinese art more broadly—that would sweep through the world throughout the 2000s, comprising works by some 50 artists, including names such as Zhang Dawo, Shi Wu, Zhang Qiang, and Wang Tianliang.
Wei Ligang, Cursive Calligraphy in Gold and Ink (2020). Chinese ink and acrylic on rice paper. 97.5 x 181.3 cm. Courtesy Alisan Fine Arts.
In 2002, Gordon S. Barrass, a former diplomat to the British Embassy in Beijing, included Wei's work in his curated exhibition Brushes with Surprise: The Art of Calligraphy in Modern China at the British Museum (30 January–19 May 2002), spanning the evolution of calligraphy since 1949 in Mainland China, showing 50 works collected by the Museum.
Wei's inclusion in the exhibition, a work titled Wisteria Sinensis (2001), departs from an ancient poem reflecting the beauty of wisteria—the five lines of characters swaying across the paper in varying degrees of density. The work represents a playfulness in Wei's work that at times veers on the decorative, with gold acrylic paint—acrylic being an unorthodox material in the practice of calligraphy—featuring throughout his practice.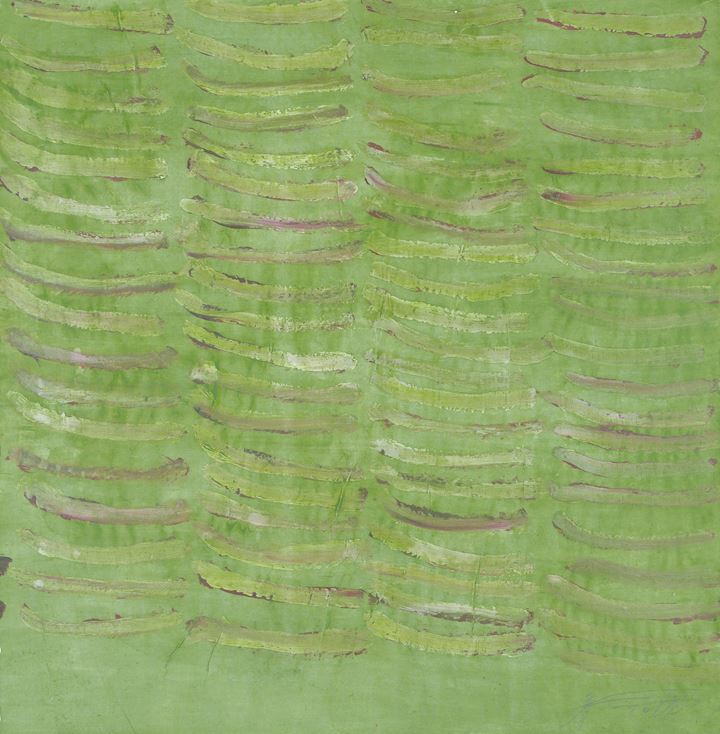 Wei Ligang, Rain Dream (2014). 97 x 95 cm. Chinese ink and acrylic on paper. Courtesy Alisan Fine Arts.
The artist began experimentation with 'shadow script' in 2011, inscribing characters on paper before covering them in gold acrylic—a layering that is taken further in the artist's 'Peacock' series, where characters have been reduced to colourful acrylic and ink circles, their edges overlapping in echo of the joining of cursive characters.
In other recent works, such as Rain Dream (2014), Wei's strokes are reduced to subtle lines, gradating in shades of purple, white, and green that are rhythmically stacked across a green ground: a demonstration of 'being set adrift in a mirage, in an abyss' that the artist invokes in his work, which seeks the 'strange and unexpected rather than legibility'.3 —[O]
1 Linda Cooper, interview with Wei Ligang, UNBLOCK, http://www.unblockmagazine.com/art-culture/2018/think.
2 'He gives calligraphy space to fly freely', China Daily, 7 February 2017, http://www.china.org.cn/arts/2017-02/07/content_40235823.htm.
3 Alan Yeung, 'Constructing the Abyss: An Interview with Wei Ligang', Ink Studio, November 2016 https://www.inkstudio.com.cn/press/54-constructing-the-abyss-an-interview-with-wei-ligang/.