News | Artists
Johnny Depp to Direct Movie About Painter Amedeo Modigliani
The film focuses on an especially tumultuous period in the artist's life, just as Depp emerges from the social media frenzy surrounding the Amber Heard trial.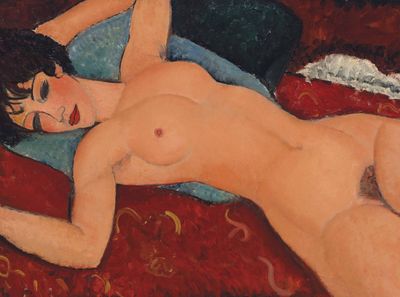 Amedeo Modigliani, Reclining Nude (1917–18). Public domain.
Actor Johnny Depp will direct a film about Amedeo Modigliani, the Italian painter best known for nude portraits that shocked Parisians when they were first exhibited in 1917.
'The saga of Mr. Modigliani's life is one that I'm incredibly honoured, and truly humbled, to bring to the screen,' Depp said. 'It was a life of great hardship, but eventual triumph — a universally human story all viewers can identify with.'
The film is an adaptation of the eponymous 1978 play by Dennis McIntyre, which focuses on just three days in 1916, when the artist was in his early 30s.
Suffering from painter's block and tuberculosis — ailments he sought to ease with absinthe, hashish and women — Modi is on the run from the police after smashing an expensive restaurant window.
Destitute and desperate, he and his artist friends debate stealing a dead cow, murdering a mother's boyfriend, and burning down the Louvre before Modi meets with a dealer who could change his fortunes.
Production on Modigliani will begin in 2023, according to The Hollywood Reporter. Depp will produce the film alongside Al Pacino and Barry Navidi.
'Al introduced me to the play Modigliani many years ago and I instantly fell in love with it,' said Navidi. 'This is a slice of Modi's life and not a bio.'
'It's been a dream of mine to work with Johnny again — he's a true artist with an amazing vision to bring this great story to the screen,' Navidi added.
Far more attention has been paid to Depp's personal life than his artistic vision in recent months.
On 1 June, he was awarded $15 million in compensatory and punitive damages in a defamation suit against his ex-wife Amber Heard, who had accused him of sexual violence and domestic abuse. Heard was awarded US $2 million in a countersuit that found Depp's lawyer had defamed her by saying she had 'roughed up' Depp's penthouse. Video of the trial went viral online.
Modigliani's romantic relationships were even more scandalous.
He had relationships with married Russian poet Anna Akhmatova, writer Beatrice Hastings, and art student Jeanne Hébuterne, to whom he was engaged and had a daughter. When Modigliani died of tubercular meningitis at age 35, Hébuterne was inconsolable. The next day, she threw herself from a fifth-floor window, killing herself and a second, unborn child.
Modigliani only found fame posthumously, two years after he died destitute.
In 2015, Chinese collector Liu Yiqian used his American Express black card to purchase Modigliani's Reclining Nude (1915–17) at Christie's for US $170 million, the highest price paid at auction for a work by the artist. —[O]