News | Market
Art Basel in Miami Beach Cancelled
They hope to soften the blow with three more editions of their Online Viewing Rooms.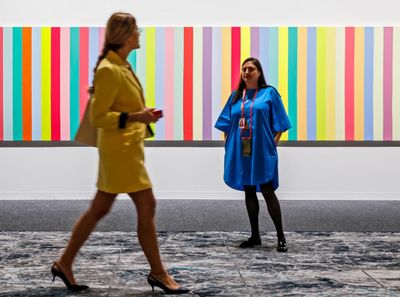 Flavio Garciandia, Auge o decadencia del arte cubano (Pinnacle or Decline of Cuban Art) (2006). Mai 36 Galerie, Meridians, Art Basel Miami Beach (5–8 December 2019). Courtesy Ocula. Photo: Charles Roussel.
First Hong Kong, then Basel, now Miami Beach. All three of Art Basel's 2020 fairs have now been cancelled due to the pandemic.
'It is with great regret and disappointment that we announce the cancellation of our December show in Miami Beach, as we know how crucial our show is for our galleries, as well as for the greater Miami arts community and economy,' said Noah Horowitz, Director Americas, Art Basel, in a press release. 'We thank everyone who shared their perspectives and insights with us over the past months and weeks and look forward to returning to Miami Beach next year to deliver a successful show.'
Art Basel said they cancelled the fair, which was scheduled to take place at the Miami Beach Convention Centre from 3–6 December, due to: the pandemic's impact; limitations and uncertainty staging large-scale events; international travel restrictions and bans; quarantine regulations in the US; and other factors. Galleries will not be charged booth fees, and application fees will roll over to the 2021 edition, they said.
Art Basel will hold three more editions of its Online Viewing Rooms before the year is out. OVR:2020, dedicated to works created this year, will run 23–26 September, OVR:20c will take place 28–31 October for works created during the 20th century, and an edition for galleries accepted for the 2020 edition of Art Basel in Miami Beach will go live in December.
The next in-person edition of Art Basel in Miami Beach will take place 2–5 December 2021. —[O]