Insight | Artworks
Art Basel Hong Kong Online Viewing Rooms: Ocula Advisory Selections
Over 2,000 artworks are being uploaded to Art Basel Hong Kong's Online Viewing Rooms, which open to VIPs from 18–19 March, and to the public from 20–25 March. In constant correspondence with galleries, Ocula's Advisory team selects the best works to seek out at artbasel.com/viewing-rooms.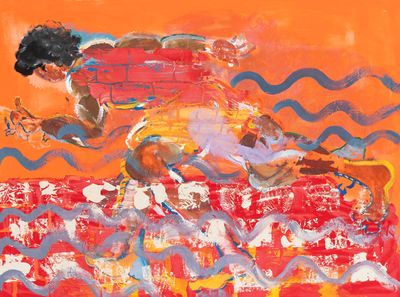 Walter Price, You wouldn't expect something so transparent to block the heat so well (2018). Acrylic and glitter on canvas. 219.1 x 200.7 x 3.2 cm. Courtesy Greene Naftali, New York.
Walter Price at Greene Naftali
Walter Price is a young painter based in New York who was included in last year's Whitney Biennial. Although figurative in part, this painting reminds me of Howard Hodgkin's abstract paintings that have the power to invoke vivid sensations or memories through the use of colour and pattern. He is showing at Art Basel Hong Kong's (ABHK) Online Viewing Rooms with Greene Naftali, New York.
Pipilotti Rist, Water Treasure (Black Light) (2019). Monitor, player and alamar ice. Courtesy Hauser & Wirth, London, New York, Los Angeles, Zurich, Somerset.
Pipilotti Rist at Hauser & Wirth
Showing at Hauser & Wirth is this visceral, almost hallucinogenic work by Pipilotti Rist. The artist transforms a monitor screen into a living sculptural object clad in a web of bright alamar ice tubing.
Rivane Neuenschwander, Tropics: Damned, Orgasmic and Devoted 10 (2020). Acrylic on wood panel. Courtesy Tanya Bonakdar Gallery, New York.
Rivane Neuenschwander at Tanya Bonakdar Gallery
Rivane Neuenschwander is a Brazilian artist whose multi-disciplinary practice often incorporates installation and simple, everyday materials. This painting, showing with Tanya Bonakdar Gallery, New York, unearths the chaos within nature, joyfully depicting abstract forms of colour intermingled with plant forms, animals, and more specific anatomy.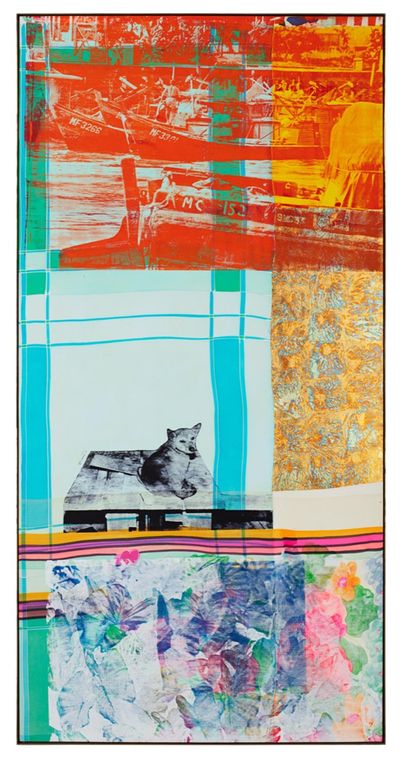 Robert Rauschenberg,
Rice Wine Dog, Tuak Hudok-Iban (ROCI Malaysia)
(1990). Silkscreen ink, gold leaf and fabric on plywood. Courtesy Galerie Thaddaeus Ropac, Paris, London, Salzburg.
Robert Rauschenberg at Galerie Thaddaeus Ropac
Robert Rauschenberg's late collages often combine fabric patterns with silkscreens, found images, and other materials in a beautifully subtle, layered manner. This 1990 work, presented by Galerie Thaddaeus Ropac, stands out due to an unusually bright palette and luscious, shiny textures.
Rudolf Stingel, Untitled (2019). Oil and enamel on canvas. 125.8 x 100 x 7 cm. Courtesy Sadie Coles HQ, London.
Rudolf Stingel at Sadie Coles HQ
This work presented by Sadie Coles HQ is a beautiful recent instruction painting by Rudolf Stingel, emanating from the series in which he uses a specific technique combining oil and enamel with a cloth. In 1989, Stingel produced an instruction manual explaining how he made these paintings, questioning ideas around authorship, abstraction, and what constitutes a painting.
John Chamberlain, Continuous Entanglement (2001). Painted and stainless steel. 48.3 x 58.4 x 38.1 cm. Courtesy Hauser & Wirth, London, New York, Los Angeles, Hong Kong, Zurich, Somerset.
John Chamberlain at Hauser & Wirth
Another piece showing at Hauser & Wirth's ABHK Online Viewing Rooms is this small but perfect John Chamberlain sculpture, possessing all of the energy and fragility of his best works. Discarded steel is transformed into a vigorous gesture more commonly associated with Abstract Expressionist painting, although Chamberlain achieves this in a three-dimensional space. —[O]