News | Exhibitions
Resilient Bangladeshi Artists Respond to Pandemic

In Partnership With Durjoy Bangladesh Foundation
Commissioned by the Durjoy Bangladesh Foundation, nine artists have created works that aim to inspire hope.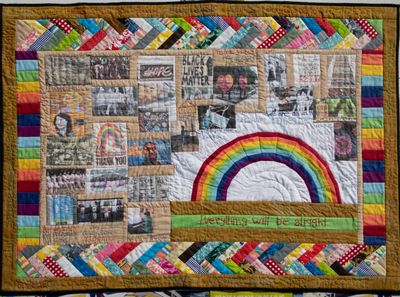 Kamrun Samadi, Quilt of Hope (2020). Textiles. Courtesy the artist and the Durjoy Bangladesh Foundation.
An exhibition of new works by Bangladeshi artists tasked with finding a way forward in the face of the pandemic launched on Ocula today.
Initiated by the Durjoy Bangladesh Foundation, Future of Hope: Creative Transmission During Pandemic (9 October 2020–31 January 2021) brings together works created over recent months as the nine participating artists, most of whom are now living outside Bangladesh, endured various states of lockdown.
Among these works are intricate stone impressions inspired by the Black Lives Matter movement by Bipasha Hayat in New York, an embroidered quilt by Vancouver-based Kamrun Samadi that speaks to our forced nesting under lockdown, and sketches by Joydeb Roaja in Khagrachari, Bangladesh, that satirise inept attempts at foreign aid.
The other artists taking part are: Hlubaishu Chowdhuri (Khagrachari, Bangladesh), Imtiaj Shohag (Paris, France), Mong Mong Sho (Kunming, China), MD Tokon (New York, USA), Sujan Chowdhury (Vancouver, Canada), and Zakir Us Salam (Tokyo, Japan).
The artists developed their works in discussion with each other and two of Bangladesh's leading cultural scholars, Professor Syed Manzoorul Islam and artist Shishir Bhattacharjee.
'Although they are dispersed around the world with widely differing practices and backgrounds, these nine participants share a common conviction that artists can be real change makers,' said Islam. 'The pandemic has highlighted how social issues are central in our efforts to reimagine the future and the power of art to be a part of that movement.'
The exhibition draws inspiration from Pandora's box, the Greek myth about a vessel that held all the world's evils, including sickness and death. After Pandora opened the box and desperately closed it again, only one thing remained inside—hope. Holding onto hope, artists were asked to reflect on a moment in history or literature when people were affected by a pandemic and endeavoured to overcome the challenges they faced.
According to the World Health Organisation, 996,342 people, including 5,193 Bangladeshis, had died of Covid-19 by late September, 2020.
'The pandemic has created truly extraordinary circumstances that have affected the global community with a sense of uncertainty and hopelessness. However, these times have also reinforced the power of art and artists to create a sense of hope,' said Durjoy Rahman, founder of Durjoy Bangladesh Foundation and owner of textile business Winners Creations Ltd. 'We are pleased to offer a platform for creative exchange online and to bring together these talented artists from across the Bangladeshi diaspora to form meaningful connections from all corners of the world during this unprecedented moment in modern history.'
Rahman established the foundation in 2018 to promote art and artists from South Asia, and bring international attention to critical social issues in Bangladesh and the Global South. —[O]