News | Artists
Ben Quilty, Australian Painter, Raises Over $4.5 Million for Afghanistan
Quilty, who once served as Australia's official war artist in Kabul, was supported by the art community and philanthropists from the tech and finance industries.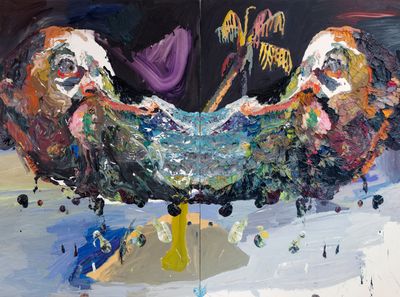 Ben Quilty, Pacific Self Portrait (Paris) (2014). Oil on linen, diptych. 190 x 240 cm. Courtesy the artist and Tolarno Galleries, Melbourne.
Celebrated Australian artist Ben Quilty has raised over AU $4.6 million (US $3.4 million) for UNHCR, the United Nations agency for refugees, to help Afghan people facing an uncertain winter under Taliban rule.
The For Afghanistan campaign began a week ago with an initial target of $30,000.
The target was set much higher after Mike Cannon-Brookes and then Scott Farquhar, co-founders of the software company Atlassian that created Trello, each offered to match public donations up to $1 million.
Karen Wilson, who founded the Wilson Foundation with her financier husband Geoff Wilson, pledged an additional $1 million.
Authors and artists also supported the effort.
Filmmaker and artist Angus McDonald was one of several artists who auctioned off works for the campaign. He raised $62,000 for his painting of Afghan Australian Anti-Islamophobia campaigner Mariam Veiszadeh. The work was nominated for the Archibald Prize in 2019.
'So many Australians, already confronting a difficult time right now, are still putting their hands in their pockets,' McDonald shared on Instagram.
'This is the Australia I want to be part of,' he said.
Novelist Richard Flannigan also auctioned off a goatskin-bound copy of his novel The Narrow Road to the Deep North that he received when he won the Booker Prize in 2014.
While Flannigan doesn't have a presence on social media, Quilty shared some words his father used to say: 'Money is like shit. Pile it up and it stinks. Spread it around and it grows things.'
'Help Ben get to a million and grow something good,' Flannigan said.
Quilty's campaign passed the $1 million mark on Saturday, activating the $3 million in matched pledges.
'I have been blown away by your generosity, and the generosity of my arts community over the last few days has been astounding,' he shared on Instagram.
Quilty said the money would provide 'tarpaulins, kitchen sets, blankets, food, shelter, water, sanitation kits, cash, mobile health care clinics, psychological care and diplomacy skills to be used on an unproven and dangerous new government.'
The artist visited Afghanistan as an official war artist in 2011. He was tasked with recording and interpreting the experiences of Australian soldiers in the Afghan cities of Kabul, Kandahar, and Tarin Kot, and at Al Minhad Airbase in the United Arab Emirates.
In 2016, Quilty and Flanagan visited Syrian refugee camps in the Bekaa Valley in Lebanon as guests of World Vision. They subsequently collaborated on the book Home: Drawings by Syrian Children (2018).
Quilty has exhibited paintings of refugees and the lifejackets of people who died fleeing their countries at Melbourne's Tolarno Galleries. In a statement, Tolarno said they were 'proud to represent this fearless artist and activist.'
'So many artists are about to donate and I'm so aware that many of you have very little to give,' Quilty said.
'I'm so humbled. Let's keep it going,' he urged.
Donations can still be made to the fundraiser here. —[O]