News | Artists
Hank Willis Thomas Sculpture 'The Embrace' Revealed in Boston
The bronze monument captures a moment of intimacy between activists Coretta Scott King and Martin Luther King Jr.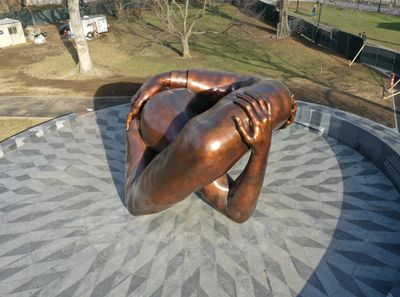 Hank Willis Thomas, The Embrace (2023). Bronze. Courtesy the artist.
A new monument to the civil rights movement will be unveiled to the public at Boston Common on 13 January.
Created by Hank Willis Thomas, The Embrace depicts husband and wife Dr. Reverend Martin Luther King Jr and Corretta Scott King hugging after he received the Nobel Peace Prize in 1964.
'There are not many, if any, monuments, made or designed by descendants of slaves, such as I am, that are dedicated to descendants of slaves such as I am, that celebrate their love, their humility, humanity, commitment, compassion and dedication to create non violence and the notion of the beloved community,' Thomas told Ocula Magazine.
Hank Willis Thomas, The Embrace (2023). Bronze. Courtesy the artist.
The moment, which was immortalised in a press photograph, offered a rare insight into the intimacy the Kings shared.
'This was something that I thought would be powerful because it really is about them,' Thomas said. 'But it's also about the potential that lies within all of us.'
The design was selected from 126 submissions and paid for with funds raised by Embrace Boston, which was established at the Boston Foundation in 2017.
The work will be the centrepiece of the new 1965 Freedom Plaza, which honours 65 civil rights leaders from Boston. Weighing over 20 metric tons, the six-metre-high, 12-metre-wide sculpture is one of the largest monuments designed by Thomas to-date.
Thomas noted that there are few 21st century artworks of this scale to draw from, but he cited Anish Kapoor's Cloud Gate (2004) in Chicago—'The Bean' to locals—as a subconscious influence.
'There is an ambition and a feeling of audacity to lead it but it also is a piece where people are welcome to walk under and inside it', he said.The Embrace is the first new monument to be added to Boston Common in 30 years.
The location is tied to Martin Luther King Jr's legacy in Boston, as the end point of a protest he led in 1965. King also met Coretta Scott in the city, and earned his Ph.D. in theology at Boston University.
'I hope that The Embrace is a calling to the best in each and every one of us and that it is seen as a celebration of the truest power of the human spirit, which is to come together in some way,' Thomas added.
'The result is a warm embrace and I am eager to see a society where we talk about civil rights, but we also talk about civic joy and civic love as part of our responsibility as citizens,' he said. —[O]