Image: Adriana Varejão. Photo: Christian Gaul
Brazilian contemporary artist Adriana Varejão's artwork is provocative, visceral and charged with references to Brazil's colonial past, miscegenation and the history of art. Renderings of architectural ruins or tiled surfaces that expose fleshy interiors; paintings inspired by cartography and European academic portrayals of Brazil; quasi-monochromatic geometric paintings of saunas and public baths; large-scale wall-mounted plates that echo Bordallo Pinheiro ceramics and delicate landscapes infused with references to Chinese Song Dynasty artefacts. Varejão devours her sources and churns out unique views on recurring themes doused in Baroque dramatic theatricality.



Based in Rio de Janeiro, where she was born in 1964, her art steers clear of idealised images of colourfully tropical and festive Brazil. She appropriates artistic styles introduced to Brazil during its colonial era, and as she once said, she uses 'parody and misrepresentation to reassign cultural significance.' Over the course of her 30-year career, Varejão has built an iconic oeuvre that speaks of the formation of her country's identity, culture and race, and by implication, also the construction of her own identity.

Exhibiting in three different spaces at the time of the interview, (Dallas Contemporary, USA, Fundação Edson Queiroz, Brazil and Lehmann Maupin
, Hong Kong), Adriana Varejão spoke to Ocula contributor, Camila Belchior about her creative process, being a woman in the art world, and her projects for 2016.
Let's start by talking about your creative process. You were recently in Macau for the first time and so many different references go into your artwork. I'd like you to talk a little about how you pull them all together to create such a unique visual lexicon.
Today we see my body of work panoramically, but things happened over the course of a long time—almost 30 years. Sometimes I work hard to chase something specific, but most times, it is a natural process and the research gets me there. Recently, I was to exhibit in Texas [at Dallas Contemporary,
Kindred Spirits
was on through 20 December 2015] and never before had I worked with North American history. I tend to avoid Euro-centric cultures and focus on more marginal ones, or at the crossings between cultures that are not in the mainstream. Because of the show in Dallas and the research I'd done on Brazilian Indians, I started to look into North American Indians: visiting museums, reading all sorts of literature, I visited Texas, went to local libraries where I had access to amazing content. I went to the Boston museum and discovered Mimbres pottery, which is not very well known. I think there's a lot of luck involved in discovering things too; it's more like following a scent than academic research. I'm far from being an academic researcher. So, basically, it's about following that scent and the associations I make are not logical. Since there's an absence of academic rigour, there's a lot of space for my poetics.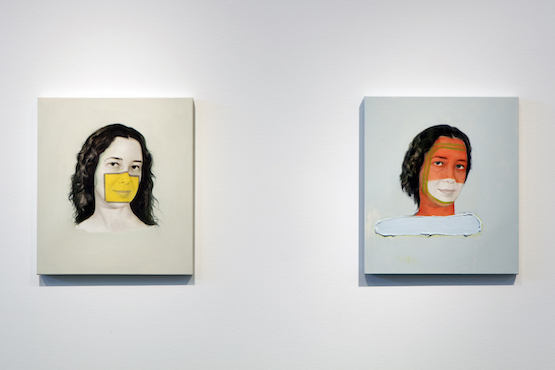 Image: Adriana Varejão, Kindred Spirits, 2015. Oil on canvas, 30 canvases; 52 x 45.5 cm (each). Exhibition view at Dallas Contemporary, USA, 2015. Photo: Kevin Todora.
Doing this for such a long time, I know what my artwork is capable of absorbing and what adapts itself to the work's language. For example, when I went to research Mimbres pottery in the Fine Arts Museum in Boston, I was talking to the curator and he was describing all the different pieces and in amongst them were some cracked pots with a hole in the middle. I asked him why they were like that and he said it was on purpose. That grabbed me because I already used craquelure in my work, I thought of Song ceramics and their cracked effect ... and when he told me little is known about the Mimbres culture, I was even more interested! This is just one example. Another, for instance, are the tiles I use in my artwork. In the piece [
Celacanto Provoca Maremoto
, 2004–2008] that is in Inhotim for example, none of those tiles are invented. They are all fragments from tiled panels. I have a repertoire, a database of tiles with about 4000 pieces. Some of them work as single images, others do not, some work in a larger context. More recently, I've been working on a piece that is tile-based, but it is much larger than others and is on its own. I don't create images, I use images that exist somewhere in the world. Churches in Salvador, Palácio de Queluz in Portugal has amazing tiles, sometimes these are specific places where I know what I want, and others that are like the chance encounter with Mimbres pottery.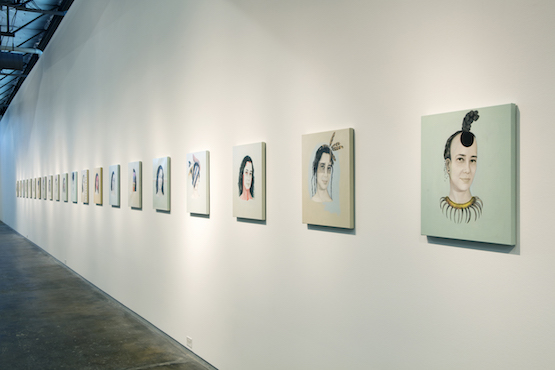 Image: Adriana Varejão, Kindred Spirits, 2015. Oil on canvas, 30 canvases; 52 x 45.5 cm (each). Exhibition view at Dallas Contemporary, USA, 2015. Photo: Kevin Todora.
Is this research and is making art a way to reorganise and give meaning to the world?
That's a very complex issue. It's more about the search for an identity. First, it's a way of being in the world and interacting with life. Secondly, there's a professional commitment to it. From a very practical point of view, I'm a professional, who loves what she does. From a more philosophical point of view, it's a hard question to answer. I'm in a very large enterprise, so I have to think back to what stimulated me when I started. Now, it's the way I live, I can't do it any other way. It's more than organising my mind, it's a routine, it is my way of existing. When I stop working, I go a little crazy, I don't know how to fill that void. Life loses its meaning.
Thinking about that level of involvement in your work, there are lots of artworks in which you make reference to yourself. Tell me about the self-referential elements in your work?
It's a way of incorporating things into my work. For example, when I was making Celacanto Provoca Maremoto, 2004-2008, the first version of the work that is in Inhotim, it was a time when I was listening to a lot of music. I think it's my most musical piece. There's a fair amount of improvisation and syncope. There's no sequence, it's made from interruptions and at the same time there's a grid. I was listening to a lot of 'Choro' music, I was learning to sing, I was very involved. I was in love with a song by Baden Powell, 'Choro para Metrônomo'. In it there's the beat of the metronome over which there is the improvisation of the guitar—to me, that artwork is the image of this song. There are other things. I practised Chinese martial arts for years in my life, for example. I was deeply and profoundly involved, committed. When I identified Chinese elements within Baroque, it struck a chord much more than Indian elements did, for instance. I think things are interlaced in that kind of a way. When I went to China originally in 1993, I went to study acupuncture, with a group of doctors, I didn't go to study art or even in the company of artists. I feel that any kind of knowledge can lead me to and be absorbed by art. Being closed within Modern art references is impossible for me. I am very curious, so I let things intersect with other things. In my work, there are lots of references to the decorative arts, tiles, ceramics—they're not considered 'Art'. When I took part in an exhibition at Fondation Cartier about the Yanomami Indians, of course my work absorbed a lot about them, their mythology.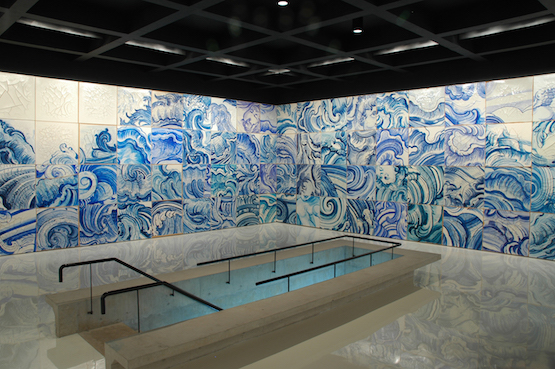 Image: Adriana Varejão, Celacanto Provoca Maremoto, 2004-2008. Oil and plaster on canvas, 184 canvases; 110 x 110 cm (each). Permanent installation at Instituto Inhotim, Brazil. Photo: Vicente de Mello.
You transform elements of your life into your work in a very unique way. It's not literal.
Yes, it's not autobiographical.
It's what you said earlier about art being a way of being in the world.
It's a collective way of seeing the world, not individual. It's a point of view that's inserted within a culture. It's sociological. The other day I went to watch the Caetano Veloso and Gilberto Gil concert and that was exactly the comparison I made between them. Gil seems to bring with him an ancestral culture, a collective and universal sense to his music. He speaks about love, men, women, race. Caetano is more about the human being, about diving deep within himself where there is also common ground to be found, but it's seen from a particular perspective. They're both beautiful points of view, but very different. When I was pregnant, there was a feminine element that I delved into. I was working on the plates and there was something of that universe—the fruits of the sea and the land. I came across the Ama divers, women who plunge in the ocean searching for sea fruit and food. It's very Asian and I came across several images of these women from the 1940s. They dive with knives. I identified with them a lot at the time and immersed myself in that world, which also has a lot to do with maternity. And then I tied them to Bordallo's ceramics … All of that to say these connections are all there, in the world. The Ama diver culture is over 2000 years old, it transcends me and my being pregnant. It's more like it's about millions of mothers.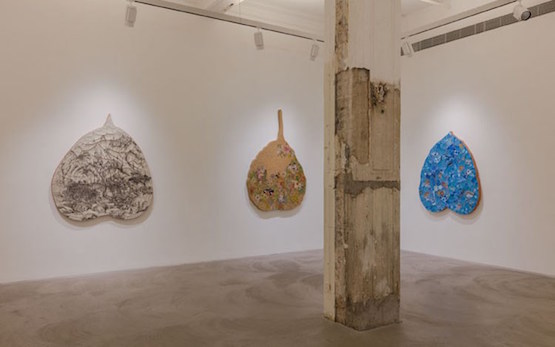 Image: Exhibition view, Adriana Varejão, 2015. Image courtesy Lehmann Maupin, New York and Hong Kong. Photo © Kitmin Lee.
So, what is it like being a leading woman in the art world?
I never really think about it. I'm not sure if that determines any aspect of my work. I've never approached any artwork in terms of the gender of its maker. In Brazilian art for example, women are protagonists, not mere participants. Tarsila do Amaral, Anita Malfatti, Lygia Clarke, Mira Schendel, Maria Martins, Lygia Pape and more recently, from my generation, there's myself, Beatriz Milhazes, Fernanda Gomes, Rivane Neuenschwander—if you look at these and other generations of artists, they and other women are the highlights. There is however, still something tied to power that is very associated to men. There's been a list going round recently of the ten most expensive male and female artists and these men's artworks are five, ten times more expensive than those of their female counterparts. There's some sort of reason, but I'm not quite sure I understand.

Image: Adriana Varejão, Sereias Bêbadas / Drunken Mermaids, 2009. Oil on fiberglass and resin, 150 x 25 cm. Photo: Eduaro Ortega.
In that sense, then it's more about the market and its labels and parameters than the art?
If you take a dead celebrated artist and compare him with a female equivalent, his work will be a commodity straight away. It's strange and manifests a bizarre 'pseudo-male-superiority'. I don't understand it. Why is
Marlene Dumas
' work not as expensive as Richter's for example? But, in any case, that's never really been an issue to me, or even something that I really think about. On the contrary, I've always felt very empowered and close to people who empathise [with] and admire women.
What do you have in store for the near future, what are your upcoming projects?
I'll be exhibiting in Rome, at Gagosian Gallery in September 2016. I was in Rome for the first time in 2014. I was very impressed by it. I've always spoken about Baroque, but it's always been from a Latin perspective, Brazil, Mexico. I'd never been to its place of birth. I fell in love with the gallery space there, it's oval and enormous.
So will you be showing new artwork, inspired by the space?
The space influences the work a great deal. I'm not sure exactly how it will be but I'll be deep into a Baroque voyage. Apart from that, we are shooting a documentary in several different locations. I didn't want that usual format where there's someone or me talking about my work. It's a documentary that is about the stories that run parallel to the art. The people, the things and their stories. All sorts of different narratives. So it also ends up being about lots of different subjects. Did you see the book Lilia Schwarcz and I organised? It's not a book about my work. She takes the references and she works through them. It's as if the work was a catalyst for different stories. And that's how the documentary will be as well. It's directed by Andrucha Waddington and produced by Conspiração Filmes. We still have several places to go to, so we'll be working on it next year. —[O]