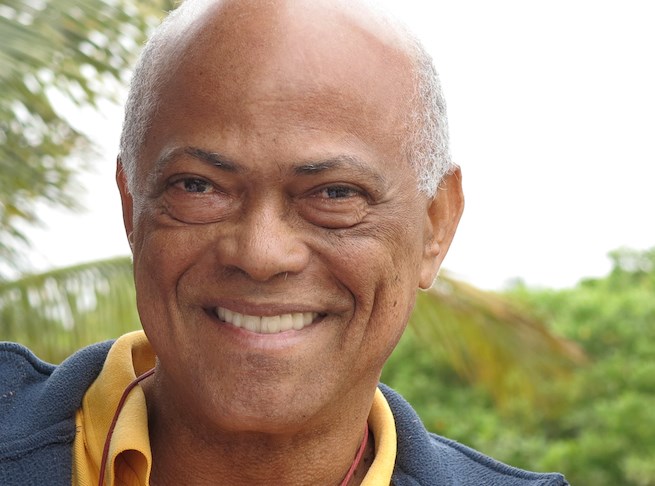 Born in Luanda in 1951, painter, photographer and filmmaker António Ole is an internationally acclaimed artist. His work is a powerful reflection of Angola's recent turbulent history focusing on themes of colonisation, civil war, social conflict and perhaps most importantly, human capacity for resistance and survival.

One of the world's poorest countries, Angola has experienced phenomenal growth in the recent years. With a strong oil market and local construction boom fuelling the economy, Angola continues to rebuild the physical, social and political infrastructure devastated by 27 years of civil war following independence from Portugal in 1975. This economic Renaissance has been accompanied by increasing support for the arts. Angola was represented at the Venice Biennale for the first time in 2013 when it was been awarded the prestigious Golden Lion award for the best pavilion. Curated by Paula Nascimento and Stefano Rabolli Pansera, the exhibition Luanda, Encyclopedic City
showcased the work of photographer Edson Chagas, alongside an exhibition of recent Angolan painting and sculpture.
With support from the Angolan Ministry of Culture, Angola will again be represented at the 56th Venice Biennale in an exhibition titled On Ways of Travelling at the Palazzo Pisani, under the curatorship of António Ole.
Ocula spoke to António Ole about the Angolan contemporary art scene and the importance of creating deeper cultural dialogue between Angola and the rest of the world.
Please tell us a little about the Angolan art scene? What is there in the way of infrastructure and support for the arts?
I think that the Angolan art scene started during the colonial period as a form of resistance. Also, the fantastic cultural heritage inspired artists, writers and other cultural agents to confirm Angolan identity. As you can imagine, the period after independence, with turmoil and civil war, was difficult for the development of the arts. More recently with the peace, it was possible to start rebuilding the country and the first school for the arts (visual arts, dance, music, cinema) was an enormous success.
Angola continues to make good progress rebuilding society after the ravages of civil war but there are still many competing priorities. How important is it to prioritise the evolution of cultural identity alongside more pragmatic concerns such as health, education etc?
In my point of view, all the aspects concerning the development of a society are important. Health, education … are probably priorities, but without culture it is impossible to consolidate our identity.
You are a well-established artist and have exhibited extensively internationally. How did you come to curate the Angolan pavilion, and how has your background and experience influenced your curatorial perspective?
I received an invitation on December 19th 2014, from our Minister of Culture to organise the Angolan participation for the Venice Biennale. In almost 50 years of artistic practice it is the first time I'm curating an exhibition. I have worked with more than 20 curators during all these years and I'm sure I got some experience.
In a few words, please describe what visitors can expect from On Ways of Travelling, Angola's pavilion at the 56th Venice Biennale?
Because the Pavilion of Angola won the Golden Lion in 2013, there are great expectations for our presentation at this years Biennale. It is a big responsibility, but I think we are presenting an interesting exhibition that dignifies Angolan contemporary art.
Did you have any particular goals in curating the exhibition?
This will be the third time that I have been involved with Venice Biennale – 2003, 2013 and at the present one, the 56th Venice Biennale. Responsibility and professionalism are the best words to express my intentions.
Alongside your own work, four other artists will be included in the exhibition: Binelde Hyrcan, Délio Jasse, Francisco Vidal and Nelo Teixeira. A generation younger than you, their practice has evolved during a time of major transition in Angola's cultural heritage. In times such as this there is often a cultural renaissance of sorts as younger generations make sense of, and establish an identity for themselves, that is separate from recent history. How do you view the situation for young Angolan artists today and what were you looking for when you selected artists for the exhibition?
Our conceptual strategy is based on a dialogue between generations. We have in common the same sub-culture background, see art as critical thinking, and a multi-disciplinary practice. Also, we have worked well together over the last two years in a straight forward and collaborative approach to sharing ideas. These are the main reasons that this selection was organised.
What does participation at Venice mean to you and how important is it to the development of contemporary art in Angola?
The Venice Biennale is probably the most important international event for contemporary art. I believe that that Angola's participation will galvanize young artists and the art scene in Angola.
Interest in modern and contemporary art from Africa continues to strengthen with numerous successful international exhibitions, dedicated art fairs and auctions. Okwui Enwezor is the first African-born curator of the Venice Biennale and the biennale will include a large group of artists from Africa and the diaspora. What are your thoughts about the future of contemporary African art?
To put it frankly, I have always rejected the notion of 'African contemporary art'. We should be considered contemporary artists period.
Aside from the Angolan Pavilion, what else are you looking forward to at the 56th Venice Biennale?
What I looking forward to spending time around the biennale, discovering and being impressed by the work produced by other artists also meeting people, curators and other cultural agents. —[O]