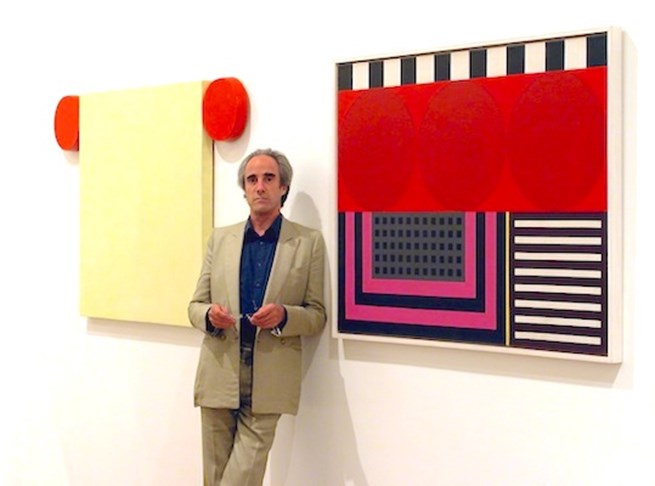 - Jane O'Sullivan
The office of Melbourne dealer Charles Nodrum is lined with bookshelves that reach to the ceiling. There are journals and auction catalogues stretching back decades as well as artist monographs on a surprisingly diverse range of artists. This year marks Nodrum's 30th year in business so he has had plenty of time to build his library. It makes for a cosy nook when I sit down with him on a winter afternoon to talk about the development of abstraction in Australia.

Nodrum has been exhibiting abstract painters since the early days of his gallery, gravitating toward artists of his generation like John Peart and David Aspden. The Charles Nodrum Gallery occupies a unique position within the Australian scene for this reason. He remains the only gallerist to regularly include exhibitions of important historical works by Australian abstract painters in his program.

When I visit, the gallery is just taking down an exhibition of works drawn from the collection of Cherelle Hutchinson, who collected some beautiful abstract pieces by Ralph Balson, Paul Partos and Ken Whisson during her years of being involved with the influential Gallery A in the 1960s. And there are some stunning shaped monochrome canvases by John Peart in the downstairs gallery space, again from the 1960s.

Nodrum has broad interests, and his gallery also regularly shows works on paper, sculpture and figurative painting from a range of eras, including the present. But it's his support for abstract painting that is especially remarkable, particularly given the Australian fixation with representational work.

He speaks softly and thoughtfully, and while he downplays his own role—always preferring to foreground the artists and their talent—it's likely the market for abstract art in Australia would be very different without the support of such champions.
When did your interest in abstract art first emerge?
That emerged in my life right at the very outset really. When I set up the gallery [in 1984] I was focused principally on dealing in 1950s and 1960s abstract painting. It was an area that wasn't well covered in the market at that stage. Everyone was interested in colonial period traditional landscapes and there was'nt a strong interest in post-war abstraction.
I decided I liked abstract paintings when I was about 19 or 20. I have just tended to stick with them since then. The bulk of the work that I collected, from my mid-twenties onwards, was predominantly abstract painting, so when I started the gallery I had a reasonable group of pictures that could form stock for my first exhibitions. This enabled me to sell things and fund the whole exercise and to keep it going.
These were group exhibitions, and one of the first ones was figurative painting but the other one was more abstract paintings, from memory there was a Mike Brown on the cover [of the exhibition catalogue]. Then I had a two-artist exhibition of John Olsen and Peter Upwood … Yes, then 20 paintings from the 1960s. Then I did John Peart, then Royston Harper and then Peter Kaiser, so pretty well the vast majority of these artists that I showed in those days were abstract or abstract related: Gareth Sansom, George Johnson, David Aspden, Peter Upwood, David Rankin, James Meldrum, Ron Robertson-Swann, John Vickery, Edwin Tanner…
These are all artists who still have huge relevance today.
Oh yes, I've always been interested in that period and in some cases I got to know the artists via tracking them down to ask a question about a painting that I'd acquired in my travels. Previous to that I'd been a valuer and prior to that I'd been in the auction scene—I ran the Melbourne office of Christie's—so I didn't have a wide circle of artist friends.
Once I started dealing in the area it expanded quickly and particularly in those earlier days most of the artists I was taking on were more mid-career and approximately my generation too.
Gareth Sansom was about my age, John Peart's about my age, same with Aspden … I haven't actually represented many younger artists. It's a bit of a tricky one in my view … It's just that generational thing of being in tune. I can make no claim to being in tune with my daughter's generation and it's not easy for them to make claim to being in tune with mine. I'm not saying these things are vital, but many other things being equal it probably is preferable.
It's interesting that when you opened the gallery abstraction was not as popular as other forms of art. I feel that's a situation that has continued and is particularly visible when you compare Australia to New Zealand.
The New Zealand abstract scene is an absolute wonder compared with the Australian. I venture to say there is a very strong figurative representational scene in Australia whereas I don't think the competition is as heavy in New Zealand.
What I do envy my New Zealand counterparts is that they can put up some beautiful things and their clients come and buy them. I put up what I think are beautiful things and it's still a tremendous battle, they just don't seem to bite, whereas on the marketplace it's Jeffrey Smart and John Brack—I'm not saying these are not good artists, but they do dominate collector interest, at least in financial terms.
The other thing that's happened in Australia is that the emergence of the Aboriginal art movement, which was barely visible in the 1970s. In 1980 people knew it was there but it was not widespread at all. By 1990 it had gone through a huge growth spurt and it continued on I guess 'til the early 2000s. Depth, quantity and just the general audience for it all expanded enormously.
I was always surprised that your standard desert dot paintings were never quite classified by Australian collectors as abstract. To me they are most emphatically abstract but that's not how they were read by an enormously new group of collectors who felt at home with those paintings in a way that they had not felt at home with abstract paintings by white Australian artists. Something clicked with the Aboriginal art movement and I think that absorbed a lot of interest in abstraction generally.
It's an interesting idea. Do you think the story of abstract art in Australia would be different if that connection between Aboriginal art and abstraction had been made?
If there hadn't been this enormous volume of work coming out of the Central Desert and to a lesser extent from Arnhem Land, whether or not interest would have been sharpened towards white Australian abstraction I don't think anyone can know. You can only speculate. Certainly the Aboriginal scene absorbed a huge amount of money.
Do you think the relatively weaker interest in abstraction here has made things more challenging for those artists to be able to gain the support they need to produce work?
Yes, I think you'll find they're all just dedicated to what they're doing. None of them have really achieved massive prices for their work. Michael Johnson, John Firth-Smith ‒ they're into six figures for large important works but it's very patchy for them too … The other thing that interests me, when you read the books published in the 1960s, there was very good coverage of the then prevailing abstract painting, the likes of John Olsen, Elwyn Lynn, Frank Hodgkinson, all of those guys. Ralph Balson was also well covered … A number of them have sort of disappeared from view altogether and they sometimes appear in my exhibitions when I find something suitable.
It was interesting it was the first art to make any impact overseas. They took a number of [Australian abstract] artists to London and showed them at the Whitechapel Gallery. They were well received by the British critics who saw them as paintings within the contemporary Western tradition, painterly abstraction that fitted closer to the French and English models than they did to the American.
Do you think Australian abstraction has much of a profile internationally now?
One of the things that I've always found when asking overseas galleries would they be interested in showing any of the Australian artists, they tend to say "there's no need because we have that sort of work here. We don't need to bring it all this distance." … I actually find I'm in the same boat with a huge amount of European art now. I can look at an English or French painter and say "this is good work but there's no need for me to show this because I can find art in Australia of this type, date and quality."
There is one big Chinese collector of Australian art and I gather he's onto it because he thinks for its price and quality he's getting something very exceptional. You get the quality and very often you don't have to pay a lot of money for it, it's almost peanuts in international terms. I've not met him, I've only heard about him, but it wouldn't be difficult to make a really substantial collection of really good Australian paintings over the last 25 years for the price of one of the paws of one of Jeff Koons' puppy dogs ‒ that's the sort of difference.
To return to Australia, next month will be your 13th annual Abstraction exhibition. Why did you start doing these shows?
The first exhibitions, I just called them modern Australian painting. They were predominantly abstract but not exclusively … I started to do the Abstraction shows because I had the work and I reckoned there was enough to make standalone exhibitions that were good enough in themselves.
I've stretched the definition so I've had Fred Williams and I've even had an Arthur Boyd—it's not all pure abstract paintings but they are all heavily abstracted. I do find that they fall together as a unity more interestingly than with the shifting ground [of mixing abstract and representational work].
This gallery's not too bad because with a very a mixed group exhibition you can put the human figure in one of the upstairs rooms, you can put traditional landscapes in another. It's not just one big room where if you have all of those together in one big space it can look a terrible mess. But still the best shows are ones where the focus is narrowed. The individual works can speak to and enhance each other better if they're in what I consider to be the right company … I get a lot of satisfaction accentuating those affinities and those differences by judicious hanging, placing things in company that I feel can play a role in their interpretation … The works are not seen as islands in themselves, but part of an archipelago where they each interrelate.
Would you be able to introduce some of the key pieces in this year's Abstraction exhibition?
One of the things about commercial exhibition is that you are at the mercy, to a degree, of the marketplace. You can only show what's available.
In this exhibition it will as usual contain many of the artists who I've been exhibiting for years.
David Aspden I'd describe as basically a colour field painter until the mid 1970s when leaf forms, albeit abstracted, started to appear in his work. They very often put you in mind of foliage or looking up through trees.
And John Peart, who came onto the scene in Sydney in the mid 1960s and his star rose very fast. Within five years he'd made a very strong mark. He'd been winning prizes, he'd been selected for major exhibitions, he was in The Field [a major abstraction exhibition at the National Gallery of Victoria in 1968].
There will also be Mike Brown, Sydney Ball, his recent shaped paintings, and Michael Johnson, George Johnson, Roger Kemp, Paul Partos, John Peart and Ann Thompson. These are artists I've been familiar with for years … Outside of the gallery we will be having two paintings by Brian Blanchflower who I respect tremendously, a Western Australian painter. They're very difficult to find, he doesn't seem to like selling his own work and I'm very pleased to have a couple … I'll also be getting paintings from a really good Sydney collector including Marion Borgelt, James Doolan, Robert Hunter, Craig Easton, Robert Macpherson, Jules Oulitzsky ‒ in other words a reasonably wide spread.
And what was the significance of the recent Cherelle Hutchinson exhibition?
Gallery A was started in 1959 by Max Hutchinson. He worked in conjunction with [artist] Clement Meadmore doing furniture. They were very good mates. Clement Meadmore was very active in the furniture design, Max Hutchinson less so.
Gallery A started really as a modern furniture outlet, deriving centrally from the new generation of big new office buildings going up in Melbourne which needed modern furniture and they needed modern paintings. If your office was in a Victorian building you could have Victorian desks and whatever but when you moved into one of these bright new spaces they looked silly … He then opened the Sydney gallery in the early 1960s and spent most of his time in Sydney running that. Cherelle Hutchinson was left holding the fort in Melbourne.
Virtually all of the paintings we had in this exhibition were by gallery artists, the two exceptions were Elwyn Lynn and Fred Williams. All the others were by artists who showed at the gallery … They acquired what they exhibited and there was a seamless unity between the two. Cherelle, after the Melbourne gallery closed [in 1970], took all these pictures home and had them in her relatively modest suburban house, crowded all over the place.
It's a remarkable story. If someone tried that approach now ‒ selling furniture and art together ‒ it would be a very different response.
Well, it would be seen as sacrilegious to mix art, which is so precious, with furniture, which is so utilitarian, but I think that's disappearing by the day. There is an exhibition of modernist furniture at the National Gallery of Victoria at the moment, for example.
The other thing that's happening is there's quite a lot of interest in vintage furniture now amongst a younger generation. I'm talking to these sorts of guys with a view to bringing furniture into the gallery and we can sell it with some of my stock that will also be of the era.
I've done it before with one of the modern furniture dealers, he brought in the furniture and I put up the pictures. In one of the upstairs rooms, for instance, we had what I call the Danish look with a fine timber dining table and chairs and we had Fred Williams and Charles Blackman and 1960s Australian paintings to go with them. And downstairs we had big colour field acrylic paintings, which have a very different feel to them, and we had all the plastic fantastic furniture, you know the moulded dining chairs. It was fun doing it because you could actually chart evolutionary shifts on the wall quite closely to the evolutionary shifts on the floor. It wouldn't surprise me if we started seeing more of this rather than less. — [O]