Feature
#Hellomuseum: Meeting 20 Museums In China, In 20 Days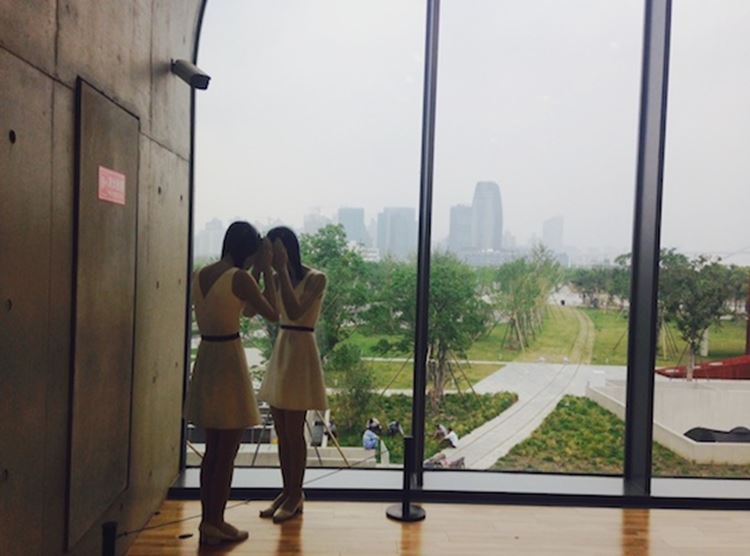 As of 2014, China has close to 5,000 museums. This is a staggering number by anyone's account, especially considering the majority have been built or renovated in the past five years. It also presents a considerable challenge. Build them, but to what end? I spent twenty days traveling across central and southern China considering this from the perspective of a cross section of roughly twenty new institutions. Some were in the center of the city and required hours of queuing time, while others were so remote that I was the only visitor through in days.
When speaking of China's museum boom, it is easy to imagine they are all contemporary. They are being built now, which coincides with the ascent of the China art market, so why not? When we think of a contemporary museum in the West, we might think of the Museum of Modern Art in New York, the Museum of Contemporary Art in Sydney, or Tate Modern in London. These are institutions that represent the modern and contemporary history of places through its art and artists. Contemporary art has a contentious history in China, and depending on how you define it, wasn't really practiced until after the death of Mao Zedong in the late 1970s. These artists worked under newly liberal conditions but were always outliers, eschewing and sometimes violently opposing state ideas, rhetoric and bureaucracy.
As a result, no complete public collection of contemporary art exists in China. There are public museums which display censor approved contemporary work. They can be run by progressive and gifted individuals, but who always operate under strict limitations. Fan Di'an, for example, curator of the China Art Museum in Beijing, frequently and openly acknowledges this issue. The new Chengdu MOCA, which hasn't inherited a clunky state apparatus, holds all the promise of a contemporary institution, but falls short again due to these limitations. On the surface, it is doing everything right from design, to website, and even to its membership programme, but ultimately it is little more than a facsimile of the 'MOCA' model in the West.
What public museums lack in critical discourse and engaging programming, they make up for with world-class architecture, sheer size, and a guaranteed stream of first-time ticket holders. As city-centric homes for a plethora of objects and people, the museums take on a role of not just consolidating urban momentum, but galvanizing China's regional prowess. Visitors are often greeted first by a cavernous central atrium, speaking much of the elevated ideals driving their growth. The Guangdong Museum, designed like a lacquered treasure box, receives close to 10,000 visitors daily. The majority are domestic tourists, who take advantage of free entry and are more curious than critical of shortcomings. They probably don't expect more than what is offered, leaving the incentive to create competitive programming in a latent stage.
Then there are the private museums. These account for nearly 20% of total museum numbers in China. It's tempting to compare these to their state counterparts, as initially private institutions feel very different. Rather than stoically ticking the boxes of museum structure and function, they can take any form they wish, charge what they want at the door, and self-govern. This is what allows a US$60 a ticket antiquities museum in the basement of a five star hotel in Xi'an, and a stunning Kengo Kuma designed contemporary museum in a gated, luxury planned community an hour out of Chengdu. However, no private museum exists without the blessing of the state.
Even if the private museum conveniently serves the founder's status and vision, they are essentially, part of the national museum numbers game. The state is delighted to have wealthy patrons and collectors put up their hand to drive the growth of national culture. However, this also means their future is less secure. Long Museum founders Liu Yiqian and Wang Wei have invested millions of yuan in two custom-built museums in Shanghai to house their collection, and even though these feel colossal, there is no guarantee of their survival. The Ullens Center for Contemporary Art in Beijing operated for four years before it was granted 'official' status. This is where programming, visitor numbers and international collaborations have vital importance, because they turn buildings into resources.
Connected to the private museum boom is the rise of 'mall museums', with contemporary art fitting like a glove in highly commercial, consumer environments. Earlier this year, China's first exhibition of original Monet works took place in the center of the luxury Shanghai 'K11 Art Mall' in March 2014. The mall's financer and developer Adrian Cheng (director of Hong Kong's 'New World Group') is an outspoken advocate of bringing art to broader audiences, and doing that by taking it to where the people are (i.e. shopping). 'The people' here, are of course China's bulging middle class. The Monet exhibition was a resounding success, with tickets at RMB 100 selling out every day and visitors queuing for hours.
Essentially, all new museums augment a national idea of 'cultured, urban infrastructure', which became an official campaign in 2005. Museums come in many shapes and sizes, and at present lack any governing consistency. But they exist. Further to this, the museums highlight China's vociferous use of social media, as they are photographed and shared. Every visitor clutches their phone, documents their presence and adds to an ever growing network of people validating the museum experience. Museums almost self consciously are starting to look good from every angle. Clare Jacobsen, in her excellent 2013 publication "New Museums in China," quoted one architect as saying that museums are "the Louis Vuitton bags of architecture – every city in China wants one now". An over-abundance of art institutions is the kind of problem the art-funding-starved West dreams of, and for now, that very fact should drive the bottom line judgment of them. —[O]