Feature
The Poetic Politics Of 'Whisper In My Mask'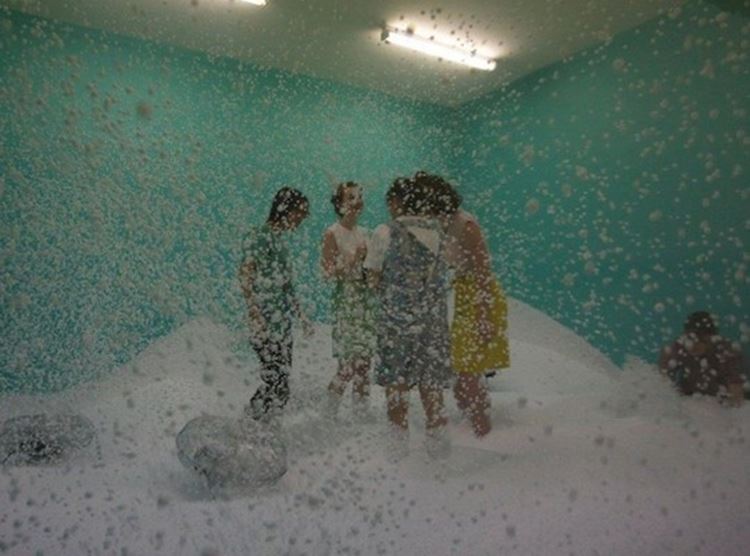 Whisper In My Mask is a contemporary Australian exhibition which mixes the political with the poetic. Through a diverse range of medium, the biennial, now in its fourth iteration, includes Indigenous and non-Indigenous bound by the rich theme of 'masking'. The strength of this exhibition lies in the careful balance that it strikes: works light in content and tone never trivialise the loaded political pieces.
Set in the tranquil environment of the TarraWarra Museum of Art, a privately funded public institution an hours drive from Melbourne central, the biennial is designed to 'identify new developments in contemporary art.' A joint curation between Natalie King, inaugural director of AsialLink's "Utopia" project and curator of numerous exhibitions in the Asia Pacific region and Djon Mundine, an Indigenous activist, curator, writer and historian, the exhibition includes diverse mediums such as video, painting, sculpture, photography, installation, performance and a public program which extends beyond the museum's physical confines. King and Mundine's combined curatorial style is generative, promoting conversations and interchange, with a tendency of including art that is immersive, visceral and evocative.
The title Whisper In My Mask is taken from Grace Jones' song, Art Groupie (1981) which acts both as a trigger for the works and as a means of curatorial framing: a motif ripe for a diverse range of content, interpretations and layering. At times the theme is evident in formal elements of the works, while in others it is subtle and opaque. King has said: 'we are less interested in Whisper In My Mask as a literal evocation. Instead we are looking at works that suggest disguise, hiding, cover-ups.' This includes suppressed histories, psychological states and secrets.
The first room exemplifies the mix of politics and reverie and includes a dose of oddity. Elizabeth Pedler's Smokescreen (2013-14) is fun, antithetic to its military referencing title; a turquoise room full of thousands of polystyrene balls which are transformed into a stimulated snowstorm by whirling fans. Visitors are invited to enter the room from where they can be viewed through a glass window in states of childlike play. Tony Garifalakis's works Bloodline (2014) consists of a photographs of European royalty in which their faces, excluding their eyes, are obscured with black enamel paint; an evocation of the intersection of power and corruption. On the opposite wall strangeness and absurdity exude from Søren Dahlgaard's Dough Portraits (2014). For this work, Dahlgaard has taken photographic portraits of people from the Tarrawarra community and covered their heads in dough, bringing to my mind the work of Austrian artist Erwin Wurm.
The exhibition includes diverse strands of contemporary Aboriginal art practice. Artist Fiona Hall collaborated with the Tjanpi Desert Weavers collective creating the two-part work Tjukurrpa Kumpilitja (Hidden Stories) (2014). In Kuka Iritija (Animals from other times) (2014), local Tjanpi material and cloth from military uniforms were used to create soft woven sculptures of endangered animals such as the patupiri (ghost bat) and mitika (greater stick nest rat) as well as introduced animals and a helicopter, all which sit on upturned billy tins. This work is a product of cross-cultural collaboration as well as bridging contemporary materials and traditional materials. In contrast Fiona Foley's Black Velvet (2014) text-based sculpture speaks of past histories in current western visual language. Literally spelling its title out, the work is a confronting blend of derogation and contemporary wood and metal slickness.
Further politically potent works include the activist artist collective Boat People In Muffled Protest (2010). Video and photographic documentation of protests staged by the group in Melbourne and Sydney show participants with their heads enveloped in the Australian flag. The shrouded faces conjure the blindness of nationhood, the condemned, the masked superhero and the villain with unsettling effect. Ragtag (2014) by Romaine Moreton is a video work that highlights the vulnerability of Indigenous representation that caters for the tourist market. The camera documents the interaction of tourists with nude life size Aboriginal sculptural figures situated in the Blue Mountains, which represent the 'dreaming' story, yet were a non-aboriginal initiation. The tourist's interactions include unnerving gestures such as the hand indicating a gun to one of the woman's head. Moreton and her friends decide to address this issue by clothing the figures and their conversations with tourists and locals highlights the complexity of representing Aboriginal history.
As much as Grace Jones' pop music is rife with emotional potency, so is Whisper In My Mask. Many works engage the senses, through the aesthetic texture of the works and aural evocation of moving images. In Nasim Nasr's black and white twin video work Erasure (2013) a woman dressed in a chador persistently writes a Persian poem on a chalkboard, while another removes the marks. The whispering scratches resonate through the room adding to the emotional intensity of the other video work Unveiling the Veil (2010) sitting to the left, which shows a close-up of the similarly veiled artist rubbing her weeping eyes. Sangeeta Sandrasegar's delicate paper-cut drawings in the series I listen for you (2014) envisions the 'mask' as ghosts as hauntings. The woman depicted, with long fluid hair and intricate lace-like cut out segments, are based on ghosts in Malaysian and Japanese literature; their representation lyrically wax and wane from the figurative to the abstracted. Equally graceful is Gabriella Mangano and Silvana Mangano's video work Lux (2014), which masks TarraWarra Estates surrounding landscape with the colour of translucence pigmented material held to the light by the artists, their actions indicative of how natural landscape can alter mood and perception.
Whisper in My Mask combines work of protest and dreaming linked with visceral edge and a shared mask motif. As with Grace Jones' music the biennial is accessible, but never simplistic. King and Mundine's mode of poetic and holistic exhibition making, and its refreshing combination of contemporary indigenous and non-indigenous artists, is perceptive and strong.
Upcoming Public Programs
Sunday 19 October 2014, 11:00am – 6:00pm

TarraWarra Biennial presents a special one-day program of performances, talks and interactive events curated especially for Melbourne Festival. For more information click here.
www.twma.com.au
16 August - 16 November 2014