Insight
Daniel Boyd at Roslyn Oxley9 Gallery, Sydney
Internationally renowned Australian artist Daniel Boyd recently presented his fifth solo exhibition with Sydney gallery, Roslyn Oxley9. The exhibition was entitled Far North (10 March – 2 April 2016).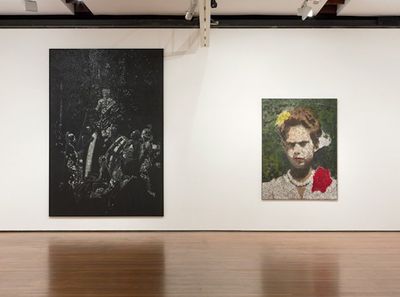 Image: Daniel Boyd, Far North, 2016. Installation view, Roslyn Oxley9 Gallery, Sydney. Courtesy Roslyn Oxley9 Gallery, Sydney.
Boyd has long been drawing on references to science, anthropology, history and religion to reveal the complex way in which political, cultural and personal memory is constructed. Far North continued to explore these themes, although the ten paintings presented at Roslyn Oxley9 were of a much more personal nature. While previous bodies of work reference his ancestors in the Pacific region, Far North looked to the land where Boyd and his family grew up in Far North Queensland. 

A monochromatic painting Untitled (BFK) (2015) depicts a waterfall near Giangurra, the coastal area Boyd's family calls home. 'This was the first painting of the series that I made. There is a power and a beauty in waterfalls and the rainforest is such a big part of growing up around Cairns. There are these rainforest creeks and when it rains they turn into raging waterfalls and swollen rivers. I have really strong memories of that growing up', says Boyd. 

When working on the paintings in Far North, Boyd was reading Martinician cultural critic Édouard Glissant's Poetics of Relation and was struck by Glissant's theories of knowledge. 'Glissant talks about the surface of the ocean being like our concepts of knowledge; he says that the shimmering of the surface is like the information that comes to the surface, and yet we know that there is so much more beneath the surface. So I started thinking about water through Glissant, and then thinking about my relationship to water and growing up in Cairns. It all expanded from this.'


Image: Daniel Boyd, Untitled, 2015. Oil and archival glue on linen. 183 x 137.5 cm. Courtesy of Roslyn Oxley9 Gallery, Sydney.
The notion of knowledge shimmering on the surface of the ocean is relevant to the appearance of Boyd's work. He continues to use a painting technique he started to develop in 2009 whereby there appears to be multiple physical layers to the painting with an almost glaze-like texture of dots overlaid upon the actual image. When prompted as to how he achieves the textured appearance in his work, he stays mum on the subject. 'I can't give too much away; it's my secret! But essentially I am creating convex dots so they appear like lenses. It all started with the lenses.'
In 2005, still early in his career, he gained recognition for his series of paintings known as Captain No Beard which appropriated images of colonial icons and recast their portraits as pirates and plunderers. 'I felt that the work that I was making coming out of art school was dealing with something quite specific to Australia. In a way, I felt like I was dealing with other people's problems. They weren't Aboriginal and Torres Strait Islander problems. It was this situation that we had been placed in, and I felt like I was working myself into a corner', explains Boyd.


Image: Daniel Boyd, Far North, 2016. Exhibition view, Roslyn Oxley9 Gallery, Sydney. Courtesy Roslyn Oxley9 Gallery, Sydney.
Boyd was looking for a way to move forward when he developed the textural technique that provides his paintings with their strong sense of materiality. 'The light interacts with the surface and it adds a sense of movement to the pieces, as depending on where you are standing or how you move in front of the work, the light activates the surface. You get a shimmer-like effect', says Boyd.
'The technique has really opened it all up for me. And it is what I wanted when I was making those No Beard works; I wanted to feel free in art making. Now it has allowed me to deal with bigger questions about acknowledging our understanding of the universe and how little we know about how we came to be here. It also acknowledges how little we know about our future and where we are going', he adds. 

In addition to Glissant's theories, Boyd's technique draws from the Gestalt law of closure which describes the brain's capability to perceive shapes or objects as being whole despite being incomplete. 'It is about perception. The surface is made up of all of these dots which act as multiple lenses', he explains. 'In my paintings you automatically perceive [an image] even though the surface is quite abstract when you are close to it. When you step back, the image becomes more legible. You can read the image and think about the relationships that each lens has to another lens and how that plays out in the larger picture. Memory and the subconscious play out in the spaces between the lenses. [They are] filling in the gaps.'

Over the past seven years, Boyd has been slowly incorporating more imagery into his now signature visual language. The majority of the paintings in Far North were figurative, with many depicting family members such as Boyd's brother, great-great-grandfather and grandmother. Both his father and mother's families have extraordinarily rich histories; his great-great-grandfather was one of the Aboriginal trackers involved in the capture of Ned Kelly at Glenrowan. However, the most personal pieces appears to be paintings of his grandmother who tragically died in a car accident some 25 years ago. 


Two depictions of Boyd's grandmother stem from the same photograph of her in her youth, dressed up for a bridal party. In Untitled (GB) (2015), Boyd used simplified hues to mirror a hand-coloured photograph. A large red flower rests upon his grandmother's shoulder. It appears almost as if a stain, boldly coloured rather than subtly hued—in what could be an echo of his 2009 series, Shame, which centred around the cultural and religious history of the red rose.


Image: Daniel Boyd, Untitled, 2015. Oil and archival glue on linen. 183 x 137.5 cm. Courtesy of Roslyn Oxley9 Gallery, Sydney.
Untitled (GB12) (2015), on the other hand, tells a different story. Here, Boyd's grandmother has been toned navy and light blue, colours which reference the Boyd's family history in Giangurra. Originally part of the Anglican mission at Yarrabah, a group of families which included Boyd's grandparents felt that their freedom to celebrate their cultural inheritance was being hindered by the church and state; least of all the practice of children being separated from their parents. 'There was an uprising and the families were expelled from the mission. They were granted land by the council at Giangurra and set up their own community outside of the mission. The navy blue and light blue became the colours of the community in a way. And [the families] became known as the Giangurra Beach Dogs', says Boyd.


Image: Daniel Boyd, Far North, 2016. Exhibition view, Roslyn Oxley9 Gallery, Sydney. Courtesy Roslyn Oxley9 Gallery, Sydney.

Boyd has made 12 works that fall under the title of Untitled (GB12) although only one was shown in the gallery and subsequently for sale. 'The others are for my Mum and her siblings. I just felt like there is this economy attached to art-making now. It was very personal making this. It is important to get it out there but it is also important that my family can experience that relationship with an artwork as well,' Boyd says. 'There hasn't been much closure. I felt like it might help with the healing.'
 —[O]