Insight
Djordje Ozbolt at Gallery Baton, Seoul
Serbian-born artist Djordje Ozbolt is known for his use of humour to address social and political issues through eclectic painting, sculpture and drawings. His works are always vibrant, often motley and sometimes sarcastic. No one can accuse him of not knowing his craft: Ozbolt studied architecture in Belgrade before moving to London, where he still lives, to attend Chelsea School of Art, Slade School of Fine Art and the Royal Academy in London. He draws from travel, non-fiction books and social incidents, layering the references he finds therein to create complex imagined spaces that blend primitivism, realism, cubism, and surrealism. In recent years, Ozbolt has gained recognition after several solo shows with Hauser & Wirth, as well as presenting works at Tate Britain and National Museum of Art in Osaka.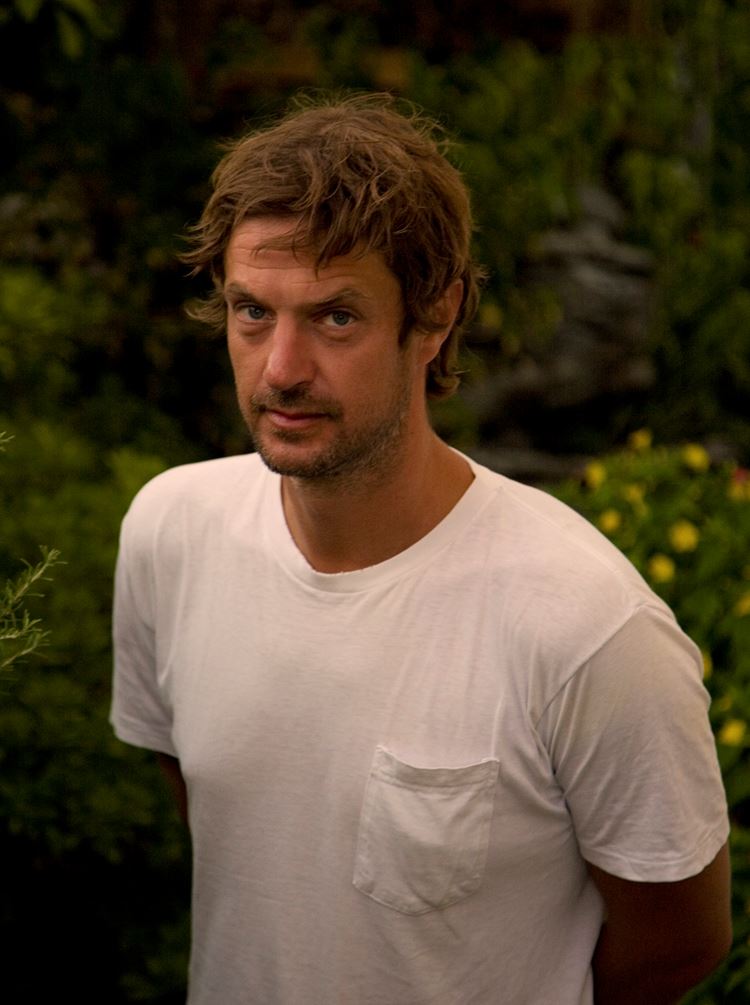 Djordje Ozbolt. Courtesy the artist.
Showing in Korea for the first time, Ozbolt's exhibition Lost and Found was on view at Gallery Baton in Seoul from 6 April to 6 May 2017. In addition to large-scale paintings, the show featured colourful resin masks and sculptures resembling African carvings whose titles echo the 'Mr. Men' children's book series (names include Mr Dizzy, Mr Grumpy and Mr Daydream, all from 2017)—objects that don't shy from unabashed kitsch. Art historical references are also fair game: the acrylic painting Modern Man (2017) shows a Renaissance-inspired portrait with rainbow stripes painted across his face, while cheeky references to the styles of Matisse and Picasso appear throughout the show.
Ocula spoke with the artist on the occasion of the exhibition in Seoul.
Exhibition view: Djordje Ozbolt, Lost and Found at Gallery Baton, Seoul (6 April–6 May 2017). Courtesy Gallery Baton.
The past two years have been a particularly interesting time for satire, where comedic fiction has seemed to blend with reality. What is humour's capacity to comment on serious subject matter, and how did this come about in your work?
Well said—comedic fiction blending with reality. When faced with the absurd in everyday reality, I tend to react with humour. I guess it comes naturally to me. But sometimes, the reality is more humorous than what I can come up with. Humour in my work is just one element, most obvious or direct one. Obviously not all my work is humorous. Sometimes I approach work with great seriousness. It depends with what I am trying to deal with—subject matter, message, question et cetera.
You move fluidly through different styles and movements such as primitivism, realism, surrealism and cubism. How do you determine the art historical references and tools that you borrow from for a particular work?
I do move fluidly through different styles. I guess I become bored if I stick to one 
style or subject matter. My inspiration comes from a vast variety of things, places, images, thoughts and regrets. So, I think it is more appropriate to approach works fresh and not connected with solid theories or a continuity of style. Each idea and new work are different and I try to tackle them. I write what I think is appropriate at the time. I also try to keep it fresh and interesting for myself.
Djordje Ozbolt, Modern Man (2017). Acrylic on board. 90 x 80 cm. Courtesy Gallery Baton, Seoul.
This is your first show in Korea. How do you think your work—given its humour and political undertones—will be read in the context of this country, one that has experienced a dramatic political year?
I sincerely hope that the work transcends specific political, geographical context! As it is my first show in Korea with Gallery Baton, I tried to present an eclectic body of work to show the variety and to introduce the public to my ways of working. I am sure some will find it confusing, but that is the way I work and I thought that it was important to include seemingly non-relating works.
Tell me about From Africa with Love (2017)—a series of colourful resin masks resembling African craft. Does this have a relationship to European artists like Matisse borrowing from African craft in the early 20th century? What is your relationship to art history?
That work is an ongoing series I have been doing it for a few years now. It has a relationship with the European tradition of 'borrowing' from African culture—Matisse, Picasso and more. But it is more a comment on that borrowing with cultural borrowing, there was always 'borrowing' of resources and land. Colonialism was particularly harsh in Africa. I think my work is trying to question all of that and the whole postcolonial discourse in some way.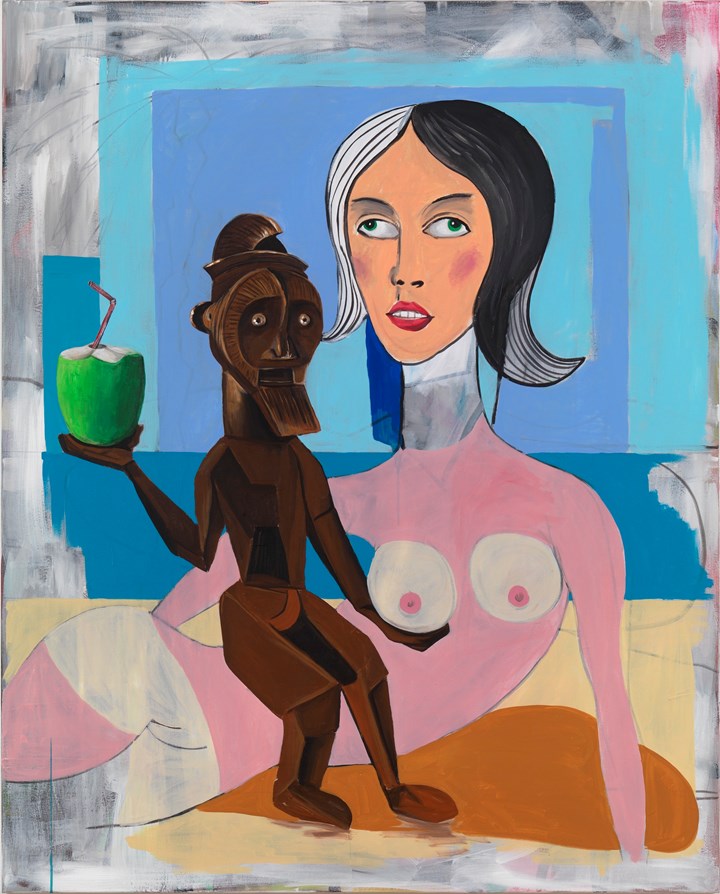 Djordje Ozbolt, Taking It Further (2017). Acrylic on canvas. 152.5 x 121 cm. Courtesy Gallery Baton, Seoul.
It's been said that your 'supernatural and fictional universe created from the integration of multiple elements and spaces ultimately functions as a dream or psychedelic hallucinations'. You previously have said that your work relates more to the subconscious than dreams. Can you elaborate on that?
Yes. In my work, the subconscious is the driving force. Not in all the works, of course. Mostly paintings, even with the starting idea, I allow my mind to lead me astray from the original idea. As I paint, things appear and disappear! I allow 'mistakes' into my work and find it very interesting, that process of painting, and the unexpected results at the end. Sometimes, I am pleasantly surprised by it. Sometimes less so.
Describe a day in your studio. Do you spend all day there? Do you look at books, listen to music, or work on many pieces at once? Do you require solitude to work?
I try to work every day. My studio is really close to my house. So, it is easy to get there. I do listen to music most days. Sometimes it is radio and sometimes it is a really eclectic complication. I have friends who know what I like and they make my playlists—very kind of them. I have a nice library (That is expanding daily) in my studio. I look at books, read some, and revisit certain books often. There are books on history of art, artists, dogs, film posters and natural disasters. I usually work alone, but recently I have noticed that I enjoy more when there is someone else in the studio with me. I encourage visitors these days. I like talking to people while working. —[O]