Insight
Gianfranco Baruchello
On a September day in 1962, two men set out on a day trip to Lake Como in Northern Italy. One, a self-taught Italian artist who had rushed the day before from Paris to arrive on time, and the other, a senior French artist credited with irrevocably transforming the possibilities of contemporary art. A photo remains of the outing: the former, Gianfranco Baruchello with large hands and a dark moustache looking with fondness and a touch of admiration at the latter, Marcel Duchamp, who appears dignified and bemused in a beret at 75. It was the beginning of a rapport that lasted until Duchamp's death six years later. In 1964 Duchamp curated a debut solo show of Baruchello's work at the Cordier & Ekstrom gallery in New York, and in 1985 Baruchello published a book titled Why Duchamp? in which he reflected on his personal and professional relationship with the artist.
Gianfranco Baruchello. Courtesy the artist and Massimo De Carlo. Photo: Winnie Yeung.
Now, at 93, Baruchello cuts a tall figure with a shock of white hair. He arrived in Hong Kong this fall for the first time for his exhibition Gianfranco Baruchello, Marcel Duchamp (14 September–28 October 2017), which combined several works by Baruchello with pieces by Duchamp, bearing witness to the impact the mentor-mentee relationship had on the younger artist.
The works that made up a significant portion of the exhibition, and what Baruchello is perhaps most known for, were large-scale white monochromes interrupted by small labyrinthine drawings of corporeal, scientific, linguistic and mathematic symbolism. The drawings look like indecipherable textbook illustrations or notetakings from illogical dreams—a type of 'psycho-geography' or mind maps of Baruchello's subconscious. On other canvases, the miniature worlds are combined with cut-outs from magazines, punctuating the picture plane with the visual language of advertising and modernity. Baruchello has said that 'The idea of the eye stopping to observe the mere surface of things has bored [him] since the 1960s' when he first started creating open and 'explorable' objects.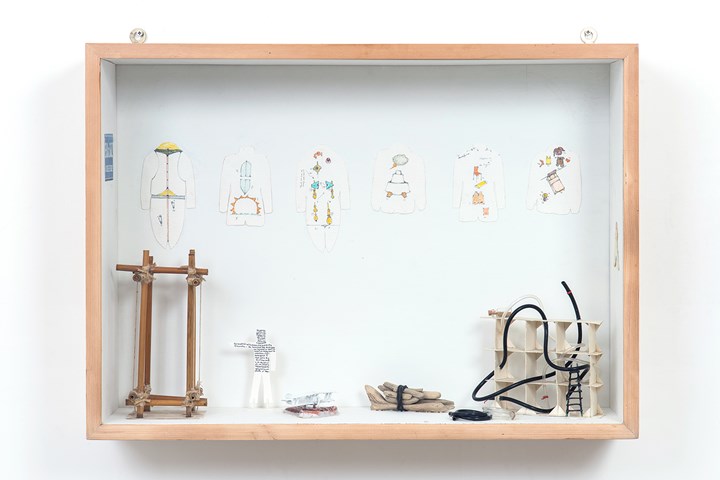 Gianfranco Baruchello, Ultime notizie della spedizione aerea Duchamp (1974). Assemblage of different materials, wood and glass. 50 x 70 x 17.8 cm. Exhibition view: Gianfranco Baruchello, Marcel Duchamp, Massimo De Carlo, Hong Kong (14 September–28 October 2017). Courtesy the artist and Massimo De Carlo.
On the opposite walls of the gallery hung wooden boxes assembled with collaged materials and imagery alluding to science, sex and philosophy among other disciplines. Drawn on with coloured pencil and graphite, the boxes are sealed with glass or Plexiglas, exaggerating the voyeuristic sensation of looking inwards. Although collector Harald Falckenberg wrote in a 2014 introduction to the ZKM | Center for Art and Media publication Baruchello: Certain Ideas that the artist is inspired by books and pictures 'that provoke the mind and not the eye', Baruchello's own objects invite lengthy gazes and prolonged contemplation, while remaining resistant to decoding. The impact of Duchamp's readymade on Baruchello's work was also evident in the show: on one plinth sat a small suitcase with its contents covered in Vinavil (a white, milky glue)—a technique Baruchello adopted in the 1960s to transform objects into memorial graveyards. Across the room on a pillar was Duchamp's L.H.O.O.Q, rasée (1965)—a playing card with the Mona Lisa's face pasted onto a small sheet of paper with the titular letters written below. In French, the acronym is a homonym for 'elle a chaud au cul', translating to a rather vulgar 'she has a hot arse'. The work is one of several later versions of Duchamp's 1919 readymade L.H.O.O.Q, for which he drew a moustache on da Vinci's famous painting as a characteristically cheeky play with gender reversal. Returned to her original state, the later iteration in the show is free of facial hair, or rasée, in French.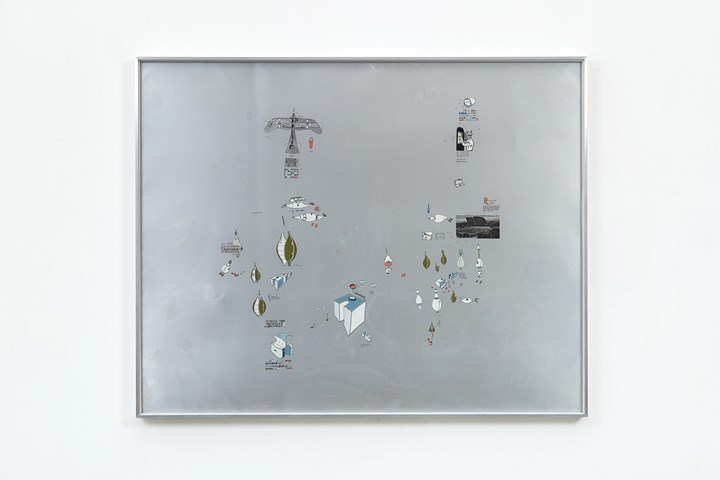 Gianfranco Baruchello, Alle ore 19 sugli spalti di (1971). Industrial enamels on photographic aluminum plates. 71.5 × 89.5 cm. Exhibition view: Gianfranco Baruchello, Marcel Duchamp, Massimo De Carlo, Hong Kong (14 September–28 October 2017). Courtesy the artist and Massimo De Carlo.
Baruchello was born in 1924 in Livorno, Tuscany. His mother was a primary school teacher and his father was a lawyer, professor and manager of the General Fascist Confederation for Italian Industry. When Baruchello fled Italy to Ukraine with his diplomat uncle at 19, he began to make art; drawing and writing were his ways to work through the pain he witnessed during the fascist mass hysteria in Italy. Later in life, Baruchello studied law and attempted for a short time to run his father's business. Sensing it wasn't for him, in 1959, at the age of 35, he decided to become an artist. Baruchello spent time in New York, Paris and Milan, bearing witness to movements such as Arte Povera and Pop art, and befriending artists and intellectuals such as Italo Calvino, Jean-François Lyotard, Alain Jouffroy, Felix Guattari and Ileana Sonnabend. As a self-taught artist, over his 60-year career Baruchello has undertaken painting, sculpture, drawing, performance, experimental filmmaking, writing, psychoanalysis, economics and politics. In 1968, he founded Artiflex: a company for the 'merchandising of everything'. Thirty years later, he launched his own Baruchello Cultural Foundation. He dabbled in farming, purchasing ten hectares of land outside of Rome, deciding there was more political value to working the land than to discussing theories as an intellectual activist. The agricultural work has long since been abandoned, though outdoor sculptures and outbuildings for students and artists-in-residence remain on the property. Baruchello now lives and works in Rome.
Although somewhat absent from major art-historical narratives, Baruchello has been featured five times in the Venice Biennale (1972, 1988, 1990, 2004 and 2013). His film Verifica Incerta, comprised of random clips of mostly American films and footage of Duchamp and John Cage, was screened in 1965 at the Solomon R. Guggenheim Museum in New York. A full retrospective curated by Achille Bonito Oliva opened at the Galleria Nazionale d'Arte Moderna, Rome, in 2011, and in 2014 his Cold Cinema was shown at the Triennale de Milano. In addition to the show at Massimo De Carlo, Baruchello also exhibited at the exhibition centre Raven Row in London in 2017. The artist, still sharp in his mid-nineties, spoke with Ocula via e-mail following the opening of the show.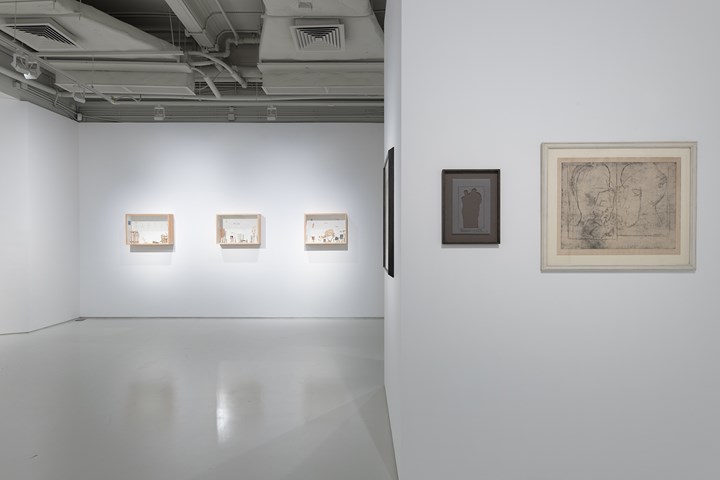 Exhibition view: Gianfranco Baruchello, Marcel Duchamp, Massimo De Carlo, Hong Kong (14 September–28 October 2017). Courtesy the artist and Massimo De Carlo.
I'm curious about the miniature worlds and processes of world-making in your collages and your boxes. Like the 'invisible cities' of Italo Calvino's novel of the same name, your works have overt cartographical and imagined elements. What does the relationship between fiction and mapping mean to you?
The quality of your questions would deserve encyclopedic answers. I'll try telegraphic answers. I would prefer the adjective 'radiographic' instead of 'cartographic' or 'mapping'. Onirograms, ambiguity, fairy tales, sound similarities and verbal images, hide psycho-political attitudes. There is no real intention to communicate or to persuade anybody.
My friendship with Calvino was an important one. The first story in Cosmicomics (1965) was published in the US as the introduction of my show in New York.
The first story in the book—The Distance of the Moon—is my favourite. Your works also include strong overtones of puns, humour and sex. They also seem to allude to inventions, factories, production, diagrams and blueprints. Is your practice, or has it ever been, a response to industrialisation?
Personal, war and work experiences are present in my visual language.
You researched Chinese language and culture before the exhibition in Hong Kong; what did you learn from this?
My Chinese feelings are more influenced by the I Ching world than by the contemporary daily press.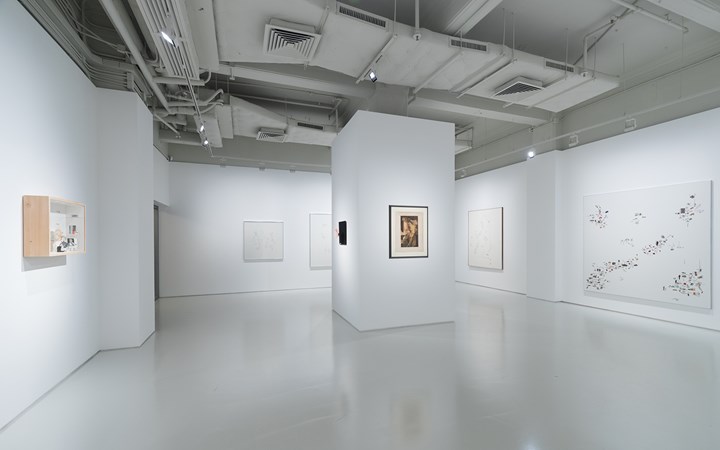 Exhibition view: Gianfranco Baruchello, Marcel Duchamp, Massimo De Carlo, Hong Kong (14 September–28 October 2017). Courtesy the artist and Massimo De Carlo.
Many people, upon meeting someone they admire, are lost for words. What did you and Duchamp talk about on your first outing together?
I was so interested in his art that he accepted my friendship. He also introduced my work in US and France. To me he was an old generous brother, not a grandfather...
What fascinates you about Pop art? Was the first time you encountered it during your travels through America in the 1960s?
I was (by pure chance) part of the first historic collective show in the Sidney Janis Galleryin New York. The list of those artists exploded after in different (but successful) directions.
Traditional Chinese painting sometimes incorporated empty space as a compositional device to prompt emotional contemplation. How does the empty space function in your works?
Empty: silence, white, seduction, possibility, risk.—[O]