Insight | Artist, New Zealand
Vincent Ward at Trish Clark Gallery, Auckland
When I first met artist Vincent Ward he appeared to be at an impasse. Well known as a filmmaker, he was navigating a transition back into painting, battling against himself to achieve everything he wanted his painting to be, and unsure of how to get there. He had just returned from showing his exhibition, Auckland Station: Destinies Lost and Found at the 9th Shanghai Biennale (2 October 2012 - 31 March 2013). The exhibition was a fully immersive experience, presented in the darkened space of a former cathedral where cinematic vignettes played on the walls and ceiling, among images of women suspended in water and air painted on silk scrolls that hung from the cathedral's rafters. The Shanghai exhibition followed on from Ward's institutional exhibitions, Vincent Ward: Breath – the fleeting intensity of life (10 December 2011 - 26 February 2012) curated by Rhana Devenport at the Govett-Brewster Art Gallery, New Plymouth, and simultaneous related exhibitions Inhale/Exhale at the Gus Fisher Gallery (6 July - 25 August, 2012) and the TSB Bank Wallace Arts Centre (3 July - 2 September, 2012), both in Auckland.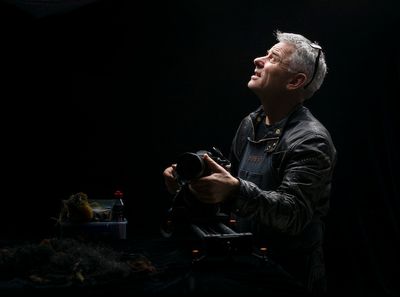 Image: Vincent Ward. Photo by Adrian Malloch/courtesy of Metro.
Given Ward's background and his films, his move into painting was unsurprising to some. Anthony Byrt, in a review of Breath – the fleeting intensity of life for the New Zealand Listener, writes: 'Ward so clearly thinks like a painter; everything he does is infected with an understanding of the complex relationships between process, material, theatricality and physicality'. In numerous interviews, Ward describes himself as an embattled painter who accidentally ended up doing films. For his 1998 Oscar award-winning film What Dreams May Come (starring Robin Williams and Cuba Gooding Jr) Ward used a technology he termed 'motion painting' to create a sense of moving, visceral paint onscreen for the film's version of the protagonist's afterlife. Ward was interested in painting for its potential to intensify the experience and emotion of cinematography.
In recent work he now appears to be using film to explore the possibilities of paint. Four years on from the Shanghai show, the artist revealed a new series of work at Trish Clark Gallery in Auckland, Palimpsest / Landscapes (30 August – 23 September 2016). Having rejected canvas, the exhibition comprised of three films presented within a darkened space, what Ward described as 'windows of light that emerge out of the darkness … a bit like stained glass landscapes'. The works depict bodies that coalesce into psychologically-charged landscapes through the application of painted material, including ink, sand and coffee. In these works, the body becomes the landscape and equally the landscape charges forth from the body. The earth is presented as a living, breathing form, a literal rendering of both our battle with it, as well as our connection to it. Ultimately, the exhibition appears to represent an important step for Ward, one in which he appears to have resolved how to approach painting, and it is through his knowledge of film.
We last caught up just as you were entering what seemed to be a new phase. I understand that your new show at Trish Clark Gallery in Auckland, Palimpsest / Landscapes, very much reflects the materialisation of some of the ideas you had begun working on then: ideas relating to the land and to the body. Sadly, I cannot visit the show in Auckland, so perhaps we can start by you describing the exhibition?
Viewers walk into a dark space—like a cavern—and windows of light emerge out of that darkness, a bit like vast stained glass landscapes, although the colour is perhaps not as intense. At first, people might think they are looking at real landscapes. They might see earthquakes, landslides, deserts, tumbleweed and storms, caverns, coral reefs. Perhaps it's like viewing an inter-planetary landscape, with dust storms. But then there is a realisation that the landscapes are breathing. And eventually, depending on when you walk in, you might realise that what you are looking at are actually human landscapes—at primordial creatures, humans that spew ink, real ink, an ancient-looking fish with wings and legs that seems engulfed by ink. Then you might realise that it's some sort of living human form. On reflection you might realise there are threads to grasp and that they may have something to do not only with landscape and the body, and the connections between the two, but also memory and history too.


Image: Vincent Ward, Palimpsest/Landscapes, Exhibition view, Trish Clark Gallery 2016. Courtesy Trish Clark Gallery.
I understand that sound is very much part of the exhibition too.
Yes, there is sound. It very much emanates from nature: the sound of waves against a reef, wind blowing, caverns dripping, cliffs rumbling, gentle rain and driven rain. But there is also the muted chorus of distant voices in an echoey cavern.
Trish [Clark] and I have had lots of debates about whether the exhibition operates as a series of individual works, whether it's one big immersive work, or whether it's both. And these questions are relevant to the sound. How do you use the sound in relation to these questions? Do you keep it echoey and ethereal, like at the top of a cathedral, to ensure the sound conjures rather than informs, or do you have sound specific to the image on each screen? There's been quite a lot of discussion about that. I think it's meant to be experienced as a whole in the exhibition. It isn't fragments coming together, it's fuller than that, but the experience of the work evolves depending on how you enter the space and how long you stay there. There are, in my mind, little epiphanies in it, transformations.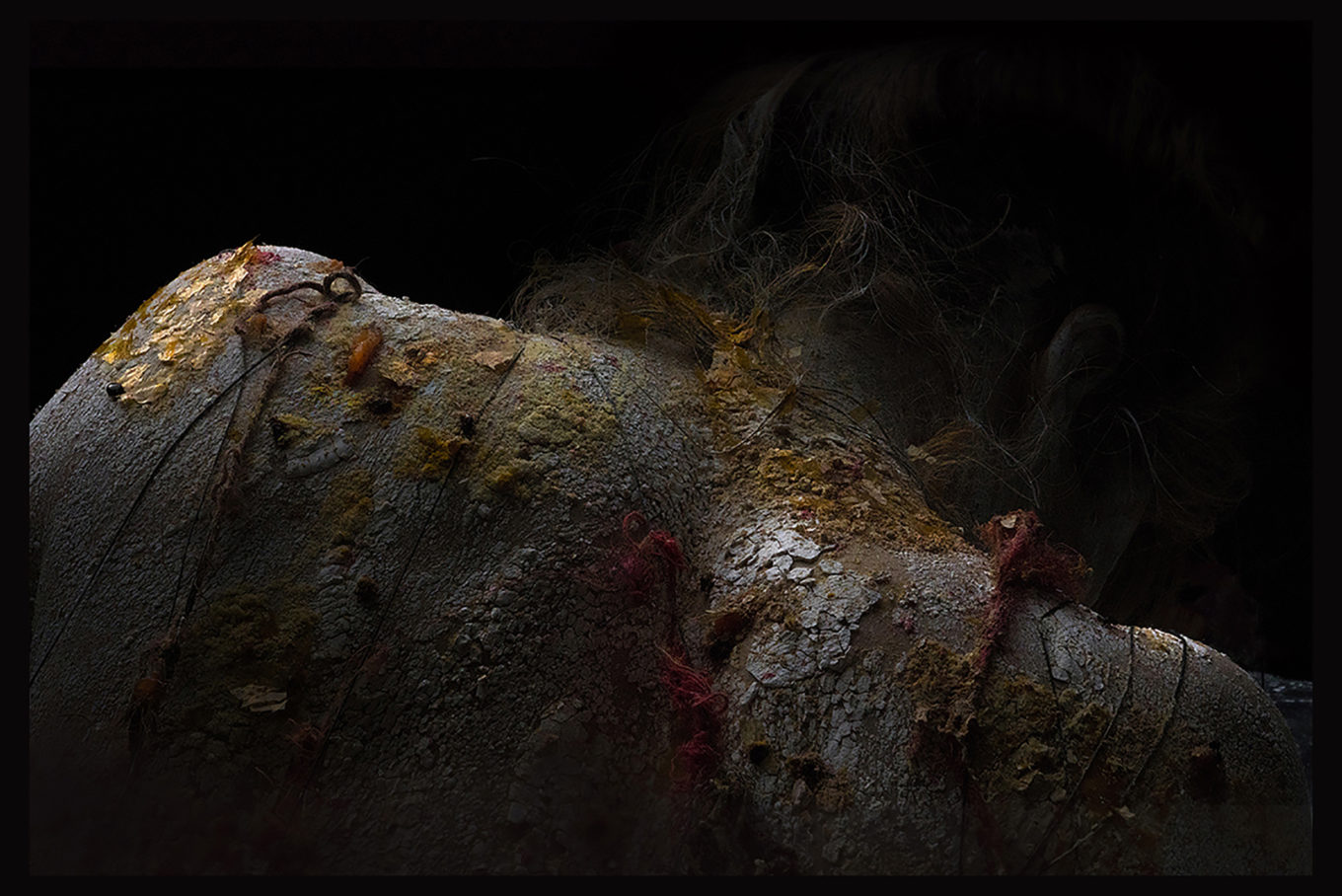 Image: Vincent Ward, Palimpsest/Landform 2, 2016. Archival pigment print, edition of 7, 80 x 100 cm. Courtesy of Trish Clark Gallery, Auckland.
'Transformation' is a word that has been associated with your film work. Dan Fleming refers to your work in his book, Making the Transformational Moment in Film: Unleashing the Power of the Image (with the films of Vincent Ward). The title of the show is 'Palimpsest'? Can you discuss the idea of palimpsest or transformation in relation to your work?
It's a simple enough idea on the surface. A 'palimpsest' refers to something reused, altered or transformed, but still bearing visible traces of its earlier form. So on one level you can see it in the show, whether in the form of Chinese calligraphy on the back of a person, but layered into a texture so that it is almost like a spiral cliff face, disintegrating over time and under the elements. You can see it in other ways too, where I have re-used some thing or form to evoke something else.
But there is another idea of transformation too; it relates to the land and to the idea of working the land. It relates to the harshness of the landscape, and to this idea of a person working with its extremities to transform it to something that is controllable. Then there is this belief—and perhaps it is a myth—that the land will then change back to what it was. There is an evocation at some level of the bound landscape breaking free from its bonds, weaving away from its confinement. I suppose there is a suggestion of emergence, as well as transformation.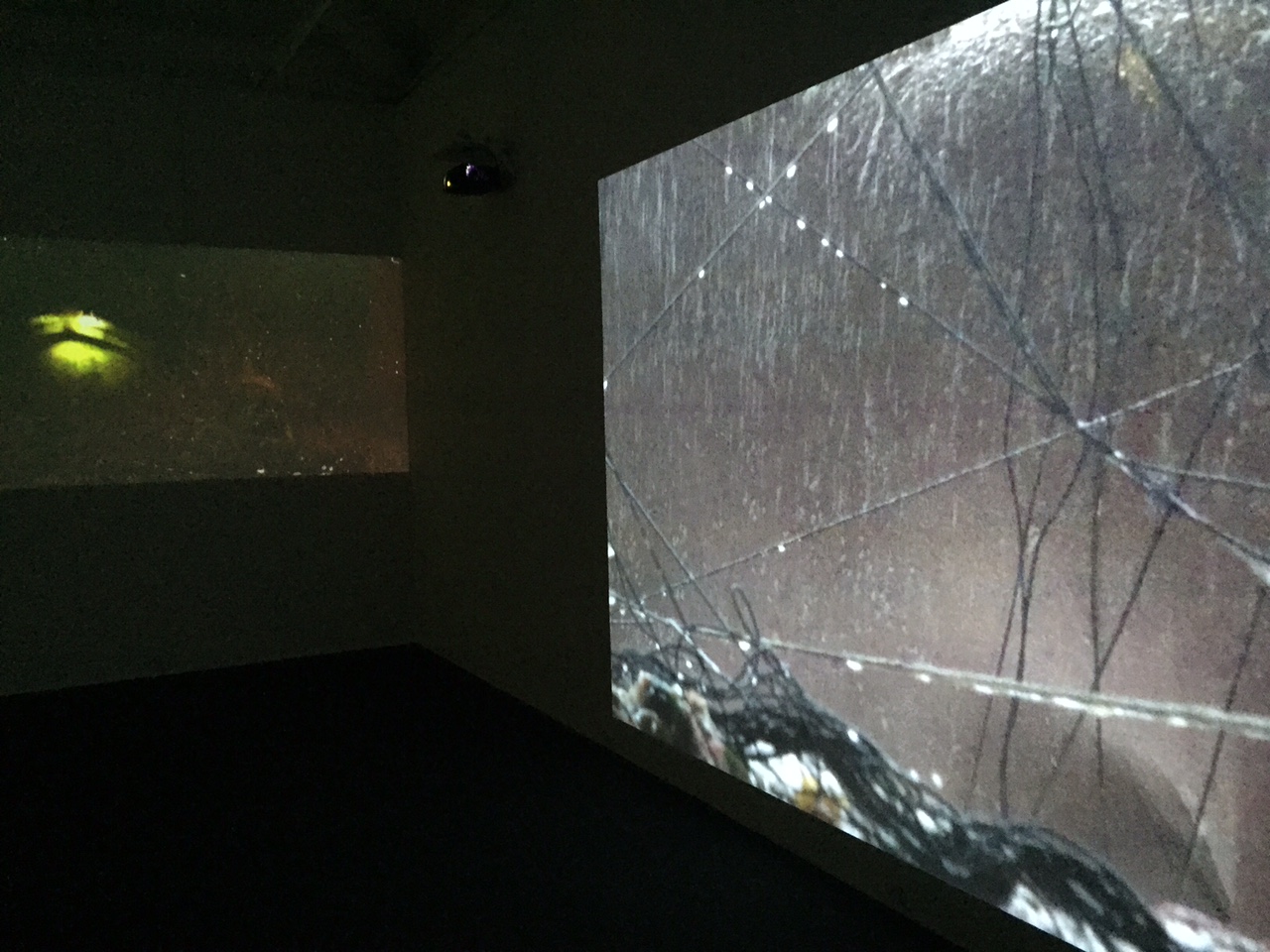 Image: Vincent Ward, Palimpsest/Landscapes, Exhibition view, Trish Clark Gallery 2016. Courtesy Trish Clark Gallery.
So tell me where this desire to explore the idea of the body and the idea of the land came from.
My family farmed land in the province of the Wairarapa in New Zealand. I grew up with this idea of the earth and its impact on those who work it. My father would drive us around and he would pass on stories connected to places we drove by. He would say, 'Oh this is where a woman lives who lost four children in trench warfare in the Somme, her four sons all died', or 'This is where some guy blew his head off in the rubbish dump and he left a suicide note amongst the detritus that read: "I am just like the rubbish around me"', or 'This is where I found this Maori adze', and so on. The landscape was very much alive in terms of the narratives that came out of it. As well, in that part of New Zealand, the earth itself is regularly moving; it is truly alive under our feet—my mother could smell earthquakes before they came.
You are discussing land and the idea of it being imprinted with memory, almost like scars.
My father had two thirds of his body burnt in World War II—bad burns, petrol burns. He was in Syria and his truck exploded, and he was set on fire.
After the war he returned to New Zealand and bought a piece of land. He was broke, and it was terrible land. The land had been destroyed by its use for gunnery practice in World War I and also by a forest fire, and it never seemed to recover from this. It was hill country, pitted with shell holes, covered in scrub, regrowth and gorse—a prickly and hard land. But he worked it. I can remember he brought back a flamethrower with him, a brass flamethrower, and he would use the flamethrower to try and burn off the land, and use his war-damaged hands to try and cut the scrub to try and bring this piece of land back to life. He lived in this little hut with my mother, and he worked this land and at the same time he also underwent skin grafts.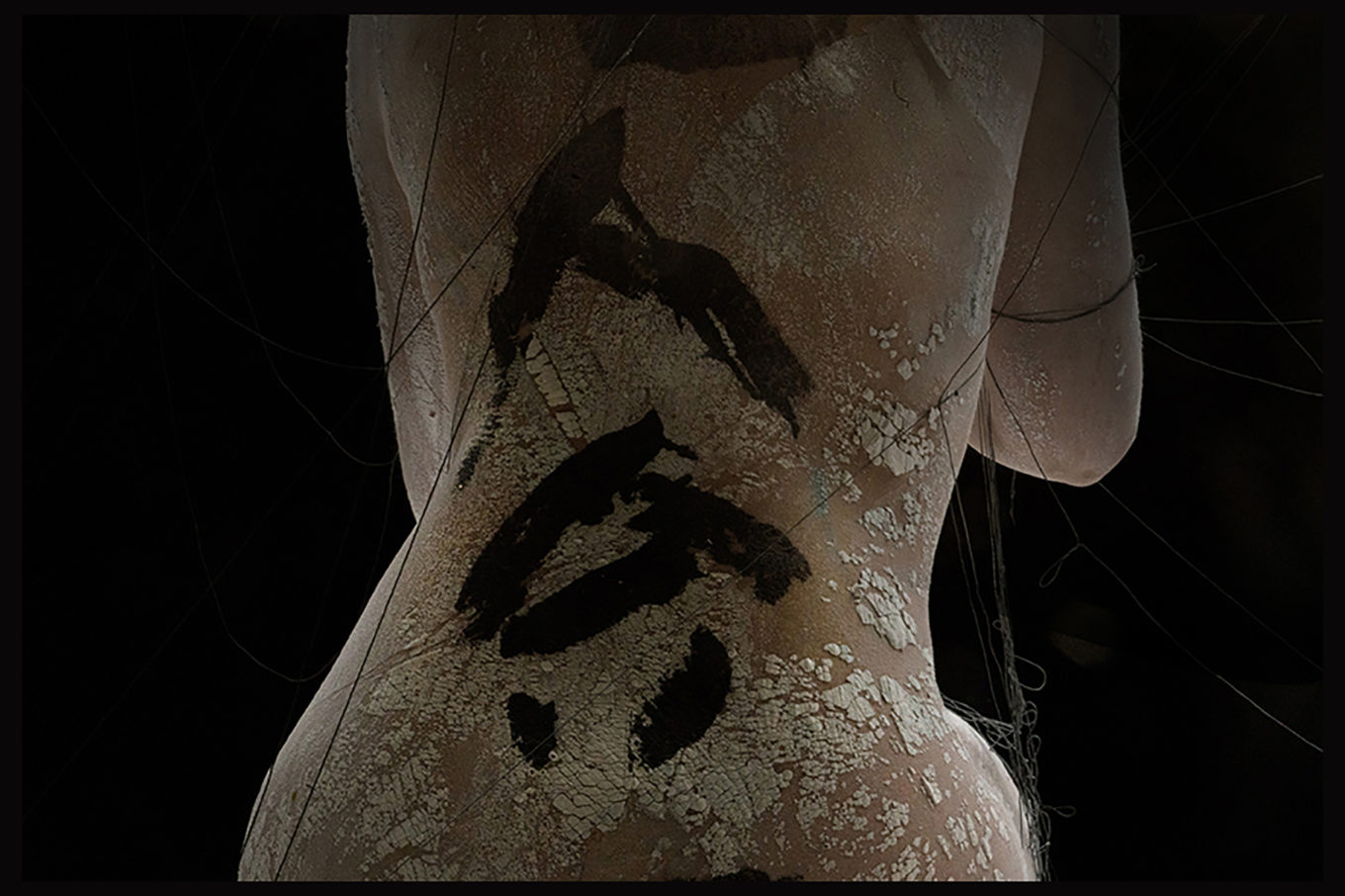 Image: Vincent Ward, New Words Under The Old 1, 2016. Courtesy Trish Clark Gallery, Auckland.
It seems as if he needed to work the land as a way to heal himself.
Yes, it is as if he needed to work the land to keep the entropy of war at bay, and to encourage healing. If he could heal the land, he could heal himself.
I grew up drawing his hands; they were badly mangled, his fingernails were 'puckarooed', as he would put it. In addition to the burns, his hands also had injuries from farming, great big cuts in them made by a barbed wire or a slipped docking knife; they were craggy like a landscape. And I suppose that is where it all began, where the idea of the body and the landscape started to fuse in my mind.
The works in the show have a lot of drawing on the body to create the sense of a lived experience, or a landscape that carries experiences. The show I suppose is very much about me personally, about the people that I care about and love.
I find your exploration of landscape interesting in thinking through a trajectory of landscape painters, or painters who explored ideas of the landscape. I am thinking here of artists from Caspar David Friedrich through to Colin McCahon.
Certainly there is a long long history of people trying to find a humanised landscape: American photographers, like Edward Weston, for example. But it's the painters I think who have alluded to the history contained within the land, [Colin] McCahon or [Anselm] Kiefer. I am conscious of the later, as my mother is German and her life was very affected by the war. I suppose my own investigations are very specific though.
With my father, it wasn't just that it was a battle with the land, it was as if he was part of the land, part of its very soil. And there's also the deaths in war—where often so many, many bodies have become one with the land.
And this also relates to a place near where I grew up, where there was this POW camp that I wandered around as I was growing up, sensing ghosts there. A number of Japanese and Korean prisoners were machine-gunned down while trying to escape from the camp during the Second World War. Where they were gunned down, there's a little Shinto poem on a plaque. It reads: 'Behold the summer grass, all that remains, of the dreams of warriors'.
That area is very beautiful. In summer, the grass shimmers and is golden, and it breathes with that dry summer wind. When you go, you can feel them there, and you can sense what it might have been like for the prisoners—to be imprisoned and to look across that long grass and try to escape - only to be gunned down and disappear into the soil in a foreign land.
So the work isn't so much about a battle with nature. It's about a battle with our own conflicts, and our inability to resolve them. Even in the dust the memories remain, the conflicts unresolved.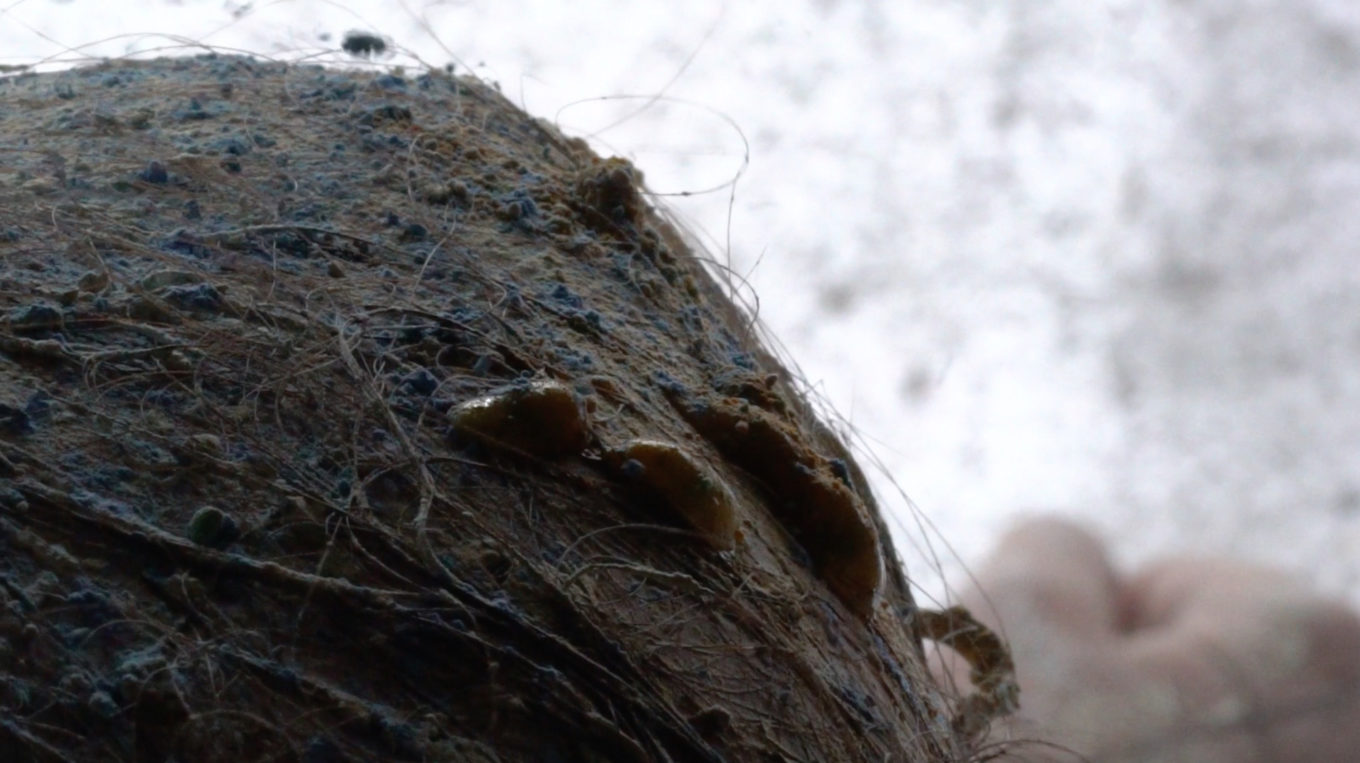 Image: Vincent Ward, Palimpsest / Landforms 3, 2016. Video: 06:23 minutes, edition 1 of 5. Courtesy of Trish Clark Gallery, Auckland.
Do you have a particular reading or response or reaction you hope for from your audience?
I hope that, on a surface level, when people watch the work, they feel the different atmospheres that the work is intended to evoke in relation to pure landscape: the little tempests, the climatic elements, the weather and the stories and the conflicts—a whole range of things. But at a deeper level I hope that the work evokes personal memories, stories, histories—a whole range of things.
But I also think they'll come up with their own perspective and viewpoint and meaning, and it may be totally different from mine - and that's great. They'll feel something, and hopefully that is a sense of the humanity in the landscape, or a landscape in the idea of humanity, and these ideas will be influenced by what is important to them and their own narrative.
I understand ideas of migration are relevant to this show.
With landscape, you sense these histories, and migrations that carry histories. Often histories that reflect journeys, some of them unexpected. And I began thinking about the diaspora, those who have had to flee lands, for example because of persecution.
People's lives run in unexpected ways. Both my parents come from migrant groups that were forced to leave the lands they lived on. My father's side came to New Zealand from Ireland; he was of Irish Catholic descent. My mother was Jewish, and fled Germany, and then ended up with the British army in the Middle East before marrying my father and coming to New Zealand as a war bride. They collide in this place, a mismatch of individual cultures and needs that never really fully coexist, but are in a constant state of negotiation, tension, sometimes negation, seeking to find resolution. Well that's my memory of my parents living here in that land. At the same time, they're trying to come to grips with this harsh terrain and live in it, mired by it, but it too puts more pressure back on them. It's far from idyllic, or passive, so in a way all their problems become the blood of it, the pulse of it, at least in my memory of them and it.
Your past feature film work has often been about people forced to leave their lands or to make a journey: Rain of the Children (2008), Map of the Human Heart (1993), and The Navigator: A Medieval Odyssey (1988) for example?
I have this empathy for people that are impoverished, struggling to get through the day. There's a diary entry about my great-grandfather—an Irish migrant—trying to cross a river in Australia in the 1860s. It was a wide river in flood, and he was lucky indeed to make it across. It's these sort of odd trails that lead people into places they never expect to go, and never expect to leave or survive. And in my recent work, I tried to track this sense of a landscape that's mired in trails and experiments, experiments in living; that was the kind of feeling I was trying to get.
Your own life has been mapped by many journeys. You lived in Los Angeles for seven years, in New York, in Australia, the Arctic, you worked in London and so on. More recently you have been spending time in China. How has China impacted your work?
I keep going back to China because I love the experience that comes from a fusion of traditions that I find there. I was recently a judge at the Shanghai International Film Festival's Asian New Talent Award (ANTA), so I go back for that. I held a guest professorship at the China Academy of Art in Hangzhou, and residencies at Shanghai University, so I go back for that too, running new media workshops at Shanghai University.
The current work features ink painting. Tell me about working with this medium?
Of course there's no way I can be an ink painter in the way a Chinese person who has handled a brush since childhood can be. But I am very interested in the medium and especially in exploring its boundaries. I am interested in how painting in ink can be conceived through video and with other materials and so on. I go to China and I just experiment; it's like a laboratory for me. When I am there I have a whole bunch of assistants, and I learn from them. But primarily I go there to try out things and see what comes out of it, and to learn.
I've been doing works between 6 and 20 metres long on cloth, using ink and tea in combination with other materials, traditional materials and also other things, such as human hair, all sorts of stuff. To the point where I started to believe I was drinking ink and breathing ink and ink was coming out of every orifice and out of my eyes. I'd be covered in ink and I'd go to bed covered in ink. It became a part of me, like blood. It was an intense experience.
When I was at the School of Fine Arts, Shanghai University, I was able to use the Dean's studio which gave me sufficient space to throw and spill buckets and buckets of ink. And I thought to myself, 'What happens if I create an ink painting where I don't use canvas or cloth or rice paper? What happens if I treat the human body as a canvas and explore ink and water on the body, and film it over time, film the ink running freely and recording it as an installation?' Obviously I use many other materials as well as ink, but ink is still a binding element.
Tell me about the transition between film and painting. You initially studied painting, but then became a very successful filmmaker, and then you returned to painting, but using the medium of film.
Originally I wanted to be a painter, but I became a filmmaker, and I've been trying to collide these two disciplines in different ways.
I have a long history of trying to explore painting and film. My first film is about a frustrated painter trying to paint the wild sea of the Southland coast of New Zealand. She cannot capture it, and she creates these terrible little contained watercolours as the sea explodes in front of her, and she cannot transmute that experience into painting. And through later films like What Dreams May Come (1998), I tried to find a collision between painting and film.
I am interested in how painting can be presented in terms of a moving image, instead of a static image. I want to present the painted form in an immersive environment, where you can have multiple experiences. I was bored with painting on a canvas. I started doing these big canvases, but then I thought why not use my knowledge of film to explore painting. I wanted to be a painter without the need for a canvas. I want to find a way to achieve the experiences I want to capture as a painter and a filmmaker.
With the most recent work, do you feel you captured what you set out to do?
It stretched me but really, I never get to a point I want to be at. By the time I am at a particular point, I want to be somewhere else. By the time I've achieved anything, I'm totally and utterly over it, and I am looking to move on. I like to be out of my depth, and having to dance for my dinner to make things work.
Some current work, to a certain extent, resulted from a collaboration with Wang Dongling.
Wang Dongling came to New Zealand to give a live performance at Auckland Art Gallery. He's essentially an abstract calligrapher, a performance artist at some level, in terms of calligraphy. He liked the fact I was painting on the human form. After talking to a painter that he works with, we realised there may be some sort of collision of interests. So he came into the studio and we worked together.
After he left I did a lot of work trying to find a way of filming the ideas in these combined works, and transforming them. I wanted to capture the idea of something abstracted, like language (his calligraphy on my models) but watch it disappearing. There is this idea of the landscape and that it has stories, but over time the landscape changes as do the stories that surround that landscape; they describe it, change and disappear. It is the layering of culture upon culture, when languages and cultures become virtually indecipherable and no longer have meaning, and over time they are washed off the face of the earth. And I like that idea that you could wash away language, memory and people.
I'd like to do a whole series of collaborations with contemporary painters in China, trying to work with them to break the barriers of what painting can be. It's like the jazz thing, you don't necessarily know the piece of music you're going to end up with, but it takes a lot of confidence to be able to pull it off. To be in the moment, riff and trust some music comes out of it.
And openness.
Yes. I like to go somewhere I wouldn't necessarily have gone, but through that experience then find the shape or architecture of something new. —[O]