Insight | Artist, Australia
William Yang at Stills Gallery, Sydney
William Yang is one of Australia's great storytellers. For 40 years, his photographs, handwritten anecdotes and live, slide projection performances have shared his journey to self-acceptance as a gay Chinese-Australian.

Born in 1943 in North Queensland, his first solo exhibition Sydneyphiles
, was held in 1977, at the Australian Centre for Photography. He has an extensive exhibition history with important exhibitions including Episodes: Australian Photography Now, 13th Dong Gang International Photo Festival, Korea (2014); The China Project, Gallery of Modern Art (2009); Claiming China, Australian Centre for Photography and Monash Gallery of Art (2008); Yin-Yang: China in Australia, S.H. Ervin Gallery (2008); and the major retrospective Diaries, New South Wales State Library (1998). His work has won numerous awards and accolades, and is held in the collections of major State collections including: Art Gallery of New South Wales; Museum of Contemporary Art, Sydney; National Gallery of Australia, Canberra; National Portrait Gallery, Canberra; Queensland Art Gallery, Brisbane; State Library of New South Wales and the National Library of Australia.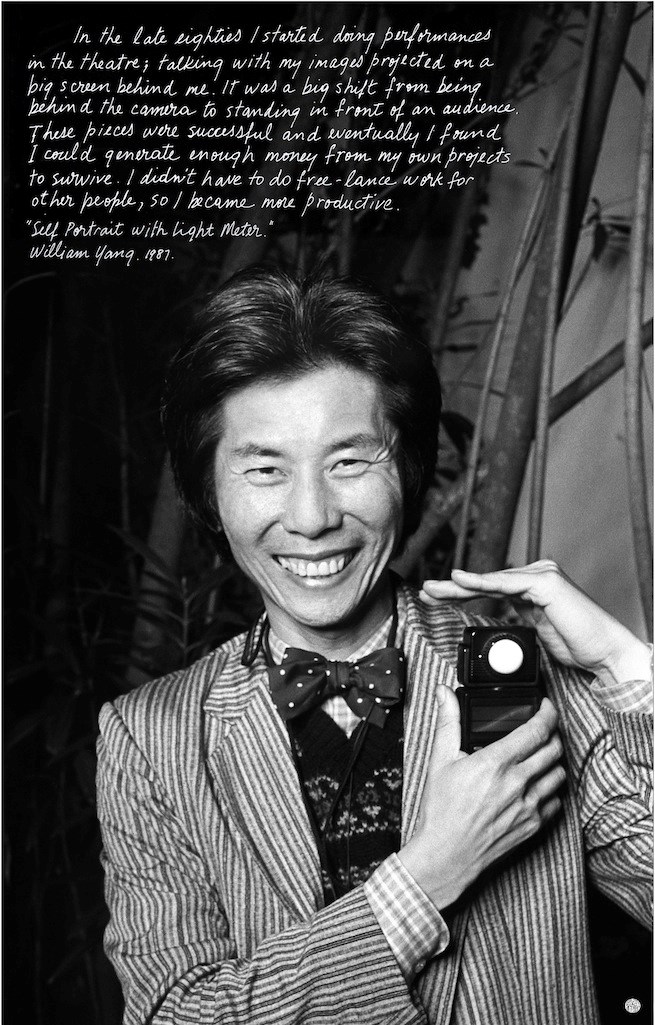 Image: William Yang, Self portrait with light meter, 1987. Courtesy Stills Gallery, Sydney.
We caught up with William Yang to discuss his new exhibition at Stills Gallery, Sydney which coincides with the publication of a new monograph documenting 40 years of his practice.
The exhibition marks the publication of a new monograph Stories of Love and Death: Performance, Portraiture and Documentary in the work of William Yang, which documents 40 years of your practice. Tell us about the book and how it came about?
In 2010 I had a four and a half year visiting fellowship with University of NSW to make films of three of my performance pieces:
My Generation
(about the artistic community in Sydney mainly in the seventies and eighties),
Friends of Dorothy
(about the gay community in Sydney from the seventies till the present) and
Blood Links
(about my Chinese Australian family). Actually the project was supposed to go for two and a half years but I extended it twice. The hosting department was the School of Arts and Media, of which Ed Scheer was a professor specialising in performance research. Ed thought my project, transforming a live theatrical performance into a a different medium, TV or small screen, was interesting, so he and Professor Helena Grahan from Murdock University in WA, decided to write a book about it. So the book is about my work rather than a biography about me.
We can look forward to seeing some of your most celebrated images. Is there one particular work in the exhibition that you feel is most symbolic of your practice?
Some of my most celebrated images will be there. From My Generation there's the portrait of Patrick White #1 taken in 1980. From Friends of Dorothy there's Darrin and Linden, part 3. Taken in 1990. Then from Blood Links, there the series, About My Mother, which consists of 30 pictures of the relationship between me and my mother. With the latter two I've written on the photos a story as writing has become more frequent in my late photos.
Image: William Yang, Patrick White #1, 1980. Image courtesy the artist and Stills Gallery, Sydney.
And the exhibition takes place in February coinciding with Chinese New Year and the Sydney Mardi Gras appropriately reflective of your own identity. Much of your work is autobiographical—you tackle major cultural, social and political issues relevant to your experience—would you say you are in a sense a photojournalist of your own life?
I was a blogger of my own life before the word was invented. I started off as a photographer strictly behind the camera, but when I did performance pieces I realised that the glue which held all my disparate stories together was me. So I emerged from behind the camera to in front of the camera, so to speak. This wasn't as easy or as simple as it sounds and it took a long time for me to be comfortable being centre stage. Since I am a gay Chinese, these two defining identities are quite easy for me to talk about, and I live a lot of my social life within these parameters, so my life and my art come together quite nicely. I was a gay activist in the seventies and I realise the political issues around these positions.
There is an honesty and purity with which you approach your work. The technical aspect does not appear to be of major concern. How would you describe your artistic approach? And is there a key message you are trying to communicate?
My work is based in the photo journalist tradition rather than the studio tradition which has a more controlled technicality, and I have always thought that the image was the most important thing. When I started off I was very conscious of the technical aspect, afraid of showing an image if the focus was soft. I took a series of people in bedrooms and often the level of light was low and consequently the focus was soft. For that reason I didn't show the pictures, but years later I looked at the images and thought they were really good.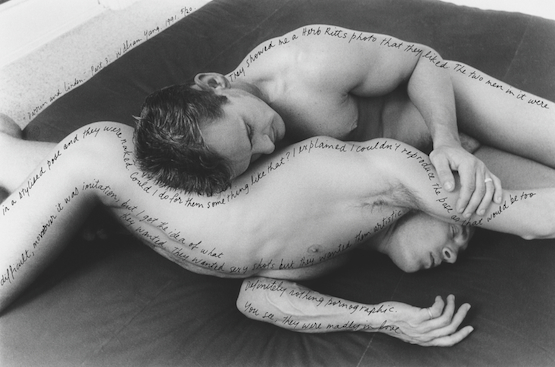 Image: William Yang, Darrin and Linden. Part 3. 1991. Image courtesy the artist and Stills Gallery, Sydney.
In past exhibitions you have often shown works thematically, drawing images from your large collection of work so that they range over a long period of time. Will you be following this approach in the Stills exhibition?
In the Stills exhibition there are the three areas of the book which I have already described. Sandy Edwards, the curator, didn't want the exhibition to be exhibition of the book so she and I have gone to my collection and pulled out photos we would like to show, some are not in the book. For example we are showing the whole series
Allan
, from the
Monologues Sadness
. There are 19 photos in this series and only four are shown in the book.
Written text or commentary has become a hallmark of your later works and brings to mind the Chinese tradition of writing calligraphy on works of art. Please tell us about how this part of your practice evolved and what function it plays in your work?
When I started doing performance pieces, talking with images, the stories associated with the photos became very important. When I showed these photos in gallery exhibitions I began to write on the actual photo. I started doing this in the 1990s. Some of the first ones that I did were on the bodies of male nudes and I did think of the texts as poems in the tradition of the poems written on Chinese scrolls. Later I realised that my handwriting on the photos helped distinguish them from other people's photos. That's what most artists are seeking, a distinctive style which separates them from the rest of the pack. So now I often do works that lend themselves to a text or handwriting.
An important part of your practice has been the progression from photographer to renowned theatre performer. Monologues with slide projections are a central part of your practice. The Stills exhibition will include a performance on 27th February. Please tell us about this?
I am best known as a performer, and no one quite does performances with the image and spoken word like me. For the past twenty odd years I have been touring these shows around the world. Entrepreneurs have wanted my performance pieces rather than my exhibitions so I have concentrated in doing this form. Over the years I have developed my skills as a story teller and now I do workshops all over the world teaching people how to tell stories with family photos.
The Story Only I Can Tell, which is the piece I will doing at Stills Gallery, is one of my generic talks, which is hung around my life. I was born in North Queensland and came to art when I studied Architecture at Queensland University. When I came to Sydney in 1969 I was able to come out as a gay man and shortly after this I began to take photos as a free lance photographer. On this framework I can embellish the talk which whatever themes are pertinent to the occasion. For example, I can weight it towards celebrity, or gay or Chinese. In this case I will be mentioning all three of these areas.
With the publication and exhibition you have had a busy start to 2016. What else have you got planned for the year ahead?
Straight after the exhibition I have a tour of Blood Links, the performance piece, in Holland, Belgium and Hungary. We bring the show to Canberra for two weeks in April. Later this year I am doing a new story telling piece with Annette Shun Wah, helping other people tell their stories. This one has a multicultural slant, it's about migrants who come to a new country and often there is a situation where one person is given the responsibility of speaking for a family. —[O]