News | Art Market
Expo Chicago Bumps In-person Fair Till July or Later
An online expression of the fair will go ahead from 8–11 April 2021, but the precise dates of the physical fair are yet to be determined.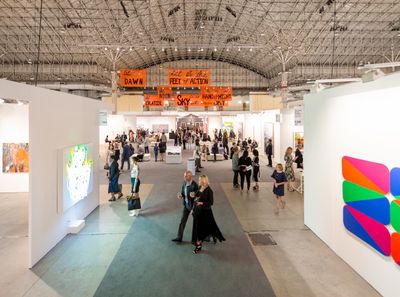 EXPO CHICAGO, 2019 Vernissage. Image by Corey Dewald. Courtesy of EXPO CHICAGO.
UPDATE (Wednesday 14 April): Expo Chicago has now been rescheduled for April 7 to 10, 2022.
EXPO CHICAGO has again postponed the ninth edition of its in-person fair, which was initially scheduled for September 2020 and then rescheduled for 8–11 April 2021. Organisers said they have now 'secured a series of dates' at its usual venue, Navy Pier, beginning in July and stretching out at least as far as September, when the fair ordinarily takes place.
'Given that we have options, we feel strongly that the most responsible thing to do right now is state those options, while carefully monitoring the situation,' Tony Karman, President and Director of EXPO CHICAGO, told Ocula Magzine.
'We pledge to make a firm commitment with significant notice for galleries and collectors to plan and although I remain optimistic, and our historic September dates are a strong option, it is definitely not clear at this time that any dates in 2021 are truly able to be locked,' Karman advised.
Currently, the state of Illinois has a ban on indoor gatherings at exhibition venues, with outdoor activities limited to 25% capacity. Nevertheless, Karman said galleries he spoke to were hopeful.
'I think the general mood right now is a mixture of optimism, resiliency and a collective embrace of digital initiatives to support their artists and programs,' he said. 'There is no question that everyone is anxious to see greater in-person attendance at gallery and museum exhibitions and to resume their participation in fairs.'
Few details have been given about EXPO CHICAGO's own online event, taking place 8–11 April, but organisers said its themes and participants would be announced 'in the coming weeks'.
Meanwhile, the fair has also arranged a three-day symposium, entitled Alternate Assembly, from 21—23 January. Talks include a discussion of water and land rights by artists Carolina Caycedo, Raqs Media Collective, and Oscar Tuazon, and a discussion of contagion by Sean Raspet, Hương Ngô, and Elizabeth Hénaff.
Looking ahead, Karman said he believed in-person fairs, 'will play an even greater role for dealers to reconnect with collectors, curators and art professionals moving forward out of the restraints of the pandemic.' —[O]