News | Market
Frieze London Cancelled, Replaced by Online Viewing Room
The logistical challenges of holding the event were insurmountable, said organisers.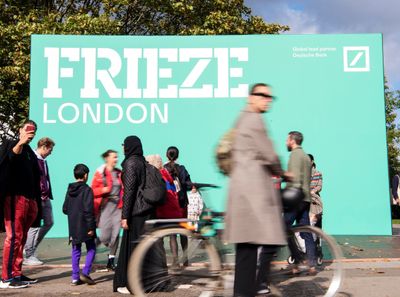 Frieze London 2019. Photo by Linda Nylind. Courtesy Linda Nylind/Frieze.
The 2020 editions of art fairs Frieze London and Frieze Masters have been cancelled. The events were scheduled to take place in London from 7-11 October.
'It is with great regret that we have determined that we cannot go ahead with Frieze London and Frieze Masters this year,' wrote Frieze Director Victoria Siddall and head of VIP Relations Kaitlin Lechich in a letter to VIPs.
'Due to considerable logistical challenges regarding COVID-19 (coronavirus), including complications around travel quarantine and continued restrictions, we have no choice but to cancel the physical editions of the fairs,' they said.
Last month, Frieze advised exhibitors that if the events were to go ahead they would be smaller than previous editions, and might be brought together under one tent. They also said exhibitors would receive a full refund if the events were cancelled.
Frieze London has taken place every year since 2003 and is attended by around 60,000 visitors. The 2019 edition brought together more than 160 galleries from 35 countries. Frieze Masters was founded in 2012, the same year as Frieze New York.
The New York event, which was slated to take place in May, was also cancelled this year, replaced with an online event called Frieze Viewing Room, where galleries reported strong sales. A second edition of Frieze Viewing Room will be held on the dates of the planned London fairs. —[O]