News | Exhibitions
Melbourne Art Fair to Host 2020 Edition in Online Viewing Rooms
With the physical fair rescheduled for February next year, organisers have teamed up with Ocula to offer an alternative online.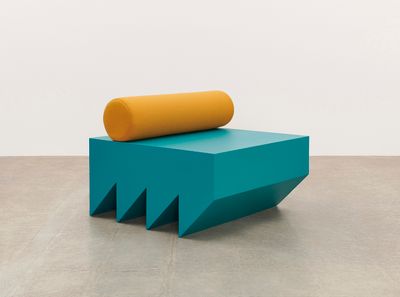 Sean Meilak, Field chair (2020). Enamel paint, plywood, timber, Italian wool, foam and glue, 69 x 90 x 90 cm, 27 3/16 x 35 7/16 x 35 7/16 inches. Courtesy Niagara Galleries. Image credit: Peter Rosetzky, Melbourne.
Billed as Australia's most progressive forum for contemporary art and ideas, the Melbourne Art Fair will take place exclusively online in 2020. The fair's online edition will go live in Viewing Rooms hosted by Ocula from 1–7 June, with access limited to VIPs for the first two days.
'Galleries are facing extraordinarily challenging times and the concern for the livelihood of living artists is paramount,' said Melbourne Art Foundation CEO and Fair Director Maree Di Pasquale. 'In a time where physical interaction and movement across borders is difficult, it is our hope that the Viewing Rooms will better facilitate the connection between gallery and collector and enable the exposure, discussion, and sale of important work.'
During the event, Melbourne Art Fair and participating galleries will host a series of digital experiences including a livestream visit to the studio of David Griggs, an eight-time finalist for portraiture's Archibald Prize, and a conversation between VAULT magazine editor Alison Kubler and Sri Lankan-born, Sydney-based artist Ramesh Mario Nithiyendran, who creates ceramic sculptures of false gods and new age idols. —[O]
Participating Galleries
Alcaston Gallery (Melbourne)
Anna Miles Gallery (Auckland),
Anna Schwartz Gallery (Melbourne),
Arthouse Gallery (Sydney),
Arts Project Australia (Melbourne),
Bartley + Company Art (Wellington),
Chalk Horse (Sydney),
Daine Singer (Melbourne),
Despard Gallery (Hobart),
Finkelstein Gallery (Melbourne),
Flinders Lane Gallery (Melbourne),
Gertrude Contemporary (Sydney)
GAGPROJECTS | Greenaway Art Gallery (Adelaide),
Hugo Michell Gallery (Adelaide),
Jacob Hoerner Galleries (Melbourne),
James Makin Gallery (Melbourne),
Jan Murphy Gallery (Brisbane),
Justin Miller Art (Sydney),
kleinerfelt (Melbourne),
Last Collective (Melbourne),
Martin Browne Contemporary (Sydney),
Michael Bugelli Gallery (Hobart),
Michael Reid (Sydney/Berlin),
Mizuma & Kips (New York/Tokyo),
Murray White Room (Melbourne),
Nanda\Hobbs (Sydney),
Neon Parc (Melbourne),
Niagara Galleries (Melbourne),
Nicholas Thompson Gallery (Melbourne),
Olsen Gallery (Sydney/New York),
Roslyn Oxley9 Gallery (Sydney),
Saint Cloche (Sydney),
Sophie Gannon Gallery (Melbourne),
STATION (Melbourne/Sydney),
Sullivan + Strumpf (Sydney/Singapore),
Sumer (Tauranga)
Sutton Gallery (Melbourne),
The Commercial (Sydney),
The Drawing Room (Manila),
The Egg & Dart (Sydney),
Visions (Auckland),
Vivien Anderson Gallery (Melbourne), and
Yavuz Gallery (Singapore/Sydney).