News | Gallery
Gallerist Pearl Lam's New Podcast Celebrates Art and Food
Lam's lineup of interviewees include Alayo Akinkugbe—the creator of Instagram's @ablackhistoryofart and—Michelin-starred chef Stephanie Le Quellec.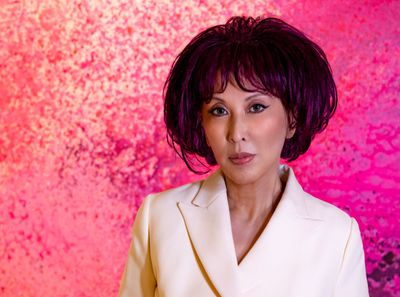 The Pearl Lam Podcast – Pearl Lam (2023). Courtesy Pearl Lam.
Pearl Lam, the maroon-coiffured doyenne of the Hong Kong art scene, launched a new podcast this month with an all-female lineup of guests.
The Pearl Lam Podcast's programming includes interviewees from the worlds of art and cuisine.
'I need food. I'm really a foodie and I love fashion,' Lam told veteran BBC arts correspondent Rebecca Jones, who acted as a guest interviewer for the gallerist on the show's first episode.
Upcoming episodes will include interviews with Parisienne two-Michelin-star chef Stephanie Le Quellec; Zahra Khan, the chef behind Bond Street's Feya Cafe and women's charity Feya Cares; and high-end food stylist Imogen Kwok.
In an interview with Tatler, Lam once said that, were she to be trapped on a desert island with one artwork, 'I don't care what artist it is... the artwork must be made of food.'
Text introducing the podcast claims the real meat and potatoes of the project is to spotlight emerging voices who 'disrupt conventional ways of thinking'.
Pearl Lam and Rebecca Jones (2023). Courtesy Pearl Lam.
In the first episode, Lam describes herself as 'a disrupter', who challenges what she describes as 'a colonialism of culture' by the West.
During her first episode in the interviewer's seat, Lam asks Alayo Akinkugbe, creator of the popular Instagram page @ablackhistoryofart, 'so what is your next stage of life, what are the things you are going to disrupt?'
Lam finds parallels between Akinkugbe's celebration of black cultural production and her own experiences bridging the Eastern and Western art worlds.
The show's first episode has garnered 10,000 views on YouTube alone and the second with Akinkugbe doubled to 20,000 views.
Lam's project joins other art world podcasts including David Zwirner's Dialogues series, which now totals over 60 episodes since 2018, and Katy Hessel's The Great Women Artists Podcast, which is now in its tenth season.
The next episode of The Pearl Lam Podcast will drop this week, with subsequent episodes released every two weeks on YouTube, Spotify, and Amazon.—[O]