News | Exhibition
Rainbow Chan to Headline Sydney's Liveworks Festival 2023
The festival's ninth edition will look back on Performance Space's 40-year history supporting experimental artists such as Adrienne Doig and Tracey Moffat.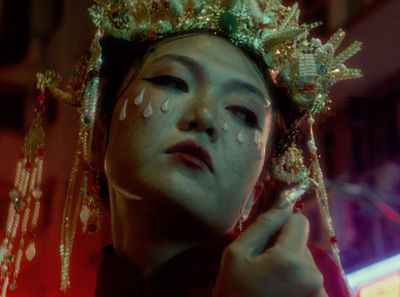 Rainbow Chan, The Bridal Lament (2023). Courtesy Performance Space. Photo: Capsule 48.
The ninth edition of Liveworks will take place at Carriageworks in Sydney from 19 to 29 October.
Titled OF THE TIME, the festival will present new works alongside re-visitations of past performance series to commemorate organisers Performance Space's 40-year legacy.
Among the new performances is Hong Kong-born Sydney artist Rainbow Chan's musical project The Bridal Lament (2023). The work references a marital ritual of Hong Kong's native Weitou people that saw young brides weep and sing before leaving home for pre-arranged marriages.
'Performance Space is a living, breathing organism of performativity, having birthed and nurtured generations of experimental creativity since its inception,' said Guest Co-Artistic Directors Rosie Dennis and Daniel Mudie Cunningham.
The pair, who have previously exhibited with Performance Space described it as 'a beacon of artistic risk and experimentation' during an era of rapid cultural, social, political, and technological change.
Among the events that are accessible to the public for free, Channels and Spells—deriving from an earlier exhibition series titled 'Video Spell' (2003-2004)—presents 15 videos from Performance Spaces past. Featured artists include Adrienne Doig, Tracey Moffatt, and Ronnie van Hout.
Barbara Campbell. Courtesy Performance Space. Photo: Barbara Campbell. Photo: Heidrun Löhr.
Sydney artist Barbara Campbell will revisit and re-voice her durational performance 1,001 Nights Cast (2005–2008) in Night 1001. In the original artwork, the artist web-streamed stories provided by 243 writers every night for 1,001 days.
The high walls of Carriageworks' Public Space will be transformed by Elvis Richae's newly commissioned installation PERFORMANCE ARTIST 4EVA♡ that draws from Performance Space's archives.
Other paid events include remixes of past dance and performance programmes such as Antistatic, cLUB bENT, and Nighttime, which incorporate works from the archives with newly created pieces.
Former Pacific Sister Rosanna Raymond and Latai Taumoepeau are also presenting a brand new two day ceremony and dance programme called K'AINGA CommonWealth.
'While OF THE TIME reflects on the past 40 years of Performance Space, we hope the programme catalyses and ignites conversations about the next 40 years,' said Dennis and Cunningham. —[O]