News | Symposium
Sharjah Art Foundation Announces March Meeting 2021 Programme

In partnership with Sharjah Art Foundation
Since 2008, Sharjah Art Foundation (SAF) has organised March Meeting, an annual gathering of international artists, curators, producers, and art professionals to engage in artistic debate and exchange about vital topics in contemporary art.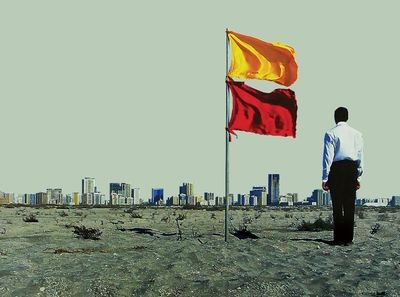 March Meeting 2021 visual. Image adapted from Mohammed Kazem's Autobiography 4 (1997). Courtesy of Sharjah Art Foundation.
Under the theme Unravelling the Present, this year's March Meeting reflects on the past 30 years of the Sharjah Biennial featuring online talks, panels and presentations, as well as on-site performances and film screenings at the Foundation's venues over a 10-day period between 12 and 21 March.
March Meeting 2021 sets the stage for Sharjah Biennial 15 (SB 15), which was originally scheduled to take place this month but has been postponed to March 2022. Titled Thinking Historically in the Present, SB 15 was conceived by the late curator Okwui Enwezor (1963–2019), who envisioned the Biennial as 'a model to disrupt the power of artistic monolingualism'. Further expanding his curatorial and intellectual legacy, SB 15 will be curated by Hoor Al Qasimi and the SB 15 Working Group and Advisory Committee.
The first two days bring together former Biennial participants and contributors—including artists Mona Al Khaja, John Akomfrah, and Otobong Nkanga, and curators Peter Lewis and Eungie Joo—to consider the Biennial in retrospect.
Tarek Atoui performing at the opening of Tarek Atoui: Cycles in 11 (2020). Courtesy Sharjah Art Foundation.
Two online roundtable discussions will specifically examine the Biennial before and after the year 2003. That year, in an unconventional move for the Biennial which had previously favored traditional methods of exhibiting artworks, current SAF President and Director Hoor Al Qasimi and curator Peter Lewis remodeled the nation-state representation format and expanded the scope of works exhibited—a set up that has stayed since.
There will be no shortage of discussions throughout the event. Online keynote presentations and panel talks will address a range of issues including the form of biennials in relation to ideas of the nation-state in the age of globalisation, postcoloniality and postcolonial theory, and restitution in the art industry.
In addition to the talks, film screenings and performances are taking place on-site at the Foundation's venues in Sharjah. At Mirage City Cinema, two films from 2020 are respectively scheduled for Friday nights: on 12 March, Kaouther Ben Hania's The Man Who Sold His Skin, about a Syrian refugee who allows himself to become a work of art in exchange for freedom; and on 19 March, Drowning Letters, a documentary by Paula Palacios that weaves footage of the Mediterranean refugee crisis with letters written from mothers to their children, explaining the perilous journey.
Rayyane Tabet, Basalt Shards (detail) (2017). From 'FRAGMENTS' (2016–ongoing). 1000 charcoal rubbings on paper, wooden pallets; dimensions variable. Installation view: Kunstverein Hamburg, 2017. Courtesy the artist and Sfeir-Semler Gallery, Beirut and Hamburg. Photo: Fred Dott
Across the Foundation's venues, exhibitions coincide with the start of March Meeting on 12 March. At Al Mureijah Art Spaces, Rayyane Tabet's solo show Exquisite Corpse brings together newly commissioned and reconceived presentations from the artist's 'FRAGMENTS' series (2016–ongoing). At the same venue, Black Pocket—a major survey exhibition of works by acclaimed photographer Zarina Bhimji—remains on view till 10 April. Meanwhile, at The Flying Saucer, the exhibition Unsettled Objects showcases major new acquisitions and rarely seen works from the Foundation's collection.
At the heritage house Bait Al Serkal, artist Tarek Atoui's exhibition Cycles in 11 will feature performances of experimental and innovative musical forms by Atoui in collaboration with artists-in-residence. Cycles in 11 developed out of Atoui's earlier project WITHIN (2012–ongoing), in which he worked with Deaf culture and hard of hearing communities to explore new ways of experiencing sound, space, and instrumentation. —[O]
---
Register here for March Meeting 2021 online talks.