News | Artists
Shubigi Rao Will Represent Singapore at Venice Biennale in 2022
Rao is best known for her 10-year project revisiting the destruction of libraries and banned books.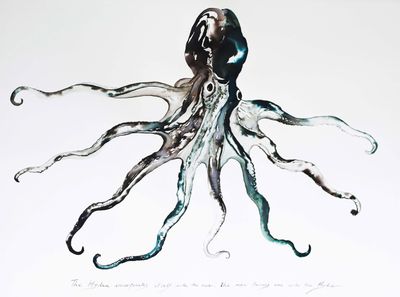 Shubigi Rao, For Hugo, Fabulist, From Gessner, Confabulist (2015). Ink and DECAdry on Tieplo paper. 27.6 x 39.4 inches. Courtesy Sundaram Tagore Gallery.
Artist Shubigi Rao and curator Ute Meta Bauer will represent Singapore at the 59th Venice Biennale from 23 April to 27 November 2022. The news was announced by Singapore's National Arts Council (NAC), which funds the city-state's participation in Venice.
'NAC is committed to sustaining Singapore's arts, and a key part of our plans has been to help our artists connect to the international scene and project a different side of Singapore on the global stage,' said Rosa Daniel, the CEO of NAC.
Born in Mumbai in 1975, Rao moved to Singapore in 2003. She has described her parents' library in Darjeeling as 'a third parent', which helps explain the centrality of books to her practice, which mixes contemporary art and creative nonfiction.
In 2014, Rao began a 10-year project researching destroyed books and libraries around the world called Pulp: A Short Biography of the Banished Book. Rao has won several prizes for works created as part of the project, including the Singapore Literature Prize in 2020.
'The moment you attack culture, you take away a people's purpose and their link to the land. You strip them of what it is to be human,' Rao told The Indian Express in 2017.
Rao has participated in several other biennales, including the Singapore Biennale in 2008 and the Taipei Biennial in 2016. She will also take part in the upcoming 10th edition of the Asia Pacific Triennial of Contemporary Art in Queensland, Australia.
Rao took part in the fourth edition of Kochi-Muziris Biennale in 2018, and she is the curator of the fifth edition, which takes place in southern India from 1 November 2021 until 28 February 2022.
Rao exhibited alongside Hollywood actress Lucy Liu in Lost and Found, a show of works made using found items, at the National Museum of Singapore in 2019.
Ute Meta Bauer is the founding director of the NTU Centre for Contemporary Art Singapore and a professor at the Nanyang Technological University School of Art, Design and Media.
She's also one of three curators for the 17th Istanbul Biennale taking place from 11 September until 14 November 2021. —[O]