News | Artists
Song Ta Faces Reckoning Eight Years After First Showing Controversial Work
An exhibition featuring Song's Uglier and Uglier at OCAT Shanghai was shut down last week following a public outcry.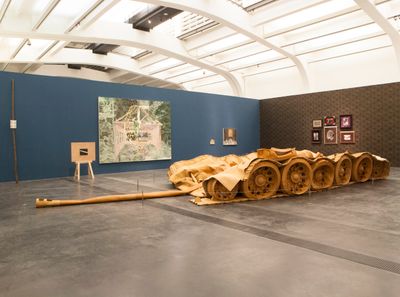 ON | OFF: China's Young Artists in Concept and Practice, installation view, 2013. Photo: Dora Tang. Courtesy of UCCA Center. He Xiangyu, Tank Project. Left Wall: Qiu Xiaofei Recurring. Right Wall: Birdhead,Today.
Song Ta was the most-searched artist on Ocula this week after making headlines in CNN, BBC, SCMP, The New York Times, and across art media.
The artwork behind the furore is Uglier and Uglier (2013), an eight-hour video of women surreptitiously taken on a Chinese university campus. It shows the women ranked from most to least attractive according to Song.
In an artist statement, Song said he meant to incentivise people to arrive to view the work early; 'otherwise at dusk it will become a living hell in this place.'
The work was criticised on Douban and other Chinese social media sites before California-based podcaster Afra Wang described the video as 'disturbing' in a tweet shared on 18 June.
The exhibition at OCAT Shanghai, entitled The Circular Impact, was organised by Dai Zhuoqun. It opened on 28 April and was scheduled to run until 11 July. The art centre, which is led by video artist Zhang Peili and focuses on new media art, issued an apology over Weibo on 18 June.
'After receiving wide-ranging criticism, comments and feedback, we immediately reexamined the content of the work and the interpretation of the artist's intent, and found that along with the English title it conveys disrespect to women. The process of creating the work also suggests legal infringement,' they said.
The work first showed at UCCA Center for Contemporary Art's 2013 exhibition On | Off: China's Young Artists in Theory and Practice, one of the most important surveys of young Chinese artists in decades. It's unclear whether the work was meant as a critique of misogyny or an expression of it.
The dubious practice of naming an unofficial 'campus flower' at highschools and universities remains popular in China, as does the phenomenon of singling out otherwise anonymous service workers like Taiwan's 'pork princess' and even homeless people such as 'Brother Sharp' for their looks.
Writing for The New York Times' Chinese edition in 2013, Tang Zehui allowed for the possibility that the work was critiquing objectification, but ultimately decided that, as displayed, it was 'ill-considered'.
Speaking to the Art Newspaper, Bao Dong, who co-curated the 2013 exhibition with Sun Dongdong, defended Song.
'The real question is whether art has the right to do groundbreaking things,' he said. 'Can a democratic outcry hurt artistic freedoms? I think it is a violation of human rights for them to abuse Song Ta.'
UCCA and OCAT Shanghai did not immediately reply to requests for comment. —[O]