News | Market
Sotheby's Will Accept Crypto for Banksy's 'Love is in the Air'
The owner of the work told Ocula Magazine about his early interest in Banksy and fascination with cryptocurrency.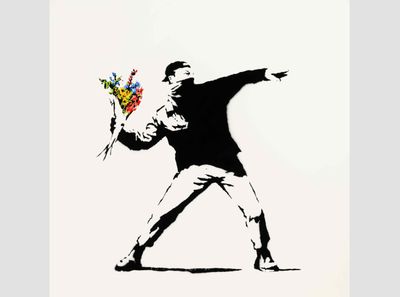 Banksy, Love is in the Air (2005). Spray paint and oil on canvas. Courtesy Sotheby's.
Sotheby's announced that it will accept cryptocurrency for Banksy's Love is in the Air (2005) when it goes under the hammer at their Contemporary Art Evening Auction in New York on 12 May.
'Banksy is the perfect artist to bring cryptocurrency into the traditional art scene,' said the current owner of the work, who asked to remain anonymous.
'I think there are quite a few overlaps between those who collected Banksy early in his career with those who saw the potential for cryptocurrency early on as well—both groups had to have a contrarian streak that didn't care what the old guard thought,' he said.
The owner acquired the work from Banksy's former agent Steve Lazarides in 2006, six months after discovering the artist in the Esquire article 'I Am Banksy'.
'While parting with this piece is bittersweet, I think now is a moment where Banksy can make a step and credibly be discussed alongside Basquiat, Warhol, and others,' he said.
Sotheby's has previously accepted cryptocurrency for NFTs but this is the first time they have agreed to accept it as payment for a physical work.
'With the growing adoption of digital art and NFTs, along with our increased focus on digital innovation, we've seen an increasing appetite among collectors for more seamless payment options when doing business with Sotheby's,' said Stefan Pepe, Sotheby's Chief Technology Officer.
Sotheby's has partnered with cryptocurrency exchange Coinbase to accommodate payment for the work in bitcoin or ethereum.
Pepe said working with Coinbase 'is in line with our dedication to enhancing our client buying experience and developing new ways to expand our client base by meeting them where they are.'
Sanchan Saxena, Coinbase's VP of Product and Ecosystem, said Sotheby's 'is an example of an enterprise that is evolving with their client base to cater to crypto-forward consumers'.
The work, a black stencil of a protestor throwing a bouquet of hand-painted flowers, has an estimate of US $3–5 million.
Sotheby's sale of digital artist Pak's NFT series 'The Fungible' (2021) brought in US $16.8m from 12 to 14 April. That sale was conducted through NFT platform Nifty Gateway, which allows buyers to pay in USD or ethereum.
On 7 May, Phillips announced it would accept cryptocurrency for Banksy's Laugh Now Panel A (2002), which they will offer at their 20th Century & Contemporary Art Evening Sale in collaboration with Poly Auction from 7 to 8 June. —[O]