News | Art Market
Nifty Gateway Made NFTs Sexy. Can It Make Them Sustainable?
Backed by the Winklevoss twins, Nifty Gateway helped propel spending on crypto artworks to over US $100 million. Carbon costs have skyrocketed alongside the prices.
Robbie Barrat, AI Generated Nude Portrait #1 (2018), AI generated image, which was originally purchased for 0.46 Ethereum ($176) three years ago, and sold this year for 100 Ethereum ($112,717). Courtesy the artist and SuperRare.
Christie's announced this week that they will auction off a non-fungible token (NFT) artwork by digital artist Beeple from 25 February to 11 March. They say they're the first major auction house to sell a purely digital NFT, but Beeple's works have already been purchased hundreds of times since they first dropped on the Nifty Gateway platform last year.
In December, Beeple auctioned off 20 works for more than US $3.5 million on Nifty Gateway, with one, entitled The Complete MF Collection (2020), selling for $777,777.
The platform, whose name is a soundalike for NFT, was founded by 26-year-old twins Duncan and Griffin Cock Foster in 2018 as a place to buy NFTs with a credit card, instead of using cryptocurrency. Acquired in 2019 by Bitcoin billionaires Cameron and Tyler Winklevoss's company Genesis, the site launched in March 2020.
'It's weird when you're running a start up like this,' Griffin Cock Foster told Ocula Magazine. 'You really believe in the technology but, especially when you start, a lot of other people don't.'
In under a year, people have started to catch on. Nifty Gateway's sales of some 100 artists now exceed $22 million, making it the market leader over rivals such as MakersPlace and SuperRare, which deals exclusively in single editions.
An artist called Pak is currently the biggest seller on SuperRare, having sold over 70 works for a combined total of more than $1 million in Ethereum.
Across platforms, NFTs have now generated over $108 million in sales, according to the Crypto Art Data website.
'Since late summer, things have accelerated a lot and many digital artists tell us that they're starting to hear about this new digital art market,' said SuperRare's head of community, Louis Giraux. 'The quality of artist submissions has literally exploded and we're seeing a sharp growth in active collectors as well.'
From November to December 2020, when cryptocurrency prices began to take off and Beeple's collection dropped, Nifty Gateway's sales increased 550%.
'He really deserves a lot of the credit,' Cock Foster said.
Who needs Christie's?
Setting aside what are sure to be generous short-term profits, the Beeple auction is a curious move from Christie's because NFTs pose a real threat to traditional auction houses.
A non-fungible (ie unique, not interchangeable) token establishing ownership of an artwork can be purchased securely and anonymously online. There's no need for an auction house to establish the authenticity of the work or verify ownership. Artists also benefit, getting 10% of any resales of their works on both SuperRare and Nifty Gateway, whereas auction houses typically give nothing to artists upon resale.
The fees the platforms charge are also lower. SuperRare takes 15% on primary sales plus an additional 3% fee, and while Nifty Gateway doesn't disclose their fees on primary sales, they say their cut is somewhere in that ballpark. Both platforms take an additional 5% from secondary sales. Christie's, meanwhile, typically charges a 20–30% buyer's premium for anything they sell under $4 million.
Rather than the contemporary art world, Cock Foster said, 'a lot of our customers come from a cryptocurrency background.' For many of these collectors, buying an NFT at Christie's would be as pointless as buying Bitcoin from Bank of America.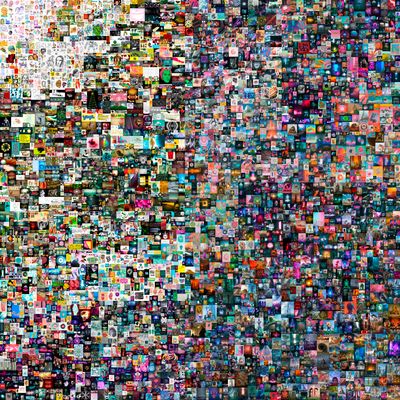 Beeple,
Everydays – The First 5000 Days NFT
(2007–2021). Digital illustration. 21,069 pixels x 21,069 pixels. Courtesy the artist and Christie's.
Elon Musk, Pikachu, and the digital grotesque
'I see NFTs as the internet's digitally native art, the same way Bitcoin is the internet's digitally native currency,' Cock Foster said.
That brings with it distinct sensibilities, which may not appeal to existing contemporary art collectors. Popular NFT artworks often reference video games, anime, and tech luminaries like Tesla founder Elon Musk and Ethereum founder Vitalik Bucherin—more often the stuff of subreddits than art museums.
These subjects may seem goofy now, but 'some things become more meaningful with age,' argued Giraux. 'Vitalik, Bitcoin and Ethereum are iconic to crypto art and while they may not always be the fuel of all creativity, these portraits mark a very precise time and chapter of the internet's history.'
Another aesthetic often found in NFT artworks is what Cock Foster calls 'the digital grotesque'. Fitting that description, for instance, is Beeple's illustration of a giant rotting Pikachu carcass.
Beeple, whose real name is Mike Winkelmann, is a joyfully profane nerd—like Bill Gates' missing id—though Christie's Noah Davis describes him more strategically as 'often irreverent but always engaging.'
Beeple has been one of the most innovative marketers in the NFT space, creating 'physical tokens' to accompany his NFTs on Nifty Gateway. These are digital screens with titanium backplates and samples of his own hair, described with the asterisk, '*totes promise it's not pubes'.
Beeple has published a new illustration to his beeplecrap Instagram every day for 13 years—hence the title of the mosaic of images going under the hammer at Christie's: Everydays–The First 5,000 Days NFT (2007–2021). The work's dimensions are 21,069 pixels x 21,069 pixels and, given his sense of humour, it beggars belief to imagine the reference to the internet's favorite sex position is unintentional.
Suffice to say, like the NFT space itself, the aesthetic isn't exactly mature, and without gatekeepers to say otherwise, perhaps it doesn't need to be.
It's worth noting that Nifty Gateway has also had success selling works by artists inside the art world—Kenny Scharf, for instance, already has a bio on Ocula—but these artists are in the minority.
'I feel like Kenny is just really open minded and loves to try new stuff,' Cock Griffin said.
XCOPY, Right-click and Save As Guy: Why would I buy it when I can right click and save as? (2020). Digital illustration. The work last sold for 99 Ethereum ($174,195). Courtesy the artist and SuperRare.
Not so nifty? The carbon costs
Despite criticisms that already seem threadbare in 2021—you don't own anything tangible, there's nothing special about owning an image that can be reproduced infinitely, and so on—NFTs are clearly an attractive way to collect art, and one that has the potential to significantly increase and diversify the population of art collectors.
As NFTs grow in popularity, however, they have begun to incur eye-watering environmental costs, ridiculous given the relatively low carbon costs of producing, storing and 'shipping' digital artworks.
Computational artist Memo Akten outlined the problem in depth in a post he published on Medium back in December.
The creation, bids, sale and transfer of NFTs are typically recorded on the Ethereum blockchain. The real world energy required to power a single Ethereum transaction using digital 'gas' is estimated to be around 35 kWh—an average EU resident's power usage for around four days.
Analysing 80,000 transactions on SuperRare, Akten found the average NFT transaction used more than double that amount: 76 kWh of energy, creating emissions of 47 KgCO2.
Cock Foster pointed out that Nifty Gateway is in some respects more environmentally friendly because only the minting of new tokens is done on chain. (Bids, sales and so on are centralised—and therefore less transparent.)
But the environmental costs get significantly worse for artists selling NFT editions, which are extremely popular on Nifty Gateway. Akten found that in just six months one artist had created 1,500 editions that used 260MWH of energy, emitting 160 tonnes of CO2, equivalent to an entire lifetime of energy use.
Cock Foster said Nifty Gateway will release 'a new minting system, hopefully by March 1, that will cut the amount of gas to less than one percent of what we currently use'.
He also points out that the Ethereum blockchain will itself transition from its wasteful Proof-of-Work protocol to a Proof-of-Stake model in the next 18 months, which should reduce energy consumption by 99%.
Combined, these two changes could see Nifty Gateway's environmental footprint shrink drastically from current levels. For now, though, NFT purchases are making an outrageous, outsized contribution to climate change.
Just as NFTs pose a threat to auction houses, if collectors' consciences or regulators ever catch on, the carbon costs of selling them poses an existential threat to the technology itself. —[O]